Simple Signature & Digital Signature: What's the difference?
A guide on the difference between Digital and Simple Signatures, and how to add your signature to a PDF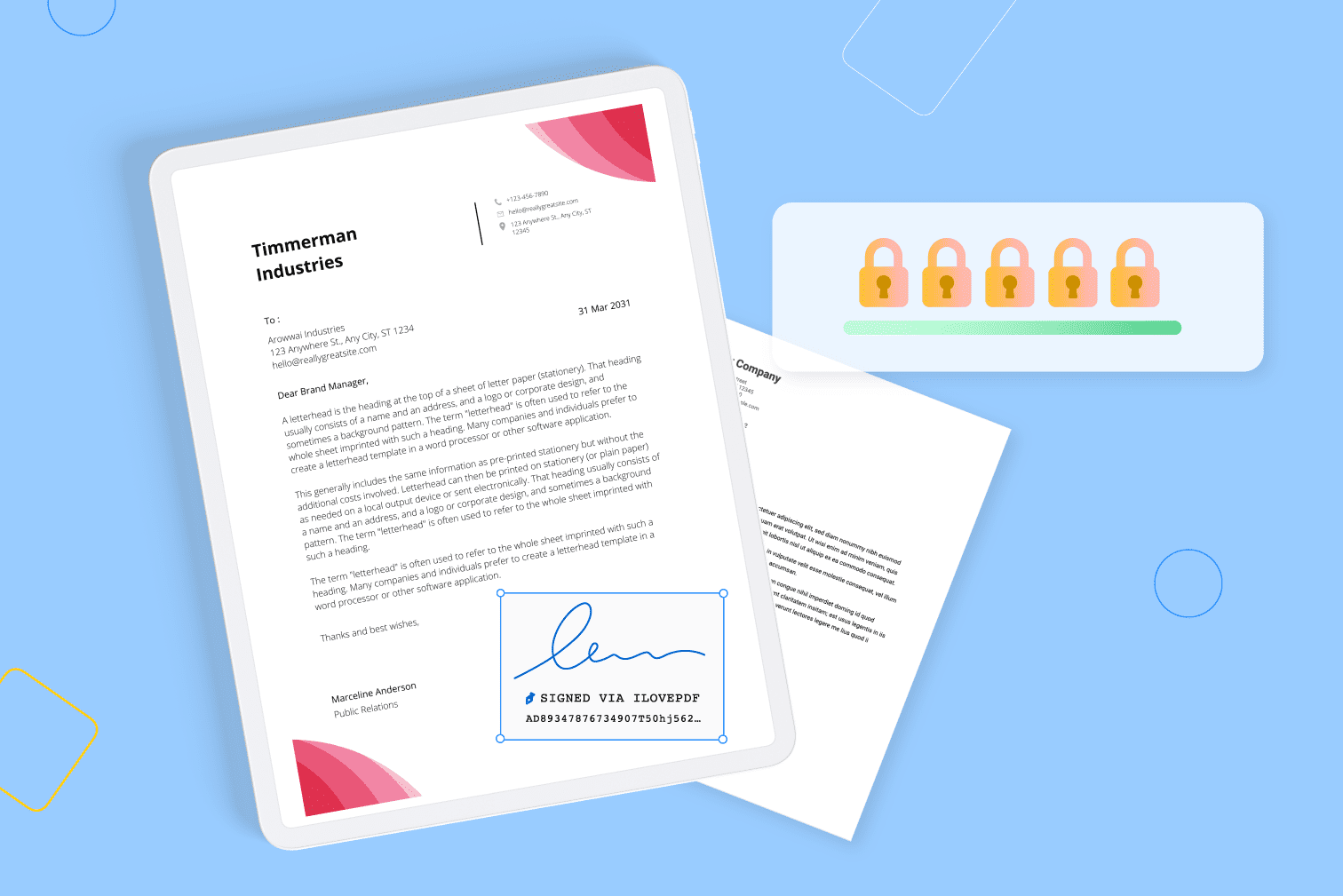 Electronic signatures have made it even easier to sign documents. Also known as e-signatures, they offer safe solutions that are legally binding with no need for a pen and paper.
Great for saving time and resources, at the click of a button these signatures can be sent securely to many parties anywhere in the world with an internet connection.
Not all online signatures are the same. A digital signature is a type of e-signature that is more legally secure, with embedded certificates and security features making it safer than other options.
Depending on your choice of signature, you get different levels of protection and security. The level of protection you want is up to you, so keep reading for ideas on the best ways to stay safe when you sign online, as well as finding the type of signature that suits your needs.
What is an electronic signature?
Electronic signature is a blanket term that covers any kind of signature made and validated by a computer. They function the same as a wet signature (your standard signature with pen & paper), acting as a stamp to provide visual confirmation on digital documents.
E-signatures can still have the personal touch of your handwriting by using a mouse or mobile, or you can keep it simple with a typed name and initials.
They are commonly used to show a person's consent or approval with an electronic document, often where a legal element isn't so critical. For example, a parent consent form for the latest school trip.
What is a digital signature?
A digital signature is an example of an electronic signature with more security and protection measures than your basic model, making it the favorite for anything needing a stronger legal base.
How does it work? A Certificate Authority (CA) issues Digital Certificates that are embedded in the signed document and used to verify the authenticity of an agreement. The CA uses a Public Key Infrastructure (PKI) to encrypt this information using private keys. This process provides your signed document with the security and protection that creates a strong legal base.
An Audit Trail is also produced with a digital signature, which is a system that traces each step of the signing process, proving who signed, and when they signed it. You will receive this when downloading a signed document, and can also access it in the Signature Overview section of your iLovePDF account.
Digital signatures protect documents from being changed or tampered with because a Certified Hash and Qualified Timestamp are also embedded. This means that any attempt to edit a signed document will make it invalid because the encrypted keys change the moment a document is modified, protecting your document in the long run.
For example, you can't just sign one page of a document and try to copy and paste it on the rest of the document, and you can't change the text.
You can trust that digital signatures are safe as they abide by ESIGN, UETA, and eIDAS regulations. These are the strictest data protection laws found worldwide.
How to make a digital signature
First, you will need to upgrade to the Premium subscription to get the protection that comes with the Digital Signature service. You can find details of the Premium plan here.
With the Premium iLovePDF subscription, you have access to five Digital Signatures that replenish with your account every month, as well as unlimited Simple Signatures.
Are you interested in more Digital Signatures? We have multiple plans that can be tailored to your needs. To find out more, go to the Signature pricing page.
Creating your own Digital Signature couldn't be simpler. Here's how:
Go to the Sign PDF tool.
Upload your PDF from your computer, Google Drive, or Dropbox.
Select Only Me.
Design your signature and click apply.
Choose Digital Signature under Signing Options.
Drag and drop the Digital Signature onto your document along with your initials, name, and date.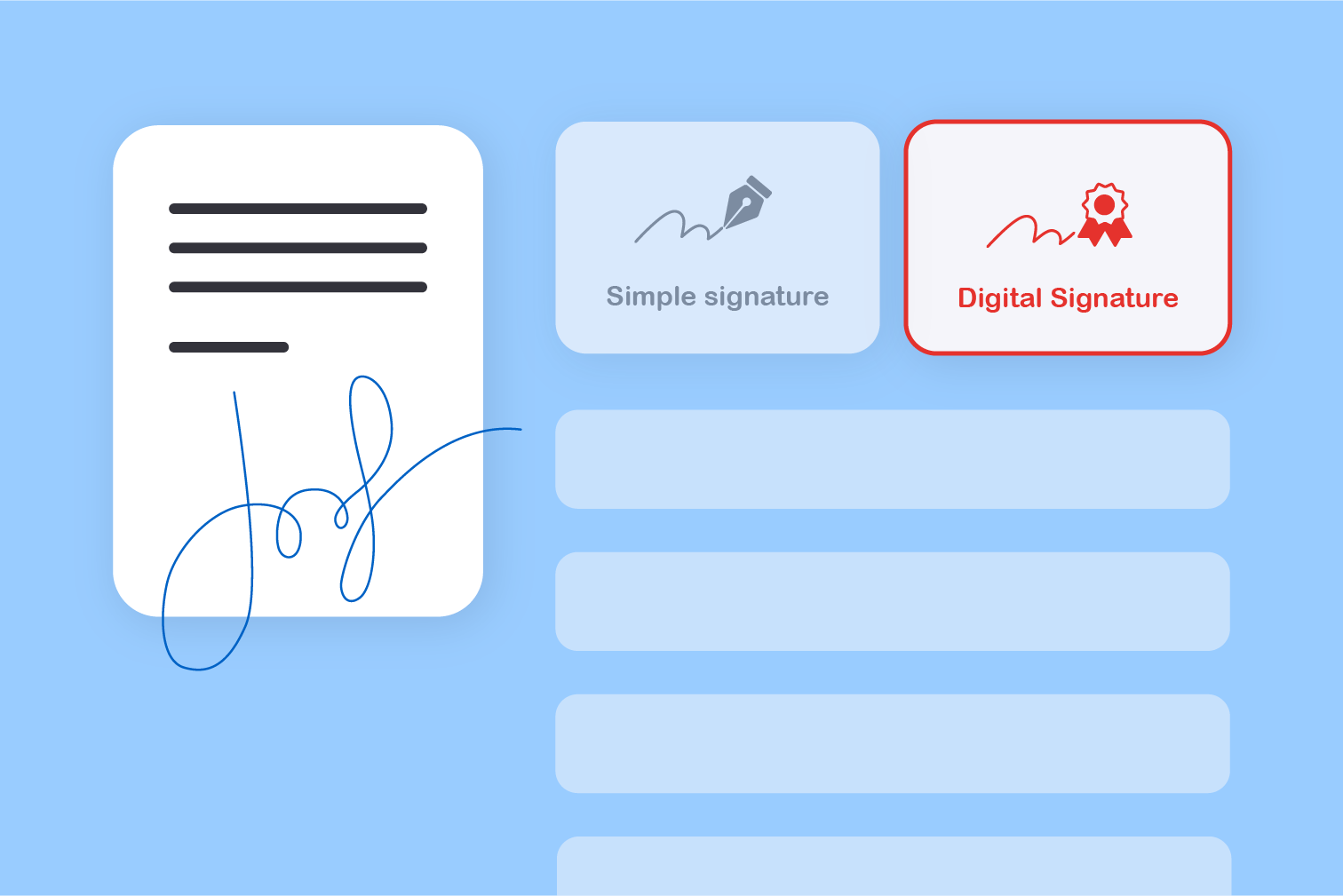 What's the difference between a Simple Signature and Digital Signature?
To simplify it, the difference comes down to the amount of checks and security information used to sign a document. Both types of signatures are legally binding, but more checks and protective measures make it harder for the document to be legally disputed at a later date.
Choosing the Digital Signature gives you more protection, with a qualified Time Stamp and Audit Trail sent the moment a document is signed. You can download this information in the Signature Overview section of your iLovePDF account.
If you don't need as much legal protection, you can use iLovePDF's Simple Signature, which is an example of the more basic electronic signature type discussed above.
Both services offer extra options that can transform your document into a professional-looking piece that's ready for all of your electronic signature solutions. Some of these features include:
Email branding

Setting the receiver order

Email reminders

Changing the expiration date

Customized messages
Are electronic signatures safe?
iLovePDF helps you work safely with your digital PDF documents by going further than the data protection laws already mentioned. When creating and sending a document to be signed using request a signature, the document may be protected with extra features.
Use a password and SMS Validation Code so the signer is only able to open and complete the document with this information. Include a Unique Signer Identifier code that lets the signature of a signer be validated using the Audit Trail. Verify the integrity of your document using a Signature Verification Code that embeds a QR code and unique password provided in the Audit Trail.
You can trust iLovePDF services as we ensure the safety of your documents uploaded to our servers with end-to-end encryption, as well as automatic deletion of your files from our servers within 2 hours of processing as we comply with the European General Data Protection Regulation law (GDPR), one of the highest safety standards in the world.
Contact Us
For further information, visit the post "Are my files safe using iLovePDF?" or contact our dedicated support team to get answers to all your questions.
Sign and send your Digital Signatures with iLovePDF
Sign now
안전 보장
iLovePDF는 보안을 매우 중요하게 생각합니다. 기억 해주세요...
어떤 도구를 사용하든 종단 간 암호화를 사용하여 문서 도난이나 가로채기로부터 최상의 보호를 보장합니다.
당사 시스템에 업로드된 모든 문서는 제3자의 무단 액세스를 방지하기 위해 2시간 후에 자동으로 삭제됩니다.
당사의 모든 서버는 세계에서 가장 제한적인 유럽 법률에 따라 보호됩니다.