How to convert a PDF file to Excel tables
Use this online tool to accurately turn data from a PDF into an Excel spreadsheet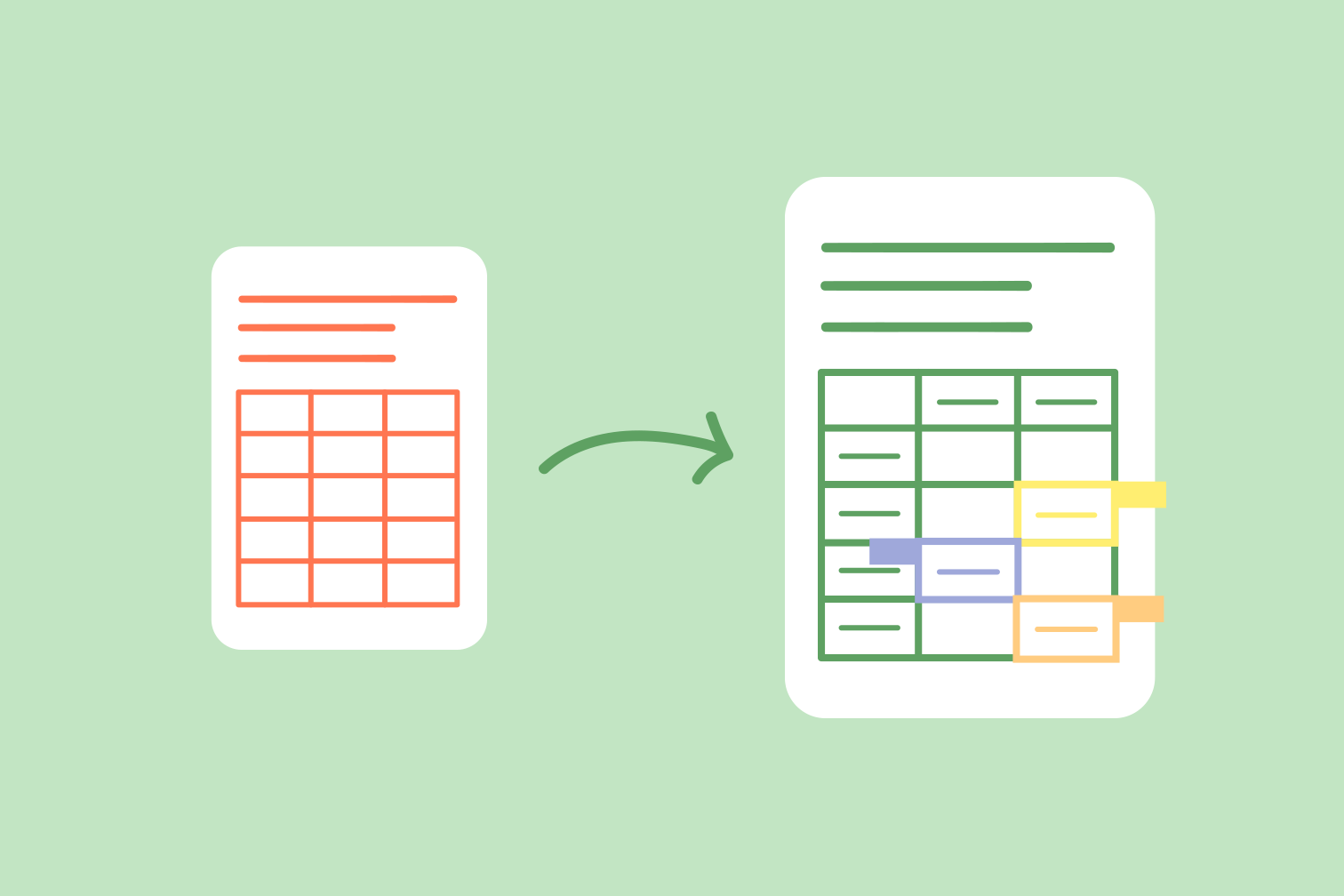 Scroll down for simple instructions to help you go from PDF to Excel using iLovePDF.
Have you ever encountered the situation where you receive a PDF file from a coworker via email containing data that you need to analyze in Microsoft Excel?
Anyone who works with the PDF file format will know that its read-only file properties make it difficult to work with data in tables. Meanwhile, programs like Microsoft Office have been developed specifically for this reason.
You might be asking, How can I export PDF data into a table in Excel to analyze? Whenever you are faced with this problem, don't worry because there is an easy and fast solution. If you need to transform a PDF into an editable Excel file, you can use a PDF to Excel Converter.
In addition to the popular PDF to Microsoft Word option, iLovePDF has a reliable PDF to Excel conversion tool. It offers accurate PDF data extraction that can be done practically anywhere straight from your web browser. Follow the steps below to get your converted Excel file in seconds:
How to convert PDF to Excel online
Go to iLovePDF's PDF to Excel tool.
Upload your PDF file from your computer, Google Drive or Dropbox account. Or, drag and drop your file directly into the tool.
Click on the red Convert to Excel button.
Finally, click on the Download Excel button to save your Excel table.
No need to register or install any programs
You don't need to sign up with your email address or install any additional software to use iLovePDF's PDF to Excel tool. Converting your PDF to Excel tables is as straightforward as uploading it to iLovePDF in your browser and downloading the converted file.
Can I convert a scanned PDF document to Excel?
Yes, it's possible to turn a scanned PDF into rows and columns in Excel using iLovePDF's PDF to Excel tool. This more advanced option is powered by Optical Character Recognition technology so it is available exclusively to Premium users of iLovePDF.
In order to convert a scanned PDF into excel, you first need to create an iLovePDF account. Then, once you have registered, you can easily upgrade to Premium at any time from the subscription page.
Get more tools with your Premium account
If you work in a company that interprets data from spreadsheets on a regular basis, upgrading to iLovePDF Premium is very beneficial. With Premium, you can convert up to 10 PDF files to Excel per document task with a generous file size limit of 4GB.
This batch processing option is also available to Premium users for loads more PDF tools. That includes tools to compress, split, and merge PDF files. To discover more Premium features to boost your work productivity, check out the iLovePDF Pricing page.
Safe and secure file conversion
Fortunately there are loads of PDF editing software available online to convert your PDFs. That said, their data security and management might differ.
iLovePDF is trusted by millions of users worldwide for its 100% secure service. When you upload a file, it's encrypted with HTTPS (SSL) encryption and automatically deleted from iLovePDF's servers after 2 hours, as if they never existed. To find out more, read iLovePDF's Privacy Policy.
Start converting PDF to Excel in seconds
Now that you know how to create editable tables from your PDF, you can do so with any document in this file format. If you need a fast, easy and secure PDF to Excel conversion, iLovePDF is a great option. Ready to give it a try? Click on the red button below.
Create excel tables from your PDF online
Convert PDF to Excel
안전 보장
iLovePDF는 보안을 매우 중요하게 생각합니다. 기억 해주세요...
어떤 도구를 사용하든 종단 간 암호화를 사용하여 문서 도난이나 가로채기로부터 최상의 보호를 보장합니다.
당사 시스템에 업로드된 모든 문서는 제3자의 무단 액세스를 방지하기 위해 2시간 후에 자동으로 삭제됩니다.
당사의 모든 서버는 세계에서 가장 제한적인 유럽 법률에 따라 보호됩니다.