Get these PDF editing tools on Mac/Windows
Find out how to manipulate documents with an easy offline solution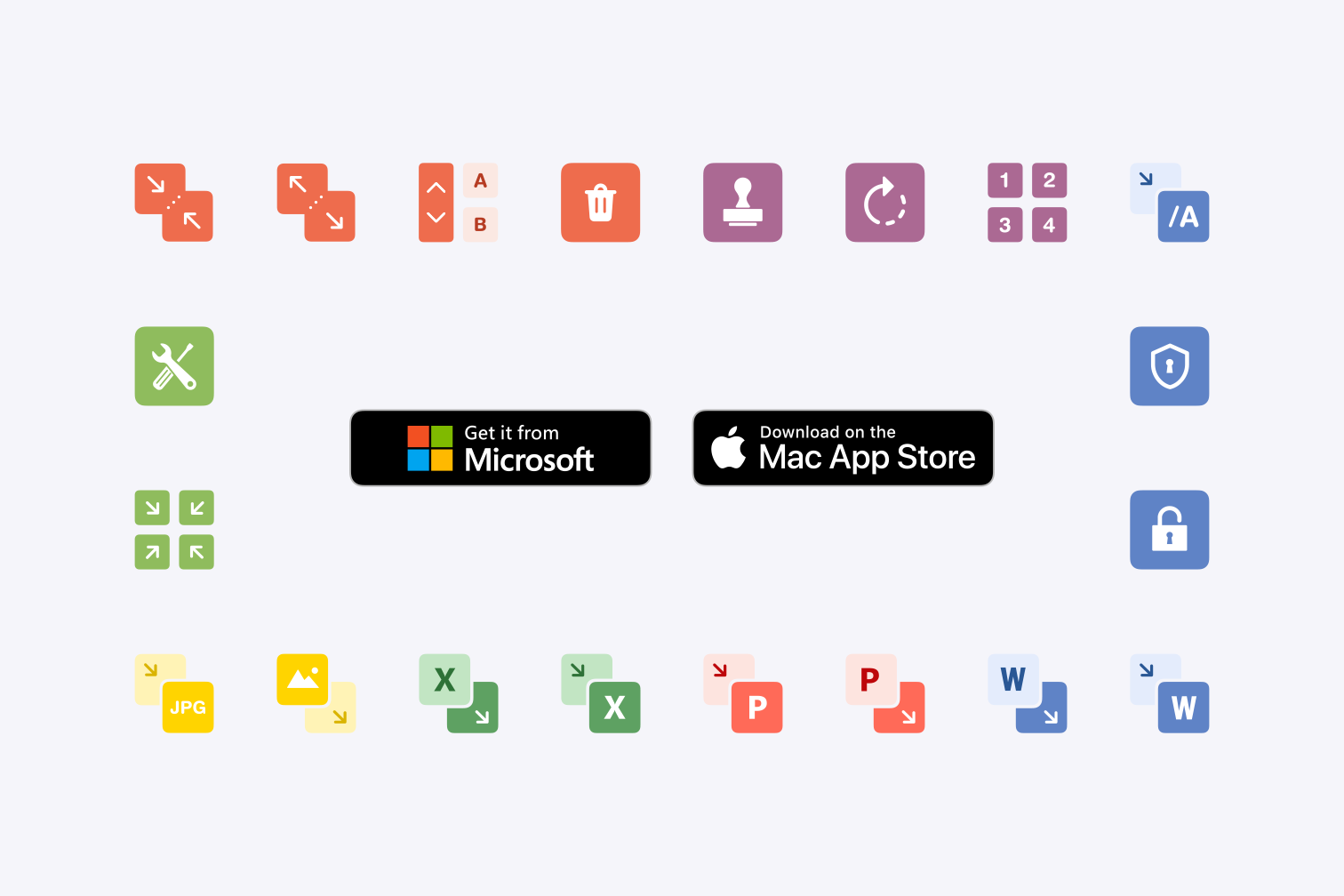 PDF is the standard universal file format for people that work with documents, but it can be tricky to modify. That said, many web-based applications offer advanced PDF editing solutions to do things like add text to a PDF file or insert images.
Online PDF editors such as iLovePDF offer a fast and easy solution to almost everything PDF-related. However, if you deal with large file sizes or prefer working offline, you might ask the question, How can I edit a PDF file on my Mac or Windows PC?
Handle PDF files offline with iLovePDF Desktop
Some people prefer the security and comfort of their personal computers when they work with PDF documents. That's why there are also desktop applications with built-in features to help you get most of the jobs done without an internet connection.
In addition to the website, iLovePDF offers a feature-rich Desktop App. Although it isn't as extensive as the online PDF editor, it offers tools to help you get these common PDF document management tasks completed offline:
Easy document manipulation. To make your PDF look exactly how you need it to be, you can take advantage of iLovePDF's built-in tools. Merge PDF files, separate PDF pages, rotate, and compress PDFs to a smaller file size all in one place.

Accurate file conversion. Sometimes it is necessary to convert PDFs to other formats so they can be opened in specific Microsoft Office programs. To resolve this problem, the desktop app includes tools to convert PDF to and from Word, Excel, PowerPoint, and JPG format without needing to use separate programs.

Secure document protection. If you need to secure your PDF documents, iLovePDF's Desktop app can facilitate this. Use the Protect PDF tool to password-protect sensitive information or apply the PDF to PDF/A function to preserve important documents long-term.

How to use iLovePDF on Mac/Windows
Download and install iLovePDF Desktop on your MacOS or Windows PC.
Open your PDF file in the PDF Reader.
In the toolbar on the right side of the reader, click on the tool you need.
Once you have completed your document task, click on the red button.
Finally, save the document. Or, continue working with your PDF in iLovePDF.
Does iLovePDF support heavy PDF files?
Yes, the iLovePDF Desktop App also functions as a powerful PDF Reader so that you can read PDF files from any operating system while being sure that it looks the same. Open any PDF file from your computer, Google Drive, or Dropbox account into the PDF viewer to review content with no interruptions.
Is iLovePDF Desktop free to use?
You don't need to purchase expensive software to manage your documents. If you are looking for a simple, budget-friendly alternative to Adobe Acrobat's advanced software, iLovePDF Desktop is a great choice.
The app offers an affordable document management solution for large and small companies as well as the individual user on a budget. Once you've used up your 5 tasks in the free version, upgrade to Premium for a little amount a month to continue editing PDF files without limits.
Can I edit the existing text in a PDF document?
Many people find themselves in the situation where they have saved a file in PDF format but then realized they made a spelling mistake or needed to modify a phrase. Finding an inexpensive tool to edit text from the existing PDF is a challenge, but there are ways around this problem that don't require investing in extra software.
In this case, you can open your PDF file in iLovePDF. Then, use one of the PDF to Office converters to transform your PDF file back to its editable text format. You can then modify the text as you wish and save it again afterwards as a PDF.
Find a one-click solution to your document problems
The next time you are faced with a problem with a PDF file in the workplace, before you hit the print button or start retyping text, you could first open the file in iLovePDF - the solution might be a click away.
If you are looking for another solution to edit PDFs such as a tool to write on PDF files or e-sign contracts, the iLovePDF online version has you covered. Or, download the Mobile App to scan paper documents, add notes to PDF, and more directly from your mobile device.
Work offline with iLovePDF Desktop
Free download
안전 보장
iLovePDF는 보안을 매우 중요하게 생각합니다. 기억 해주세요...
어떤 도구를 사용하든 종단 간 암호화를 사용하여 문서 도난이나 가로채기로부터 최상의 보호를 보장합니다.
당사 시스템에 업로드된 모든 문서는 제3자의 무단 액세스를 방지하기 위해 2시간 후에 자동으로 삭제됩니다.
당사의 모든 서버는 세계에서 가장 제한적인 유럽 법률에 따라 보호됩니다.