5 Essential PDF tools for effective remote working
Make working from home easy with these useful PDF tools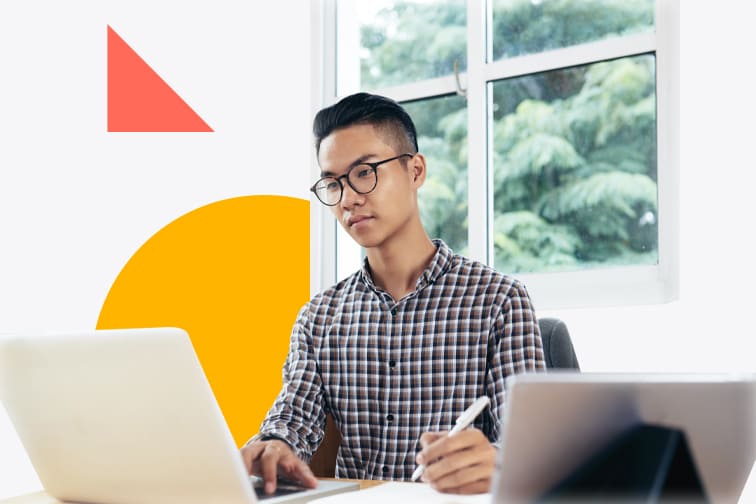 Some people prefer working remotely because they feel more relaxed than in the office. However, if it's the first time you are working from home, you might be feeling unprepared.
Work with many PDF files on a daily basis? As your document admin starts piling up in your task list and your email inbox grows, you may be really missing the tech whizz who sat next to you at work who knew how to manage documents in PDF. Worse still, you don't have a printer at home.
Too overwhelmed to start the administrative burden all by yourself, your productivity levels drop and you find yourself desperately searching on Google for "How to work in a paperless office" or even just "How to work". Trust me, you are NOT alone!
Which PDF tools can I use for remote work?
There are loads of useful free online tools out there that can help you organize and edit your PDF files in just a few clicks. Plus, these tools are really user-friendly to make working from home a breeze.
That's right, you can leave the office behind and ditch the printer (forever!) because now we're going completely digital. If you want to manage PDFs like a boss, the best way to start is by prepping yourself with a handy toolbox of online PDF tools.
Are you ready to set yourself up for a successful remote working week? Then check out this list of top 5 PDF tools for being even more productive than at the office:
1. Compress PDF for easy file sharing
Just because you are remote-working doesn't mean you aren't collaborating daily with your team. Whether it's that sponsorship brochure or HR assignment, you might still need to share PDF files with other departments.
If you are sending PDF documents via e-mail or trying to upload them to the web, remember that they need to be the right file size. Large files could cause bounce backs and slow uploads.
You can reduce file size using a PDF Compressor. A Compress PDF Tool will shrink heavy PDF documents in seconds. All you need to do is upload your files from your computer, Google Drive or Dropbox account and watch as the tool magically optimizes your files!
To find out how to reduce PDF file size quickly, read our post, "How to compress a large PDF file."
2. Merge PDF documents to send as a single file
Need to send across multiple documents to your co-workers as one PDF file? When you are working from home you are probably exchanging a lot of content created in different office formats.
If you want to put all of your pages together, to then share with your team as a single PDF, you can use a PDF Merger. An online Merge PDF Tool allows you to upload and combine PDF documents into a single file.
It's fast, free and with no printing required. Plus the tool lets you select, drag and drop files into any order you want before processing.
➡️ Find out how to merge PDF files online for free.
How many times have you needed to edit text from a scanned PDF document? We all know that spending hours mindlessly retyping out all the text in a new Word doc just to modify a couple of words is really frustrating and quite frankly, a waste of time.
Well before you go throwing your laptop out of the window, stay calm, because you CAN convert scanned PDF files back to Word! You just need to use an OCR- powered PDF to Word Converter.
The OCR (Optical Character Recognition) technology reads scanned PDF text and images, and converts them to Word or DOCX formats. You can edit and update your content as you wish, in just a few clicks.
Read our post "How to convert PDF to Word online".
If you work with numbers, scientific journals or medical reports, you might receive or download data from web pages in PDF format. It's really common for businesses and websites to present information as PDFs, but what if you need to analyze the data in an excel spreadsheet?
Well thanks to an online PDF to Excel converter you can extract important business data from PDF files and view it in XLSX format. Track your trends by converting your pdfs to searchable excel data to create graphs, charts and visualizations.
➡️ Check out iLovePDF's PDF to Excel Converter.
The last tool in our list for successful remote working is the PDF to Powerpoint Converter. If you want to work on those important projects with no interruptions, this tool is a must-have.
The PDF to PPT Converter completely transforms your PDF file into Powerpoint slides, allowing you to add, remove, or modify text or images. Don't miss a beat and turn your pdfs into editable PowerPoint .ppt or pptx files using this online tool.
Prefer working offline?
If you're struggling with a poor internet connection, or simply prefer working offline, no problem. iLovePDF offers a free desktop application allowing you to work offline with the speed and comfort of your home PC.
This easy-to-use desktop app includes a free PDF Reader plus all your most-loved PDF tools to help you stay on top of your work.
?️ Download iLovePDF Desktop for free for Mac or Windows.
Work remotely with ease
As you can see, with the right tools by your side, you can do just about anything with your PDFs. So, are you excited about embracing your new digital workspace? If you want to boost your workflow and be more productive at home, then check out these PDF tools.
Who knows, iLovePDF may just be your all-in-one remote work solution for your PDF needs!
Have any more suggestions? Feel free to share your favorite PDF tools with us on Facebook, Twitter or LinkedIn with the hashtag #iLovePDFbusiness. We'd love to hear from you!
Get iLovePDF for your team
Free trial
안전 보장
iLovePDF는 보안을 매우 중요하게 생각합니다. 기억 해주세요...
어떤 도구를 사용하든 종단 간 암호화를 사용하여 문서 도난이나 가로채기로부터 최상의 보호를 보장합니다.
당사 시스템에 업로드된 모든 문서는 제3자의 무단 액세스를 방지하기 위해 2시간 후에 자동으로 삭제됩니다.
당사의 모든 서버는 세계에서 가장 제한적인 유럽 법률에 따라 보호됩니다.