Introducing the new Scan to PDF Tool by iLovePDF
Instantly scan documents to your computer with the new Scan to PDF web tool. A how-to guide on using the scanner, its best features, and the benefits of digital scanning.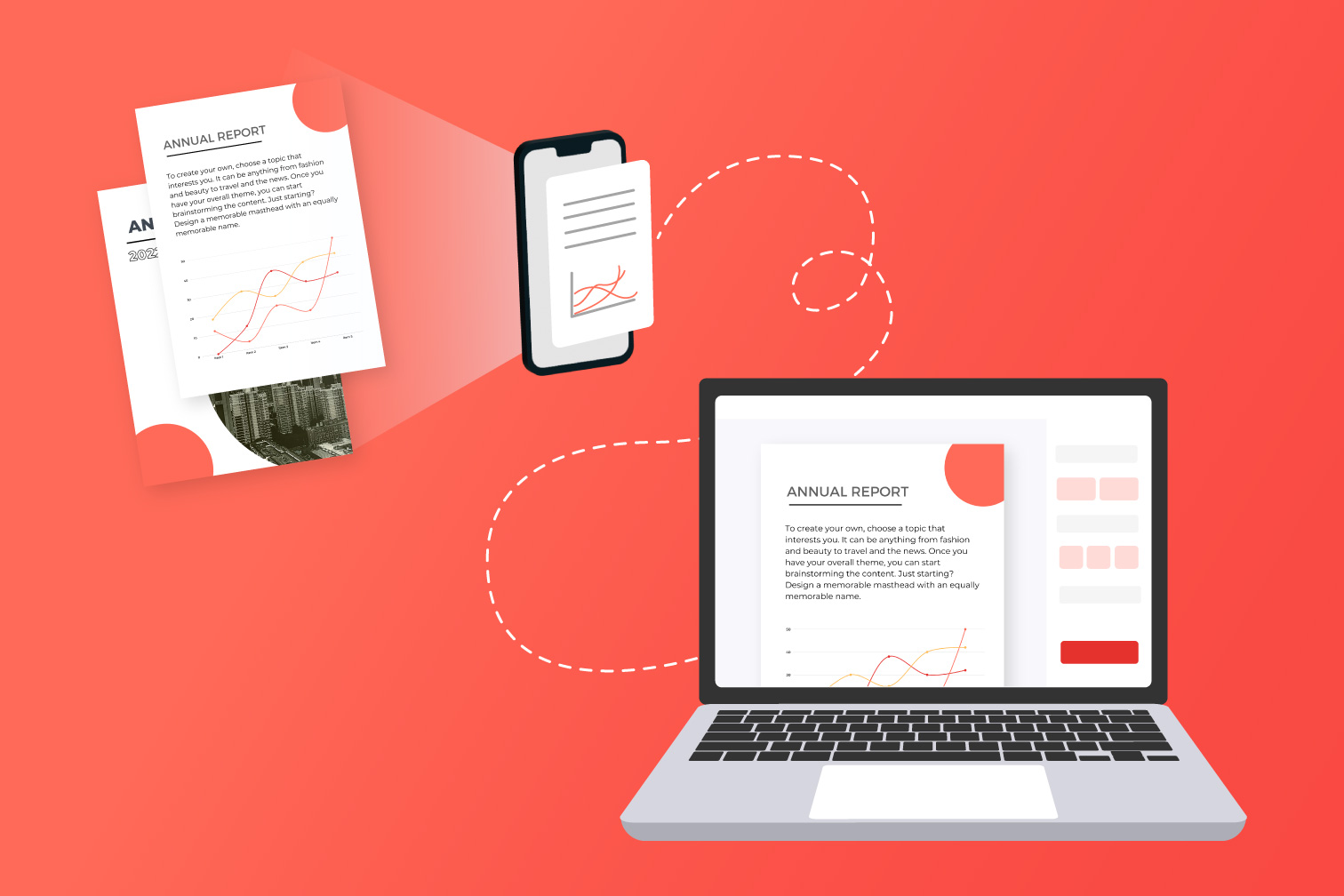 The magic of modern scanner software means you can now accurately scan documents in seconds without any of the heavy and expensive equipment.
To bring your paper documents to life online with the snap of a camera all you need is a mobile device, your computer, and PDF tools. Create high-quality documents that help you improve productivity at home or in the office.
Waving a mobile wand to scan documents into PDF will make you feel like a wizard. Like magic, documents are instantly shared between devices and added to your computer with this new tool.
A how-to guide on using the new Scan to PDF tool for web
Transform yourself into a scanning pro and follow this guide:
Go to the Scan to PDF tool on your computer.
Open your smartphone's camera to scan the QR code on your computer screen and follow the link to our App (you will be asked to download it if you haven't already).
Scan your document and upload it to your computer.
Choose your preferred Scan options and save to PDF.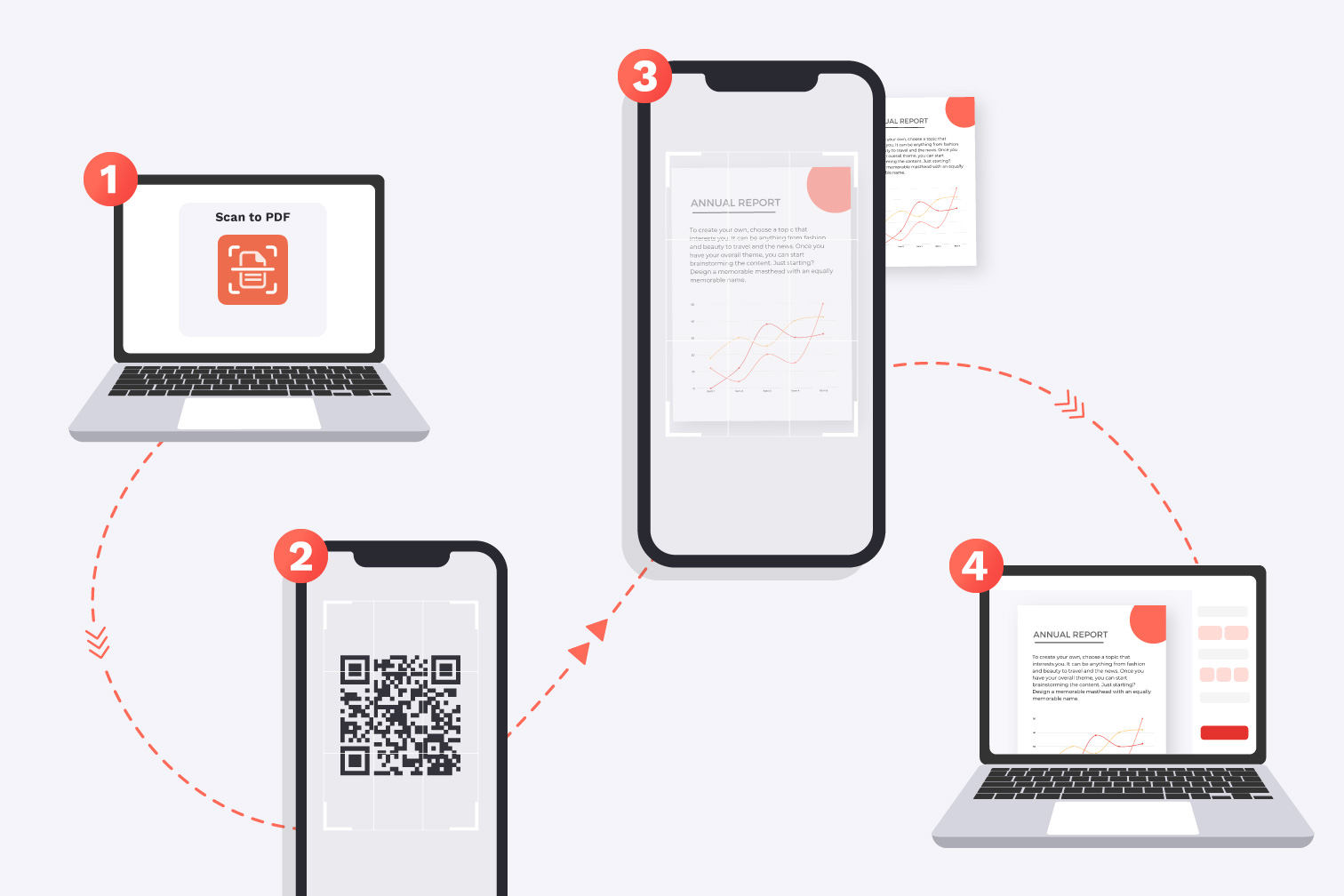 Scan to PDF's best features
Instantly share multiple pages and entire documents straight to your computer.

Easily mark the border of your selected document with an intuitive cropping tool.

Keep scanning to add multiple pages and create one PDF document.

Select filters and distort the image to make your document more visible after scanning. Choose the best option that gives you the most accurate results.

What can I do with a scanned PDF?
You have your digital files scanned on your computer or mobile as a PDF. Now what? Uploading your documents opens up the door to even more productive tools, and iLovePDF has over twenty of them ready to be used in an instant.
It doesn't matter if you're using the web app, desktop, or a mobile device, keep working with your scanned document after uploading. After uploading your document you can; annotate it with the Edit tool, compress it to reduce the file size, merge pages into a single document, convert the format, organize pages for efficiency, protect it with an encrypted password, and sign it with a digital signature.
Why use a document scanner?
Using the tools from iLovePDF can benefit you and your business in a number of ways, and we've selected some of the best.
Here are the top 4 benefits of using a document scanner:
1. Save money, space, and resources
Scanners are clunky and expensive pieces of kit, so scanning a photo is a good way to get the same results without spending all the budget. Getting rid of scanners also means that you're saving space, and resources with less reliance on paper.
The office no longer needs an equipment corner. Scanning equipment takes up space that can now be replaced by a coffee corner to keep the team energized on Monday mornings.
2. Organize & secure your work
Having a hard copy can sometimes be a good thing. But with the potential of online security measures and organizational tools, having a hard copy will just give you a hard time.
Being able to scan and securely store your documents gets rid of the clutter, but more importantly, lets you safely organize everything on your computer.
You can make multiple scans and use a Merge PDF tool to combine your documents into a single PDF file, and then organize them with an Organize PDF tool.
For added security, you can also encrypt your PDF documents with a password using a Protect PDF tool.
2. Easily share your documents
Being able to easily scan your documents and transfer them to your computer makes it even easier to send them to whoever, wherever, and however many times you need to.
Using PDFs is a great way to share documents as they keep their format, and you can compress the file size with a Compress PDF tool to make sure you don't break any file size limits.
4. Work on your documents instantly
Transferring documents to your computer unlocks instant access to your favorite digital productivity tools.
Digital tools are extremely useful for saving time, money, and sanity. With iLovePDF, you have over 20 of these tools waiting to help.
Is it safe to scan my documents and store them online?
There is a completely closed connection between your computer and mobile device that lasts for five minutes, and only we have access to your documents in this time. After this, the connection is closed until the tool is used again. We have end-to-end encryption of these documents that are then automatically deleted from our systems after two hours.
We also pride ourselves on following the strictest data protection standards, including the ISO 27001 Certification & the European General Data Protection Regulation (GDPR), which are some of the strictest safety standards found worldwide.
Try the magic for yourself and start scanning documents with the Scan to PDF tool
Scan now
Veilig in onze handen
iLovePDF neemt beveiliging zeer serieus. Onthoud dat...
Welke tool je ook gebruikt, wij gebruiken end-to-end encryptie om de hoogste bescherming tegen diefstal of onderschepping van je documenten te garanderen.
Elk document dat naar ons systeem wordt geüpload, wordt na 2 uur automatisch verwijderd om ongeoorloofde toegang door derden te voorkomen.
Al onze servers zijn beveiligd volgens de Europese wetgeving, een van de strengste ter wereld.