How Cape Flats students are becoming leaders for change
iLovePDF Success Story: Bottom Up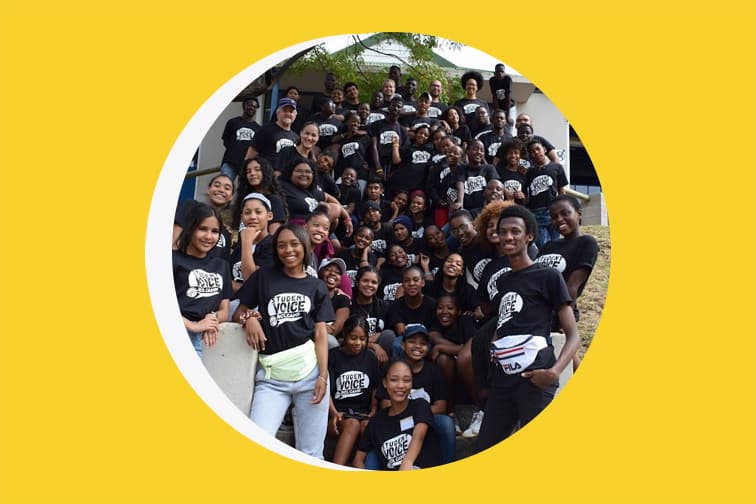 In Cape Town, South Africa, at the height of Apartheid, people were forcibly removed from their homes and relocated to townships in the outskits of the city known as Cape Flats.
Despite the enforced black-white segregation ending over 20 years ago, you can still plainly see and feel the urban separation, with victims of the socio-political injustice still living in poverty today.
Based in the Cape Flats, non-profit organization Bottom Up has been working tirelessly to drive change in the community. Over the past 12 years, they have been helping in under-resourced schools by offering educational enrichment activities to students, as well as providing support to teachers and parents. To support high-schoolers, they facilitate:
Workshops for representatives of student councils to improve leadership and research skills.
Residential camps for students to develop collaborative imagination and belief in their contribution to change.
Clubs for students to practise critical reading, public speaking and writing.
With a strong emphasis on community education and social agency, Bottom Up's workshops and camps encourage students to speak up and act for a fairer and equal education. Bottom Up Project Manager, Helene Rousseau explains:
"In South Africa it is rare to find organisations working with high schoolers as active citizens who believe that they should and can have an input into the state of the education they are receiving, and the ability to act for change. We believe this is important and necessary."
Tackling the new COVID-19 environment
As most of their work is carried out face-to-face, COVID-19 has presented great challenges to Bottom Up and the schools they help. School closures have meant that they had to cancel all of their workshops and camp activities.
They needed to find new ways of working with the physical-distancing rules while having limited resources. First, they budgeted to provide students with mobile devices and data so they could stay in touch via Whatsapp and participate in online workshops. The next step was finding free and easy-to-use tools to edit and share learning material quickly with the students;
"We are so often confronted with the challenge of editing PDF files. It can be a very time-consuming task if you do not have a tool that can do this for you simply", Helene Rousseau commented.
The solution? PDF tools
This led them to discover iLovePDF's free online tools for editing PDF files. To organize digital learning material, Bottom Up used the Merge PDF tool to collate pages together and compile them in a coherent way. Then they used the Split PDF tool to remove unnecessary pages.
"When we came across iLovePDF we were pleasantly surprised to find a non-cumbersome programme that could easily split and merge PDFs as well as converting PDFs to images, which has been invaluable during the pandemic. iLovePDF has saved us precious time that can be used for tasks that really matter."
To share the material easily, they used iLovePDF's PDF to JPG tool to convert pages to image format. This made the information more accessible to students through their mobile phones. Finally, the Compress PDF tool helped them be more efficient with files. Helene Rousseau said:
"iLovePDF's Compress PDF tool allowed us to compress files in order to help student's data go further by sending them smaller file sizes. It has also helped in making our life easier when having to submit compliance documents online which often have a PDF size limit."
Since adopting online tools, the Bottom Up team has been able to get material done, dusted, and delivered to students in a timely manner. It has helped them save time, money, and succeed in making material accessible to students, even in the restrictive COVID-19 environment.

Embracing the digital transformation
As things are slowly returning to normal with the reopening of schools in Cape Flats, the organization hopes to be able to work face-to-face with fellow students again soon.
However no matter what the future holds for the schools, Helene Rousseau says, "as we live in a digital age, we are now working with PDFs on a daily basis, so PDF tools are necessary for everyday work", adding, "I can't think of any company or organisation who would not have a need for these types of tools."
With help from supporters' donations, Bottom Up anticipates their mobile classroom and digital library will continue to play a key role in reigniting genuine student interest and participation in the fight for social justice in Cape Town.
Start digitizing your business today
Free trial
В полной безопасности
iLovePDF очень серьезно относится к безопасности своих пользователей. Помните, что...
Независимо от того, какой инструмент вы используете, мы предоставляем пользователям сквозное шифрование, чтобы обеспечить максимальную защиту от кражи или перехвата ваших документов.
Любой документ, загруженный в нашу систему, автоматически удаляется через 2 часа, чтобы предотвратить несанкционированный доступ третьих лиц.
Все наши серверы защищены и находятся под юрисдикцией европейского законодательства, одного из самых требовательных в мире.