How to onboard somebody remotely in 6 steps
A useful guide for all hiring managers
Since the COVID restrictions, 18.9% of companies switched to remote hiring and with the benefits of remote and hybrid work made clear, remote hiring is here to stay. Gartner predicted that in 2022, 31% of all workers worldwide will be remote and with that number likely to grow, companies need to adapt.
While many remote-first companies already had an effective virtual onboarding process in place even before the pandemic, others are needing to completely reimagine their recruitment to access today's talent pool and welcome new hires from the home office.
A strong onboarding program can improve new hire retention by 82% (Glassdoor), so if you're new to remote recruitment and finding it a challenge, read on to find out how to onboard and engage your next hire seamlessly from day 1. 💪
6 steps to an effective onboarding process
To help future-proof your onboarding post-pandemic and improve the remote employee experience, follow these steps:
1. Send them a welcome kit 🤗
First, a great way to make new hires feel part of the team is by sending them a friendly welcome package.
It could contain your company swag and a personalized welcome letter. In addition to branded merchandise, you could even throw in a few goodies such as sweet treats or healthy snacks. Alternatively, add a blooming tea or candles for a warm surprise!
If you'd rather be practical, how about sending them useful items for working from home like a decent pair of headphones or a Thermo mug? Or simply send a decorative desk item to make them smile. Either way, it's the thought that counts, so don't stress too much about it. Check out Etsy for inspiration.
2. Set them up with IT (straight away)
Next, before you do anything else, you need to get your new employee connected. Ask someone from your IT department to set them up immediately with a company email address, collaboration software for video conferencing, your team's communication tool, file sharing apps like Google Drive or Dropbox, and secure password management.
Tip: Don't wait for the new employee to ask for these things. If you take the initiative by prepping them with the tech, you'll avoid the back-and-forth questions and confusion, and streamline the onboarding process.
Don't have an IT department? Send them a step-by-step IT manual in digital format - and include your company's social media handles!
3. Complete HR paperwork with e-signatures
Offer letters, employment contracts, employee data protection forms...there are so many HR and legal documents that need signing before starting a job. It can all be time-consuming, especially if your new employee has to print, sign, and scan the documents before sending them back via email.
According to Sapling HR, 58% of organizations say that their onboarding program is focused on processes and paperwork. With an electronic signature service such as iLovePDF Signature, recently hired employees can save time and eliminate the need to print by signing all their documents digitally.
You can use iLovePDF Signature to send personalized requests to new hires to gather their signatures on HR forms in an instant. It's faster, more secure, and very easy to use.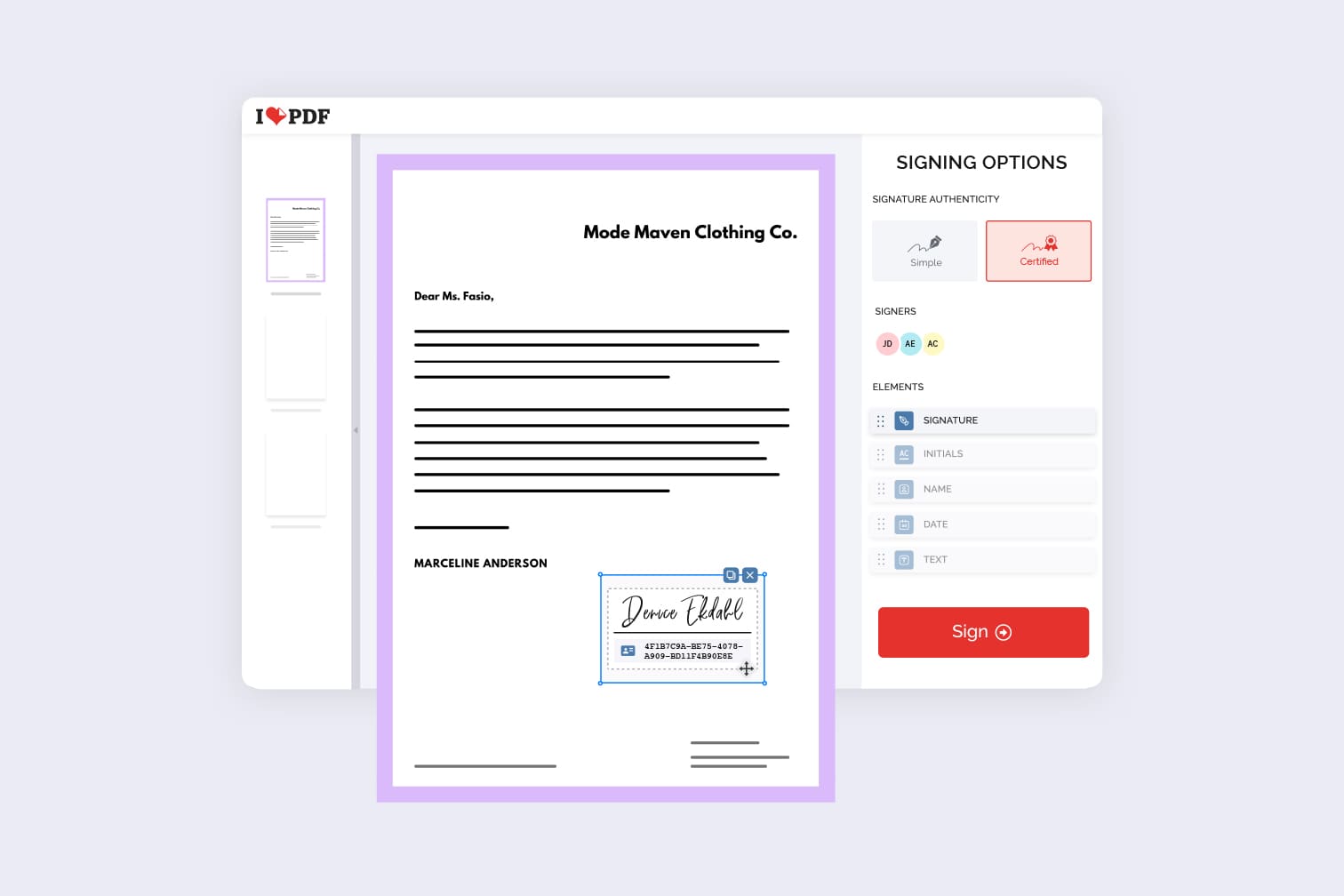 4. Send them an employee handbook
Not the old-school heavy paper book type, but a nice, clean digital version. This is your opportunity to tell the newly hired more about your company culture, values, and vision. It could also include content such as your Brand Guidelines and Privacy Policy.
Ask your graphic designers to create all the necessary documents in digital format, then merge the pages together in one PDF file. If you need to update the handbook in the future, you can rearrange, delete, or add more pages using an Organize PDF tool.
Finally, before you send it to your new remote worker, compress the PDF first so it doesn't take up space on their hard drive.
5. Give them a goal manager
It's not always straightforward starting a new job remotely, so assigning your new hire a buddy, manager, or supervisor can really help. Their job would be to outline the new employee's work objectives, set goals, and create a task list that can be shared with them in a work calendar such as Google Calendar.
This person could also be their main point of contact if they have any worries or questions in the onboarding. Start assigning your buddies plenty of time in advance so they can get organized too.
6. Introduce them to the team 🙋‍♂️
Hi! One of the best ways to foster human connection and help workers get acquainted with other remote team members is to organize a group video call using Zoom or Slack. Introduce new workers to the rest of the team, then get your other team members to present themselves too.
Tip: Putting everyone's focus and attention on the new hire for a long time on camera might be intimidating. A good way of breaking the ice is to prepare conversation topics or games beforehand and ask someone else to lead the video conference.
Finally, to help new hires gel more with their colleagues, you could arrange individual meetings with the departments they will be working with and get each person to explain what they do.
Ready to give the best virtual onboarding experience?
With the right preparation and tools, the remote onboarding process can be easy, efficient, (and fun!), no matter where you are.
We hope you found this checklist helpful. For further reading, discover some remote work best practises and ways to boost productivity at home by checking out our post "How to be a minimalist remote worker."
Complete HR paperwork faster with e-signing
Learn more
В полной безопасности
iLovePDF очень серьезно относится к безопасности своих пользователей. Помните, что...
Независимо от того, какой инструмент вы используете, мы предоставляем пользователям сквозное шифрование, чтобы обеспечить максимальную защиту от кражи или перехвата ваших документов.
Любой документ, загруженный в нашу систему, автоматически удаляется через 2 часа, чтобы предотвратить несанкционированный доступ третьих лиц.
Все наши серверы защищены и находятся под юрисдикцией европейского законодательства, одного из самых требовательных в мире.