Meet the PDF/A family
Everything you need to know about PDF/A format, PDF for Long-term Archiving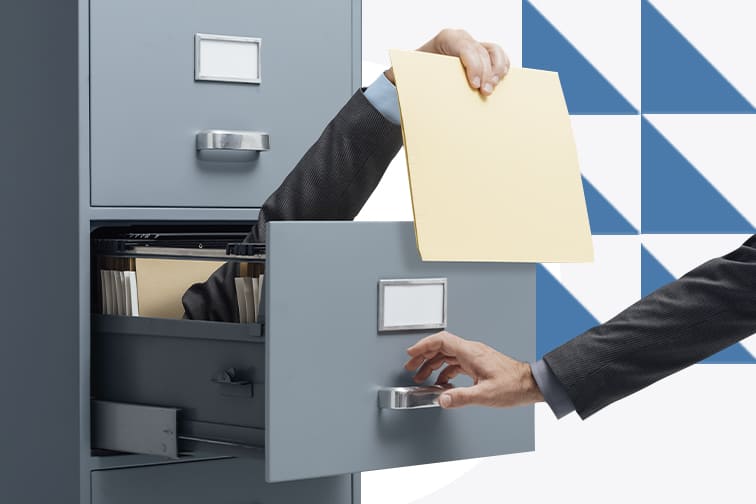 With technology evolving so fast and obsolescence threatening our devices, it is important to preserve our documents safely for the long-term which is the primary goal of PDF/A format. Besides replacing paper with electronic documents, PDF/A format ensures that a document can be reproduced exactly the same way it is, regardless of what software is used, when accessed at some point in the future.
If we store a document in what it might be a current popular format, chances are that this format will be outdated in 10 years' time, making it impossible to read and view the registered information.
When it comes to document storage, it is common to hear about the convenience of the PDF/A format. But what makes it different from the 'normal' PDF format and what makes it a better choice for document archiving purposes?
PDF/A is a family of ISO standards for constrained forms of PDF intended to be suitable for long-term preservation of page-oriented documents for which PDF is already being used in practice. Until 2008, PDF format was owned by Adobe, who directed the evolution of the format. Afterward, it became an open format under control of the International Organization for Standardization (ISO) and was published as a standard ISO 32000-1:2008.
Unlike normal PDFs, PDF/A requires that everything that is necessary to render the document precisely is contained in the PDF/A file, including fonts, color profiles, and images, among others.
Examples of when to use PDF/A
Often is not enough to open and view a document, you need something more to understand it. Here are a few examples contemplated by PDF/A:
If you open a document with a unique font and said computer doesn't have that font installed, it won't be able to display the document correctly. → PDF/A embed the font within the same document.

If a contract contains a link and that URL is no longer valid, the original document loses a part of its meaning. Despite being able to read the whole document, we won't be able to access a reference, thus we won't be able to completely validate it. → PDF/A does not support the inclusion of URLs since its content may not be available within several years.

If a document is password protected and you don't know the password, you won't be able to open it. → PDF/A does not support encrypted documents to prevent these documents from losing accessibility at any point in time.

If we have a document containing an image we need to take into account that the output of the PDF will be dependent on the colors available on the device itself, thus it can vary drastically. → PDF/A doesn't admit colors that depend on a device, but only independent colors specified by the International Color Consortium (ICC).

Therefore, PDF/A format limits some of the many possible operations that standard PDF allows. All this with the objective that a document can be stored in a document manager and, after many years, can be properly opened, read and understood.
PDF/A Conformance levels and versions
Take a closer look at the different PDF/A versions to find the best fit for your archiving purposes:
PDF/A-1
This version was first published on September 28, 2005. These are the requirements intended to improve a document's accessibility:
Language specification

Hierarchical document structure

Tagged text spans and descriptive text for images and symbols

Character mappings to Unicode

PDF/A-2
Published on June 20, 2011, PDF/A-2 includes some new features. PDF/A-1 files will not necessarily conform to PDF/A-2, and PDF/A-2 compliant files will not necessarily conform to PDF/A-1.
Language specification

JPEG 2000 image compression

Support for transparency effects and layers

Embedding of OpenType fonts

Provisions for digital signatures in accordance with the PDF Advanced Electronic Signatures – PAdES standard

The option of embedding PDF/A files to facilitate archiving of sets of documents with a single file

PDF/A-3
Part 3 of the standard, published on October 15, 2012 differs from PDF/A-2 in only one aspect: It allows embedding of arbitrary file formats (such as XML, CSV, CAD, word-processing documents, spreadsheet documents, and others) into PDF/A conforming documents.
PDF/A-4
PDF/A-4 was published in 2020 and is based on PDF 2.0. Its specification provides information on how to manage content that uses the newest features, including the output quality in each of the pages.
How to convert your PDF to PDF/A online
You can easily transform your documents with our PDF to PDF/A converter.
Transforming a typical PDF file into a PDF/A-1 usually requires the most changes. With PDF/A-2, in contrast, fewer changes are needed, plus you will get smaller files. PDF/A-3 is basically the same as PDF/A-2, but it allows for the embedding of non-PDF/A files.
PDF/A files created with our free online tool are ISO-compliant. iLovePDF can be used to rapidly convert your PDF document to its standardized ISO version.
Check out how to do so below:
Navigate to our PDF/A converter tool.
Select the file you want to convert.
Click the Convert to PDF/A button.
Download your converted file to your computer or save it to DropBox or Google Drive.
PDF/A offline conversion
Here at iLovePDF we work with the aim of making you more productive so you can have time for things that matter. We are aware that sometimes, just an online version is not enough to meet your needs.
If you process files containing a lot of pages or heavy on size, online processing can be more time-consuming. In order to prevent this from happening, try using our offline version for PDF to PDF/A.
Our Desktop Application is the perfect solution when working with restricted internet access or large file sizes. It allows you to convert to PDF/A offline from the comfort of your Desktop. Check it out by installing iLovePDF Desktop for free for Mac or Windows.
PDF tools for productive people
Convert PDF to PDF/A
В полной безопасности
iLovePDF очень серьезно относится к безопасности своих пользователей. Помните, что...
Независимо от того, какой инструмент вы используете, мы предоставляем пользователям сквозное шифрование, чтобы обеспечить максимальную защиту от кражи или перехвата ваших документов.
Любой документ, загруженный в нашу систему, автоматически удаляется через 2 часа, чтобы предотвратить несанкционированный доступ третьих лиц.
Все наши серверы защищены и находятся под юрисдикцией европейского законодательства, одного из самых требовательных в мире.