How to convert PDF to PDF/A on Mac and Windows
Future-proof your electronic documents for long term archiving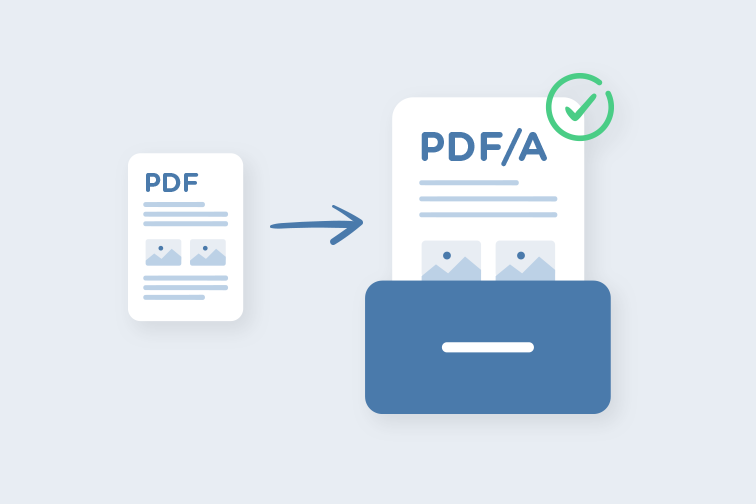 As cutting-edge technologies continue to evolve and make others obsolete, at least we can be sure of this: We will still be able to read our important documents on any device or operating system in the future - IF they are converted to PDF/A.
This post will show you how to convert PDF documents to PDF/A and validate them in iLovePDF on your MacOS or Windows PC.
What is PDF/A?
If you are unfamiliar with this file format, you might be wondering, What is PDF/A and why do I need it?
Let's imagine PDF/A is the cousin of PDF, the industry-standard Portable Document Format that you commonly use to save files. PDF/A is in the same family as PDF but a subset of the file format.
The ISO standard for long-term archiving
PDF/A is ISO-standardized to meet the requirements of the long-term archiving of electronic documents. The standard ensures that the document doesn't contain superfluous features that could be obsolete - or even removed - when opening the document in future software.
What does this mean? All the information required to open and display the document is kept intact so you can reproduce and view its contents in exactly the same way in different software years later.
Why do we use PDF/A?
The PDF/A standard has many great benefits for storing documents electronically. Here are some you should know:
Document integrity: PDF/A preserves the integrity of the documents which is why many regulated industries like legal systems and educational libraries use the standard for archiving documents.

Extra security: When e-signing with digital signatures, converting to PDF/A provides high security for documents containing sensitive or legally enforceable information. It helps check that the PDF document hasn't been tampered with and is authentic.

Accessibility: Converting to PDF/A avoids problems opening and reading files in the future so you can access valuable resources anywhere in the world, whenever you need them.

How to convert to PDF/A: Step-by-step
You can easily convert any PDF document to PDF/A on your computer in applications like iLovePDF. To use this feature, all you need is a Premium account.
First, create your iLovePDF Premium account. Then, follow these steps to convert PDF to PDF/A on your macOS or Windows PC:
What are the different PDF/A versions?
PDF/A ensures that files saved in this format can be opened in the future PDF viewers. However, documents saved in this standardized format can have different versions and levels of PDF/A compliance.
Each one is more or less restrictive with the features supported when preserving the file's content. iLovePDF allows you to convert documents to the following PDF/A versions and their conformance levels:
PDF/A-1 (b and a)

PDF/A-2 (b, u and, a)

PDF/A-3 (b, u, and a)

To understand them and help you decide which best suits your document archiving requirements, check out our PDF/A versions and conformance levels guide.
How can I validate PDF/A?
Finally, after you have finished creating PDF/A documents or somebody sends you one in this format, you might ask, How can I check that the document is PDF/A?
It is not easy to tell whether or not a document is saved in PDF/A just by looking at it. That is why applications such as iLovePDF offer a FREE PDF/A validator to check.
To validate the PDF/A compliance of your documents, you can follow these easy steps:
Prep for the future with PDF/A
If you have documents that you may need to access again in the far future, storing your file in PDF/A format is recommended. You won't need to worry about the files not being compatible with new software.
The most practical option for converting to this file extension is through a reliable desktop application such as iLovePDF.
Veilig in onze handen
iLovePDF neemt beveiliging zeer serieus. Onthoud dat...
Welke tool je ook gebruikt, wij gebruiken end-to-end encryptie om de hoogste bescherming tegen diefstal of onderschepping van je documenten te garanderen.
Elk document dat naar ons systeem wordt geüpload, wordt na 2 uur automatisch verwijderd om ongeoorloofde toegang door derden te voorkomen.
Al onze servers zijn beveiligd volgens de Europese wetgeving, een van de strengste ter wereld.