How to sign a PDF document on your mobile
Follow this guide to add a signature to PDF files using your iOS or Android device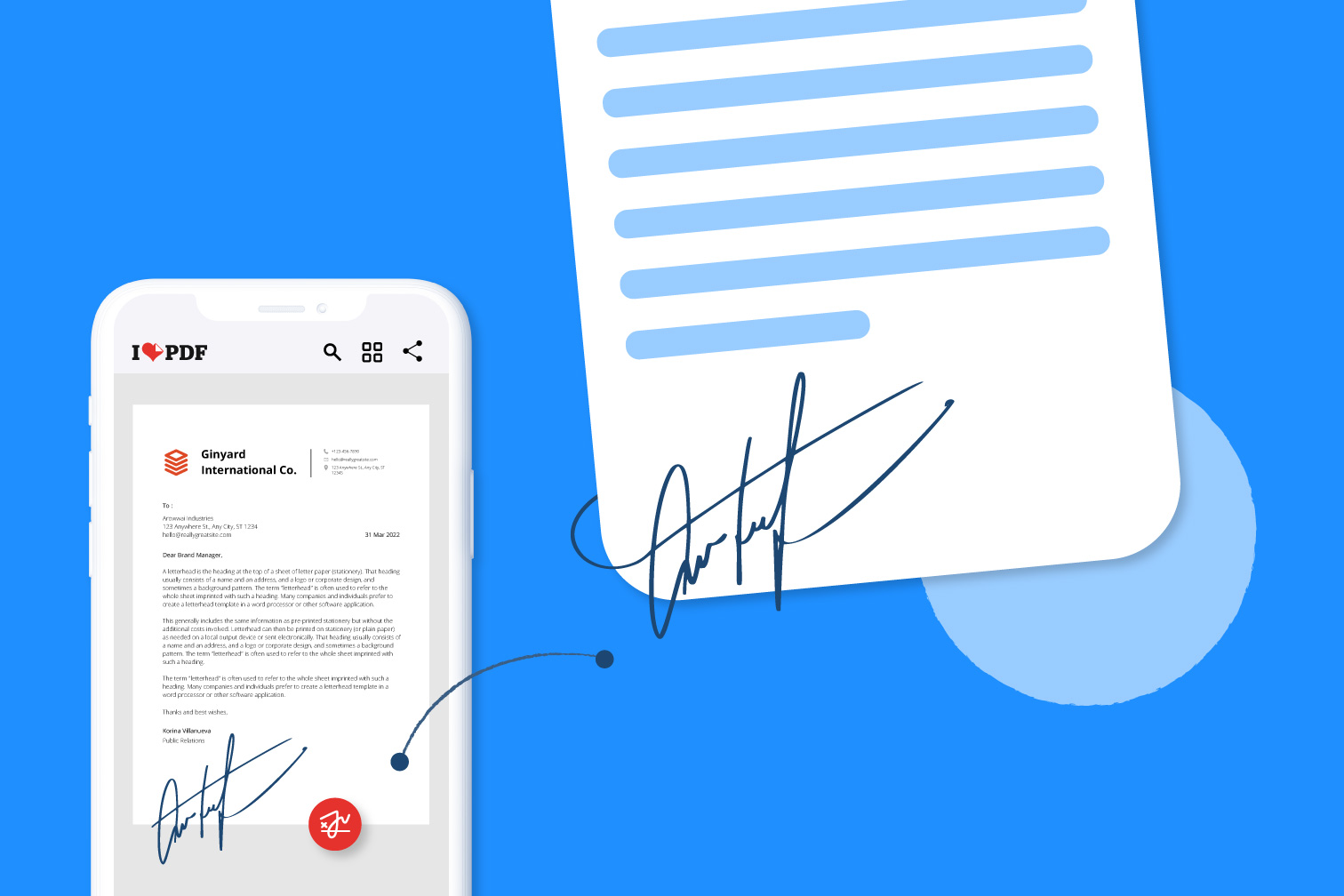 Loads of different types of documents need signing at work or in college, from contracts and invoices to consent forms. Today there are several signing apps available to digitize the signing process by allowing you to sign PDF documents electronically. This is useful because it eliminates the need to print paper and speeds up the time it takes to collect signatures.
In addition to web solutions, some mobile apps offer a handy markup feature that allows you to place your signature on a PDF in seconds directly from your mobile or tablet. It's the perfect tool to have on your iOS or Android device when you're traveling because it allows you to sign forms and other agreements on the move without having to wait until you have arrived at your destination.
Sign PDF files using the iLovePDF Mobile App
You can add your signature to a PDF document quickly and easily on the go using the iLovePDF Mobile App. The app offers a straightforward e-sign tool for people searching for a quick solution to document signing. To access this handy markup tool, all you need to do is download the iLovePDF Mobile App, open the document you want to sign, then tap the signature option to add your signature.
It's fast, straightforward, and can be done from anywhere, on any device. Here are step-by-step instructions to help you sign PDFs on your smartphone using iLovePDF:
How to add a signature to PDF on iOS or Android
Download the iLovePDF Mobile App from the App Store or Google Play store.
Open the PDF file that needs signing from your smartphone or Cloud storage category.
Tap on the 3 dots at the top right side of your document.
Select the option, Tools, then Sign PDF.
Tap on the signature icon to freehand draw your signature using your finger, Tablet pen, or Apple pencil.
When you're happy with how your electronic signature looks, tap Done. You can also save your signature to reuse it in the future.
Select your signature to drag and drop it into position on your document.
Finally, tap on the check icon. Your document has been signed.
Can I send documents for signature?
iLovePDF also offers a more advanced online Sign PDF tool that allows you to send invites to peoples' email addresses and collect their signatures on your document. This helps multiple parties e-sign documents remotely and improves the customer experience.
The tool includes the option to sign contracts and forms using a Digital Signature for extra security, including from your mobile device. Not familiar with Digital Signatures? Find out the difference between an Electronic Signature and a Digital Signature.
Get more markup tools on your mobile or tablet
The next time you're on a business trip or working remotely, remember that you can still add your signature to any PDF document in a few taps using the iLovePDF Mobile App.
Looking for more markup tools to help you annotate your PDF documents? You can also highlight, add notes, call-out boxes, underline text - and more - to PDFs using iLovePDF's selection of annotation tools. Simply download the app on your iPhone, iPad, Android phone or Tablet to start editing PDFs in a tap.
Sign a PDF file on your mobile device
Free download
Veilig in onze handen
iLovePDF neemt beveiliging zeer serieus. Onthoud dat...
Welke tool je ook gebruikt, wij gebruiken end-to-end encryptie om de hoogste bescherming tegen diefstal of onderschepping van je documenten te garanderen.
Elk document dat naar ons systeem wordt geüpload, wordt na 2 uur automatisch verwijderd om ongeoorloofde toegang door derden te voorkomen.
Al onze servers zijn beveiligd volgens de Europese wetgeving, een van de strengste ter wereld.