How to write on a PDF file
Add your own annotations to a PDF document online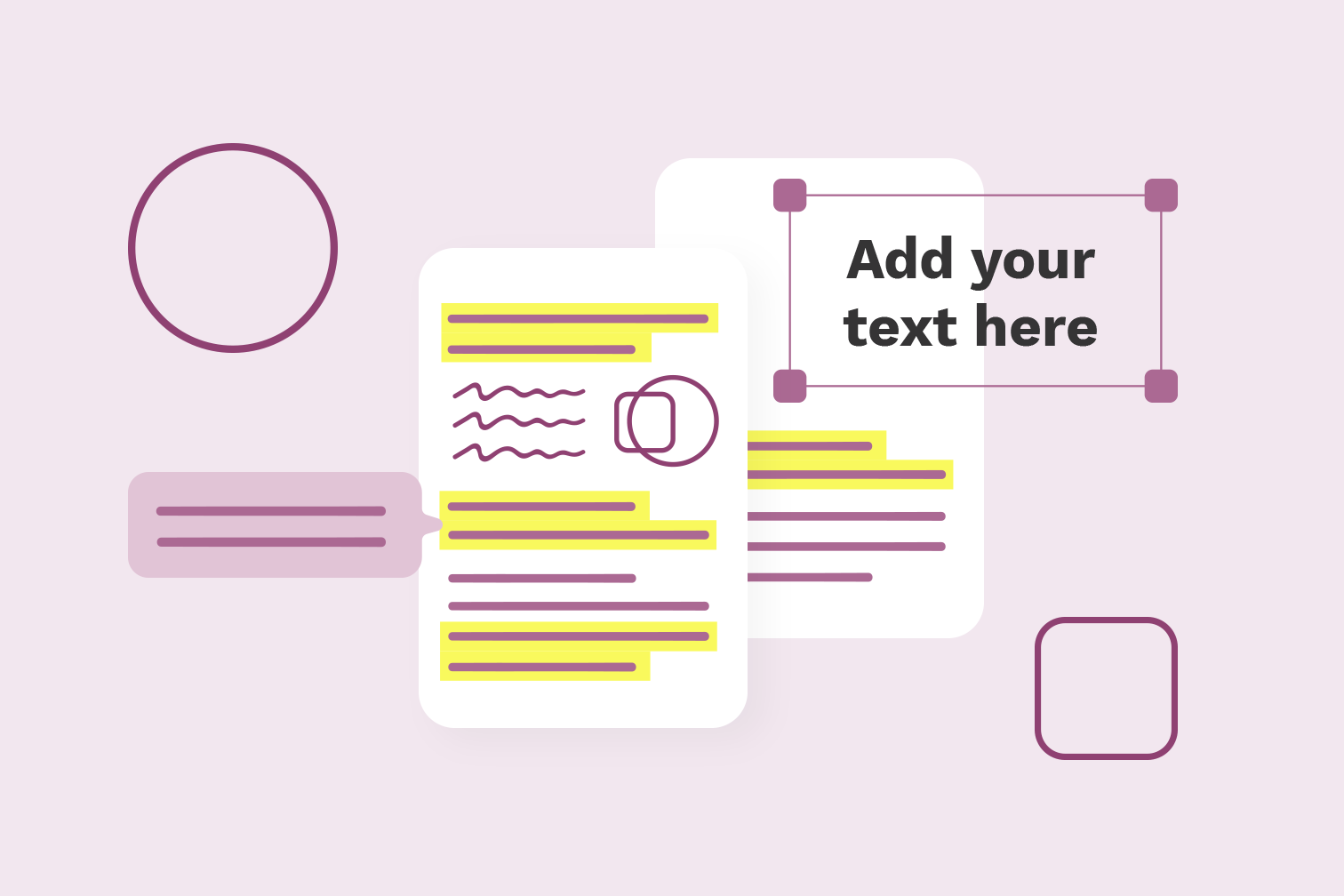 This post will show you the simplest way to type or write on PDF documents for free using iLovePDF.
Grading a student's assignment? Adding suggestions to a design proposal? Taking notes while reading an ebook? There are loads of different reasons why you may want to make some quick edits to a document saved in the PDF file format.
If you find yourself in this situation while you're working or studying, you can annotate your file straight away using the iLovePDF PDF Editor.
Write on PDF files using a free PDF Editor
You can use iLovePDF's free PDF editing software to make easy PDF annotations using handy markup tools. It's available online so you don't need to install anything to use it. Follow these steps:
Go to the iLovePDF PDF Editor.
Select the PDF file you want to edit or drag and drop it to start.
In the top toolbar, choose from the writing tools, Text or Draw.
You can freehand draw or type on the original PDF document.
You can also adjust the position, size, color, and text format.
When you´'re ready, click the red Edit PDF button.
Click the Download PDF button or save your modified PDF in the Cloud.
What different ways can I annotate my PDF?
If you need to comment on a PDF document that you're checking for somebody or circle existing text you find useful, the iLovePDF PDF Editor has the solution. It offers different markup tools to modify PDF files in an instant.
You can use the edit tool to:
Type the text you want to appear in a text box and position it in the document

Freehand draw your own annotations to highlight ideas or make suggestions

Insert images in PDF versions of brochures and guides

Add shapes and straight lines

Add emoji stickers to grade schoolwork

Can I write on PDF files using my smartphone?
If you need to make changes to PDF documents on the go, the iLovePDF Mobile App has got you covered. It offers a portable PDF Editor to write or type on a PDF file from your iOS or Android device.
Even more advanced than the web version, the mobile PDF Editor includes extra PDF tools to add notes in PDF and highlight text in PDF.
One tool for ALL your PDF modifications
There are many occasions when you might need to modify a PDF document. Maybe you will use one PDF annotation tool more often than another, depending on the use.
Whichever method you choose to write on a PDF document, it's good to know that there are plenty of options available to you on the web and on your mobile. Who knows? They might really come in handy someday for your office job, remote work, or studies.
Write on a PDF document using iLovePDF
Edit PDF
Veilig in onze handen
iLovePDF neemt beveiliging zeer serieus. Onthoud dat...
Welke tool je ook gebruikt, wij gebruiken end-to-end encryptie om de hoogste bescherming tegen diefstal of onderschepping van je documenten te garanderen.
Elk document dat naar ons systeem wordt geüpload, wordt na 2 uur automatisch verwijderd om ongeoorloofde toegang door derden te voorkomen.
Al onze servers zijn beveiligd volgens de Europese wetgeving, een van de strengste ter wereld.