How to sign a Word document without printing it
Place your signature on Microsoft Office documents easily with this tool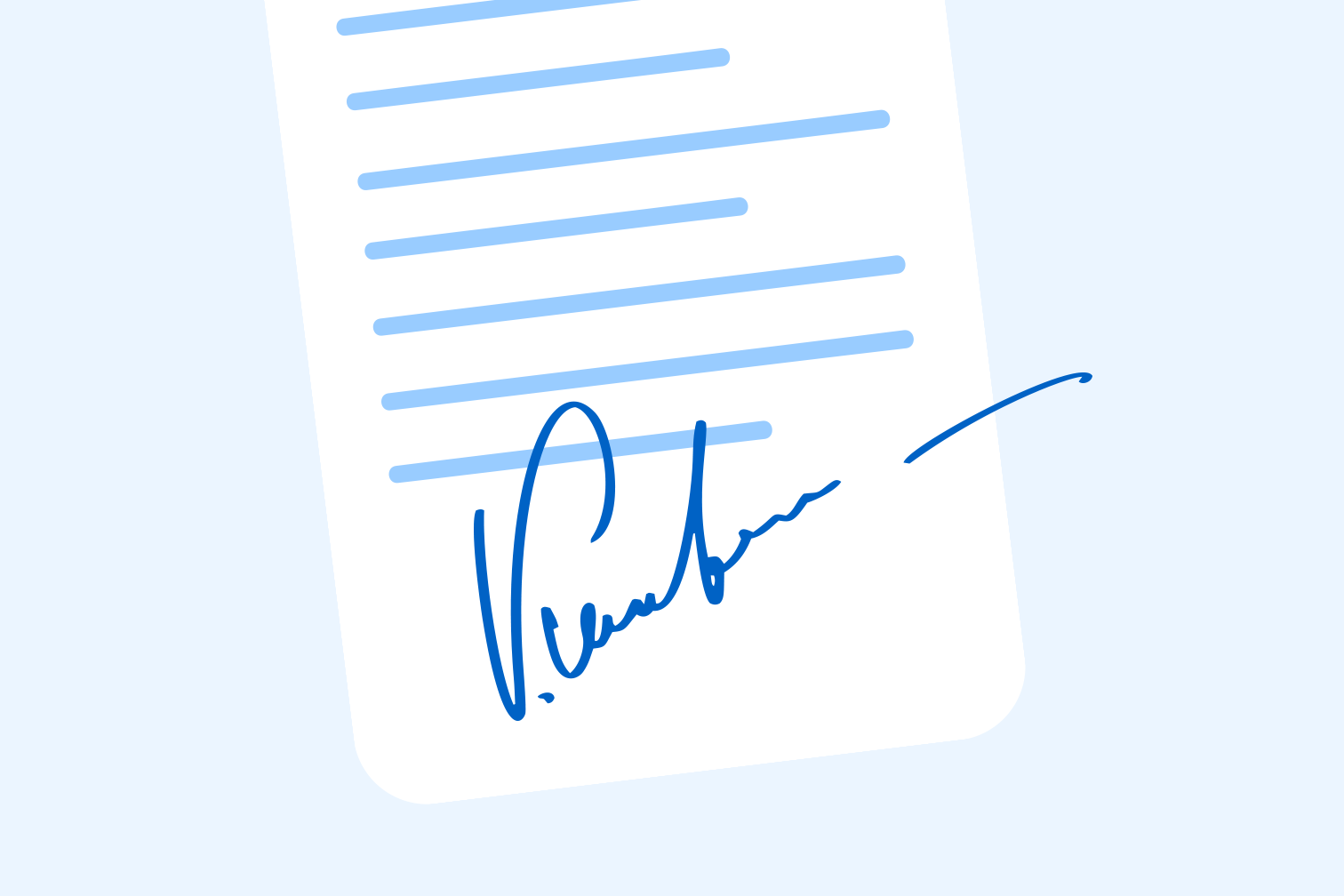 This step-by-step guide will show you how to add a signature to a Word document after saving it as a PDF file.
Today, with teams being more geographically diverse and workers preferring the home office, learning how to sign documents remotely is a key skill. A common question amongst remote workers is, "How can I sign a Word document without a printer?".
Luckily, there is a really easy solution to this problem and it takes seconds. In this post, you'll learn how to electronically sign a Word document with a legally binding signature. To do it, you can use iLovePDF's trusted eSign tool. Let's walk you through the steps:
Step 1: Save your Word document as PDF
First, before you sign your Word document, you need to save it as a PDF file. Word documents can be modified, meaning someone could easily make further alterations to your document after you've signed it or even forge your signature.
PDF is a secure, non-editable format that's standard across all industries. You can save your Word Doc as PDF directly in Microsoft Office by clicking File, then Save As and selecting PDF. Or, follow these quick instructions to save your Word document as PDF online:
Go to iLovePDF's Word to PDF tool.
Upload your Word document or drag and drop it in the tool.
Once you've uploaded a document, click on the Word to PDF button.
Finally, download your converted PDF file.
Step 2: Add a signature to your PDF file
Once you've saved your Word document as a PDF file, you can now sign it securely using iLovePDF's e-sign tool. Follow these instructions to easily place your signature on any PDF file:
Go to iLovePDF's Sign PDF tool.
Upload your PDF file or drag and drop it into the tool.
Click the option, Only me.
Enter your full name and initials, then create your signature. Either type or draw your signature, or if you have a photo of it saved, you can upload it. Then, click the button marked, Apply.
In the signing options, select the Simple or Digital signature type, then, click on the Signature field to place it on the document.
You can also add extra information like text, initials, and the date.
When you're finished, click Sign.
Finally, download your signed copy by clicking on the red button.
How can someone be assured that my signature is genuine?
If you need to sign an important document like a business deal or rental agreement remotely, you might ask, "How can I prove my signature is genuine?". Being able to show the authenticity of your signature depends on the type you use.
There are two types of signatures: Simple signature or a Digital Signature (iLovePDF offers both of these).
The Simple signature is a standard electronic signature. Electronic signatures are like the digital version of adding a handwritten signature with ink on paper.

A Digital Signature carries a digital signature certificate. It provides proof to your recipient that your signature on the document is authentic. Your signature is also backed with an audit trail that contains details like the time and place you signed the document. It helps your recipient track the signing process to check if it's you.
For maximum assurance, use the Digital Signature. In order to do so, you need a Premium subscription to iLovePDF. You can easily create your Premium account here.
Get all your documents signed in a click
As you can see, signing a document in Microsoft Word is really easy when you save it as a PDF. Plus, once you've found your go-to electronic signature tool, you can use it for ALL your documents and forms.
Do you work in a team? If you need an enterprise-level digital signature solution, there are loads of options online. Just make sure the tool you choose meets the right requirements. To help you check, read these 5 things to consider when choosing an e-signature service.
Now that you know how to sign your Word document, you can teach others the same skill! Just share this post with them on Social Media and tag @iLovePDF.
Have you saved your word document as a PDF?
Yes, start signing
Säkert i våra händer
iLovePDF tar säkerhet på största allvar. Kom ihåg det...
Oavsett vilket verktyg du använder, så har vi end-to-end-kryptering för att säkerställa högsta skydd mot stöld eller manipulering av dina dokument.
Alla dokument som laddas upp i vårt system raderas automatiskt efter 2 timmar för att förhindra all ej auktoriserad åtkomst från tredje part.
Alla våra servrar är säkrade under europeisk lag, en av världens mest restriktiva.