iLovePDF Web or Desktop: Which should I use?
Find out which option is the best fit for you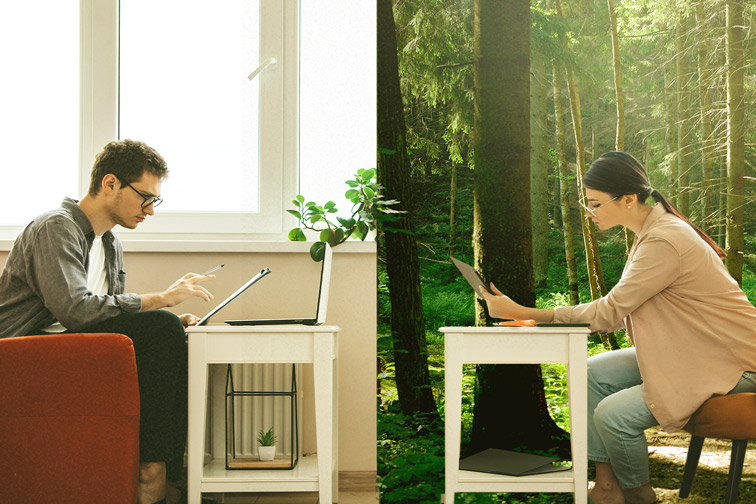 To help you work smarter and more efficiently, iLovePDF offers both a Web Application and Desktop version to edit, convert, and manage your PDF files online and offline with ease.
Both applications have their own characteristics, so choosing whether to work with the Desktop or Web app depends on the specific use, and user environment (Check out the Desktop Vs Web summary below).
Desktop Vs Web: What is the difference?
In terms of functionality, the main difference between the two apps is that the iLovePDF Desktop version is a computer program that runs locally on your computer device, while the Web application requires an internet connection to work.
They also offer slightly different tools and file processing options to meet specific industry requirements.
What does the Web version offer?
The iLovePDF Web version provides all the tools you need to edit, convert, organize, merge and compress PDF files easily over the internet. You can access them all directly at ilovepdf.com.
That includes business tools that can only be accessed online like iLovePDF's advanced Sign PDF tool for eSigning contracts securely. To learn more about electronic signatures, read our post "How to digitally sign a PDF".
Here is a list of tools that are exclusively available on the web: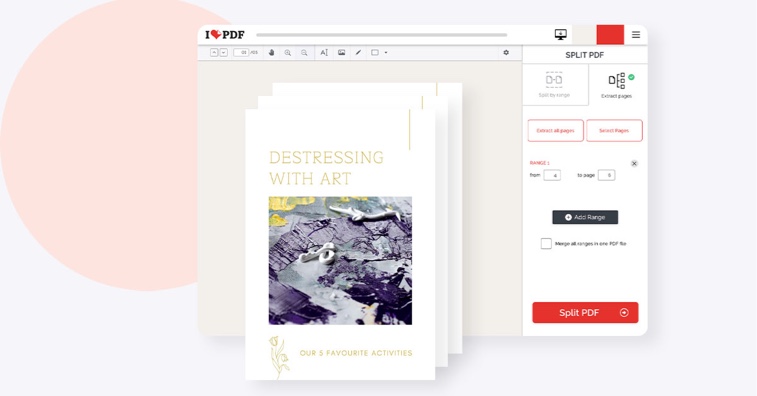 What does the Desktop App offer?
Doubling up as a free PDF Reader, the iLovePDF Desktop application allows you to preview, read and print your PDFs in the simplest way possible.
You can process an unlimited number of files (with no size limits!) using most of the tools available at ilovepdf.com, without needing an internet connection. That includes PDF converters for transforming PDF to Word, Powerpoint, and Excel.
Also, iLovePDF's Desktop app contains a PDF/A Validator for checking the PDF/A compliance of documents. Simply install the Desktop App for free on your macOS or Windows PC.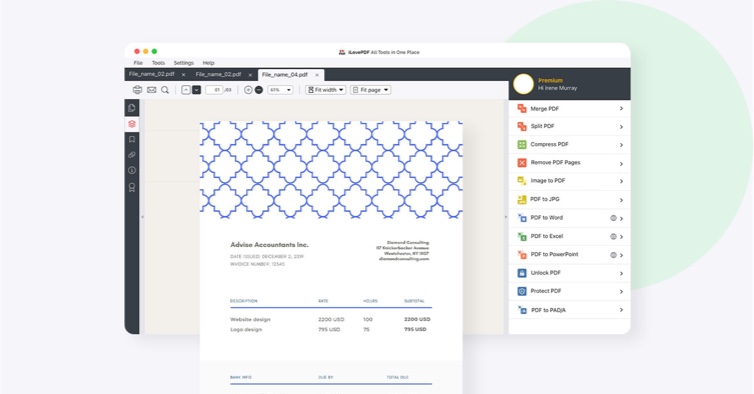 Which one should I choose?
If you are an individual user in a hurry to perform a document task and send it quickly online, then the web version is a great solution.
Completing something more time-consuming? Some companies and institutions have to handle large flows of documents daily, so they need a batch processing solution. In these cases, the Desktop App could be more suitable.
Tip: If you're on the move with no wifi, instead of spending loads connecting your mobile internet on your laptop, just work directly offline from your computer with the Desktop App.
Otherwise, if you are in an industry such as HR or Finance that works with contracts and forms, you may require the full suite of web tools to streamline the workflow.
To help you decide which option is right for you, we've summarized iLovePDF Desktop Vs Web below.

Our advice? Use both! Depending on the task at hand, you can easily switch between the two options hassle-free, and with no registration required.
For example, with straightforward document tasks such as e-signing a form or adding a title to a PDF, you can use the online version. To access it easily, just bookmark ilovepdf.com in your browser.
For really heavy files, avoid long loading times by working offline through the desktop app. You can install iLovePDF for free on MacOs or Windows to open our tools directly from your taskbar.
Are they free to use?
You can process files for free online and offline using iLovePDF. Although if you are working with many files which need to be converted or compressed in one session, it's worth considering the Premium option.
To find all the tool limitations for Free and Premium users, take a look at our Pricing page.
Are my files safe?
Yes. Your files are completely safe using iLovePDF. Although some users like to process their files offline directly from their device - especially companies who deal with highly sensitive information - remember that all files uploaded to our servers are 100% secure.
To find out how we protect your document data online, read our post, "Are my files safe with iLovePDF?".
Get iLovePDF for your team
Free trial
З нами в безпеці
iLovePDF дуже серйозно ставиться до безпеки. Пам'ятайте, що...
Неважливо, який інструмент ви використовуєте, аже ми забезпечуємо наскрізне шифрування, щоби забезпечити найкращий захист від крадіжок чи перехватів ваших документів.
Будь-який документ, завантажений до нашої системи, автоматично видаляється протягом двох годин, аби запобігти нескнціонованому доступу третіх осіб.
Наші сервери захищені та знаходяться під захистом європейського законодавства, що є одним з найвимогливіших у світі.