How to convert a PDF to PowerPoint
Use this free tool to create slide presentations from PDF files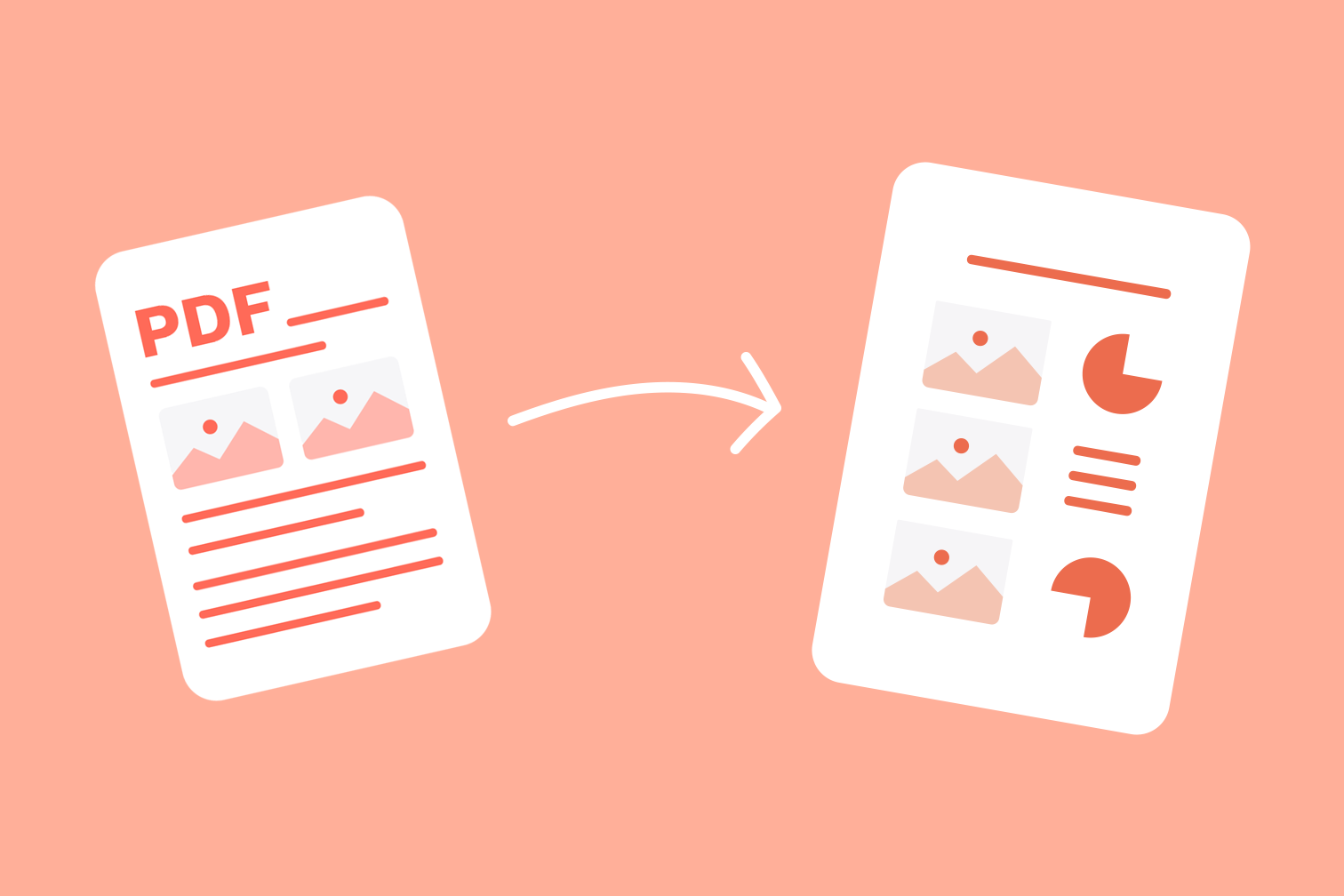 This tutorial will walk you through how to transform a PDF file into a stylish Powerpoint presentation in seconds.
Here's the situation: A colleague from work or a classmate sends you a PDF file via email and you want to turn the content into a Powerpoint presentation. How do you do it?
Instead of starting from scratch, the answer is using an online PDF to PPT converter. Since you don't have to re-draw presentation slides, copy and paste words, or take screenshots, it will save you hours.
The online tool is super-fast, reliable, and will transform PDF to Powerpoint with little effort required. Want to know how to go from PDF to PPTX with iLovePDF? To do it is really simple and takes seconds. Just follow the steps below!
Go to the iLovePDF PDF to Powerpoint tool.
Select the PDF document you want to convert from your computer, Cloud storage, or drag and drop it to start.
Click on the red Convert to PPTX button.
To save your PPTX file, click Download Powerpoint.
Can I edit the text in my presentation file?
Yes, the iLovePDF PDF to PowerPoint converter transforms your PDF pages into editable slides that are compatible with the Microsoft Powerpoint program.
Once your PDF page has been converted to the PPTX file format, you can open it, then modify the text or add or remove words and phrases as you please.
How accurate is the PDF to Powerpoint conversion?
Different PDF to PPT converters may give slightly different conversion results, so there's no harm in trying out a few to see which works for you.
If you'd rather save the hassle, the iLovePDF PDF to PPTX tool is a great first option because of its top-notch file conversion accuracy - trusted by millions of users daily!
When you convert a PDF to another file format with iLovePDF, it will look the same as the original document (unless its formatting or visual quality is very poor. In these cases, even iLovePDF can't help you).
Can I convert PDF to PPT on my mobile device?
Going from PDF to Powerpoint is just as easy through your smartphone: If someone pings you a PDF when you're on the go that you want to turn into a beautiful presentation file, you can do it in a few taps using the iLovePDF Mobile App.
Just import your PDF, tap on the Convert button, then open it up in the Microsoft Office App to continue working with your slides.
Convert files offline with iLovePDF
Prefer working on those slides offline? iLovePDF also offers a Desktop version to help people carry out file conversions without having to rely on an internet connection.
To get started, download iLovePDF for Mac or Windows, or if you'd rather stick to the web, hit the red button below.
Go from PDF to PowerPoint online with iLovePDF
Convert PDF to PPTX
Προσφέρουμε ασφάλεια
Η iLovePDF λαμβάνει πολύ σοβαρά υπόψη την ασφάλεια. Να το θυμάσαι...
Ανεξάρτητα από το εργαλείο που χρησιμοποιείς, χρησιμοποιούμε κρυπτογράφηση από άκρο σε άκρο (end-to-end encryption) για να εξασφαλίσουμε την υψηλότερη δυνατή προστασία από κλοπή ή υποκλοπή των εγγράφων σου.
Κάθε έγγραφο που μεταφορτώνεται στο σύστημά μας διαγράφεται αυτόματα μετά από 2 ώρες για να αποτραπεί οποιαδήποτε μη εξουσιοδοτημένη πρόσβαση τρίτων.
Όλοι οι διακομιστές (servers) μας είναι ασφαλείς σύμφωνα με την ευρωπαϊκή νομοθεσία, μία από τις πλέον περιοριστικές στον κόσμο.