Improve parent-teacher communication with e-signing
Use this tool to communicate better in the hybrid learning environment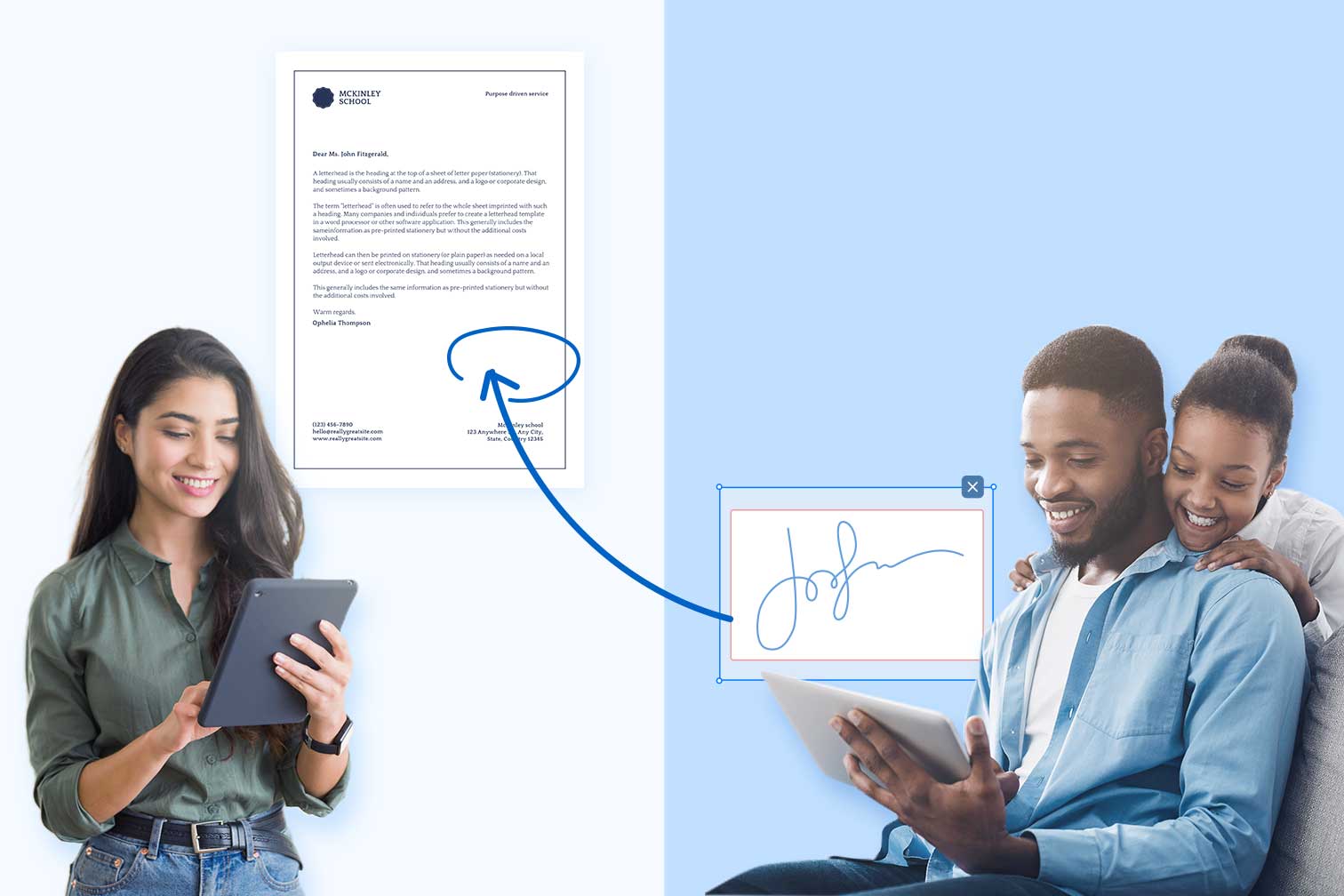 One of the most useful tech tools for enabling communication in education is the e-sign tool. This post will explain to you the benefits and uses of e-signing for schools and the free options available. But first, to understand the importance of digital signing here is some context:
It's 2022 and for many schools and institutions, a remote or hybrid learning model is still very much a reality that is likely to remain for the foreseeable future.
Educators are always searching for new teaching practices and methods for school improvement. One of the challenges teachers face and care to resolve in the current learning environment is maintaining communication with parents and guardians.
Why are parent-teacher interactions important?
Parent involvement is a key driver in the academic success of students. Establishing effective communication with families makes students engage more in activities, resulting in increased inclusion and participation.
If there is one thing your institution can do differently this semester, make it be bridging the communication gap between parents and teachers.
Foster communication using electronic signatures
To improve communication, streamline the academic experience, and make current and prospective students and their parents perceive your institution as modern and progressive, get your education department on board with e-signing.
E-signing allows teachers to distribute and gather parents' signatures on documents online, on any device, without needing to meet in person. Electronically signing forms also prevents the need to print paper in bulk and send documents to their postal address.
What are the other benefits of e-signing for schools?
Not only is e-signing an effective communication tool to help parents give consent remotely but it is also considered to be beneficial for the following reasons:
Reduces costs. Paper, printing, ink, and postage costs are all expensive and drain resources in schools. Switching to electronic signing is a significant cost-saver because everything is done digitally.

Speeds up processes. An electronic signature service saves you time because you don't need to manually send documents in the post and wait for them to be signed and sent back. Everything can be done in an instant through an e-sign platform.

Improves brand reputation. The use of innovative technology such as the electronic signature will show that your institute is up to date with the latest digital trends and not old-fashioned.

Cuts paperwork. Dealing with paperwork can interfere with the real job of teaching. Using an e-sign tool takes away the unnecessary paper document management, leaving educators extra time to focus on their students.

What types of forms need to be signed in the remote classroom?
Chasing parents to gather their signatures on paper documents has always been a long process, so imagine how much more time-consuming it can be in the remote classroom.
Plus although online learning might be here to stay for many schools and colleges, it doesn't mean there are fewer forms to sign. Here are some examples of documents that need e-signing:
Scholarship and financial aid forms

Class enrollment forms

Parent consent forms

Application forms

Grant request forms

Registration forms

Which remote signing service should I choose for my institution?
Many different digital agreement software options are available on the market but each one is slightly different. To help you decide, read our post, 5 things to consider before choosing an e-sign solution.
If you are looking for a trusted e-signature service, try iLovePDF Signature. It offers an easy-to-use e-sign tool for straightforward signing experiences on all devices. In addition, it includes the following useful features for educators:
Customized email reminders
If you send a request to a parent or guardian to collect their signature on a form with no response, you can give them a friendly nudge with an email reminder. iLovePDF Signature also offers email customization so you can send personalized messages.
You can then track the signing process from your account and receive real-time notifications each time a parent signs a form.
Different language options
As schools become more linguistically diverse, the ability to communicate with parents and guardians in different languages is becoming more and more valued. To help break down language barriers, the iLovePDF eSign tool is available in 25 different languages and multiple time zones.
Mobile-friendly signing experience
Online signatures are important but equally as important is being mobile-enabled. As many parents and students use their smartphones to communicate, it makes sense that schools also interact with them in this way.
The iLovePDF eSign tool is mobile-friendly, allowing parents and guardians to provide their consent on forms on the move, directly from their mobile device.
Secure document custody
Electronic signing minimizes the risk of documents getting misplaced, damaged, or intersected and allows you to retrieve information easily when you need it.
iLovePDF Signature offers secure document archiving using strong encryption technology to safely store signed documents. This ensures that sensitive information such as child names, social security numbers, and health records are protected with the highest security, and information can't be lost.
iLovePDF Signature is FREE for educators
To help public schools get access to the best tech resources, iLovePDF offers 12 months FREE e-signing to all educational institutions. All you need to do is create an Education account by registering with your academic email address to enjoy unlimited Simple Electronic Signatures.
OR institutions can benefit from a 50% discount on Premium features including access to tamper-proof Digital Signatures using the Edu promo.
The bottom line
Whether it's as a result of the pandemic or because of busy work schedules, sometimes in-person meetings aren't always possible. Establishing effective communication now will set a strong foundation for parent-teacher interactions in the schools years to come.
E-signing is a great way for teachers to establish that first connection with parents, wherever they may be.
Get a simple e-signature solution for your institution
Start e-signing
Προσφέρουμε ασφάλεια
Η iLovePDF λαμβάνει πολύ σοβαρά υπόψη την ασφάλεια. Να το θυμάσαι...
Ανεξάρτητα από το εργαλείο που χρησιμοποιείς, χρησιμοποιούμε κρυπτογράφηση από άκρο σε άκρο (end-to-end encryption) για να εξασφαλίσουμε την υψηλότερη δυνατή προστασία από κλοπή ή υποκλοπή των εγγράφων σου.
Κάθε έγγραφο που μεταφορτώνεται στο σύστημά μας διαγράφεται αυτόματα μετά από 2 ώρες για να αποτραπεί οποιαδήποτε μη εξουσιοδοτημένη πρόσβαση τρίτων.
Όλοι οι διακομιστές (servers) μας είναι ασφαλείς σύμφωνα με την ευρωπαϊκή νομοθεσία, μία από τις πλέον περιοριστικές στον κόσμο.