iLovePDF Web, Desktop, or Mobile: Which platform is right for you? (updated 2023)
Discover the difference between iLovePDF Web, Desktop, and Mobile to find out which is the best option for your document needs.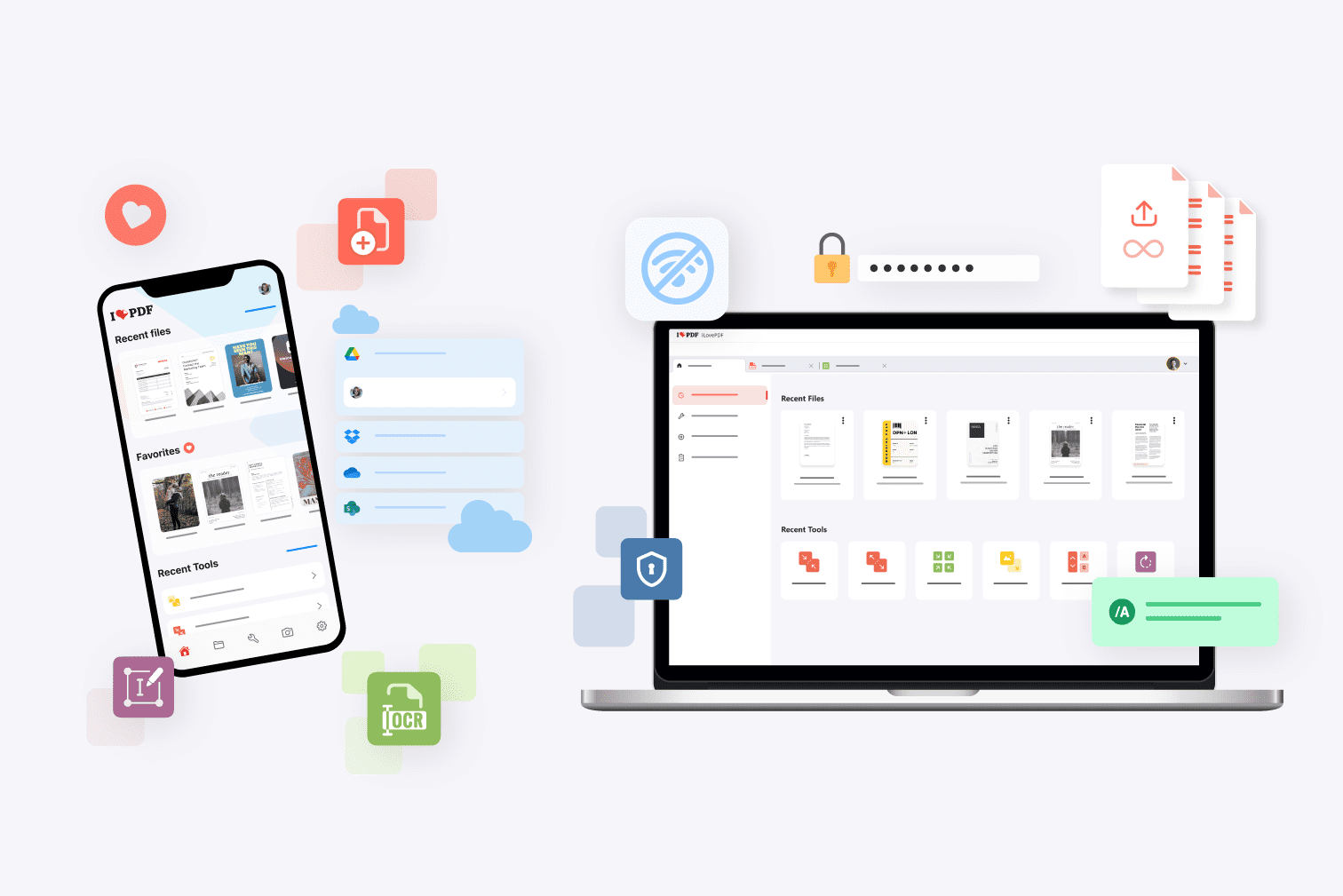 To help you work more efficiently, iLovePDF offers a Web App, Desktop App, and a Mobile App to edit, convert, and manage your PDF files online and offline with ease.
All of the applications have their own characteristics, so choosing whether to work with the Desktop, Mobile, or Web depends on what you need and where you are working from.
Desktop vs Web vs Mobile: What is the difference?
In terms of functionality, the main difference between the platforms is straightforward. The iLovePDF Desktop version runs locally on your computer, the Mobile App is an app available across Android and iOS devices, and the Web application is an online service that requires an internet connection.
Each of the iLovePDF platforms has a variety of exclusive tools, features, and functions that can aid your document management flows in different ways. Keep reading to find out the comparison between them and find the features you're looking for.
Exclusive features of the Web
The iLovePDF Web version provides all the tools you need to edit, convert, organize, merge and compress PDF files easily over the internet. You can access them all directly at ilovepdf.com.
Exclusive tools:
HTML to PDF: Convert HTML to PDF for a more streamlined way to share, archive, and annotate websites.
Exclusive features:
Digital signatures: Sign or request documents with a digital signature using the Sign PDF tool.

Signature tracking: On top of signing a document yourself, the Sign tool allows you to send, track, and manage signature requests.

Account management: The iLovePDF website is where you can track invoices, edit plans and packages, and review business details.

Chained task: Chained tasks allow you to take a processed file and directly jump into the next tool.

iLovePDF Teams: Create a business workspace to assign roles, digital signatures, and PDF/A restrictions with a centralized billing point for multiple licenses.

Exclusive features of the Desktop App
Doubling up as a free PDF Reader, iLovePDF Desktop allows you to preview, read and print your PDFs in the simplest way possible.
You can process an unlimited number of files (with no size limits!) using most of the tools available at ilovepdf.com, without needing an internet connection.
Also, iLovePDF's Desktop app contains a PDF/A Validator for checking the PDF/A compliance of documents. Simply install the Desktop App for free on your macOS or Windows PC.
Exclusive features:
Offline processing & security: Process your files offline to avoid a slow internet connection and provide faster local processing.

Unlimited processing: Limitless document processing with no cap on the number of documents or file size.

Check PDF/A compliance: View the PDF/A status of PDF files to assure that they are compliant with long-term archiving formats.

Set output folder: Edit the output folder of your files to better organize documents processed with iLovePDF.

Automatically apply passwords: Apply default passwords to automatically unlock protected documents or add passwords to processed files.

Edit metadata: Edit PDF metadata to change the Author, Keywords, and Creator.

Automatic tool settings: Apply settings across the tools that include default compression level, PDF/A compliance, Watermark, and OCR features.

Increased security: Working offline results in an added layer of security that can be especially important for businesses and professionals with online security restrictions.
Exclusive features of the Mobile App
The iLovePDF Mobile App is an amazing tool for editing PDFs from anywhere. If you are a regular traveler or don't have access to a computer, use the Mobile App's tools with integrated cloud storage processing your files.
Exclusive tools:
Create PDF: Design and create a PDF from a blank page using design features to add colors, text, and images or use editable templates such as Invoices, planners, and CVs.

OCR Image Scanner: Scan images using OCR to create selectable text from the image content.

Mobile PDF Scanner: A mobile version of the online PDF scanner to scan and process PDF entirely on your mobile devices.

Edit PDF: Additional editing features like audio, links, highlighting, sticky notes, and formatting options such as line thickness and opacity.

Image Editing Tools: Four of the iLoveIMG tools are integrated with the Mobile App app. These tools enable you to Compress, Convert, and Resize images.

Exclusive features:
Cloud Storage: Integration with the major cloud platforms Google Drive, Dropbox, OneDrive, and Sharepoint.

Favorite Files & Folders: Make it easier to find your files by adding documents and folders to your list of favorites.

Quick Share: Easily share processed files across multiple platforms using the Mobile version of iLovePDF. On top of the cloud storage platforms, share via Bluetooth, email, and the other applications found on your device.

Which iLovePDF service should I choose?
If you are an individual user in a hurry to perform a document task and send it quickly online, then the Web version is a great solution.
Completing something more time-consuming? Some companies and institutions have to handle large flows of documents daily, so they need offline batch processing solutions that don't rely on internet speeds. In these cases, the Desktop App could most suitable.
If you like to be a productive traveler that takes advantage of travel time and commutes, then use the iLovePDF Mobile App. The App is an amazing way to be efficient with the iLovePDF tools and features while working from anywhere.
Are you in an industry such as HR or Finance that works with contracts and forms? Use the full suite of web tools to streamline workflows across all of your devices.
Tip: If you're on the move with no wifi, instead of spending loads connecting your mobile internet on your laptop, just work directly offline from your computer with the Desktop App.
Our advice? Use all three! Depending on the task at hand, you can easily switch between the platforms hassle-free to take advantage of every tool and feature.
Is iLovePDF free to use?
The iLovePDF solutions offer an amazing range of free tools across the Web, Desktop, and Mobile. While the free limits of the tools enable a large amount of PDF processing across the platforms, it is worth discovering how you can benefit from the advantages of Premium.
Premium and tailored Business packages give you access to all of the PDF tools with limitless documents and file size processing.
In addition to limitless processing, enjoy the added security of signing with digital signatures, convert PDF to PDF/A for long-term archiving, and integrate cloud storage with the Mobile App for more efficient PDF editing across mobile devices.
Are my files safe?
Yes. Your files are completely safe using iLovePDF. Although some users like to process their files offline directly from their device - especially companies who deal with highly sensitive information - remember that all files uploaded to our servers are 100% secure.
To find out how we protect your document data online, read our post, "Are my files safe with iLovePDF?".
Start exploring the exclusive features of iLovePDF
Sign Up
Al sicuro nelle nostre mani
iLovePDF prende molto sul serio la sicurezza. Non dimenticarlo...
Non importa quale strumento stai utilizzando, utilizziamo la crittografia end-to-end per garantire la massima protezione contro il furto o l'intercettazione dei tuoi documenti.
Qualsiasi documento caricato sul nostro sistema viene automaticamente cancellato dopo 2 ore per impedire qualsiasi accesso non autorizzato da terze parti.
Tutti i nostri server sono protetti dalla legislazione europea, una delle più restrittive al mondo.