5 smart tips for your hybrid and virtual meeting
Are you working remotely? Use the latest advice to improve your virtual meetings with these tips and PDF tools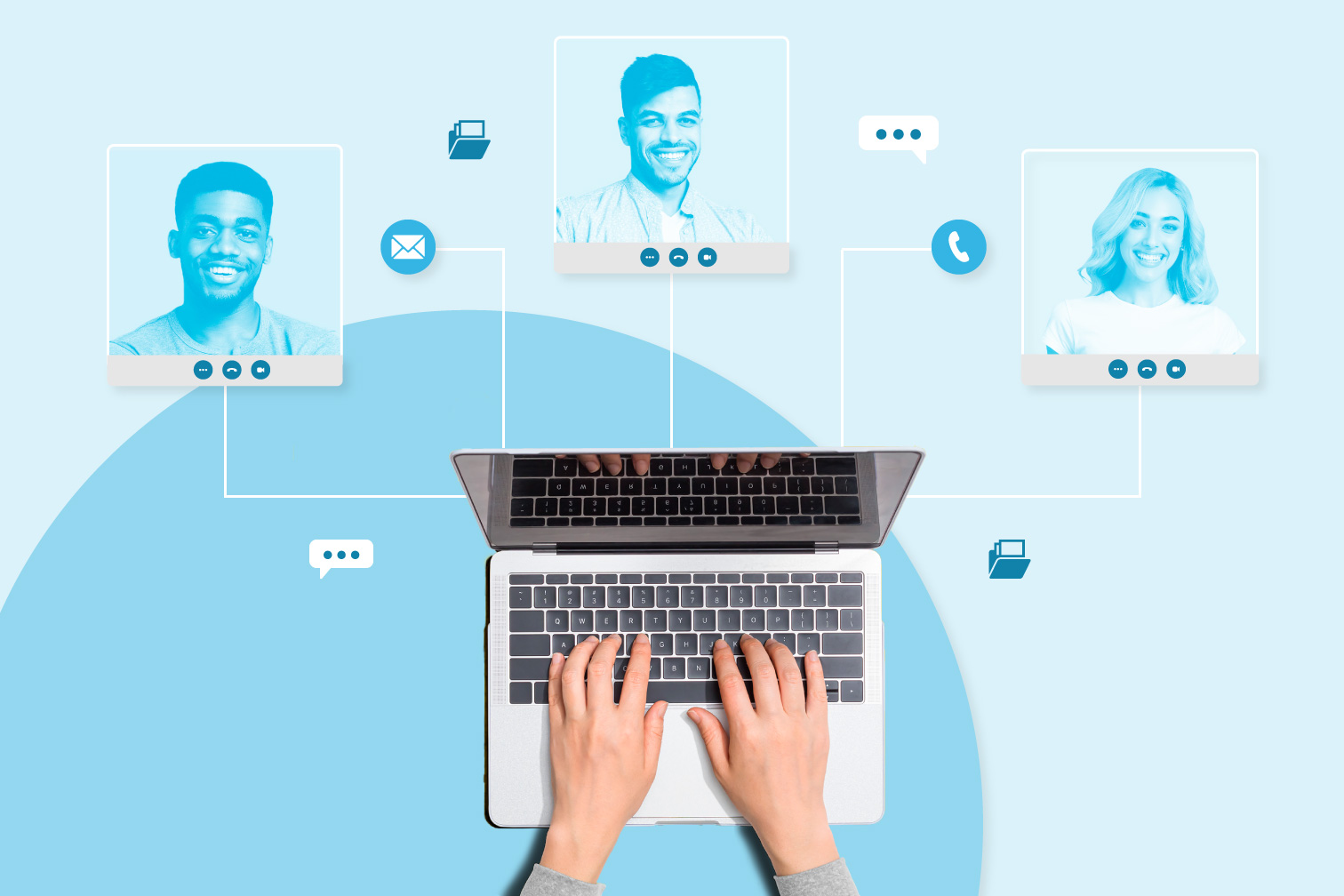 The pandemic has brought us into the digital world whether we like it or not. Remote jobs are on the rise, and UpWork predicts that as much as 73% of departments will be using remote workers by 2028.
What does this mean for your in-person team meetings? While many thrive on the Work From Home (WFH) movement, others have struggled to adapt to virtual meetings and the new ways of working online.
Thankfully, you can improve your virtual Zoom meetings with these tools and tips that help you work to your max in a hybrid or virtual style. Keep reading, and your meetings will soon be the talk of the online office.
Here are the tips for your virtual meeting:
Stay face-to-face
The big challenge to working remotely is the obvious one. You can't all be sat in the same office, so you need to find the next best thing.
Video calls are the closest way to get team members together in real-time. Stay face-to-face to see the reactions and body language of your colleagues and have a more natural meeting.
By now, you're probably used to background noise and a few colleagues making it hard to hear. Visual cues can also improve a virtual meeting as they make it easier to see who's talking, who wants to talk, and when someone's time is up.
Zoom offers some of the best video software for doing this. With a virtual Zoom meeting, you can host up to 100 participants, screen-share, and integrate third-party apps. It's regarded as one of the best quality all-rounders for your online meeting room.
TechRadar looked at the best video conferencing software for 2022 and found that while Zoom was great, it could improve on security features. If you want to make sure your call is more secure, their recommendation is RemotePC Meeting.
Organize your communication
Another tip for online conference calls is perfecting your organization. If a meeting invitation pops up at the last minute, you should be prepared, not surprised.
After so many video calls, 'virtual fatigue' has become a trend linked to less productive team meetings. Clear and organized communication helps battle fatigue by letting everyone in your meeting engage as much as possible.
Sending teammates questions is one way to do this. Remote participants prepare their ideas and get ready for the conference call before it's started.
Slack is a good way to organize these conversations. You can create channels (basically group chats) for talking directly to specific departments, or have an entire thread dedicated to important questions from the entire team.
Put this information into a document to organize and share these conversations. This document can have meeting notes, reports, questions; or whatever you need to include.
Converting documents and communication into PDF makes sharing even easier and gives you quick access to more productive PDF tools. You can use Merge and Organize PDF tools to efficiently organize and find your files, meaning less paperwork filling up your home office.
Perfect your presentations
If a presentation doesn't stimulate staff, you're in danger of losing their attention. A great way to improve video conference calls is by having high-quality, well-designed presentations that don't bore remote attendees.
Websites like Canva have templates ready to go, offering an easy way to build attractive presentations and get more creative.
Presentation is important, but it leaves you with larger files. This can cause problems for saving and sending it to yourself, colleagues, or just getting it to load.
Convert your document to PDF to access a Compress tool that reduces the file size of PDFs, meaning you can save your presentations on Cloud or local storage without wasting unnecessary space. It also makes sending your documents even easier, as smaller files mean fewer problems.
Focus on feedback
Get into the routine of making notes and giving feedback after a meeting. Without feedback, how do you know if a virtual meeting went well, and how it could improve? Whether it's with Slack or your own document, you should have somewhere to dedicate this feedback.
If you've used a presentation in your virtual meeting, this makes things even easier. Download it as a PDF and use an Editor tool to directly give feedback by annotating the same document.
Need to comment on a graph that could be improved? With the Edit tool, you can add text, images, shapes, and even draw. This is extremely useful when you need to make general or detailed comments.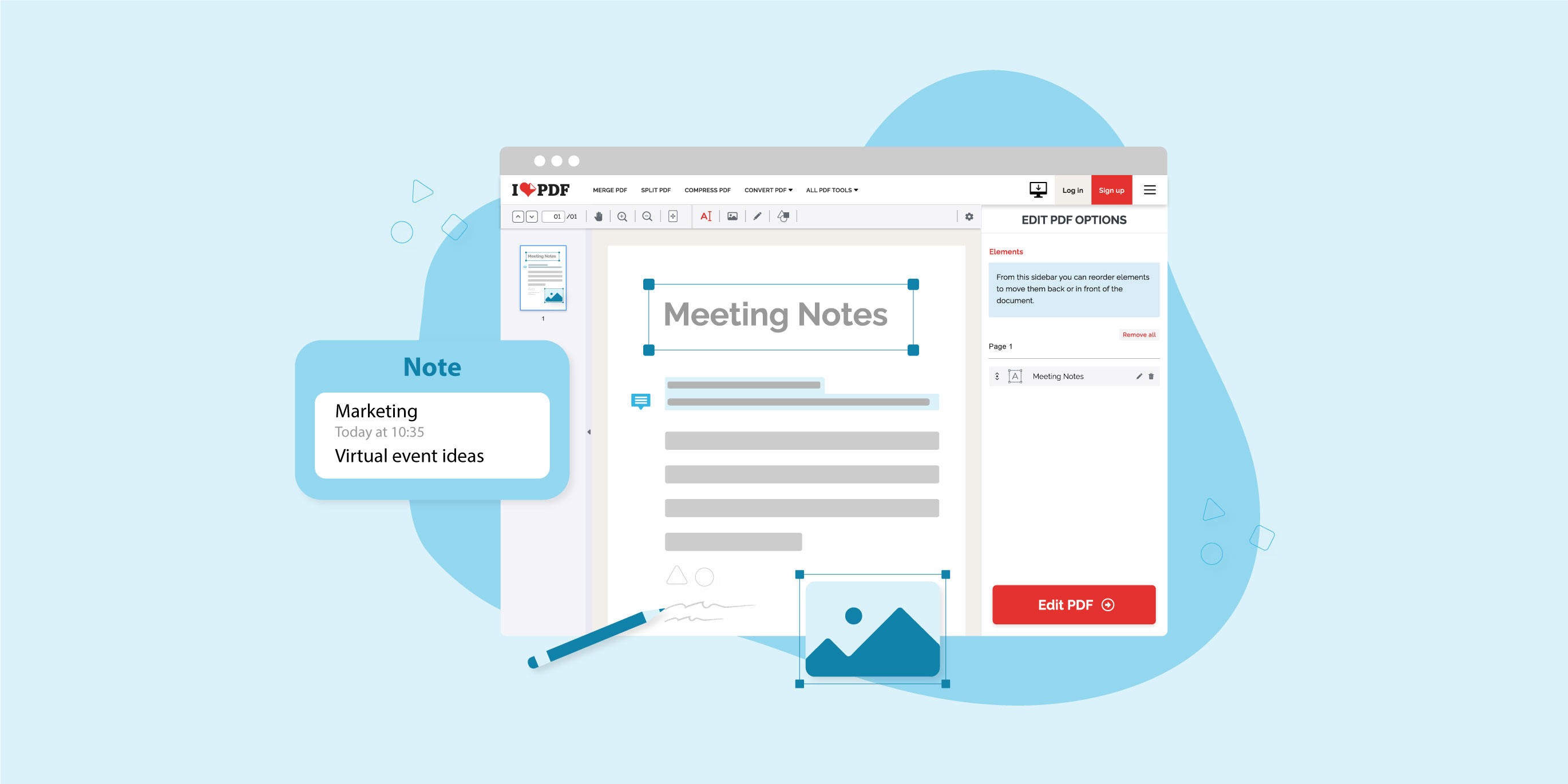 eSign documents
Virtual human resource meetings can be tricky if you're a remote worker or looking to employ one. Starting a new job means more paperwork and signatures, which isn't easy if you're living at opposite ends of the globe.
You can sign documents securely online with a digital signature using the Sign PDF Tool by iLovePDF. Finally, things can run smoothly again as meeting attendees collaborate and securely sign documents all in one virtual meeting.
A review of WFH studies showed that Generation Y are particularly difficult to both recruit and retain, but they are increasingly drawn to flexible work arrangements.
It's clear that adopting these new techniques could prepare your business for the future trends that are already appearing in the workplace.
Improve your virtual meetings with iLovePDF
Finding the best way to host and participate in virtual meetings will change the way professionals work online. With more engagement, organization, and feedback, your meetings will feel more natural and fight the virtual fatigue felt by many.
Did you know that iLovepDF has over 20 PDF tools that help with your productivity? We hope you discover them for yourself and explore all the ways that you can become more efficient not just in virtual meetings, but in the office and beyond.
Get free PDF tools to make virtual meetings matter
Sign up now
Bezpieczne w naszych rękach
Pamiętaj, że iLovePDF bardzo poważnie podchodzi do kwestii bezpieczeństwa.
Bez względu na to, z jakiego narzędzia korzystasz, stosujemy szyfrowanie end-to-end, aby zapewnić najwyższą ochronę przed kradzieżą lub przechwyceniem Twoich dokumentów.
Każdy dokument przesłany do naszego systemu jest automatycznie usuwany po 2 godzinach, aby zapobiec nieautoryzowanemu dostępowi osób trzecich.
Wszystkie nasze serwery są zabezpieczone zgodnie z prawem europejskim, jednym z najbardziej restrykcyjnych na świecie.