The best free graphic design software: 32 must-have tools (2023)
Explore graphic design tools ranging from color pallets & AI air generators to photo editing software & file management tools.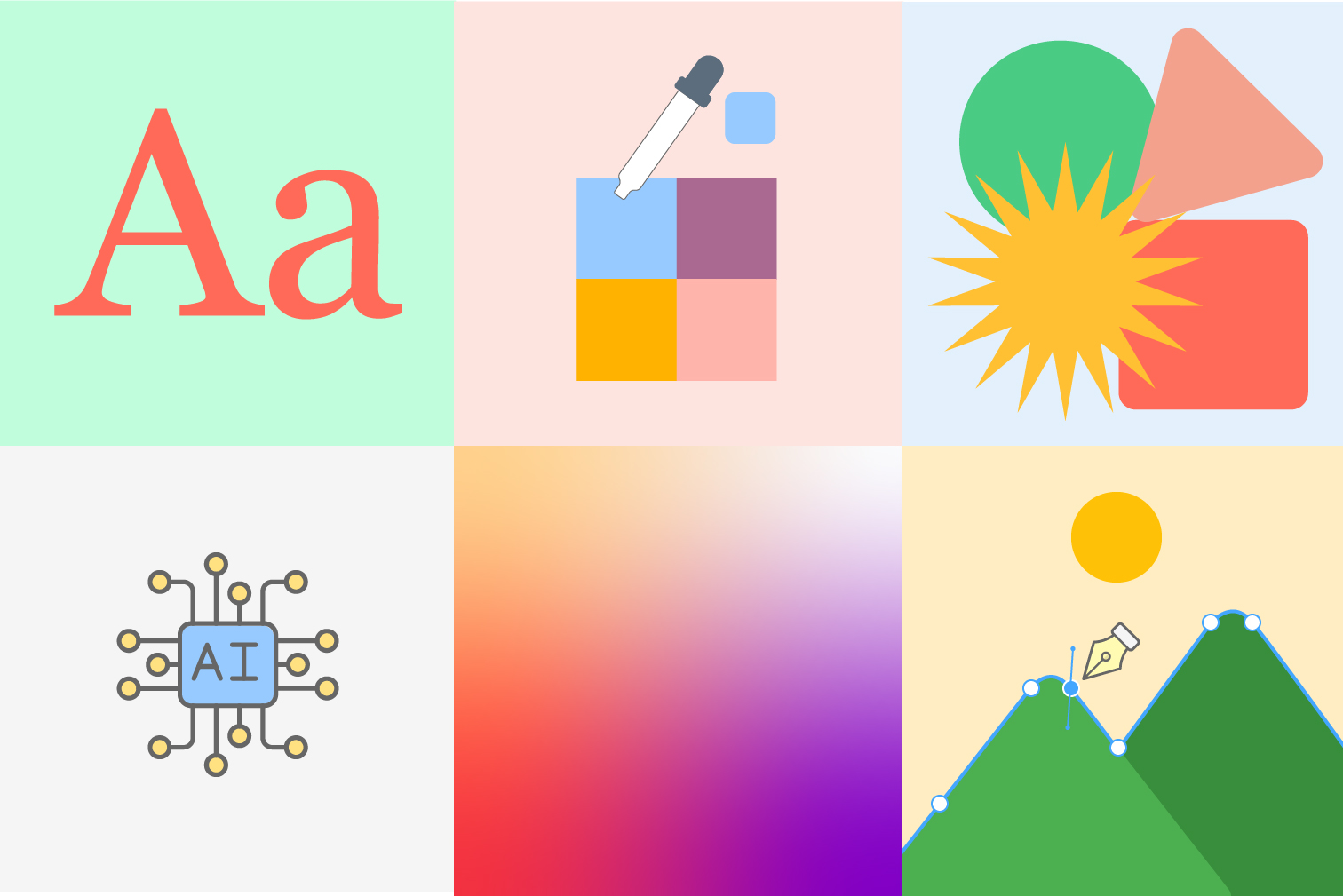 Looking for the best free graphic design tools? We've done the research so you don't have to. Check out this list containing some of the best tools for creating professional designs without the professional price tags.
The difficulty levels of the tools varies from motivated amateurs to perfectionist professionals, so you can choose the graphic design software that suits your needs and level.
This post will break down the graphic design software tools into 10 useful categories, from AI image generators to file management tools.
AI image generators
Text-to-image generators are a hot topic that's taking off in 2023. Artificial intelligence is changing the way we approach graphic design, and proving to be controversial in its journey.
These powerful tools use machine learning algorithms to create unique and eye-catching graphics in just a few clicks. Whether you're looking to generate patterns, logos, or photo-realistic images - AI image generators are captivating creative tools.
The software might not give you the perfect professional results every time as we are still in the early stages of this AI explosion. Nevertheless, these tools show incredible potential and can be used for content creation or to push your ideas and imagination to the max.
DALL-E from OpenAI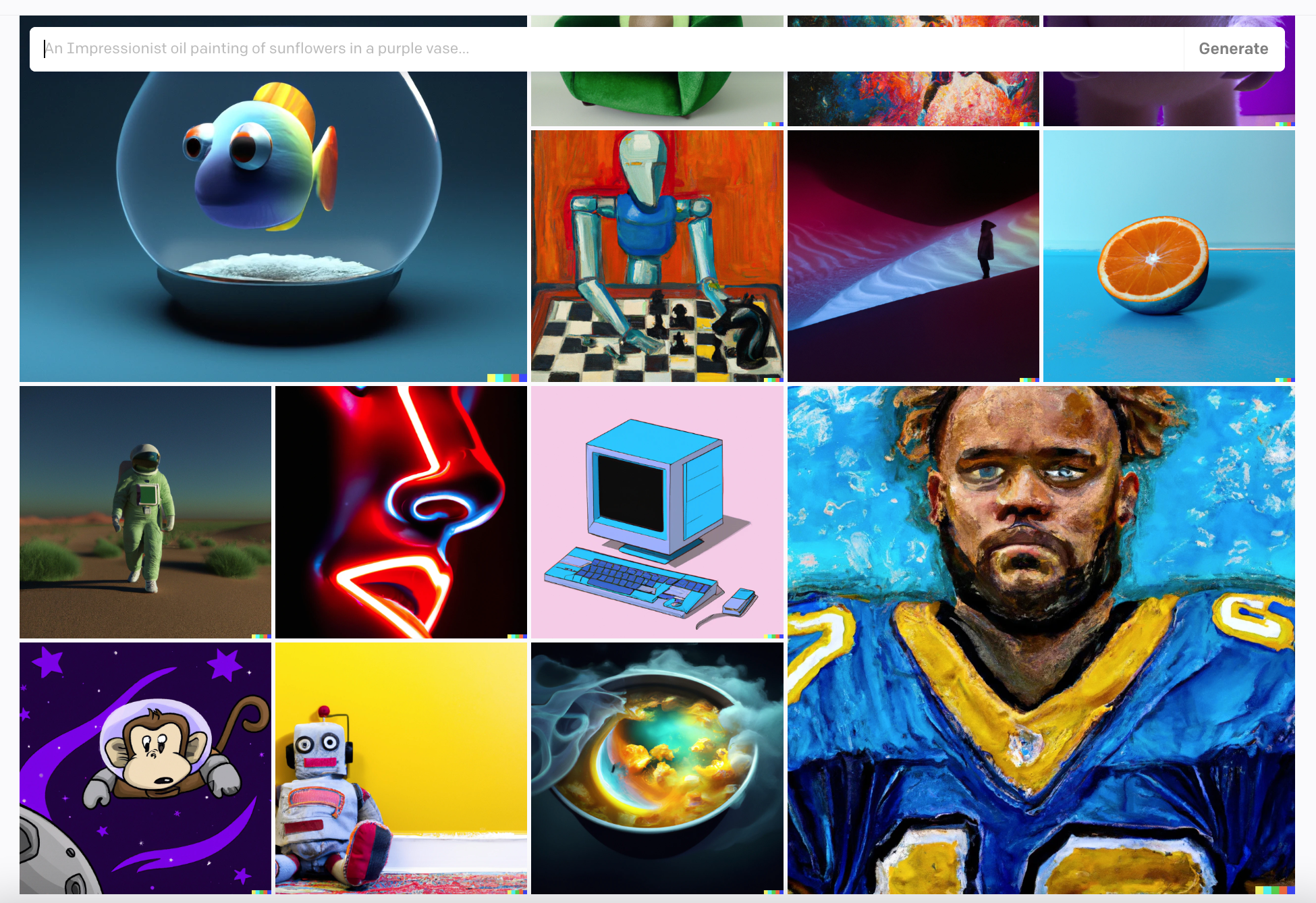 DALL-E from OpenAI (the same people who made the headline-smashing ChatGPT) is a clear front-runner in the race for AI image generators. The free AI image tool is great at taking precise inputs to create multiple variations that let you select the best from the bunch.
It's most effective when choosing a style for the images, for example an expressive oil painting, a pencil drawing, or a watercolor painting. This feature makes it possible to create unique, professional-looking images with ease.
The software is being updated and improved on a regular basis, so keep watching these AI image generators as many changes and new features are undoubtedly around the corner.
Available platforms: Web
Midjourney
Midjourney creates high-quality designs compared to many of its competitors, with styles that are futuristic and atmospheric. Considering the early stages of the development, like DALL-E, it's incredible how far these tools have come in such a short amount of time with such impressive results.
However, despite its impressive capabilities, the biggest drawback is its usability. The process to create an image is complicated and time-consuming—you have to enter Discord, find a new "newbies channel", and then use the "/imagine" command in a chaotic chat with images flying through the chat.
Aside from the difficult usability, once you have understood the process the results of this AI art generator are remarkable.
Available platforms: Web
DeepAI
DeepAI is fun AI image generator that lacks some finishing touches. It's a great tool to get some inspiration on specific ideas, with a simple search bar that is easy to use, and a number of free styles to choose from.
While the results produced by its text-to-image converter may not be as polished and professional as those produced by other AI image generators. DeepAI has a lot of potential, and is a playful tool with a number of free styles to choose from, giving users plenty to experiment with.
Available platforms: Web
Color palette generators
This chapter is all about color. We'll explore the best free graphic design software options specifically made to help you create stunning color palettes.
Whether you're a seasoned designer or just starting out, these tools make it easy to experiment with color, select a harmonious scheme, and set the scene for your color scheme. So, let's dive in and discover the best free color palette tools.
Coolors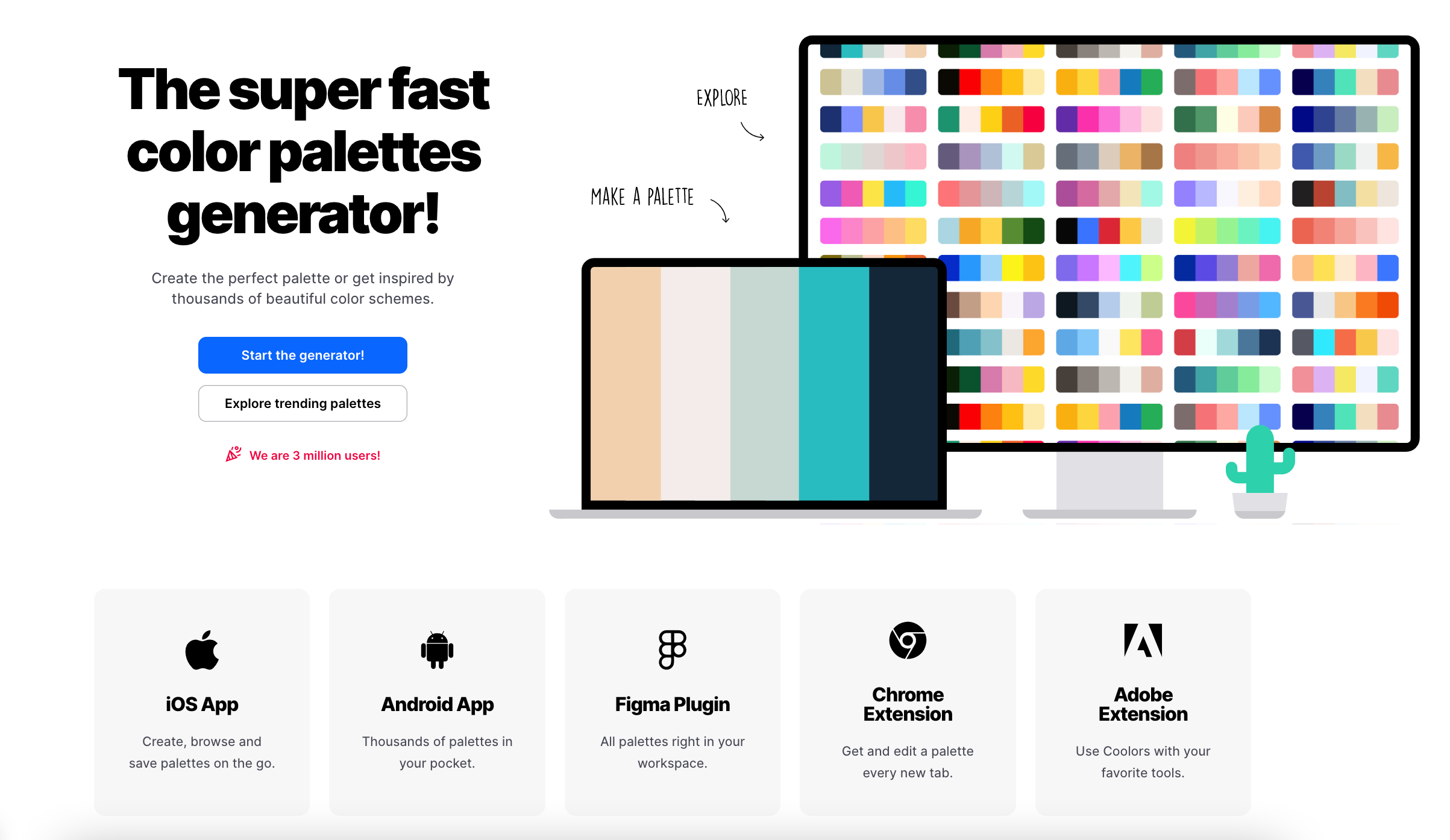 See what's hot with trending color palettes, generate colors, and select colors from photos with this well-designed website that helps you get into the creative mood from the get-go. Coolors is easy to use and palettes are simple to export, with many options for sharing your chosen colors.
Whether you want to find warm color palettes and share them with your team or save them for future projects, this tool has a smooth workflow that makes it easy to work on multiple new projects while organizing the old ones.
Available platforms: Web, iOS, Android
Color Space
Color Space is a useful color palette generator to develop your ideas for a design that starts with a single color. Put your desired color in and the site generates a variety of color palettes including gradient and random shades.
It's simple to create basic gradients, and has recently released the option to make 3 Color Gradients, which are extremely easy to edit and play around with.
The drawback is that you are limited in the amount of palettes that you can explore, especially if you're starting from scratch and don't have a color palette already in mind.
Available platforms: Web
Adobe Capture
Adobe Capture is a color palette generator that offers ten free tasks before having to register. This is a superb mobile app that takes real-time images and lets you create a color palette from whatever you see around you.
The app is a useful addition that makes it easy to generate a color palette from an image, whether you choose to use a live camera view or select a saved photo. You can also create shapes and patterns as interesting artistic features.
Available platforms: iOS, Android
Image editing tools
Photo editing is an essential aspect of graphic design. Whether it's adjusting the angle, changing the brightness and contrast, or adding special filters, having the right image editing software makes all the difference to your final results.
In this section, we'll explore some of the best free image editors available to help elevate your design work and give it that professional touch. Image editing tools can be difficult to use, so we've also included some that are more straightforward.
iLoveIMG Editor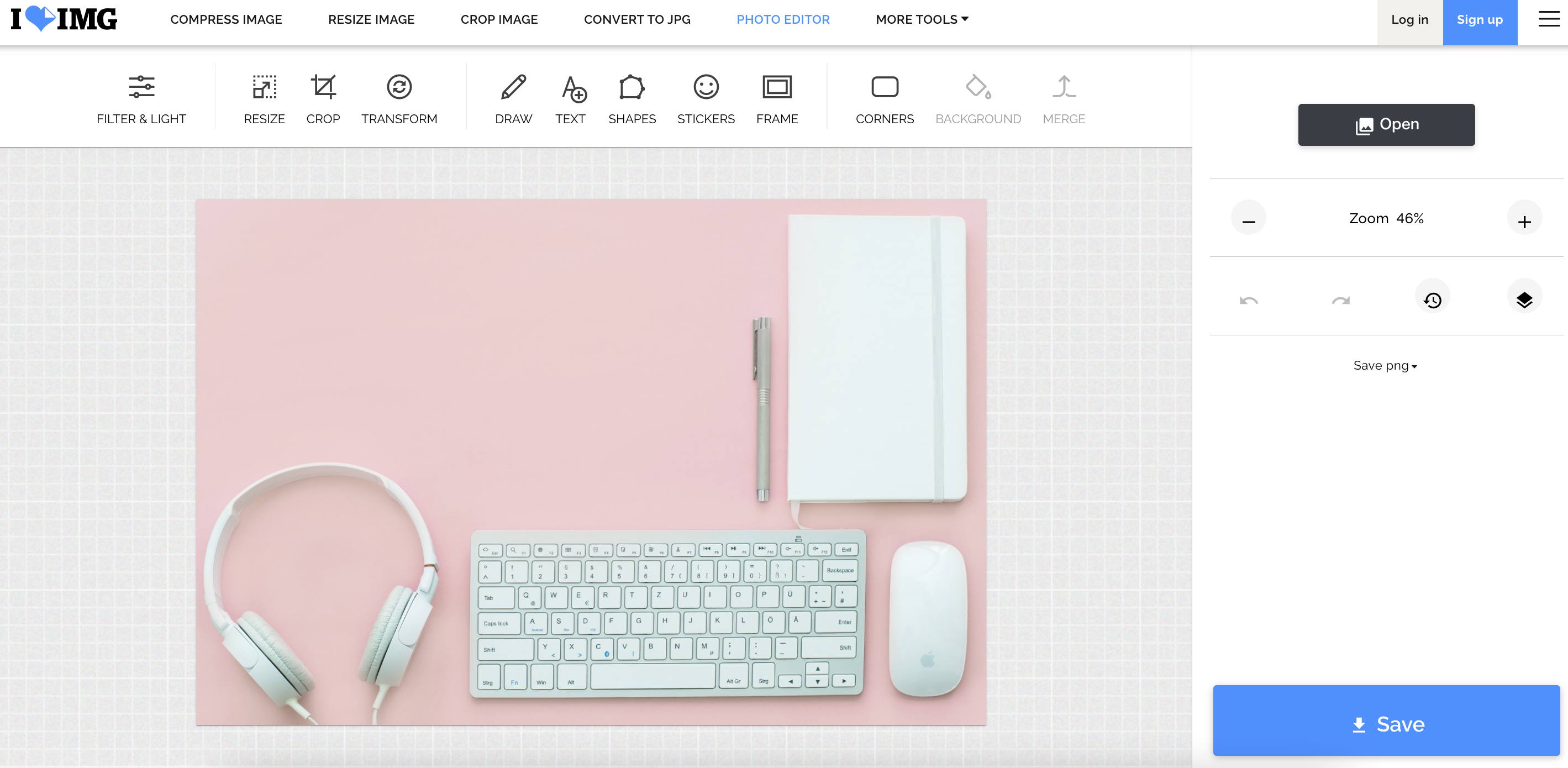 The iLoveIMG's Photo Editor is by far the easiest of these free photo editing software. It is a simple yet versatile tool with a range of editing options that allow you to draw on images and add more image files. Users can easily crop, resize, add filters, frames, and effects to add a professional finish to designs.
If you're looking for a basic photo editor that's easy and quick to use for some basic editing, then this is the perfect option.
Available platforms: Web
Photopea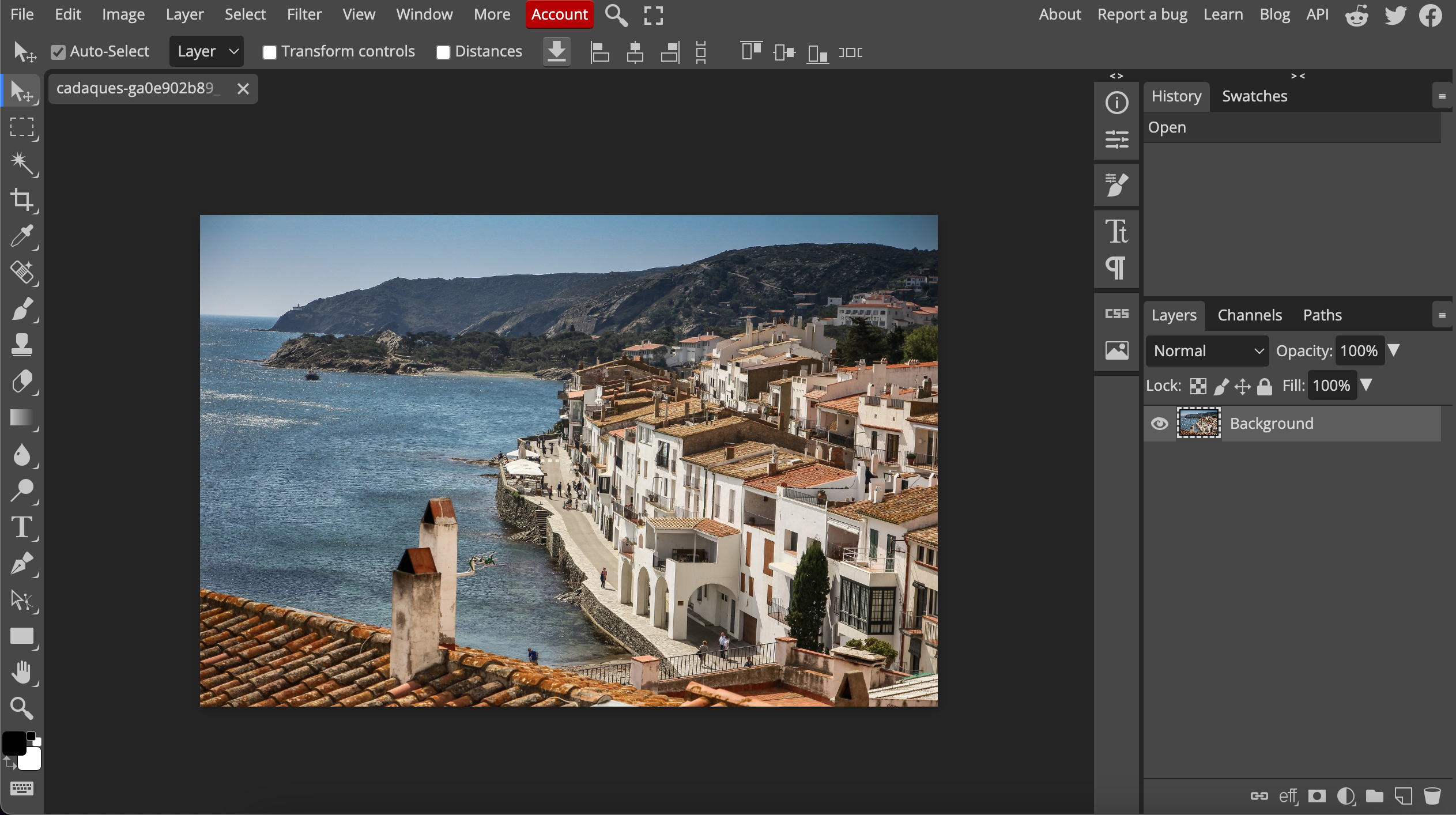 Acting as a close alternative to Photoshop, Photopea is an online tool that provides many design features, without the need to download any expensive software.
It's worth pointing out that as an online tool it may run slowly if you're working with heavy editing tasks. Also, if you are used to other editing software then it will take some time to learn its features.
Despite these challenges, Photopea is a fantastic free editing tool for designers who want professional features to bring their creative visions to life.
Available platforms: Web
GIMP
GIMP is a fantastic open-source image editing software that provides powerful image editing tools and offers an impressive variety of file formats, all completely free.
The workspace is slightly cluttered and it can be difficult to navigate all of the features, especially for beginners, but once you've mastered the basics this is an amazing feature-packed photo editor and another free alternative to Photoshop.
Available platforms: Desktop
Adobe creative cloud (free trial)
Adobe graphic design software isn't the easiest if you're just starting out, but it takes the top spot for the most in-depth software for image and video editing.
For professionals, this is the industry standard for quality editing, and within the Creative Cloud you have access to multiple Adobe products, including Photoshop, After Effects, and Premiere Pro just to name a few.
Perfect if you aren't needing them long term, there are free trials for many of the tools. While a 7-day free trial is available, the software can be expensive if you're looking for a longer-term editing solution.
Available platforms: Web, Desktop, iOS, Android
Font generators
Welcome to the world of font generators. For anyone working or playing around with designs, typography plays a crucial role in making your work stand out with the right style.
Free font generators help you find custom typefaces for your projects without the need for extensive design knowledge and expensive font licenses. Experiment with different styles and letterforms until you find the perfect look for your design.
Fontspring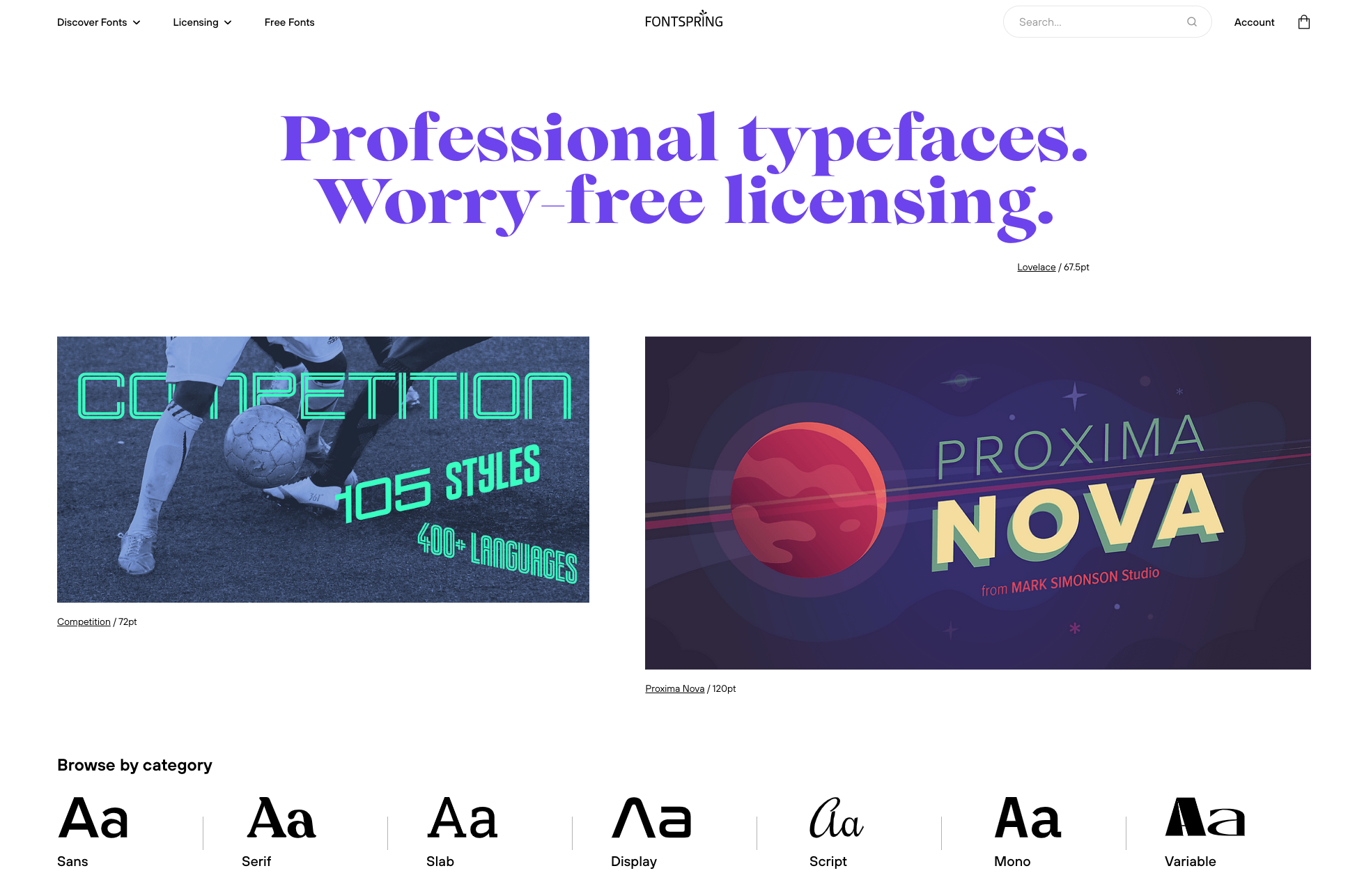 Fontspring offers multiple categories that help you find the right free font download. It is also simple to sort the fonts by 'Most Favorited' to see what's trending, as well as 'Best Of' lists to investigate the most popular selection from previous years.
Frustratingly, when browsing the fonts some are listed as containing free versions when in reality they are only available as icons, which is misleading. If you don't mind spending time finding the free ones, this is a valuable resource.
Available platforms: Web
WhatTheFont/MyFonts
WhatTheFont (also known as MyFonts) has high-quality downloads that are searchable within useful categories. Are you trying to identify a font you've spotted? MyFonts can also scan an uploaded image to find and identify the font you want to identify.
Frustratingly, free fonts are often hidden among the paid options, requiring you to scroll through the listings to download the font you need. Despite this, MyFonts remains a great tool for anyone looking for a free font generator.
Available platforms: Web, iOS, Android
Google Fonts
Google Fonts provides an extremely popular free font browser that offers typography in multiple languages and design styles. There is a user-friendly interface that offers fonts that are free for personal and commercial use.
A drawback is that the range of types is not as diverse as other font browsers, with limited options within a chosen fonts style. If you're looking for a more specific font style, you may need to look elsewhere.
Available platforms: Web
Icon downloads
Icons play a critical role in creating a professional and polished look for websites, mobile applications, and other digital platforms. In this section, we'll be exploring the best free icon downloads so you can find the perfect designs for your next project.
From modern designs and classic looks to simple social media icon downloads - the ability to browse and use royalty-free icons is key for any digital designer or marketer looking to create a cohesive brand experience.
We've compiled a list of the top free graphic design software that gives you quality icon libraries to complement your designs.
Flaticon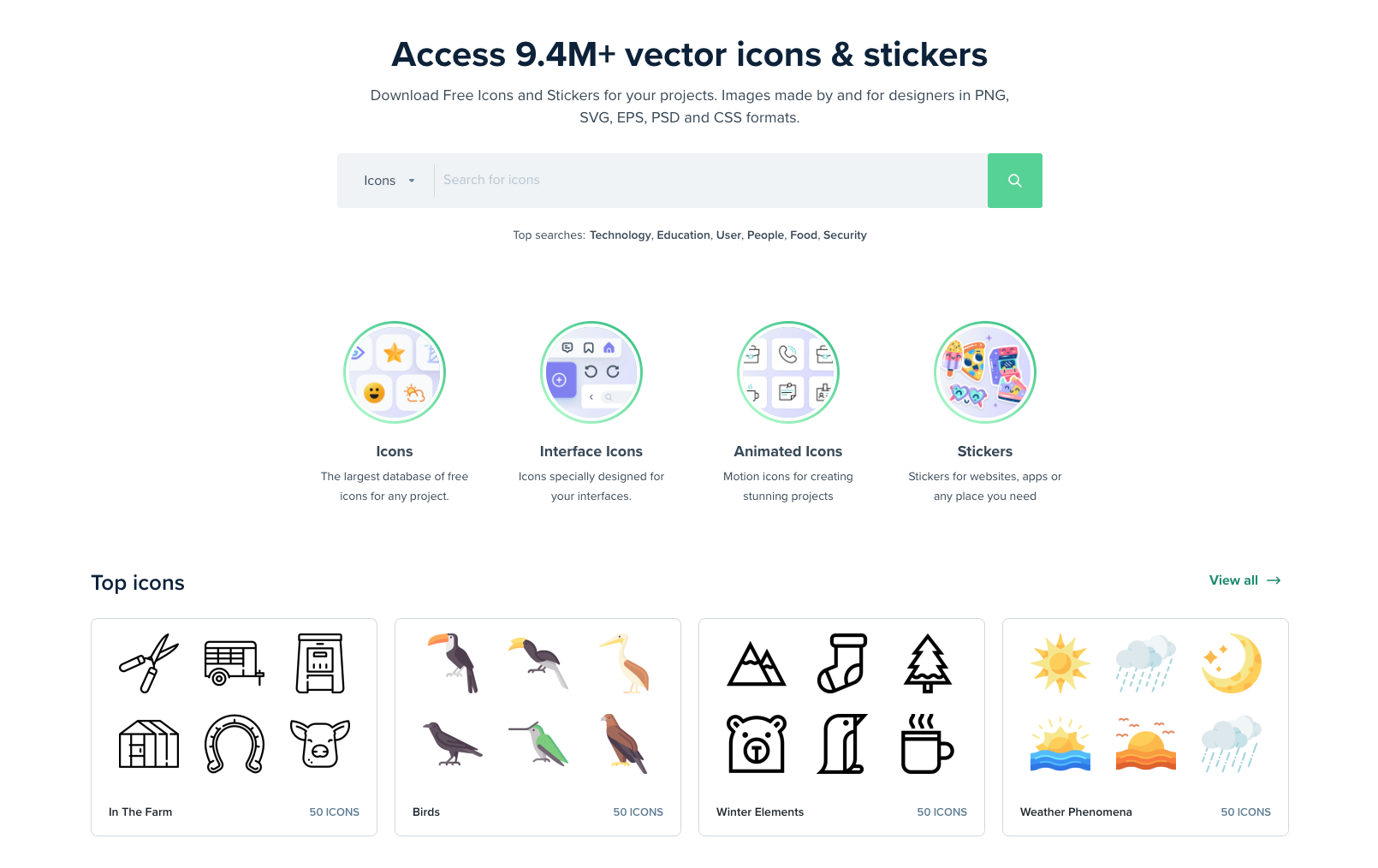 Flaticon gives users a robust library of high-quality designs, where you can find PNG, SVG, Android, and iOS versions of the most popular fonts. Selected fonts also have different styles with changing colors and contrast.
Free users are restricted to downloading certain icons as a PNG, and the SVG version of the icon is sometimes only available with the Premium service.
Available platforms: Web
Noun Project
The Noun Project is a well-designed platform that offers a more creative and inclusive range of free icons to what we're used to.
With its user-friendly interface, easily find individual icons or browse through various icon collections to find the perfect fit for your project.
The basic free download option only provides icons in black, but the premium downloads are cost-effective and allow for more customization. If you're looking for basic but creative and inclusive icons, then Noun Project is a great choice.
Available platforms: Web
Google Icons within Fonts
We're back to Google Fonts, but this time for downloading free icons. Google Icons offers an extensive library of high-quality icons that are perfect for UI design, allowing for the customization of Fill, Weight, Grade, and Optical Size.
Icons are available in SVG or PNG formats for download, as well as the information on the 'Variable Icon Font' configuration for CSS, making it easy for designers to integrate their icons into their web projects.
Available platforms: Web
3D & 2D Animation software
Bring your ideas to life with 3D and 2D Animation software. Whether you're creating a short clip for a commercial, designing characters for a video game, or adding some movement to your graphics - free animation software takes your designs to the next level.
We've found some of the best animation software that published professionals and aspiring amateurs can all enjoy.
Blender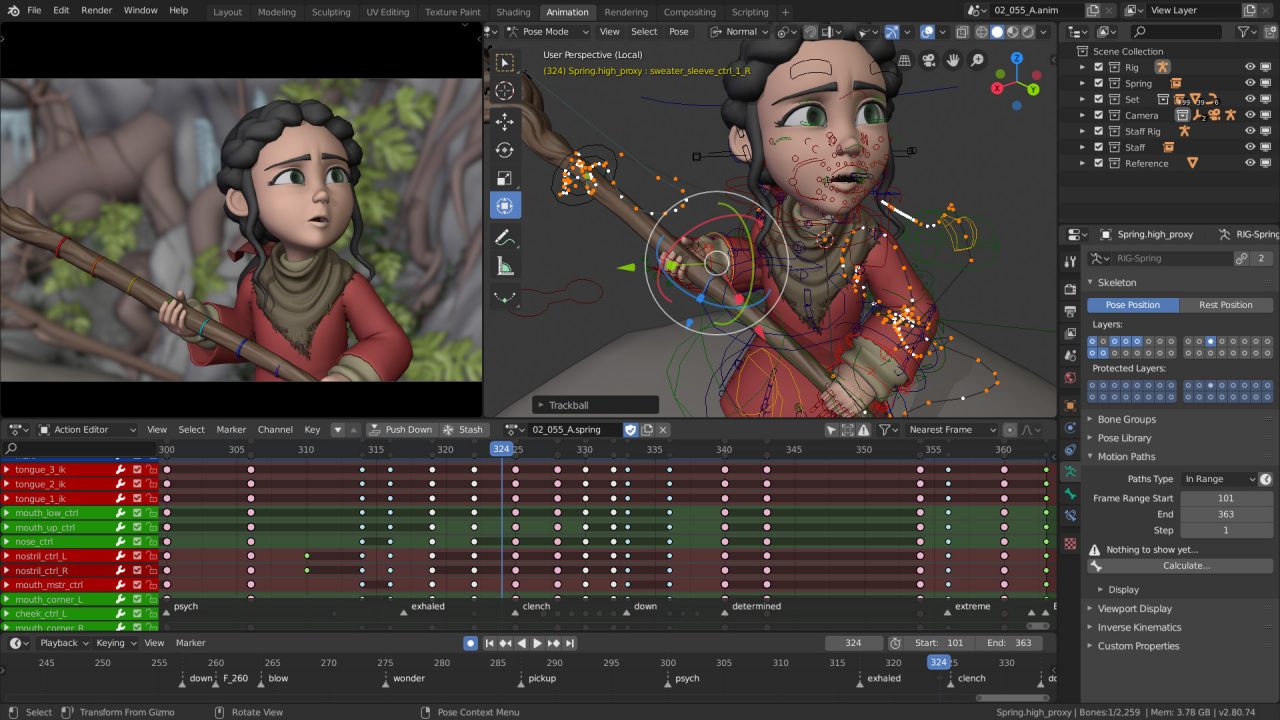 Boasting an intuitive interface, Blender animation software is a widely acclaimed free and open-source tool that's best for intermediate or professional animators.
It's loved for its 3D pipeline editing, including 3D and 2D animation, and has an impressive array of animation features that you'd expect to see in the best premium animators.
Despite some occasional lag and slow render times, the software is regularly updated and continues to receive improvements, making it one of the best free animation software options available.
With its versatile tools, Blender is widely used in the creation of animations, models, and artwork, providing a one-stop solution for artists and designers.
Available platforms: Desktop
Piskel
Piskel is a perfect option for those just starting out with animation. As a beginner's tool, the basic and straightforward interface makes it a breeze to use.
The focus of Piskel is on creating 2D animated pixel art and sprite animations, so it's a great choice for game designers and hobbyists.
This 2D animation software offers a wide range of tools and functions, including customizable color palettes, layers, frame management, and more. That being said, for more professional applications, it's unlikely to have all the features and tools required.
Available platforms: Web, Desktop
Animaker
Animaker is another tool that makes it easy to get started with 3D animation software. It has a lot of template characters and customization options that can build a professional final project, as well as sharing options that let you integrate it with other programs.
Within one free animation tool, you have everything you need to create your content within a single tool by adding music and effects, and even the option to create voiceovers from text.
It has various pricing plans if you find that the limited number of free version downloads aren't enough.
Available platforms: Website, iOS
Find inspiration for your designs
Stuck for inspiration? It isn't easy creating content, and being able to keep your designs fresh and interesting will require finding inspiration for your projects.
When you know where to look, the internet is a creative goldmine that's waiting to be explored. Kick off your next project by browsing the best design inspiration websites.
In this section, we'll outline interesting websites to look for design ideas, including some comments on the more professional sources that are more specifically aimed at graphic designers.
Behance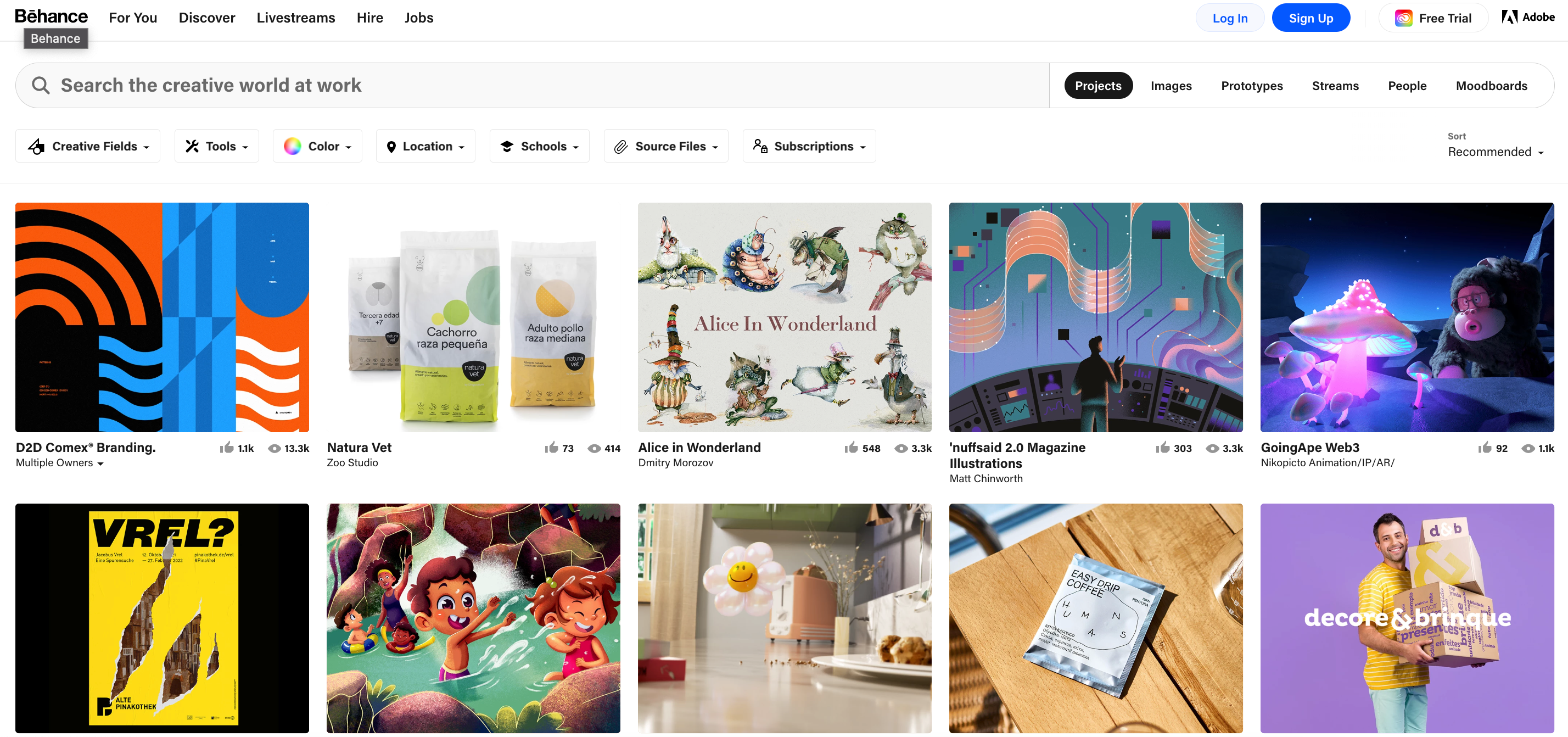 Behance is a leading online platform for graphic designers to showcase their work and connect with the design community. It offers a wealth of inspiration and opportunities for collaboration, with a diverse range of projects and designers to discover, and it has a more professional feel than Pinterest.
With its easy-to-use interface, Behance lets you search by Creative Tools, Colors, and Source Categories so you can narrow your search even further.
Available platforms: Web
Pinterest
Pinterest is a straightforward way to research, save, and send new ideas on whatever you're working on. You can build a network of profiles that you enjoy to follow the latest updates from creators that inspire you, or go through current trending topics.
It also allows you to create boards for your own work, making it an excellent portfolio tool, as well as a research tool.
Available platforms: Web, iOS, Android
Dribbble
Dribbble is a popular platform with a focus on design. Each category shows trending designs and techniques, and like our other examples, it also provides the chance for graphic designers to share their work and get feedback from the design community.
Browse and follow your favorite designers to keep yourself inspired. When selecting a profile you can see their designs neatly organized into Projects and Collections, as well as the liked designs which have inspired them.
Available platforms: Web
Stock images
Are you searching for free stock images? Not everyone has access to professional photography equipment, which is why high-quality stock images are so key for creative roles.
Finding copyright-free images can take up a lot of time that would be better spent elsewhere. This section will look at the best free stock images for commercial use that offer landscapes, people shots, graphics, illustrations. and more.
Pexels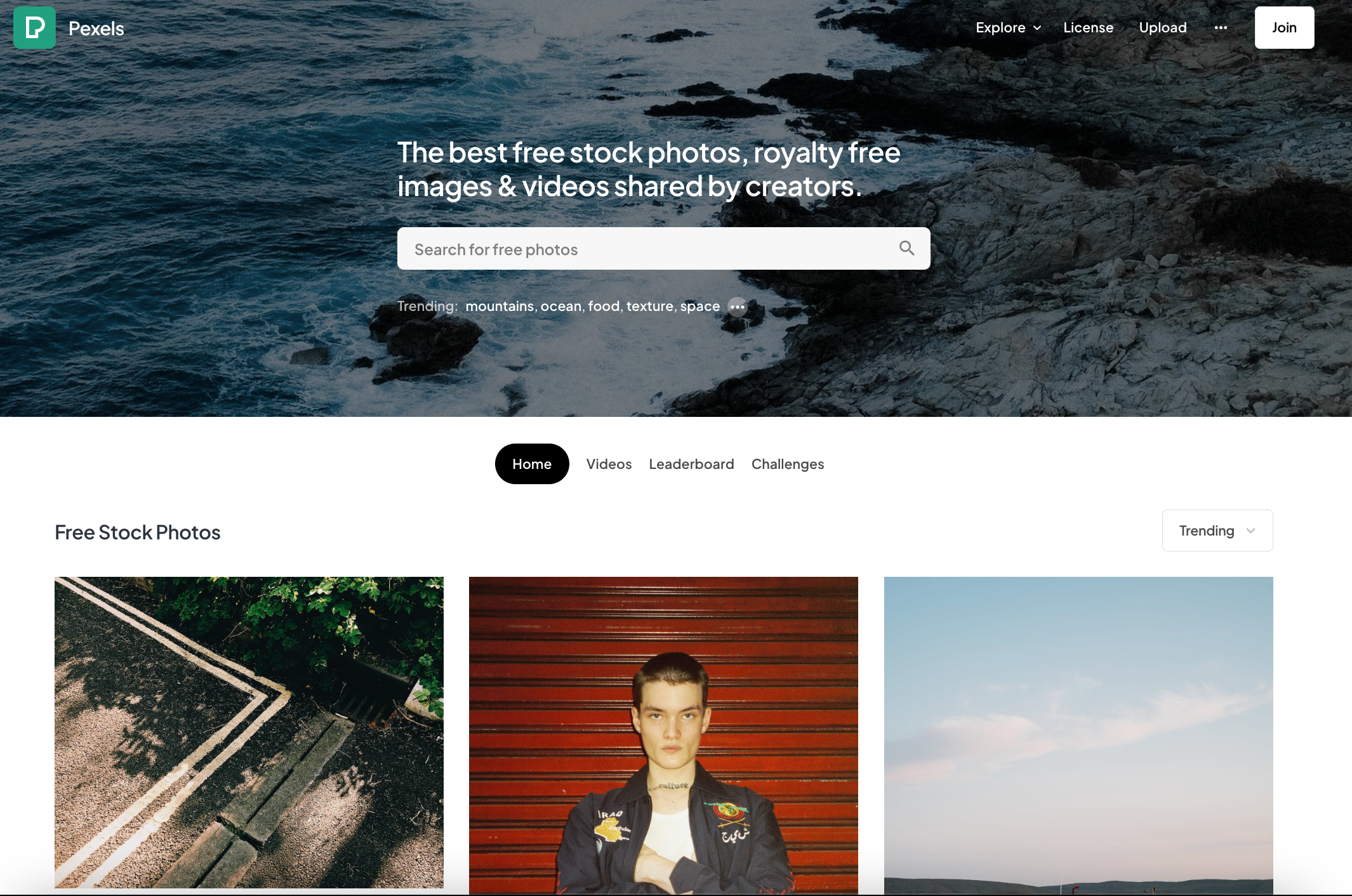 Pexels has high-quality content that doesn't leave you worrying about copyright issues. You can search for images and videos using different categories, but there are no advanced search features for more technical and specific content, so the results can sometimes be slightly repetitive.
In general, the design of the categories and popular collections could be improved to make browsing the stock photos a little more user-friendly. That being said, it's easy to download the content you require without being bombarded with premium restrictions and payment obligations, which is a big plus.
Available platforms: Web, iOS, Android, Chrome extension, Multiple plugins
Unsplash
A fantastic resource for royalty-free, high-quality stock photos, Unsplash has a vast collection of over a million images. Easily browsable categories and a simple website can save you time when you're looking for free image downloads.
Depending on your theme and niche, the variety of results can be limited, but for general topics it is worth your time. If you don't have a budget for paid images, then this is a great source for professional content.
Available platforms: Web, Android, iOS
Kaboompics
From the get-go Kaboompics has a great design that draws you into the site. You can easily select the orientation from the search bar, there is the extremely useful feature of the color palette search also available from the main page, and you can include a custom aspect ratio when downloading.
While the library for Kaboompics isn't as large as some of its competitors, the usability of the site and the quality of the free stock photos are fantastic. Available for commercial or personal use, you can edit, post, and use them as you require.
Available platforms: Web
File management
File management is an essential aspect of graphic design, and having the right software can make all the difference in keeping your work organized and accessible.
Every designer knows the struggles of working with large image files and the compatibility issues that arise when using different image types.
Here we'll be showcasing the best free file management software to keep your workflow streamlined and efficient. These software solutions are packed with features to keep your work organized, accessible, and secure.
Compress PDF files with iLovePDF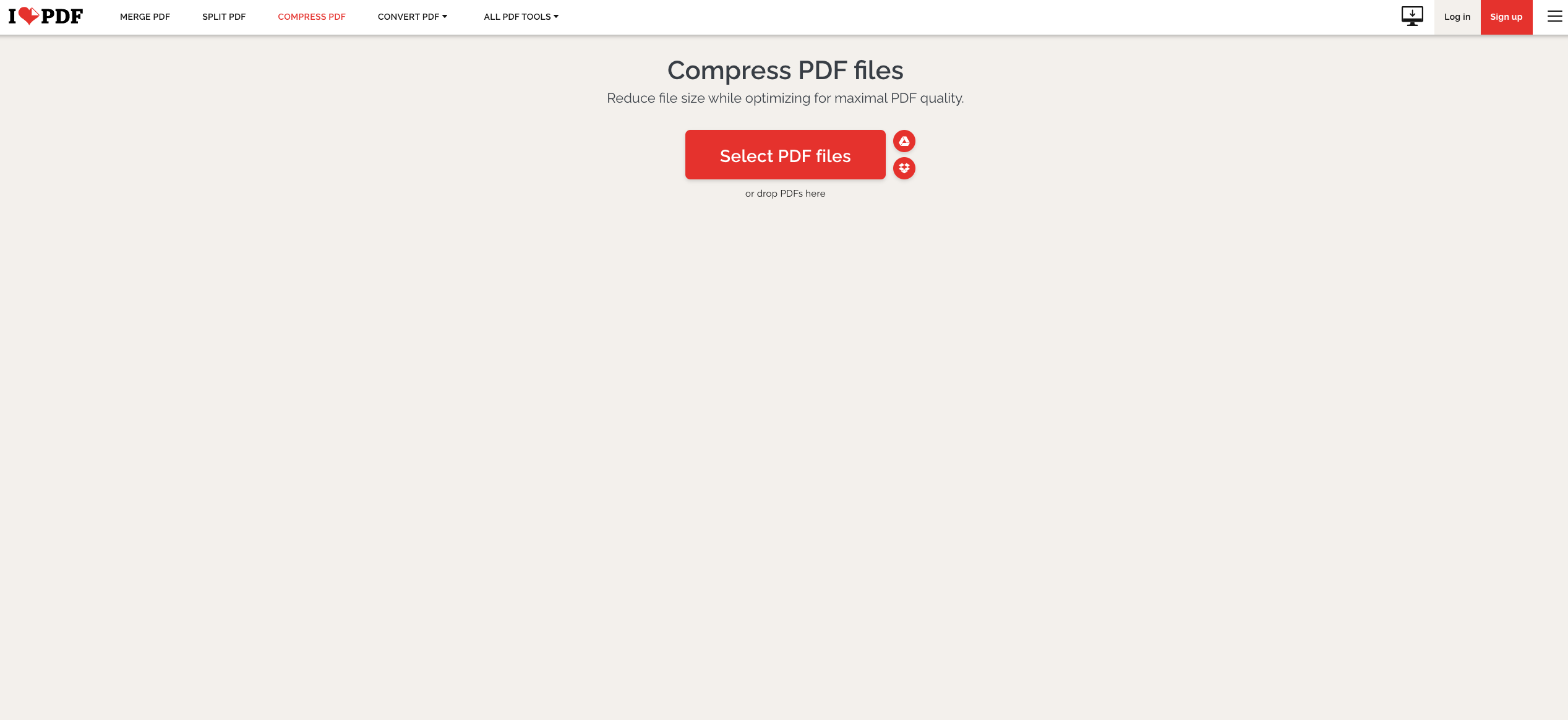 The Compress PDF tool is a lifesaver when it comes to helping you save, share, or design your portfolio. You can reduce the file size of your PDF files for free with this PDF compressor to make them easier to send, store, and upload.
Are you struggling to share or upload files because of large file sizes? Use the free Compress PDF tool to drastically make your files smaller and more manageable. This is especially useful for design students trying to submit their files for assessment.
Available platforms: Web, Desktop, iOS, Android
iLoveIMG Compress Image tool
This free image compressor takes your pictures and reduces the file size while keeping as much quality as possible. When you're creating designs, large file sizes lead to web designers struggling with storage, upload issues, and slow loading times for website and online content—this free tool is a perfect solution.
Quickly and easily reduce the size of your images with a user-friendly tool that can complete your task in under a minute from start to finish. It can also batch convert JPG to PDF along with the other image files it accepts, including PNG, SVG, and GIF.
Available platforms: Web, iOS, Android
iLovePDF JPG to PDF converter
Transform your JPG files into professional PDF documents with ease and precision, thanks to iLovePDF's free JPG to PDF converter.
Whether you're working with one file or a batch of JPGs, this fast and convenient tool will save you time and ensure your designs are ready for printing, presenting, or sharing in a format famed for its accuracy.
Available platforms: Web, Desktop, iOS, Android
iLovePDF/IMG Watermark tools
Protect your valuable designs and ensure they are not used without your permission with the iLoveIMG and iLovePDF Watermark tools. With user-friendly interfaces, adding a custom watermark to your images or PDFs has never been easier.
Overall, it's recommended that you use the iLovePDF tool for a wider range of features. The free watermark tools allow you to add a text box with editable fonts, sizes, color, and more.
Whether you're an artist, designer, photographer, or any other creative professional, these tools keep your designs protected.
Available platforms: iLoveIMG Web, iLovePDF Web, Desktop, iOS, Android
Bonus chapter: Simple design tools for content creation
You don't have to be a design expert to create content for social media that looks professional and creative. This section is focused on graphic design tools for beginners that can be used to create content across various platforms like Instagram, LinkedIn, and TikTok.
A lot of design software now has entire sections for the creation of this content, with sizes, templates, and pre-made features meaning you can create without being a Photoshop and video-editing expert.
Canva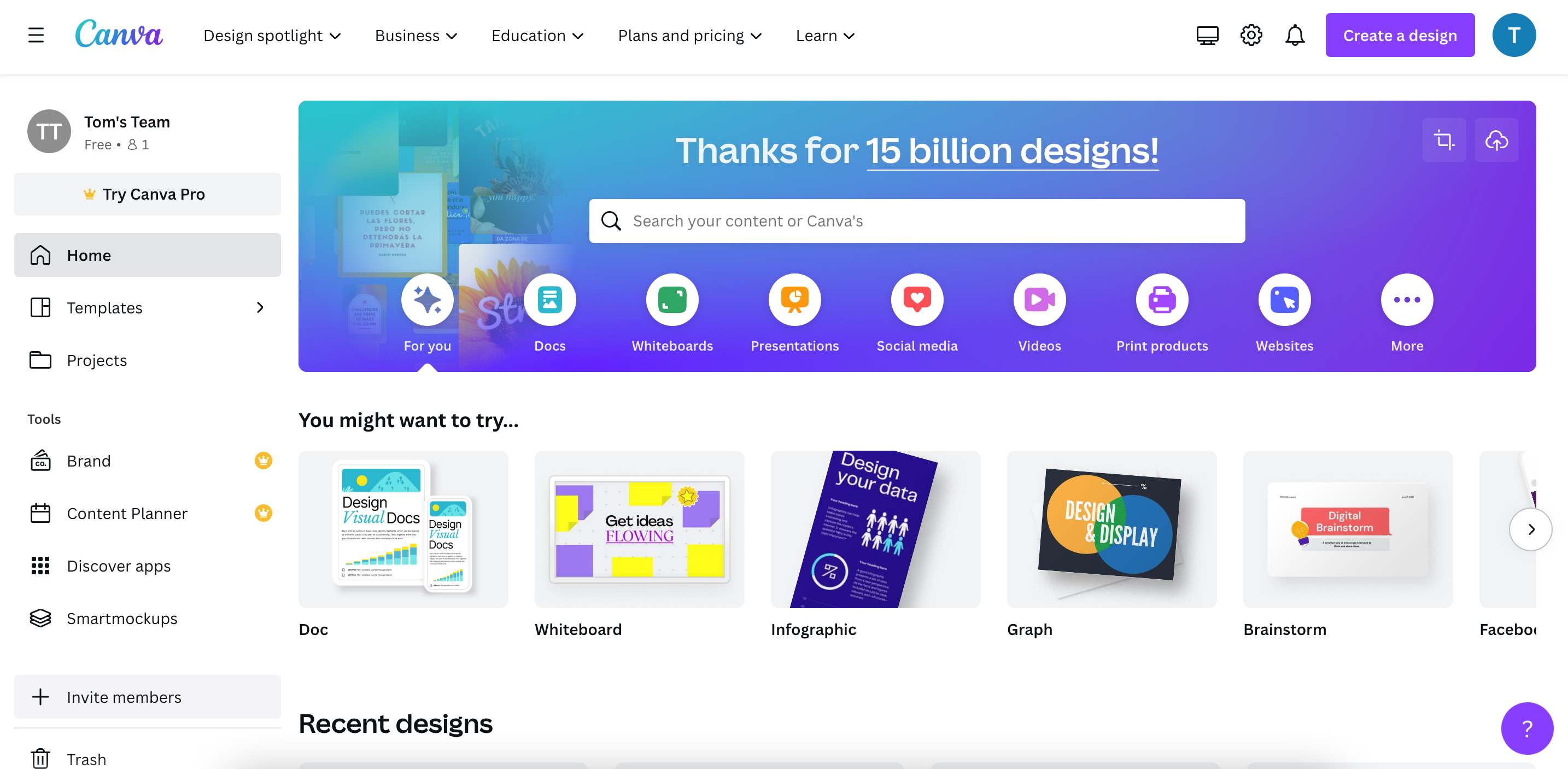 Canva is an outstanding way to edit high-quality templates or create your designs completely from scratch. It is extremely easy to use, and boasts a huge variety collection of templates, images, and graphics that simplify the design process and save time, with intuitive editing features that take no time at all to get your head around.
It offers a seamless and accessible design experience, enabling designers of all levels to effortlessly craft visually appealing graphics and visual content.
It has a section designed specifically for social media that enable you to work with the correct aspect ratio relative to the platform you want to post on.
Available platforms: Web, iOS, Android
Capcut
Another user-friendly tool, Capcut is designed especially for creating professional videos for your social media content. It provides the tools to craft captivating and professional-looking videos that will grab the attention of your audience with very little previous experience.
The web version may experience some issues with lag, so downloading the app and creating videos directly from your mobile device is a good idea if you come across this problem.
Available platforms: Web, iOS, Android
Pixabay
On top of providing copyright-free images and videos, Pixabay lets you search for royalty-free songs to give you the professional audio needed for your social media content.
Find the perfect audio track to accompany your videos, podcasts, presentations - no matter the content. Whether you're looking for background music, sound effects, or stock videos, you'll find a wealth of options to choose from.
Available platforms: Web, iOS, Android
Tell us what we missed
We hope these ideas for your next free graphic design software have given you some inspiration to get creative without spending all of your savings.
From free palette creators, photo editors, and file management tools—there are many resources available that offer a range of features to aid your graphic design.
What's your favorite tool? Let us know if we've missed out on any of your go-to graphic design software by leaving a comment on LinkedIn, Facebook, Twitter, TikTok, and Instagram.
Explore document management tools & dedicate more time to design
Go to iLovePDF
Seguro em nossas mãos
iLovePDF leva a segurança muito a sério. Se lembre que...
Seja qual for a ferramenta que você estiver utilizando, nós usamos encriptação ponto-a-ponto para garantir a máxima proteção contra roubo ou intercepção de seus documentos.
Qualquer documento carregado em nosso sistema é automaticamente eliminado após duas horas, para previnir algum acesso não autorizado de terceiros.
Todos nosso servidores estão seguros segundo as leis Europeias, das mais apertadas em todo o mundo.