How to convert JPG to PDF
Convert your JPG images and merge them into one PDF file in seconds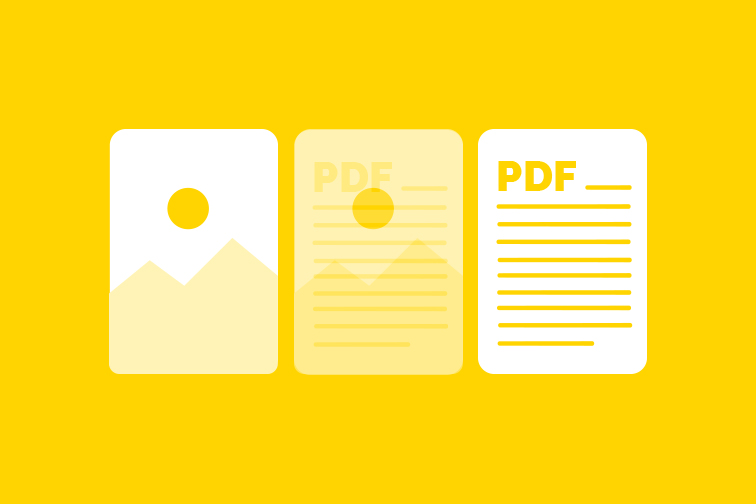 In case you didn't already know, we love PDF - and for good reason!
PDF is famous for being the most popular document format for displaying and sharing data. It is cross-platform, which means that it can be accessed and used on all types of computers, regardless of the application software, hardware and operating systems.
Plus, the style, format and quality of the file will look exactly the same anywhere, on any device. This makes it ideal for businesses who need to upload, manage and send files on a daily basis.
Whether it's to submit a report, sign and send some legal agreement papers, download an invoice or share your CV, PDF is by far the most practical and professional-looking format for doing so.
JPG vs PDF: What's the difference?
PDF and JPG have their own individual uses. If you are working with images, you may choose one format or the other, depending on your needs.
JPG
JPG is the most commonly-used image format for saving photos and non vector images. Its small file size makes it the ideal file format for displaying and sharing images and photographs online.
Any web designer will know that small file size means faster web page load times, a higher SEO ranking, and a more positive user experience!
PDF
PDF is useful for saving images that contain vectors, sources, or in general any documents which have several elements.
Due to its high quality and reliability, PDF is the go-to format for document viewing and sharing. That's why many companies and institutions ask for files to be emailed or uploaded to their website as PDFs.
When do we use these file formats?
Although JPG is by far the number 1 choice in web design, PDFs are beneficial for graphic designers who store images online which are intended for being downloaded or printed as flyers, posters and booklets.
In addition, going from photo to PDF can be really useful when you want to turn scanned documents into PDF format for easy sharing. Have you taken a photo of a paper document that should be in text? Well, converting it into a PDF file is the way to go.
How to convert images to PDF format
There are loads of great web applications out there which provide tools to help you convert your JPG images online. iLovePDF offers an extremely user-friendly, free, online JPG to PDF Tool which converts your images in just a few clicks.
With our converter, you can even merge all of your images into one PDF file when processing. This is really useful when making booklets or portfolios which require all of your images to be in one file.
It saves so much time as you don't need to go through the lengthy process of exporting each JPG individually and then using a separate Merge tool to put them all together after converting. The converter does it all for you so that you get the results you need straight away!
Our tool also allows you to adjust the page orientation and margin size. Here's an easy step-by-step guide:
Go to iLovePDF's JPG to PDF tool.
Upload one or multiple JPG images. Click on the button to select your images or drag and drop them from Google Drive or Dropbox straight into the canvas.
Set the page orientation to Portrait or Landscape.
Choose between the 3 page sizes: Fit (same page size as image), A4 or US Letter.
Select either Small Margin, Big Margin or if you don't need one, No Margin.
If you want your images to be converted as 1 PDF file, select Merge all images in one PDF file.
You can order files by name by clicking the AZ button.
Select Convert to PDF.
Click to download your converted files. You can also save them to Google Drive or Dropbox.
Multiple images? Try Premium
With our free online tool you can convert up to 25 JPG images in one session. However, if you are a busy photographer with a huge batch of images that need sharing quickly, there's always iLovePDF Premium. With Premium you can convert up to 80 images in one go.
So remember, if you ever want to use text from a photo or let readers download your brochure, our JPG to PDF Converter is a great solution!
We hope you enjoyed this short guide. If you have any more questions, feel free to contact us. We will be more than happy to give you a hand!
PDF tools for productive people
Convert JPG to PDF
Seguro em nossas mãos
iLovePDF leva a segurança muito a sério. Se lembre que...
Seja qual for a ferramenta que você estiver utilizando, nós usamos encriptação ponto-a-ponto para garantir a máxima proteção contra roubo ou intercepção de seus documentos.
Qualquer documento carregado em nosso sistema é automaticamente eliminado após duas horas, para previnir algum acesso não autorizado de terceiros.
Todos nosso servidores estão seguros segundo as leis Europeias, das mais apertadas em todo o mundo.