Convert PDF to JPG
Convert every page of a PDF into a JPG file or extract all embedded images inside a PDF and save them as JPG files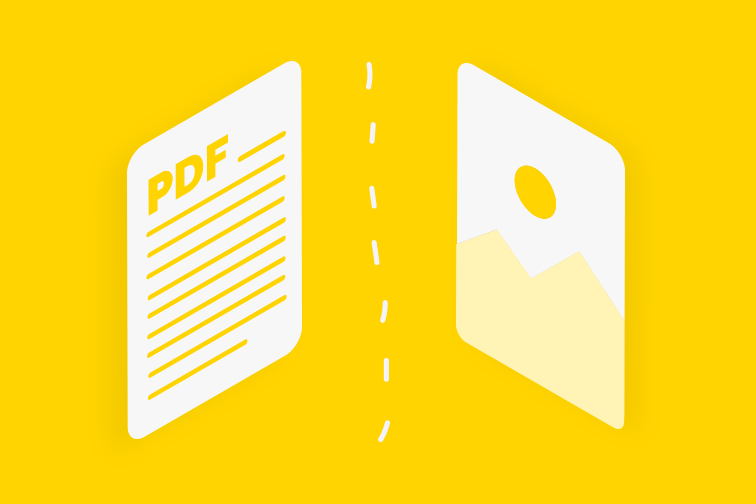 Here at iLovePDF we really love our PDFs, yet we are quite aware that you may need to transform either the entire page or specific portions of the file into images (and in this case a JPG).
Maybe you need to embed certain portions of this particular PDF into an email by adding some description after each part, or maybe you would like to use it within an image editing software, or even just to have the PDF file easily seen embedded on your website. Whatever the reason may be, we get it, we understand, and we are here for you.
This is why we created the PDF to JPG tool so as to simplify the steps needed to obtain your images from a certain PDF file.
How to convert PDF to JPG online
As you may be familiar with iLovePDF, you can extract and/or transform PDF to JPG online for free with just two clicks, while enjoying incomparable speed and security. In addition, our premium users can extract and convert several files simultaneously using the batch system and doing so with an increased size capacity.
In order to get started, you must select the PDF file you desire to use and upload it, either directly from your PC, using drag & drop or you can transfer it from your Google Drive or DropBox account using the circular links on the right.
You will then be taken to the options screen, where you are given the choice to either automatically convert the entire Page to JPG in which case the result will be the same number of pages included on the original PDF file but in JPG version, or you can choose to Extract Images in which case you will be given each image found within the PDF as an individual JPG file.
Once you have completed the process, you are provided with different download options besides the traditional download button. You can decide to export the files or zipped folder into Google Drive or Dropbox, which may be beneficial if you are working in teams, or you may simply use the email option to send the files to someone or to save them online for future use.
Go to iLovePDF's PDF to JPG tool.
Upload your document. Click on the button to select your file or drag and drop it straight to the canvas.
Select Page to JPG or Extract images.
Click Convert to JPG.
Download your JPG file or save it in your Google Drive or Dropbox account.
PDF to JPG for Desktop
If you desire to work with PDF to IMG in a business-like setting, be it on account of an added level of security or for the beneficial convenience of working offline, then iLovePDF Desktop would be the go-to tool for you. The included benefit is that the size and number of files will not be affected by your internet's speed whatsoever.
Extract images from multiple files with fewer limits by downloading iLovePDF Desktop.
PDF to JPG for iOS & Android
Are you on the go? Don't stress because we have you covered! Your smartphone can be used to accomplish all these tasks and more using the iLovePDF Mobile App. In order to convert a PDF to IMG, all you need to do is select the file either from your device or selecting import from Google Drive or Dropbox. Once the file is selected you will be given the same two options of converting every PDF Page to JPG, or to Extract Images from the PDF file.
PDF tools for productive people
Convert PDF to JPEG
Seguro em nossas mãos
iLovePDF leva a segurança muito a sério. Se lembre que...
Seja qual for a ferramenta que você estiver utilizando, nós usamos encriptação ponto-a-ponto para garantir a máxima proteção contra roubo ou intercepção de seus documentos.
Qualquer documento carregado em nosso sistema é automaticamente eliminado após duas horas, para previnir algum acesso não autorizado de terceiros.
Todos nosso servidores estão seguros segundo as leis Europeias, das mais apertadas em todo o mundo.