How to create a signature online: A beginner's guide
Create a digital signature online with the handwritten signature generator.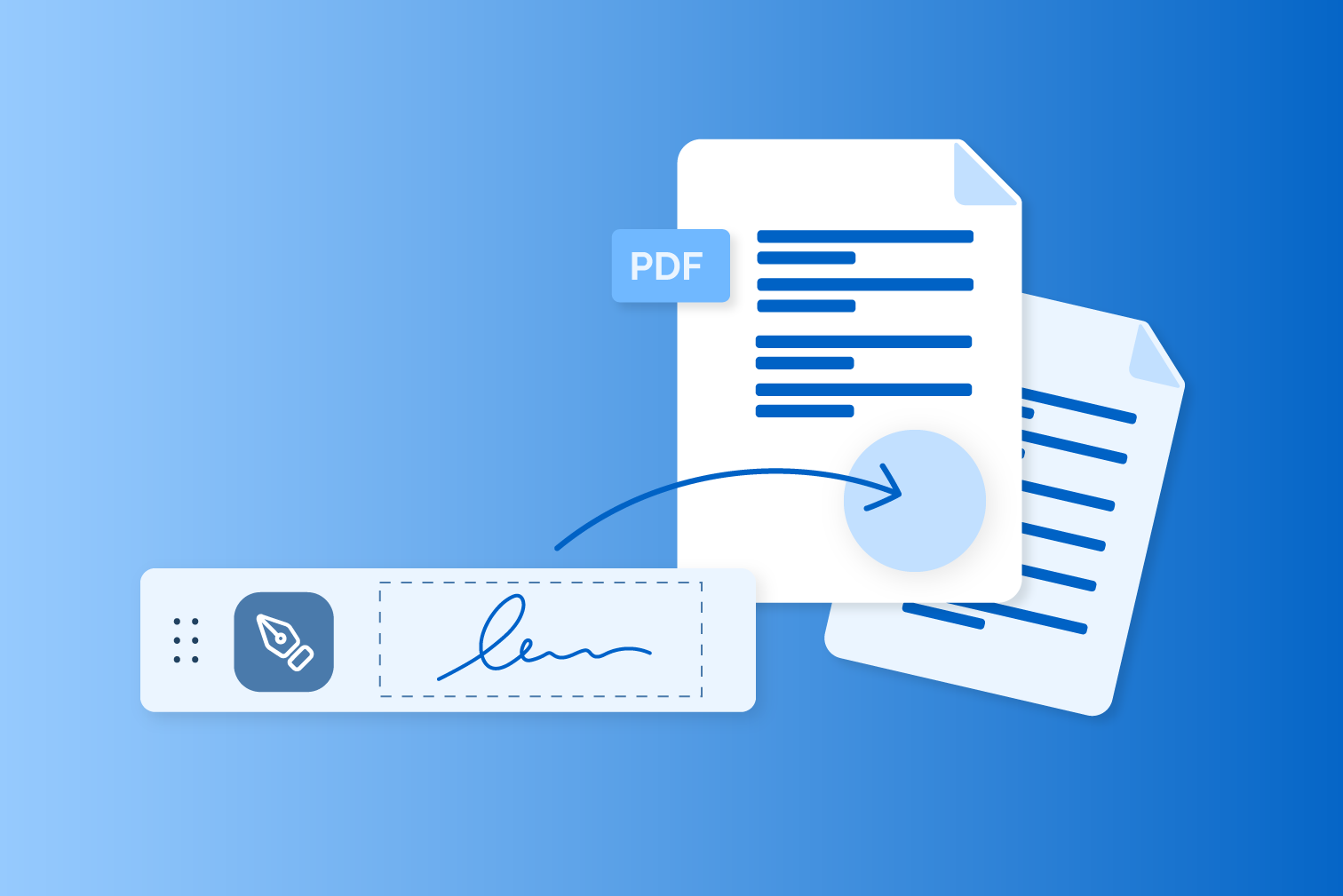 Knowing how to digitally sign a PDF, sign a Word document, or sign any of your important files online will make your workflow more productive. But first, you must create a digital signature online.
With the eSign Tool, you can add your signature to documents in three ways. Type a signature as text, draw a handwritten signature with a touchscreen or mouse, or upload an image of a signature.
What is a digital signature?
A digital signature is an electronic method of validating the authenticity and integrity of a document. Unlike an electronic signature, a digital signature uses advanced encryption algorithms to create unique code that is linked to the signatory's identity.
With iLovePDF, you can create both electronic and digital signatures. Digital signatures are more secure than electronic signatures because they cannot be replicated or tampered with, ensuring that the document is legally binding.
They are commonly used in industries requiring high levels of security, such as finance, healthcare, legal, and government.
Create a digital signature online
Here we show you how to create electronic and digital signatures that you can use to sign PDFs. With the Sign PDF tool, create legally binding signatures by typing, drawing, or uploading an image of your signature.
How you create online signatures depends on the style required. Here's how to get started:
Go to the Sign PDF tool.
Upload a PDF from your computer, Google Drive, or Dropbox.
Select Only Me.
Enter your full name and initials in the relevant boxes.
Select the Text, Draw, or Upload icons depending on the signature you require.
Choose a Simple Signature or Digital Signature under the Signing Options.
Drag, drop, and position the Signature Field onto your document along with your initials, name, and date.
Select Sign to sign the PDF.
Edit the style of digital signature
In step 5 above, you may choose to create a digital signature that is either text, handwritten, or uploaded via an image file.
To create a text signature: Click on the Text icon and select the desired font style and color. Next, click Apply.
To create a handwritten signature: Click the Draw icon and draw your signature with your mouse or scan the QR code with your mobile device to sign with your handwritten signature using your touchscreen. Next, click Apply.
To upload an image signature: Click the Upload icon and find the image file that contains your digital signature. Select Open with this file to upload your signature and click Apply.
How to sign a Word document & other file types
What can you do once you've created your digital signature? It's easy to sign a Word document without printing it with the iLovePDF tools. The first step is going to the Word to PDF converter to turning your original Word document into a PDF.
Next, follow the steps for uploading and signing a PDF above by going to the Sign PDF tool.
If you have an original file that isn't PDF, it's simple to convert multiple file types to PDF with converters such as JPG to PDF, Excel to PDF, and more.
Ask someone to sign a PDF document
If you need to send a document for others to sign, you can also do this with iLovePDF. The request will be sent by email, and receivers can use the Sign PDF tool to complete the request.
First, make sure you have created an iLovePDF account. Once you are logged in, follow these steps:
Go to the Sign PDF tool.
Upload the PDF file that needs to be signed.
From the signing options, click on Request Signatures.
Fill in the details of your recipients.
In Settings, check the boxes if you require extra features such as a Digital Signature or your Company Logo.
Drag and drop the signature field onto the document to indicate where recipients will sign.
Add any extra fields such as initials, name, date, or text.
Click Send to send the document via email to the signers.
Track the progress of received signatures from your iLovePDF account.
Switch to an iLovePDF Business account
Are you dealing with a lot of digital signatures and legally binding documents? Switch your account to Business and access tailored packages that meet your company's needs.
With iLovePDF Business, you have flexible payment options that work around you, custom contracts with tailored iLovePDF tools, a dedicated customer success representative to answer all of your questions, and exclusive hardware. Contact our Sales Team to find out more.
By using Premium and signing with digital signatures, your business can streamline its document signing processes and reduce its reliance on paper-based methods, resulting in faster transactions, improved productivity, and reliable security.
Create digital signatures with iLovePDF
Create a signature
Seguro em nossas mãos
iLovePDF leva a segurança muito a sério. Se lembre que...
Seja qual for a ferramenta que você estiver utilizando, nós usamos encriptação ponto-a-ponto para garantir a máxima proteção contra roubo ou intercepção de seus documentos.
Qualquer documento carregado em nosso sistema é automaticamente eliminado após duas horas, para previnir algum acesso não autorizado de terceiros.
Todos nosso servidores estão seguros segundo as leis Europeias, das mais apertadas em todo o mundo.