How to edit PDFs on iPhone & iPad
This free PDF editor for iOS makes it easy to add handwriting, text, images, and fill in PDFs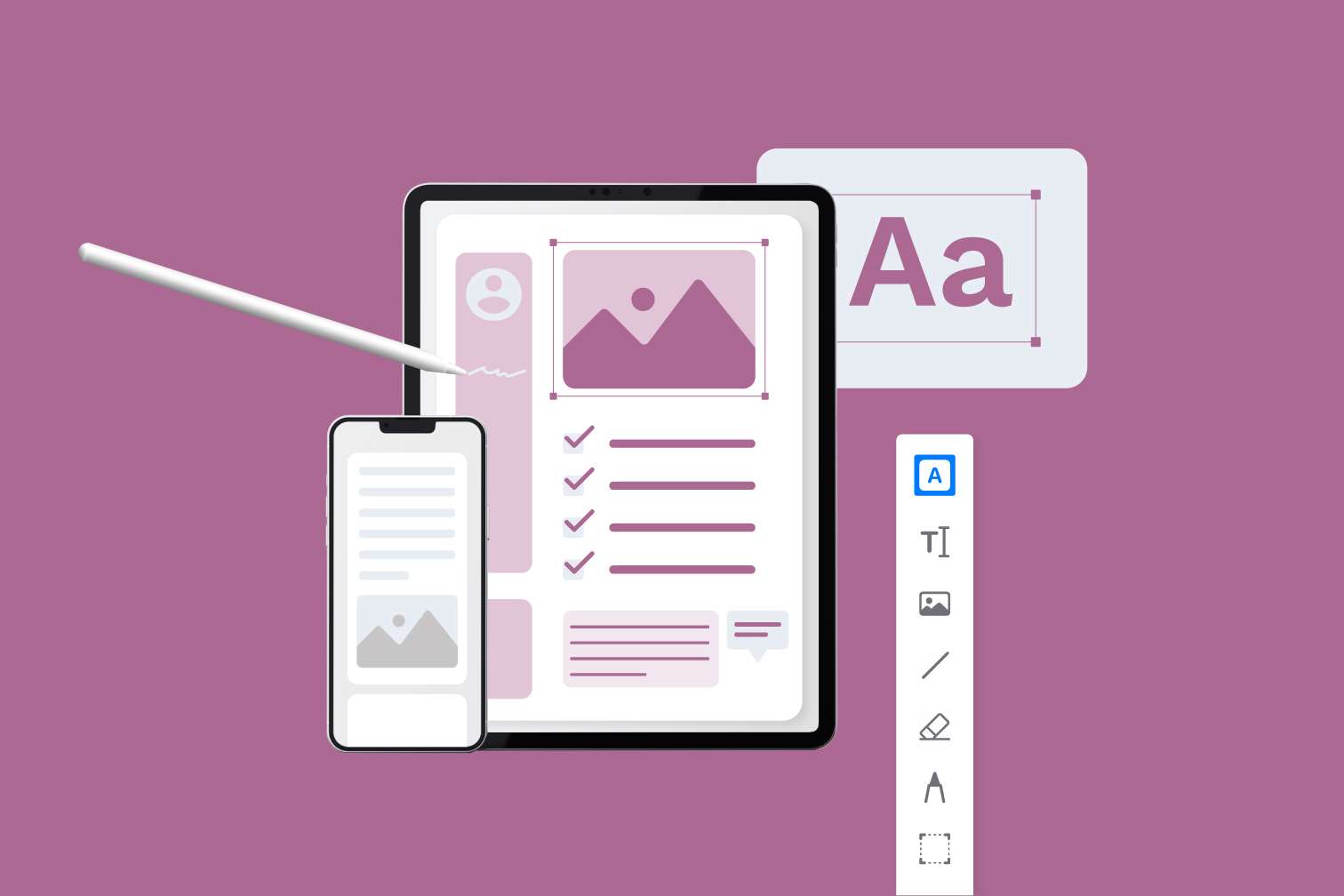 Are you trying to edit a PDF on iPhone? Having access to mobile tools makes you more productive anywhere you can take a phone or tablet. Fill in PDFs with a text box, handwriting, add images, and more with the free Edit PDF tool for iOS.
With the iLovePDF Mobile App, you can easily make changes to your documents on the go. This can be especially helpful if you need to make last-minute edits before a meeting or presentation.
Keep your documents with you at all times. This can come in handy if you need to reference them while out of the office or classroom. Keep reading for a guide on how to use the free PDF editor and make the most of iLovePDF Mobile.
How to fill in a PDF on iPhone & iPad
Here's how to write on a PDF on iPhone & iPad by typing text or drawing with your handwriting:
Open or download the iLovePDF Mobile App.
Select Edit PDF from the tools.
Upload a PDF from your device storage with the red plus + button.
Select the PDF and tap Edit PDF.
Select the Text Box or Draw icons to type or draw on the PDF.
Your edited document is saved automatically when you exit the file.
Why use a PDF Editor?
Easily attached and read on any device
PDF files are one of the most popular ways to send documents online. The reason is in the name: PDF stands for Portable Document Format, and they are designed to be easily attached and read by anyone on any device. This makes using PDFs perfect for collaboration.
Make quick edits to documents
Whether it's a document from your accountant that needs some quick notes or an academic article you want to highlight, you can do it all directly on the original PDF with free Edit PDF tools. Edit the document with text boxes, drawings, images, and more.
Convert between PDF, Office, and images
Even if the original document wasn't sent in PDF, online tools are available that let you convert your documents into PDF. From Office files to images, you can trust that converting to PDF will create accurate documents that are easy to send and edit.
Features of the Edit PDF tool for iPhone & iPad
You can edit a PDF in several ways with the Edit tool, so don't stop at the Text Box and Draw features. From typing, highlighting, to adding a voice note - get to know the best PDF editor features. To use them, all you have to do is tap their icon from the edit options inside the app. Here's a list of the PDF editor features:
Insert an editable text box: Add text boxes to your PDF. Customize the font, color, size, and format options to edit the text as you need it.
Import images or photos: Insert images from the storage of your device or take a photo and upload it directly. Move and resize images and place them anywhere on your PDF.
Insert shapes/lines: Attach shapes and lines to your document. Adjust the color, fill color, opacity, thickness, and even line style to completely customize the shapes.
Draw/annotate: Draw freely and hand-write text in a variety of colors with editable line thickness. You can also remove any of the unwanted drawings with an eraser.
Highlight text: Highlight the text in a PDF. Go through documents and highlight the most important points with your chosen color and opacity.
Insert note: Insert a note into your PDF instead of a text box. Using a note creates an expandable icon that doesn't cover the content of your document, with lots of space to make comments.
Insert audio recording: Record and attach audio to your PDF document. You can use voice notes to help users with accessibility problems with reading, or for including a lot of feedback without needing a lot of space.
How to edit a PDF with a signature
Are you trying to edit a PDF to add a signature to your document? Use the Edit tool to sign a PDF on mobile using the draw icon.
Alternatively, eSign your PDF by using the Sign tool on the iLovePDF website to get the protection of digital signatures and create legally binding documents that can be easily sent securely online.
Explore the rest of our tools
Now you know how to edit PDF documents on iPhone and iPad, keep perfecting your PDFs by utilizing the rest of the iLovePDF tools. Available across the Web and Desktop versions, iLovePDF have over 20 tools that were designed to bring you simple solutions that save you time.
If you deal with a lot of documents it's worth thinking about a Premium subscription. Premium offers limitless PDF editing offline with iLovePDF Desktop; unlimited tasks on iLovePDF Mobile, and higher limits on iLovePDF Web.
Get the iLovePDF Mobile App
Download now
Seguro em nossas mãos
iLovePDF leva a segurança muito a sério. Se lembre que...
Seja qual for a ferramenta que você estiver utilizando, nós usamos encriptação ponto-a-ponto para garantir a máxima proteção contra roubo ou intercepção de seus documentos.
Qualquer documento carregado em nosso sistema é automaticamente eliminado após duas horas, para previnir algum acesso não autorizado de terceiros.
Todos nosso servidores estão seguros segundo as leis Europeias, das mais apertadas em todo o mundo.