How to convert PDF files offline
Convert PDF to Word, Excel, and Powerpoint using iLovePDF Desktop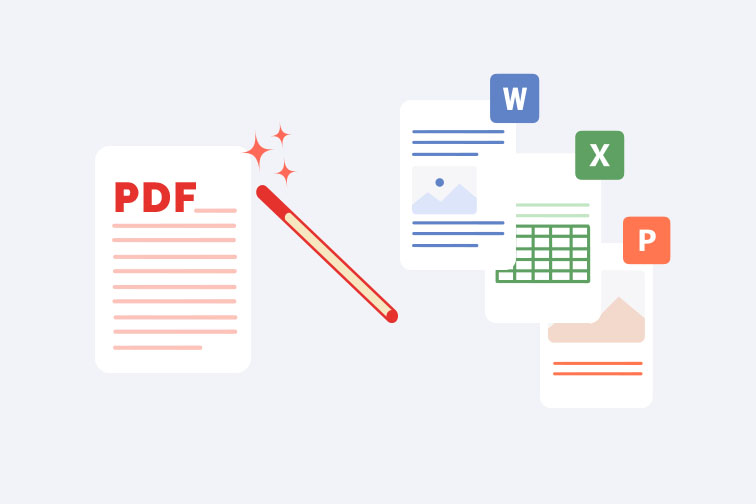 How can I extract text, images, or tables from a PDF? At some point we've probably all felt stuck when we saved a document as a PDF, then later needed to edit it, but lost the original Microsoft Word, Powerpoint or Excel file. Thanks to a variety of online PDF to Office Converters, we can usually recover those documents in a click.
But what if you want to convert a PDF back to a Microsoft Office format without having to upload it to the web? Your best option is to use a reliable desktop software. ?️ Available for MacOS and Windows, iLovePDF Desktop provides you with tools to transform PDF documents to DOCX, XLSX, and PPTX files quickly offline.
PDF to Word
If you need to edit text from a read-only PDF file, the easiest way is converting it to Docx format. Once your file is converted, you can add, remove or modify text directly from Microsoft Word.
PDF to Excel
Many businesses need to extract tables from PDF files to then analyze the data in an Excel spreadsheet. With a PDF to Excel Converter, you can transform your PDF into searchable XLSX data instantly.
PDF to Powerpoint
When you're preparing a presentation or speech and need to use information from a PDF, you can convert to PPTX. Converting text to Powerpoint format allows you to create presentation slides easily in no time.
How to convert PDF to Office offline
Download and install iLovePDF Desktop for free.
Sign up or Log in to your iLovePDF account.
Select Open file or drag and drop a file into the desktop reader.
Click on one of the PDF converters from the menu on the right.
Hit the Convert button.
Select Open Folder to view your converted file.
Convert scanned PDFs to Word using OCR
The iLovePDF Desktop version also has integrated Optical Character Recognition software (OCR) to automatically recognize text from scanned PDFs. You can digitize any image-based documents by converting them to editable Word text with high speed and accuracy, straight through the desktop app.
Work offline with no interruptions
The great thing about desktop applications is that you can process PDF files without needing to be connected to the internet. Whether you're in the office or working remotely, iLovePDF Desktop is the most efficient document management solution for people converting files in a hurry. ?
Process files with maximum security and privacy
Although all files processed with iLovePDF are completely secure, ? you might like having the option to process files locally on your computer, especially if you're dealing with highly confidential documents. To ensure the highest possible level of security, iLovePDF Desktop allows you to read and process files directly from your Mac or Windows PC.
Have loads of files? Upgrade to Pro
If you need to process a large volume of documents without file limitations, upgrading to iLovePDF Premium Pro is the way to go. For just a little bit more a month, users have add-free, unlimited access to both iLovePDF Desktop and the web version.
Special Pro features include powerful OCR technology for transforming scanned PDFs to Word documents. To discover more Pro benefits, visit our Pricing page.
Work with your favorite PDF tools offline
Install now
Seguro em nossas mãos
iLovePDF leva a segurança muito a sério. Se lembre que...
Seja qual for a ferramenta que você estiver utilizando, nós usamos encriptação ponto-a-ponto para garantir a máxima proteção contra roubo ou intercepção de seus documentos.
Qualquer documento carregado em nosso sistema é automaticamente eliminado após duas horas, para previnir algum acesso não autorizado de terceiros.
Todos nosso servidores estão seguros segundo as leis Europeias, das mais apertadas em todo o mundo.