How to convert PDF to Office
Convert your PDF documents to editable Office formats with iLovePDF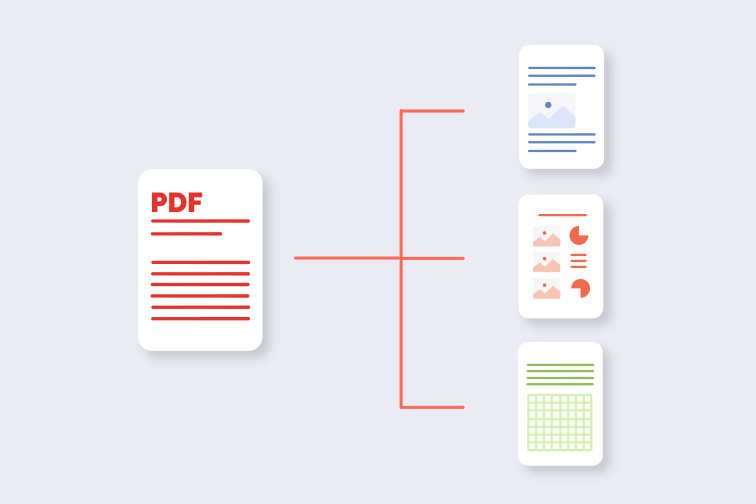 PDFs weren't conceived with editing in mind; if you need to update or delete information on your documents, the easiest way is by converting it to editable Microsoft Office formats such as Word, Excel or PowerPoint.
There are many available options to get the job done. Among all the countless tools out there, a free online converter is probably one of the most convenient solutions. You can extract images, tables and text from your PDFs without the hassle of installing new software.
The obtained results will depend on the converter you use. If you want to preserve the original formatting, iLovePDF can help you get your files converted with great accuracy in just a few seconds.
How to convert PDF to Office online
To transform your documents online, you can trust one of the most used PDF to Office converters. Millions of PDF files are transformed into editable Word docs, Excel spreadsheets, and PowerPoint presentations on a daily basis by iLovePDF.
Furthermore, you can also convert multiple files per task thanks to our batch conversion feature, available for Premium users. Drag and drop documents straight to each tool´s page or import them from your Google Drive and Dropbox account.
Select the Office converter that you require from PDF to Word, Excel, or PowerPoint.
Upload the PDF files you want to convert.
Click convert.
The most evident reason to transform a PDF into Word is to edit it. Our conversion features enable converting from PDF to Docx files which you can open in Microsoft Word or other text editor supporting the selected format.
Lots of business send data in PDF format, making it difficult to make sense out of the information for the receiving party. You can import financial records in PDF to XSL within seconds.
Extract charts, tables, and images to a PowerPoint file. Quickly and easily convert your PDF to PPTX and start crafting your next awesome slideshow presentation without any delays.
Once you have processed your files, you can choose different download options beyond the download button. If you work in a team, you can save your document back to Google Drive or Dropbox, and even email the custom link for downloading the file to your colleagues.
PDF to Office Conversion for Desktop
Whether you are a business processing highly confidential documents or an individual dealing with a large volume of files, iLovePDF Desktop can be a good match for your document needs. Take our PDF tools straight to your Desktop and convert your PDFs to editable Office formats without Internet access.
iLovePDF Desktop supports PDF to Word, PDF to Powerpoint and PDF to Excel conversions without an Internet connection, in particular, making it highly suitable for working environment without place restrictions.
PDF to Office for iOS & Android
No office? No problem! You can turn your smartphone into a portable PDF Editor with the iLovePDF Mobile App. Because we know that dealing with PDFs can keep you busy, we've included our PDF to Office tool in the App. Now you can efficiently deal with your documents whenever you need it.
iLovePDF App - Your PDF Editor and Reader is available in the App Store and Google Play. Get the app for free and start making the most of your time on-the-go.
The PDF tools for productive people
Start converting
Seguro em nossas mãos
iLovePDF leva a segurança muito a sério. Se lembre que...
Seja qual for a ferramenta que você estiver utilizando, nós usamos encriptação ponto-a-ponto para garantir a máxima proteção contra roubo ou intercepção de seus documentos.
Qualquer documento carregado em nosso sistema é automaticamente eliminado após duas horas, para previnir algum acesso não autorizado de terceiros.
Todos nosso servidores estão seguros segundo as leis Europeias, das mais apertadas em todo o mundo.