How to send a large file on WhatsApp
Share heavy files via your instant messenger by following these steps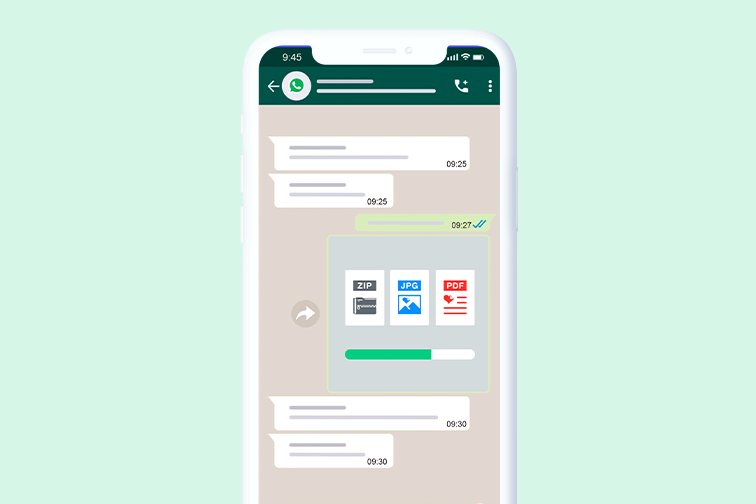 People all around the world use WhatsApp to send messages and calls to friends, family and collaborate with teams at work. Not only is it easy to use, but includes useful messaging features such as voice and video calls, group chats, and advanced file sharing capabilities.
The messaging app lets you send and receive videos, photos, audio, as well as documents in PDF and Office formats straight from your mobile device. The only downside with this popular instant messaging service is the size limitations for media files.
Keep your media files under 16MB
Currently, you can only share up to a maximum of 16MB for videos, images, and audio files. That means if you tried to send your friend an entire photo album or video footage or last night's dance class, you might get stuck.
If you attempt to send media that's larger than 16 megabytes, you'll get an error message. There are two ways around this: Sending your files via a Google drive link or compressing them into a ZIP folder before attaching them.
Method 1: Send a media file using Google Drive
Your standard Google Drive account will provide you with 15 GB of free storage, so one of the secret ways around the WhatsApp file size limit is uploading your media to Google Drive, then sharing it to the receiver with a shareable link. Follow these steps to get your link:
Method 2: Compress large files to ZIP
If you need to send a big batch of photos to somebody via WhatsApp, another way to do it is by compressing them first into a ZIP folder. Document Management Apps such as iLovePDF allow you to do this straight from your mobile phone.
Here's how to compress multiple images to ZIP using iLovePDF:
You can send 100MB for regular files
The upside is that WhatsApp is quite generous with regular file sharing. You can send up to 100MB of documents in PDF, Microsoft Word, Excel, and other file formats.
That's normally enough for most document tasks. However, if you need to send something that's larger than 100MB, or your receiver has limited storage space on their device, you can choose the Google Drive link option or reduce the file size before sending. Here's how:
How to compress PDF on your smartphone
Read and manage the files you receive
Do you use WhatsApp for work? If you also get many documents and photos through your instant messenger on a daily basis, a great way to store and organize them on your phone is using a reliable Document Management System.
Different file managers offer distinct features to help you streamline your workflow. For example, a DMS such as iLovePDF also functions as a PDF Reader and PDF Editor. This means that you can modify and manage your digital docs all in one place, and on any device.
To get started, get the iLovePDF mobile app on the App Store or Google Play. It's free!
Seguro em nossas mãos
iLovePDF leva a segurança muito a sério. Se lembre que...
Seja qual for a ferramenta que você estiver utilizando, nós usamos encriptação ponto-a-ponto para garantir a máxima proteção contra roubo ou intercepção de seus documentos.
Qualquer documento carregado em nosso sistema é automaticamente eliminado após duas horas, para previnir algum acesso não autorizado de terceiros.
Todos nosso servidores estão seguros segundo as leis Europeias, das mais apertadas em todo o mundo.