How to sign an NDA online
Secure your confidentiality agreement remotely with an electronic signature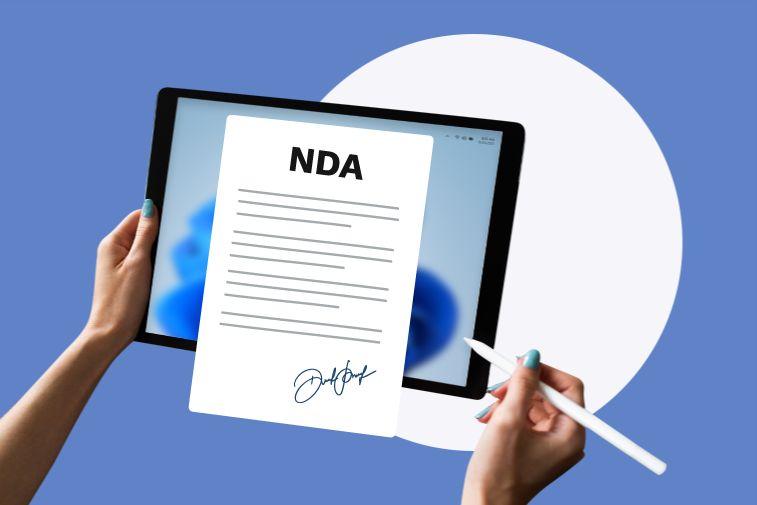 With remote work on the rise since the COVID-19 pandemic, more and more people are signing documents online. If you are an entrepreneur wishing to start a business from home or have a new remote job, some legal contracts need to be signed. One of them is an NDA.
This post will show you how to sign an NDA online securely in just a few clicks.
What is an NDA?
A Non-Disclosure Agreement (NDA) is a confidentiality agreement between two parties that are doing business or working together. It is a type of binding contract in which a party agrees not to disclose any confidential information that the other party has shared with them.
For example, if you have a profitable business idea and don't want anybody sharing your trade secrets, you may require people to sign an NDA.
Who uses NDAs?
Many companies and startups use Non-Disclosure Agreements to ensure that the parties they are negotiating with don't steal their ideas and to protect their intellectual property. New employees are also sometimes asked to sign an NDA when they start a job at a new company.
What happens if an NDA is broken?
A Non-Disclosure Agreement is legally enforceable. This means that if the Receiving Party reveals any sensitive information given to them by the Disclosing Party, it can result in a lawsuit for breach of contract.
Consequences of breaking an NDA include large fines or in the case of work, termination of employment. So make sure you familiarize yourself with the deal before signing it!
Sign an NDA online in a few steps
If you're starting a business or job remotely, a Non-Disclosure Agreement can be signed online using a trusted electronic signature solution such as iLovePDF Signature.
The service allows you to self-sign PDF documents and send requests to gather other people's signatures on a contract. E-signing is faster, more secure, and cost-effective because you don't need to print, scan, or post anything.
Below is a step-by-step guide on how to e-sign an NDA online using iLovePDF.
How to self-sign an NDA document
If a company asks you to sign their non-disclosure agreement, you can e-sign the document using iLovePDF. We'll take you through the signing process:
Go to the iLovePDF Signature Sign PDF tool.
Upload the NDA document that needs to be signed.
Click on the signing option, Only me.
Customize your signature, then click Apply.
From the Signing Options, choose the signature Type, then click on the Signature field to add it to the document.
Drag and drop your signature into position.
When you are finished, click on the Sign button.
Hit the red button to download your signed NDA.
How to ask a party to sign your NDA
To gather one or multiple parties' signatures on your NDA, you can send parties a signature request. Follow these steps:
Go to the iLovePDF Signature Sign PDF tool.
Upload your NDA document from your local computer, Google Drive, or Dropbox account.
Click on the option, Request Signatures.
Add your Signer's name and email address. If more than one person needs to sign the document, click on Add Receiver.
In the Settings, you can customize your signature request, for example by adding your company logo.
Choose your signature Type, then drag and drop the Signature field on the document to indicate where to sign.
Add extra text fields if necessary, then click on the Send to sign button.
You can now track your signature request from your iLovePDF account.
What do I need to consider when choosing an e-signature service?
If you are dealing with a contract of great legal importance such as an NDA, you may require extra trust features in the signing process to strengthen the legal validity of your agreement.
There are several e-signature services available online, so to help you choose the right one for your needs, here are a few things to check:
Signature type
There are different types of electronic signatures. Many e-signature apps offer the standard electronic signature, sometimes called a Simple Signature. It is as legally binding as a hand-drawn signature on paper.
There is also a more advanced version of an electronic signature which we refer to as a Digital Signature. It can be considered a form of Digital ID because it uses a Digital Certificate issued by a Trust Service and a Qualified Timestamp to prove the authenticity of the agreement. For signing an NDA, this type is recommended.
iLovePDF Signature offers both signature types. To learn more about the difference between them, read our post, Why sign with a Digital Signature?.
Signer verification
Some digital agreement software offer extra verification steps to check the identity of the parties signing a document and verify their signatures. This helps to prevent identity fraud.
iLovePDF offers multiple verification features including Two-Step Verification via SMS and Hybrid Verification which allows you to verify a signature on a printed document using a QR code. This is useful if you ever need to create a printed copy of your NDA.
Close deals faster with iLovePDF
Looking for a reliable and affordable e-signing solution for all your business transactions? A Non-Disclosure Agreement is just one of many legal documents that companies and organizations handle. Depending on the industry, you may be required to sign different types of contracts and forms, sometimes on a large scale.
iLovePDF Signature offers a complete, scalable, and personalized e-signature solution for all your business needs. Click here to find an adaptable e-signing solution for your company.
Get your NDA signed online quickly and securely
Sign NDA
Seguro em nossas mãos
iLovePDF leva a segurança muito a sério. Se lembre que...
Seja qual for a ferramenta que você estiver utilizando, nós usamos encriptação ponto-a-ponto para garantir a máxima proteção contra roubo ou intercepção de seus documentos.
Qualquer documento carregado em nosso sistema é automaticamente eliminado após duas horas, para previnir algum acesso não autorizado de terceiros.
Todos nosso servidores estão seguros segundo as leis Europeias, das mais apertadas em todo o mundo.