How to train your team remotely: Tips for effective training
Follow the latest advice on how to improve your remote training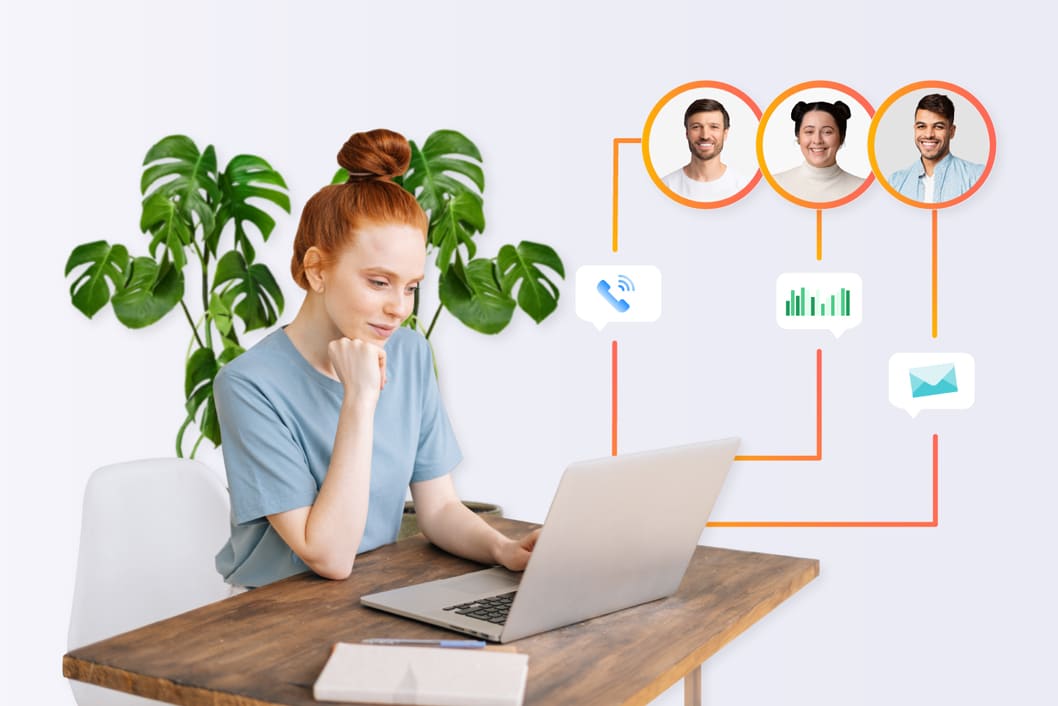 Are you trying to improve the quality of your remote training? From accidental underwear in a Zoom meeting to struggles with engaging a virtual team, the past few years have seen a big shakeup in how we work. Offices and their teams have taken on many new challenges by working remotely.
Although remote workers existed before the pandemic, numbers shot up as travel restrictions and work-from-home rules have been implemented around the globe. An OECD study found companies increased their remote training specifically to teach the new skills and tools needed for working remotely online, and some even pointed to more time for training because of remote work.
As online practices and productivity get better, employers are seeing the potential of a flexible company culture. How to train a remote workforce is a new question that businesses must have the answer to. Effective training is a fundamental part of the success of any company, so a robust remote training program should be given the same time and attention as any other, if not more.
Define the goals & method of your training program
Before starting a training program it's best to define your goals and method. Doing this will determine the areas in which your team needs improvement and focus your efforts on achieving the desired results. Some goals to consider include; increasing productivity, improving customer service, or reducing costs.
There are many different types of remote training methods that a business can use. One option is simply using online resources to implement existing training content via tools and websites. Another option is through webinars, which are live or pre-recorded seminars that can allow participants to learn from experts in real-time.
Having pre-recorded content is a useful tactic if technical issues are a problem, something that is more common for those working in isolated environments or those with limited equipment. By using these and other online methods, businesses can save time and money by ensuring their employees are trained for the job without organizing an international training session.
Choose the best tools & platforms for delivering the training
To work well remotely it's essential you have the remote training tools that make things run smoothly. There are many online platforms and tools that can be used for remote work and training. Some of the best ones include Zoom, Trello, and Google Hangouts.
These platforms allow you to communicate with your team members easily and effectively, often face-to-digital-face, providing various tools that can be used for training purposes. For example, Google Hangouts provides a whiteboard feature for live brainstorming sessions (or a quick Pictionary break).
With lots of documents and information, it's useful to have extra tools on standby when using these platforms. PDF is the most common document format in the workplace, so using a Compress PDF tool will help with platforms that get overwhelmed with large file sizes.
Using PDF is a useful way to accurately and easily send documents among colleagues in meeting platforms, as well as gain access to extra tools. PDFs are designed to be a secure way of sending documents without losing the format of the original, and tools that let you convert, edit, and sign documents are practical for any remote training or meeting.
Assign tasks and responsibilities to each team member
Within your remote training plan, think about assigning tasks and responsibilities to team members before the meeting. When assigning tasks and responsibilities to team members, it's critical to consider their individual strengths and weaknesses. This will make certain everyone is working as efficiently as possible and that no one is overburdened with too many responsibilities.
In addition, it's important to establish clear expectations for each team member and communicate these expectations regularly to prevent any misunderstandings and guide everyone to work towards the same goals.
Every team has different tasks and responsibilities which need to be fulfilled in order for the team to be successful. In a business setting, these tasks and responsibilities usually fall into one of three categories: administrative, operational, or strategic. Administrative tasks include things like bookkeeping, data entry, and customer service. Operational tasks involve activities such as production, marketing, and sales. Strategic tasks are related to long-term planning and goal-setting.
Create a timeline for the training program
Creating a timeline and training schedule can seem like a daunting task, but it doesn't have to be. There are a number of ways to approach the process and make it as easy as possible. Here are a few tips on how to get started.
First, determine the length of the program and then create weekly or monthly milestones that will need to be achieved in order to meet that deadline. Now you can stay on track and avoid becoming overwhelmed.
Secondly, establish specific deadlines for each task and ensure that everyone involved in the program is aware of them. This prevents any delays or missed deadlines. Finally, use a calendar or scheduling tool to keep track of all activities and appointments related to the program. This will help you stay organized and make it less likely that something is forgotten.
Encourage team members to ask questions and provide feedback
One way to encourage team members to ask questions and provide feedback during training is to create a forum or discussion board where queries and thoughts are posted. This keeps employees engaged, and will allow you to address any concerns or issues they may have to see if everyone is on the same page.
In addition, it's vital you are available to answer any questions from team members so they can provide feedback whenever possible and feel active in the training process. For more advice on working remotely with your team, take a look at this post on "5 smart tips for your hybrid and virtual meeting".
Celebrate your success together
When it comes to work, most people want to achieve two things: to feel like they are making a difference, and to be recognized for their efforts. While there are many ways to achieve these goals, one of the best is through celebration.
When you celebrate success at work, you not only reward your team members for what they've already done, but you also motivate them to continue working hard on reaching higher goals for what's to come. Celebrating strengthens team bonds and builds camaraderie. It creates a sense of shared purpose and helps everyone feel like they're part of something larger than themselves.
Keep practicing and adapting your methods
You might not take the Pictionary crown after the first training session—but this isn't about becoming Picasso overnight. Training remote employees and perfecting the tools will take practice. Online tools and training methods keep adapting, and your own professional development will come from getting better at applying them.
We don't know if face-to-face will become a thing of the past, but it's clear that companies are becoming more flexible with hybrid and remote work, so start working on your online training techniques now.
Find out how online tools can help your remote training
Discover now
Seguro em nossas mãos
iLovePDF leva a segurança muito a sério. Se lembre que...
Seja qual for a ferramenta que você estiver utilizando, nós usamos encriptação ponto-a-ponto para garantir a máxima proteção contra roubo ou intercepção de seus documentos.
Qualquer documento carregado em nosso sistema é automaticamente eliminado após duas horas, para previnir algum acesso não autorizado de terceiros.
Todos nosso servidores estão seguros segundo as leis Europeias, das mais apertadas em todo o mundo.