You can now edit images in iLovePDF
Compress, resize, and convert images on your mobile device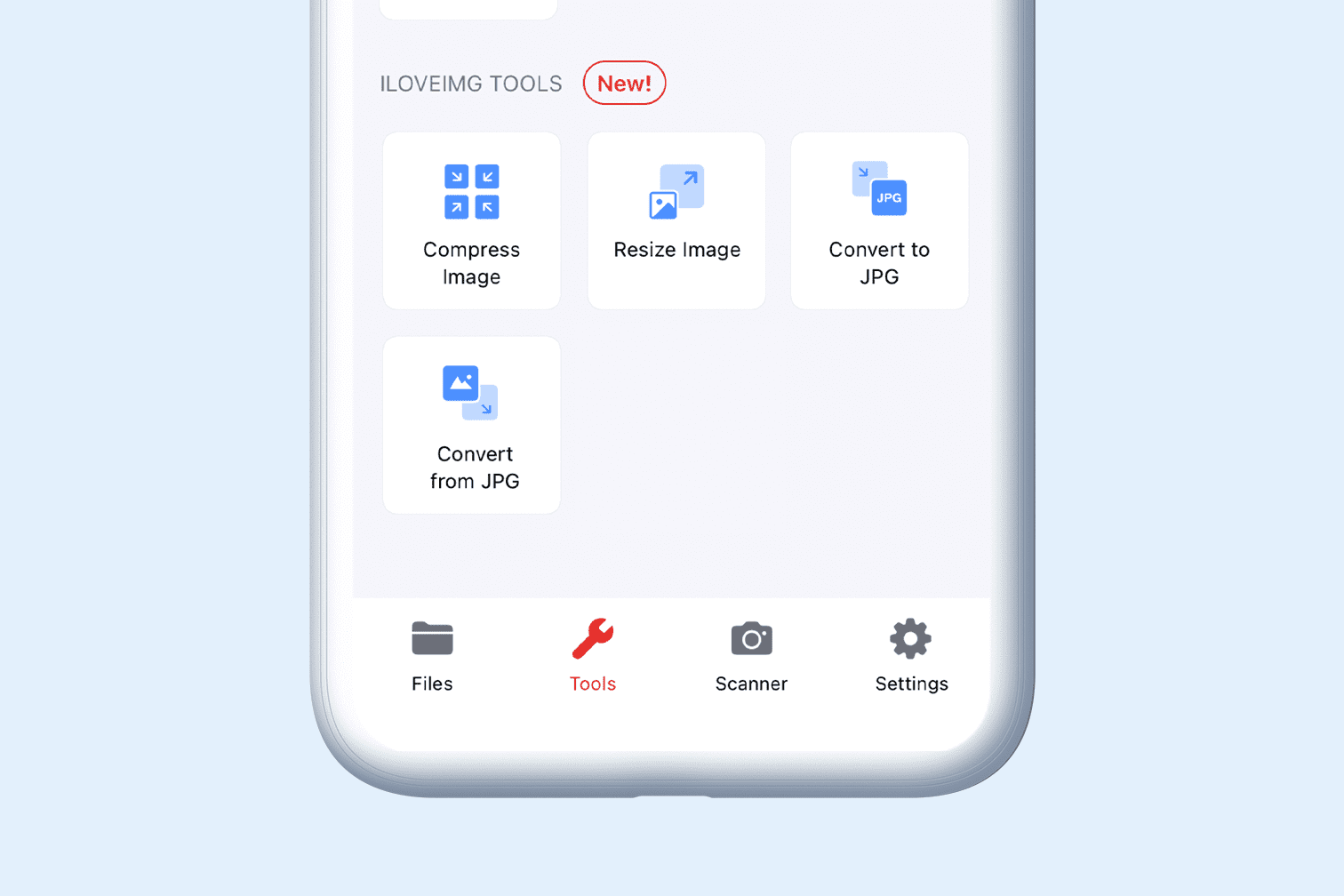 Can you imagine a simplified mobile app that lets you view, manage, edit, organize, and share all your PDF files AND digital photos together in one place? 😮
With technology moving fast, almost anything is possible. And everybody wants an easy and fast solution to edit their digital photos in 2022. That's why your favorite document management app now doubles up as a simple Photo Editor to help you edit, organize and optimize images on the move.
Edit PDF and image files together in one App
Until recently, the iLovePDF mobile App was your go-to Productivity App for all things PDF. So you might be wondering, where did we get the idea to add photo tools from?
Unless…you were aware that we have always had a sister website called iLoveIMG which (as the name suggests) handles all your basic image editing needs.
It was only a matter of time before we merged the PDF and image modification apps to create one unified platform. And with so many iOS and Android users asking for it, it was just meant to be on your smartphone.💘
Which new tools can I find in the iLovePDF mobile app?
The iLovePDF Mobile App version 3.1 combines some of iLoveIMG's lightweight and intuitive image optimization tools to solve your most common image problems.
Supporting all the popular image formats like JPG, PNG, GIF, and RAW files, you can use our photo editing software to:
Compress JPG images to smaller file sizes

Convert images to JPG format

Convert from JPG to other formats

Resize images to different dimensions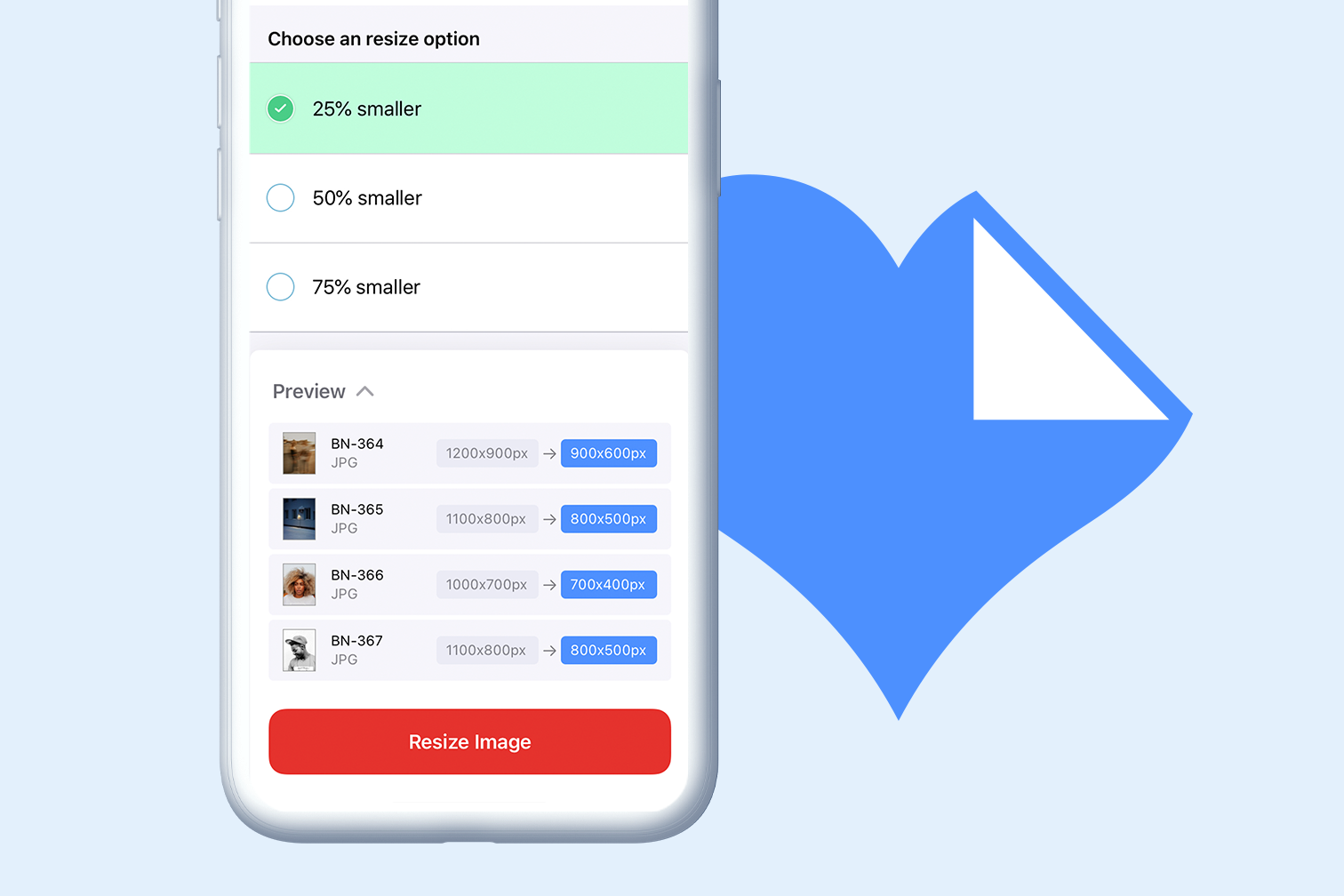 A no-fuss photo editor you will love ❤️
This isn't Adobe Lightroom or Photoshop. Today, anyone with an Instagram account or similar social media channel could call themselves a photographer, so we didn't want to overcomplicate things.
Designed for beginners and pro-level photographers looking for a simple and snappy alternative, the App offers an easy photo management solution for anybody with a mobile device - no photography skills required.
Prep your photos for social media
Different social media platforms have different image requirements to ensure your pics look great and display properly. iLovePDF's Mobile app makes it possible for you to prepare your images for social posts using precise tools.
You can compress, resize, and convert your photos to the correct image format and dimensions, ready to share them instantly in your feed. The app even lets you create shortcuts for quick access to your favorite photos to continue editing them later.
Pair the iLovePDF Mobile App with Instagram's blemish removal tools and filters, and you're one step closer to becoming an influencer. ✨
Manage tasks and improve workflows
Previously, the iLovePDF Mobile App was loaded with more than 20 tools specifically designed for handling PDF files. Then we realized, what about people who work with images?
Thanks to the new mobile-friendly and non-destructive workflow, you no longer need to rush back to the computer or download another app when a coworker sends you a JPEG.
As the mobile app now supports your digital images, you can continue with your graphic design tasks and get your work done more efficiently, directly on your smartphone.
Access your images anywhere, on any device
To make the App as user-friendly as possible, it syncs with all your local and Cloud storage options. This means that you can import pics from your photo gallery, Dropbox, Google Drive, or even iCloud.
Then, directly from within the App, you can edit your images and share them with friends or coworkers on their mobile or tablet.
Ready to try our image editing tools?
Version 3.1 is a big turning point in iLovePDF's mobile app development and we're super excited to take you on this journey. To try our new image editing tools, download the iLovePDF Mobile App in the App Store or Google Play.
We hope you like it!
Edit images on your mobile with iLovePDF
Free download
Seguro em nossas mãos
iLovePDF leva a segurança muito a sério. Se lembre que...
Seja qual for a ferramenta que você estiver utilizando, nós usamos encriptação ponto-a-ponto para garantir a máxima proteção contra roubo ou intercepção de seus documentos.
Qualquer documento carregado em nosso sistema é automaticamente eliminado após duas horas, para previnir algum acesso não autorizado de terceiros.
Todos nosso servidores estão seguros segundo as leis Europeias, das mais apertadas em todo o mundo.