iLovePDF Reviews: Why millions of daily users trust us (2023)
Read the reviews and user experiences with iLovePDF to find out more about our document safety and services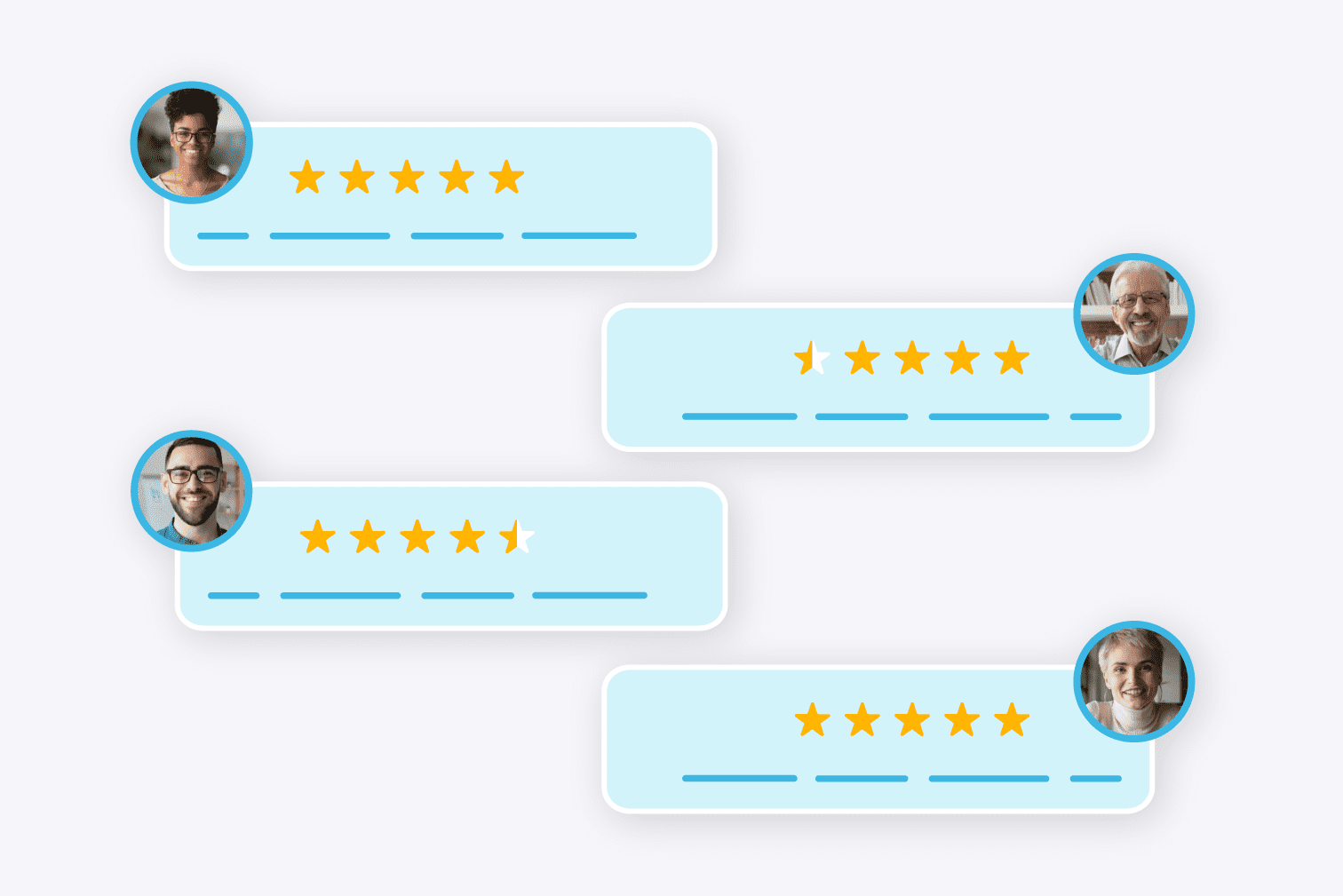 What is iLovePDF? Your ultimate toolkit for document management
Unlock a suite of over 25 document management tools from iLovePDF, available across the Web, the Mobile and Desktop Apps, and the REST API for developers. These tools effortlessly convert, merge, compress, and edit PDFs. Plus, you can even eSign using digital signatures for secure and legally binding documents.
We are proud to provide millions of daily users with user-friendly solutions that help to simplify and streamline document management workloads. Thanks to you and your reviews, iLovePDF is routinely recognized across platforms that share the experience of users.
Users across G2, Capterra, GetApp, Software Advice, and TechRadar have all left their feedback and helped iLovePDF to become one of the largest document management services worldwide.
Your reviews serve as a crucial pillar in our drive to continue improving our products, introducing fresh features, advanced new tools, and innovative solutions to offer an exceptional experience to everyone.
Are you concerned about safety? Keep reading to discover the iLovePDF reviews and explore the range of security measures that ensure the protection of your files.
Reviews that speak volumes: iLovePDF's success story
From freelance professionals and small businesses to international corporations, with the help of your reviews, our services have been recognized for awards in a number of categories, including:
Category Leaders

Top Performer

Most Recommended

Best Value

Best Ease of Use

Fastest Growing Product

Best Functionality & Features

The iLovePDF reviews
G2: Within the 2023 awards, iLovePDF was recognized as a Leader and High Performer across multiple categories for Document Creation software.
Most recently, we have been placed in the top 100 Fastest Growing Products and received numerous awards in the Summer 2023 report.
"Being a past student also now running a business I have always been surrounded by documents. Be it presentations or business invoices iLovePDF has been my go-to software throughout the past 5 years"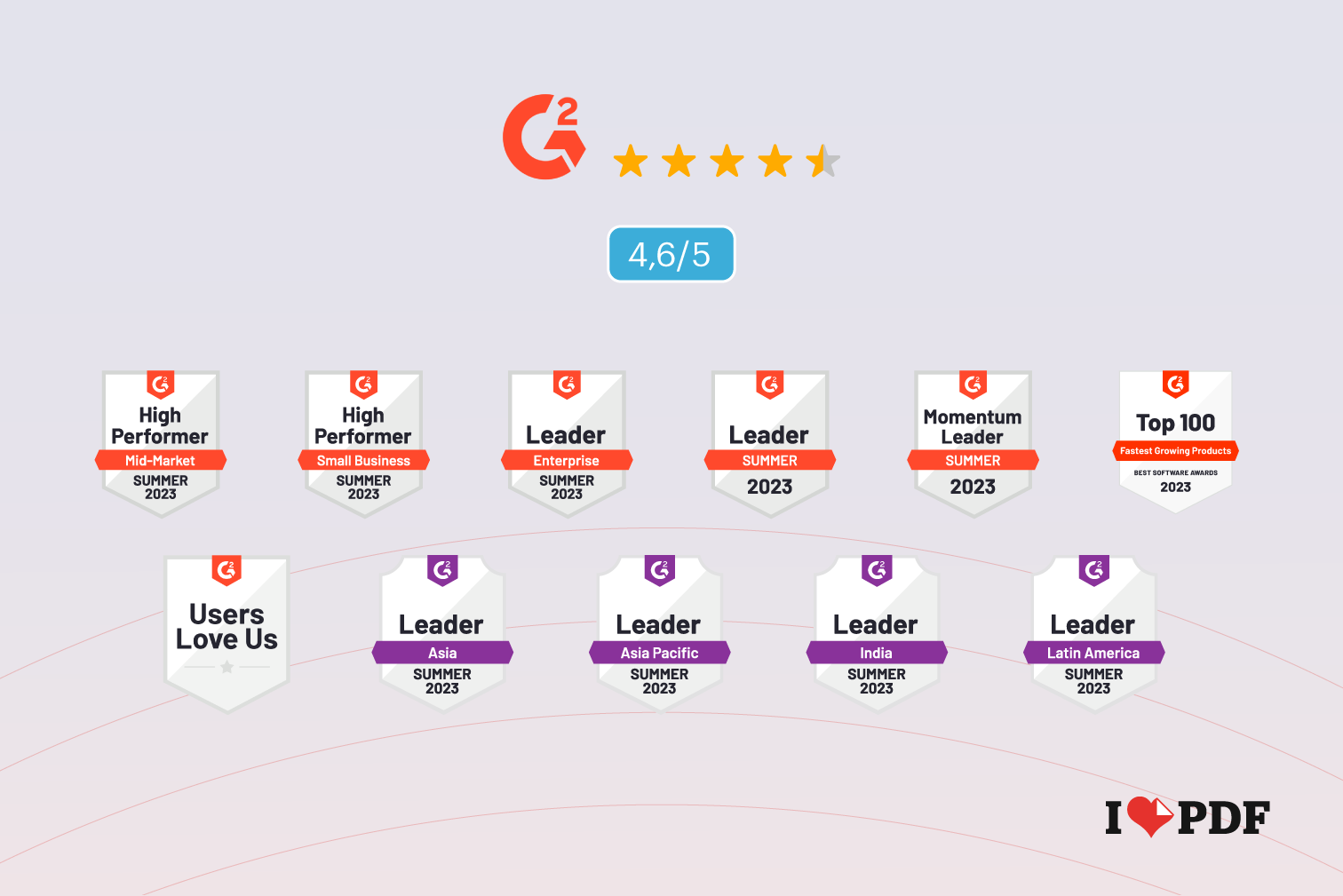 Capterra: Recognized as a Top Performer and Emerging Favorite for 2023, with previous years also attaining Category Leaders, Best Value, and Best Ease of Use.
The Capterra awards for iLovePDF include:
Document Management

Digital Signature

Records Management

PDF Editor

PDF

GetApp: Awarded us with Category Leaders and Best Functionality & Features.
Our accomplishments were celebrated in the categories of:
Document Management

Digital Signature

PDF Editor

PDF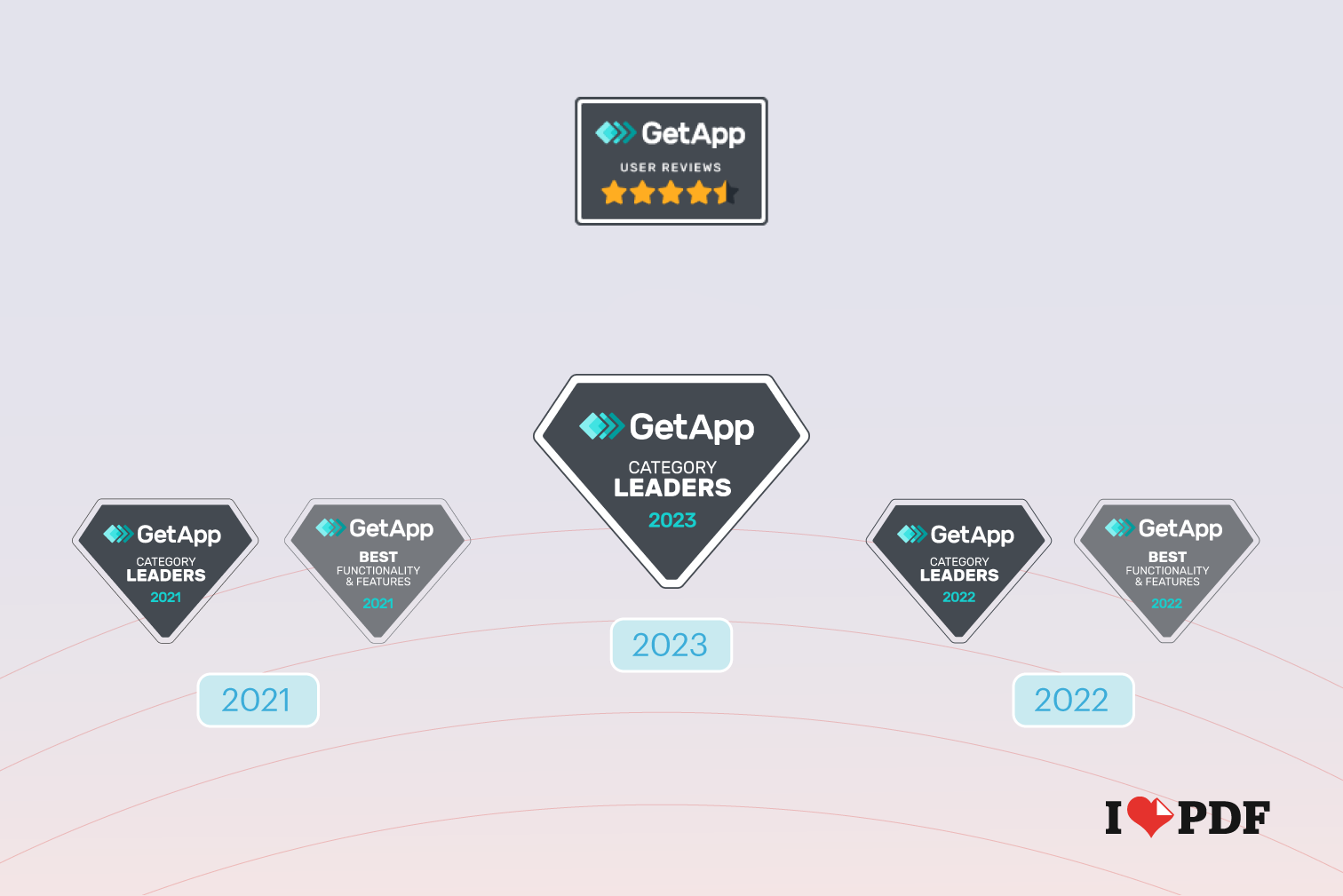 Software Advice: We have been named as Software Advice's Most Recommended since 2021, in addition to various other categories.
The Software Advice has recognized iLovePDF for:
Content Management

Document Management

Digital Signature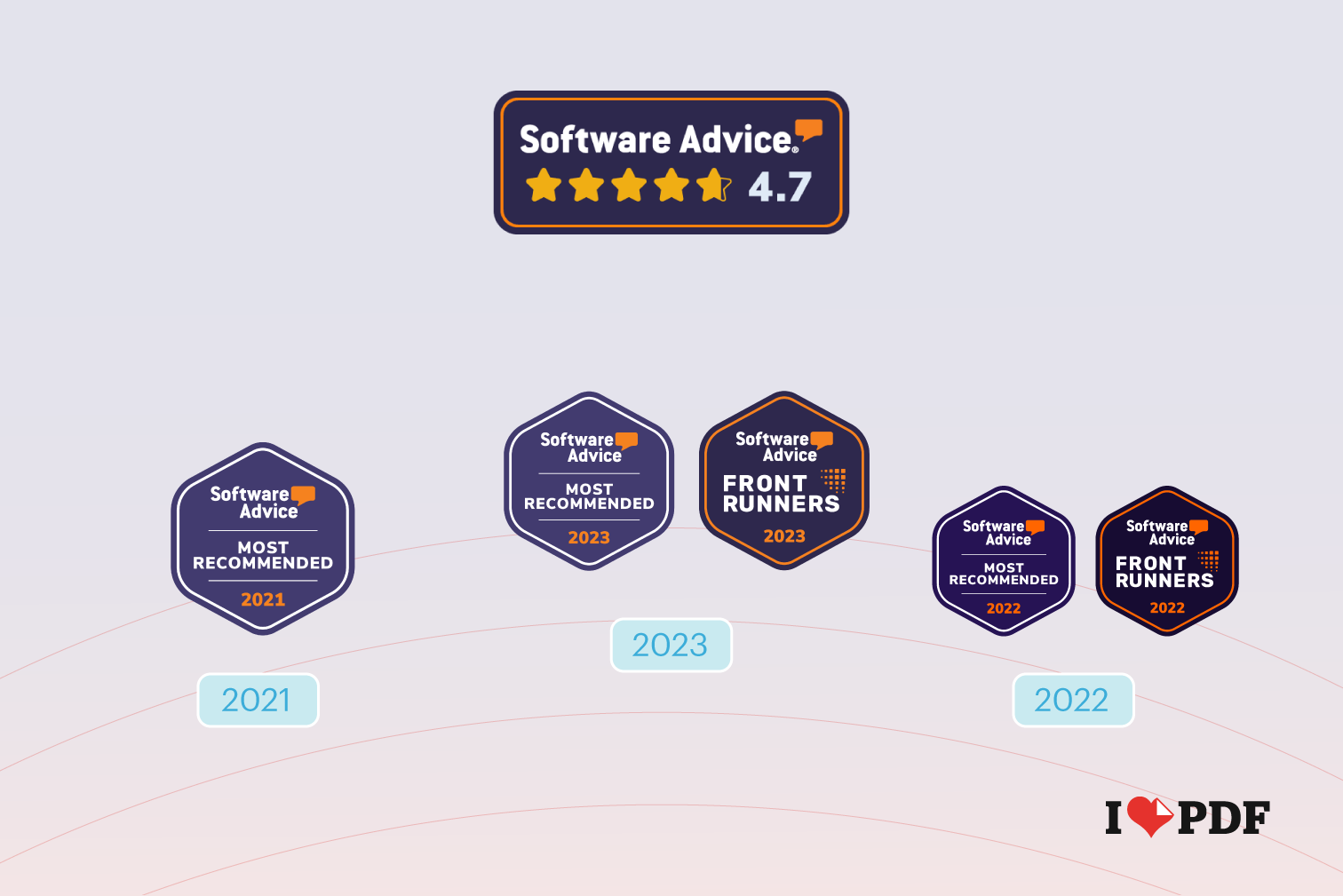 TechRadar: iLovePDF gets a 4.5/5 score thanks to the multi-platform capabilities, ease of use, free tools, and interesting features.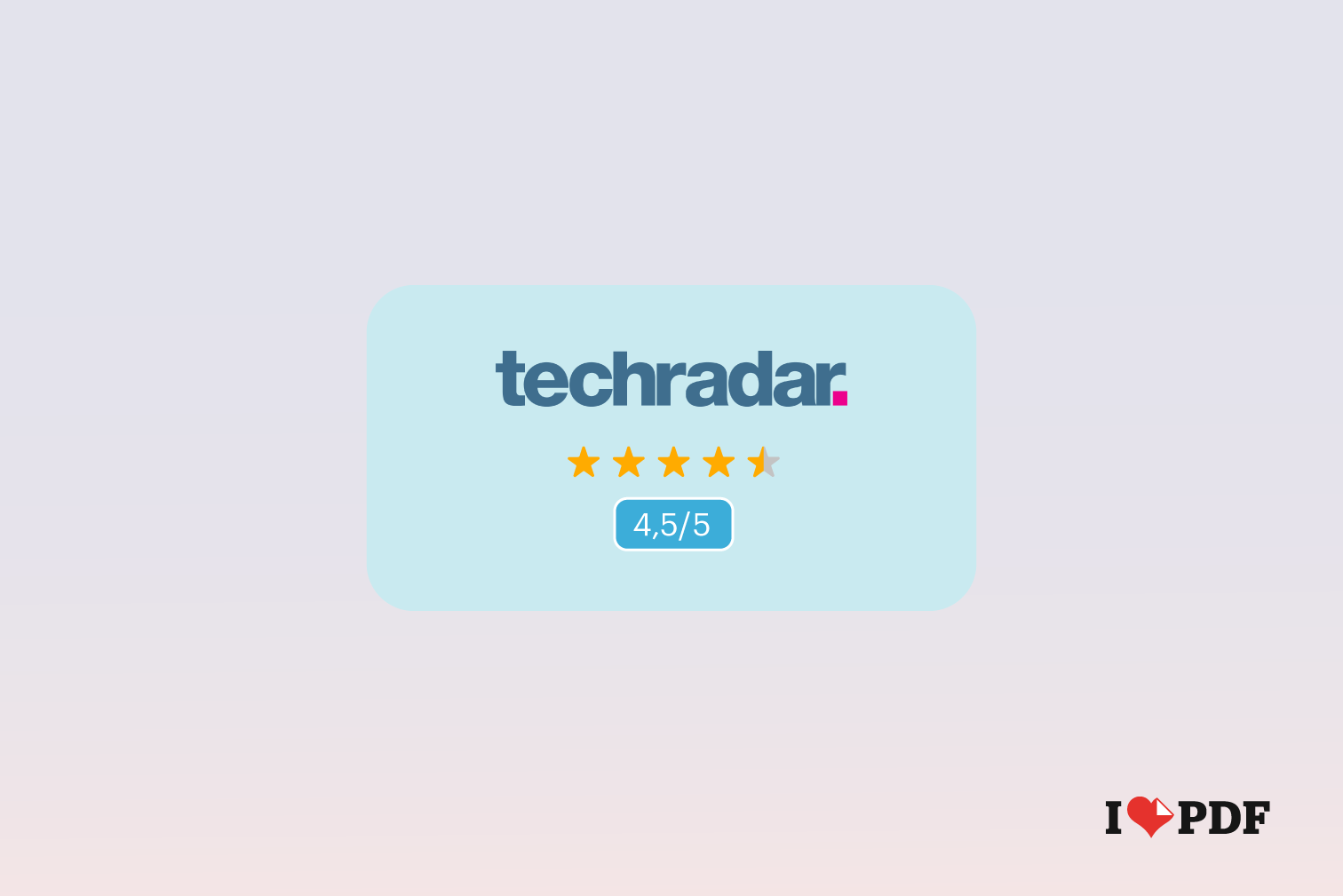 The iLovePDF Mobile App reviews
While iLovePDF is known for the website tool suite, we are also available on the Mobile and Desktop Apps to enable PDF editing and conversion on the go and offline. Take a glimpse at the glowing reviews on Google Play and the App Store, showcasing the incredible value our services bring.
Want to find out more? Discover the must-have features available across all our platforms in this insightful post on the exclusive features of each service.
Preserving your privacy: How iLovePDF protects your files
Is iLovePDF safe? We ensure the safety of your files by implementing internal safety measures, following strict data protection standards, and guaranteeing end-to-end encryption across all of the iLovePDF tools. Here's an outline of the ways we ensure the safety of your files.
Files are automatically removed from our servers
Files are automatically removed from the servers within two hours of being processed by the tools. You can also instantly remove your files if you do not wish to wait.
File access is restricted
Files are strictly secured and not accessed by the iLovePDF team or any other third parties when they are on our servers. While many companies will extract, sell, and store data - iLovePDF does not access your files or content in any way.
International security standards: ISO 27001 Certification & GDPR
iLovePDF meets the strict international standards of ISO 27001 and GDPR. What is ISO/IEC 27001 certification? The ISO/IEC 27001 is a standard that all sectors use for the latest on establishing, maintaining, and continually developing information security systems.
This means that risks relating to the handling of data are managed in the most secure way, with best practices and principles in place that keep your document secure.
What is GDPR? The General Data Protection Regulation (GDPR) is one of the strictest privacy and security laws created by the European Union. Although it was created by the EU, the obligations are applied to any organization that targets or collects data relating to people inside of the EU.
The GDPR regulations offer a range of privacy rights for data subjects that exist to give individuals more control over their data, including the right to erasure and the right to access. As new cyber security threats emerge this standard ensures that businesses are risk-aware and able adapt to this changing environment.
End-to-end encryption
All files uploaded to the iLovePDF tools are protected by Hypertext Transfer Protocol Secure (HTTPS) which uses Transport Layer Security for end-to-end encryption.
What is end-to-end encryption? End-to-end encryption (E2EE) is a secure way to prevent third parties from accessing data while it is being sent from one device to another. Data is first encrypted on the sender's system or device so that only the intended recipient is able to decrypt and access it.
This means that information may not be tampered with by the internet service provider, application service provider, or any other third parties like hackers.
Connect with the iLovePDF team: How to contact us
Do you want to get in contact with the iLovePDF team? Our team recognizes that users may require additional assistance, whether it's customizing Premium plans, troubleshooting issues, or sharing valuable suggestions for service improvement.
Contact us with any questions and our dedicated team based in Barcelona will be happy to help. We highly value user feedback and suggestions.
Your perspective and thoughts continue to drive improvements in our platforms, so please share your valuable suggestions to help refine and expand our productivity tools.
Don't waste another minute on document management—streamline your workflows with iLovePDF
Sign Up
Seguro em nossas mãos
iLovePDF leva a segurança muito a sério. Se lembre que...
Seja qual for a ferramenta que você estiver utilizando, nós usamos encriptação ponto-a-ponto para garantir a máxima proteção contra roubo ou intercepção de seus documentos.
Qualquer documento carregado em nosso sistema é automaticamente eliminado após duas horas, para previnir algum acesso não autorizado de terceiros.
Todos nosso servidores estão seguros segundo as leis Europeias, das mais apertadas em todo o mundo.