Boost Your Work Productivity On-the-Go
Meet the collection of PDF tools that help you have more time for things that matter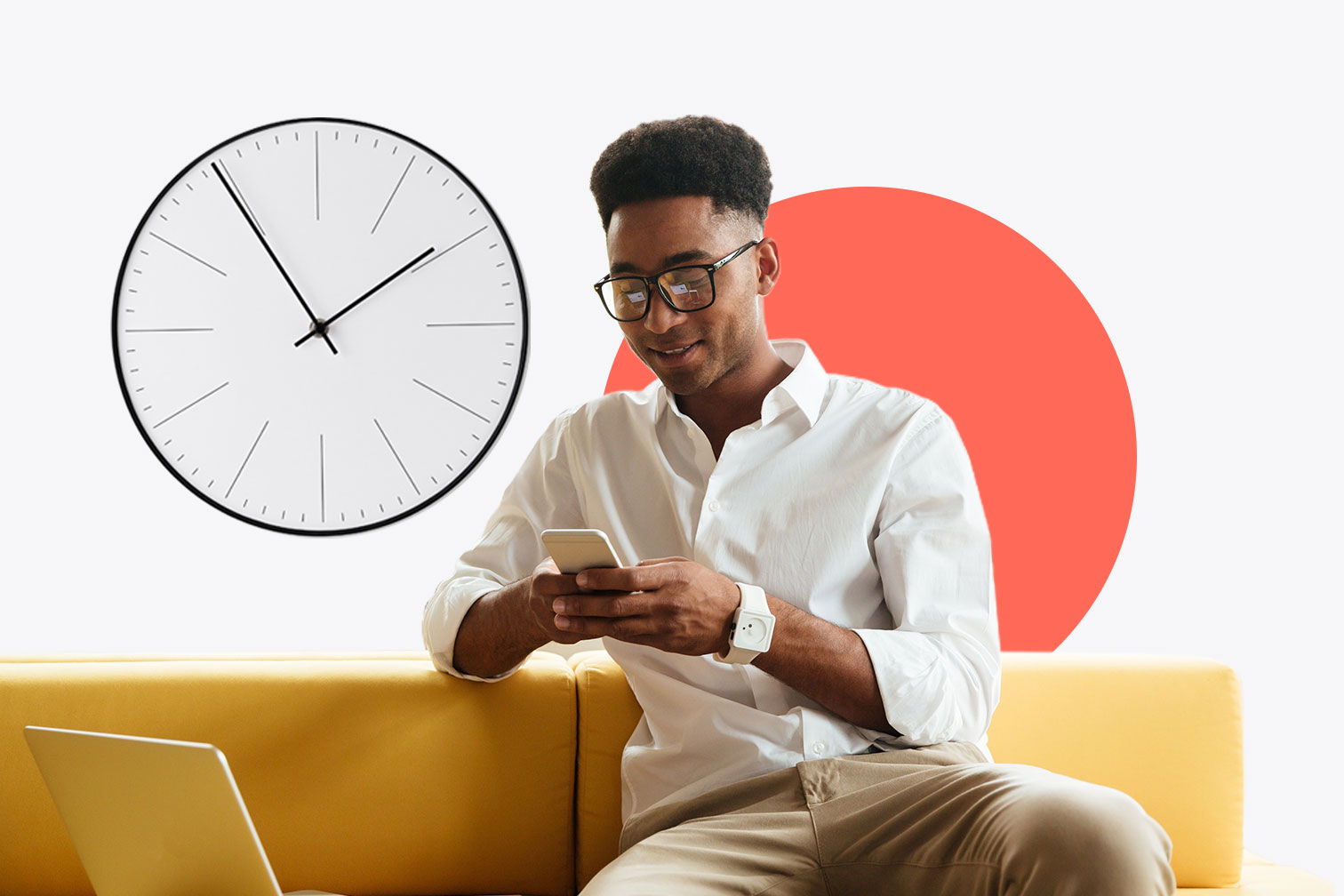 How often do you tell yourself, Something has to change, I want to have more time for other things than just work! You have the best intention in heart; even a plan on how to do it. But then... life happens!
Managing work with your documents, lacking technology that helps you stay productive, and constantly waiting for important PDF files that were supposed to be here hours ago - so you could make necessary edits, sign and leave the office. Again, you are missing out on those happy hour drinks on Friday night with friends you haven't seen in ages. It's frustrating when things like this are preventing you from enjoying life. Every distraction and broken promise is decreasing your energy. It's adding up to your stress level; making you feel busy and unproductive.
Do you know what's the first step leading toward any change?... Stop repeatedly doing the same unproductive things and expecting different results. It's time to step out from the same routine that holds you back and implement a new way of doing things; especially, working with your PDF documents.
iLovePDF mobile app is the one place where productivity meets success
Our team has been intensively working on finding the best way to help with your work productivity. We want you to do more things that fulfill your life while working less - So you can have time for all goals and resolutions this year. Whether you made yourself a promise to go more often to those happy hour meetings, go to the gym more often, spend more time with family, or travel more. In the end, it all comes down to one thing: how fast you can get the work done!
What does 2019 have in store for us? There are only two things certain: You and I are a year older again and iLovePDF has kept its promise!
Yes, that's right...Since the very beginning, we gave you promise that every PDF problem you might have is our next challenge. We have listened to all the feedback and suggestions very carefully.
Our team came together and made significant changes to an App that will enable you to keep up with the hassle of your everyday work with PDFs.
We are happy to introduce our updated Mobile App. Now, you can work with PDF documents on-the-go. No need to wait for the last minute changes in the contract while sitting at your office desk. Make all the necessary changes in your PDF documents on the way home or meeting friends for a bite and don't miss out any more important moments in your life.
Get the mobile app for iOS or Android.
Access your PDF files anytime, anywhere
We live in a digitalized world where our closest relationship is often with our mobile phone. Having our device on us all the time, we get immediate access to on-demand solutions that make our life easier. iLovePDF mobile app increases the accessibility to all PDF modification and editing tools you need. You can work with the same familiarity from either your smartphone or tablet; thus, improve your productivity right away.
Imagine that you need to send a PDF file but the size is too large. You are out of the office, sitting on a train and going to another meeting. BUT, the deadline to send the PDF file to your boss is in less than one hour. No, you don't have a personal assistant to help you - nice try tho! You have something better! Access your iLovePDF mobile app, find the PDF file you want to process, compress the PDF directly on your device and share the optimized PDF file right away.
💡 Interesting Fact: Mobile App usage is more than 80% and dominates traditional browsers. This means that people spend more time browsing inside their mobile applications than on the internet browser itself. The world belongs to apps!
Collaborate with your team on any PDF document remotely
The ability to work with others outside of your office environment can often be challenging. Especially, when it comes to efficient work with PDF documents and files. To ensure a smooth workflow and communication between you and your colleagues, our PDF annotation tool is the perfect solution to keep your team on track.
Make direct edits on your PDF documents such as striking out text that doesn't fit or highlighting a sentence or a whole section that is important. You can also add a comment box in your PDF document and type suggestions for improvement. Save all changes and immediately share your modified PDF with your colleagues.
The best of all, you can collaborate with your team on any PDF document from a cozy coffee shop filled with a delightful smell of freshly baked brownies and hot Peppermint Mocca.
💡 Interesting Fact: According to research conducted on behalf of Apperian, it was found that mobile apps increase the work productivity of U.S. employees by 23%.
Have all PDF modification tools in one easy app
There are many productivity apps that enable work with PDF files. You can compress PDF, split or merge PDFs; even add a password to protect your PDF files or sign PDF document on-the-go. Imagine that you can have all the neat tools in one easy app.
Have you received a document that has 50 pages but only a few of them require some modification? Do you need to fill out the PDF form, sign PDF and sent back last 4 pages of the entire PDF document? There is a fast and efficient way to manage this task without feeling overwhelmed.
Open our iLovePDF mobile app and easily access the PDF file from anywhere, fill out the form and e-sign pages where it's needed. Use our PDF tools to select from a variety of options for further modification of your PDF document. Split PDF based on your criteria and you are done! Fast, easy and without limitations.
Now, send the file and enjoy the rest of your day!
💡 Interesting Fact: According to a Statista research survey in 2018, people worldwide owned over 23 billion devices with connectivity to the internet. Simply put, each of us has on average 3 of them. If you belong to the rest of us who fall under these statistics, it means that you can connect your iLovePDF account to all of your favorite gadgets.
Keep PDF files organized anywhere you go
Organizational skill is one of the key attributes of being productive. Such a skill is especially crucial in the era of digitalized PDF files and documents. iLovePDF mobile app helps you embrace your organizational talent with our easy-to-use PDF File Manager. You can significantly improve your efficiency and productivity just by sorting out PDF files on your device. Build-in search feature helps you find any PDF document quickly and easily.
You can save a lot of time finding all PDF documents organized in one spot. Since many mobile phones can carry a large volume of data, you can upload, export and delete any PDF file stored in your File manager.
Seamlessly sync and manage PDFs and stay on top of your work.
💡 Interesting Fact: There has been a major shift in the time spent in non-gaming apps. Productivity apps rise 125 % in usage among users.
Are you ready to meet your new productive self?
Don't let your work tasks get in the way of enjoying your time outside of the office! Take full advantage of our iLovePDF mobile app designed to satisfy all of your document editing needs while completing work on time and stress-free. Easily switch between PDF Reader and PDF Editor to use all tools that help you create high-quality PDF documents and boost your productivity.
Since the very beginning, our story has been all about you. We consider every PDF need as our next challenge for developing even more awesome tools. Our goal is to enable you to work without limitations so you can enjoy moments in your life that make you happy a lot more often.
Download our App and tell us how iLovePDF helps you save time for the things that matter! Share your story with us on your Social Media using #MyProductiveSelf.
Stay tuned for new updates and features from our team at iLovePDF. If you are also interested in working on your computer, don't be shy to try our iLovePDF website and iLovePDF Desktop application.
Working with PDFs can be easy, with the right tools by your side!
PDF tools for productive people
Get started
Seguro em nossas mãos
iLovePDF leva a segurança muito a sério. Se lembre que...
Seja qual for a ferramenta que você estiver utilizando, nós usamos encriptação ponto-a-ponto para garantir a máxima proteção contra roubo ou intercepção de seus documentos.
Qualquer documento carregado em nosso sistema é automaticamente eliminado após duas horas, para previnir algum acesso não autorizado de terceiros.
Todos nosso servidores estão seguros segundo as leis Europeias, das mais apertadas em todo o mundo.