The new & improved iLovePDF Desktop App: What you need to know
Explore the latest features of the iLovePDF Desktop App available for Windows PC and Mac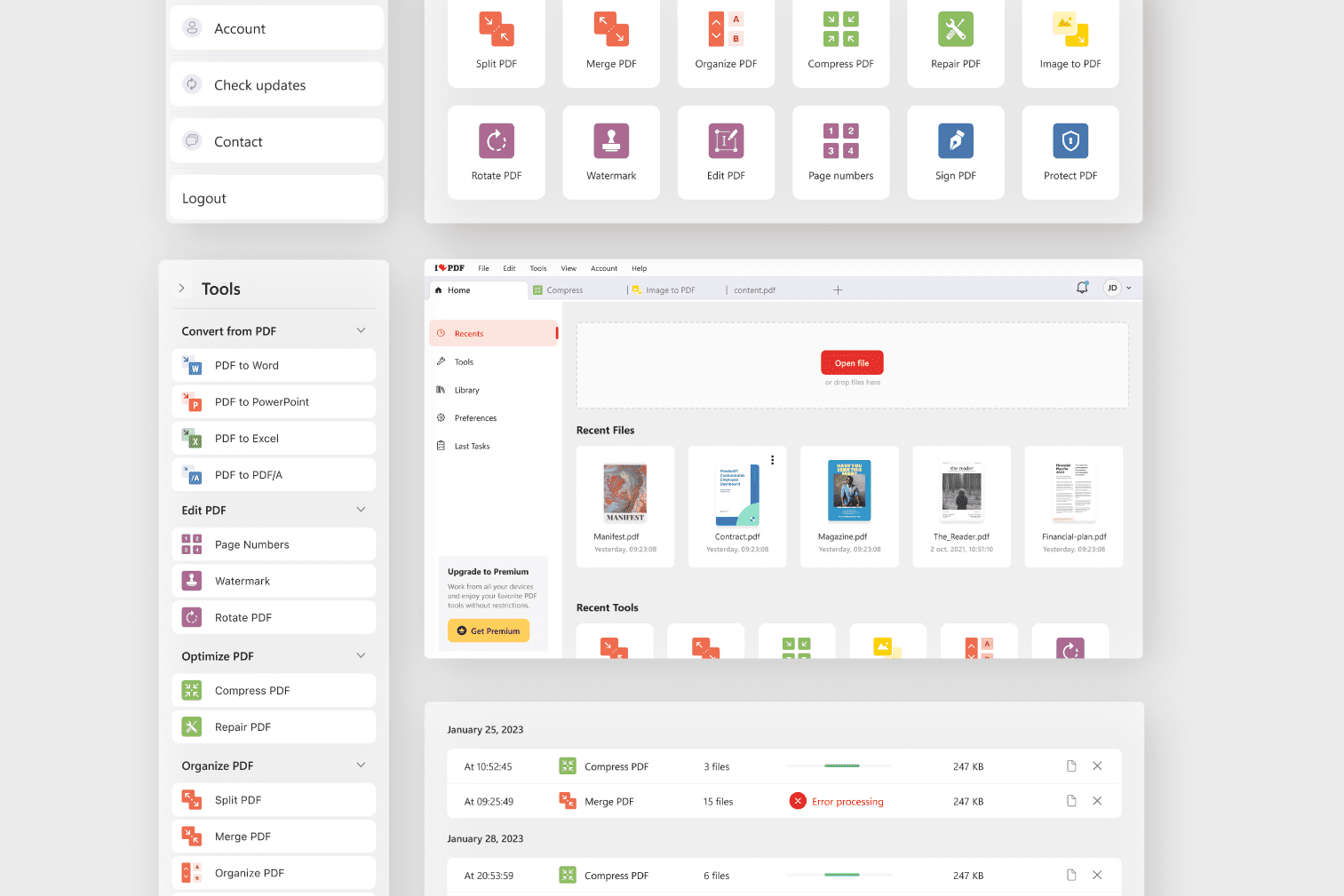 Welcome to the updated iLovePDF Desktop App. With a host of features and tools, it's never been easier to split PDF pages, merge PDF files, compress PDF file size, convert PDF between Office and image files, and edit your PDF documents locally on a desktop app.
In the latest update, we have added new features that include task history and recent folders, metadata editing, dark mode, as well as applying a fresh new design.
Keep reading to find out more about the latest updates and the benefits of using iLovePDF Desktop.
Download the iLovePDF Desktop App
Here's how to download the latest version of the iLovePDF Desktop App, available on Windows and Mac.
Go to the iLovePDF Desktop page and download it directly on Windows or Mac.
Follow the installation steps after hitting download.
What's new in the latest version?
Our team works tirelessly to bring you the best features of iLovePDF to the Desktop App. We are constantly working behind the scenes to bring more tools and features that improve your editing and document management experience.
Fresh new design: Our Design and Desktop teams have worked together to completely redesign the App, making it even easier to read and navigate.
Dark mode: You can now select the style of reader you prefer between Light and Dark mode.
Added task history & recent files: Navigate your recently edited document with ease by browsing your recent files and task history.
Edit PDF metadata: Edit PDF metadata to change the Author, Keywords, Creator, and Producer by going to Preferences > Metadata.
The features of iLovePDF Desktop
Whether you're a student, a business professional, or someone who works with PDFs regularly, iLovePDF Desktop is the ideal tool to perfect your PDF productivity.
With support for 25 languages, all of the tools are designed to be user-friendly and easy to understand. The iLovePDF Desktop App offers:
Discover 20 PDF editing tools: From Split PDF to PDF Converters, the Desktop App contains everything you need to work with PDFs in one place.
Limitless PDF editing: Process limitless PDF pages and GB per task, freeing you from file size constraints and allowing you to work with high quantities of PDF documents with ease using iLovePDF Premium.
Edit PDF offline: A great benefit of iLovePDF Desktop is the capacity to work offline, allowing you to edit your PDFs locally without the need for an internet connection.
Faster processing speeds: Since all processing is done locally on your computer you will experience faster processing times compared to the iLovePDF website.
Multiple PDF editing tools: Access over 20 tools that let you Split, Merge, Compress, Organize, Repair, and Convert PDF.
Free PDF reader: The iLovePDF Desktop App acts as a free PDF reader, with simple navigation and page thumbnails to make PDF exploration easy.
Work in multiple tabs: Work with multiple files at the same time using tabs to edit and switch between various documents.
Edit PDF metadata: Modify PDF metadata to better organize and access your files, ensure information is accurate, and manage document security.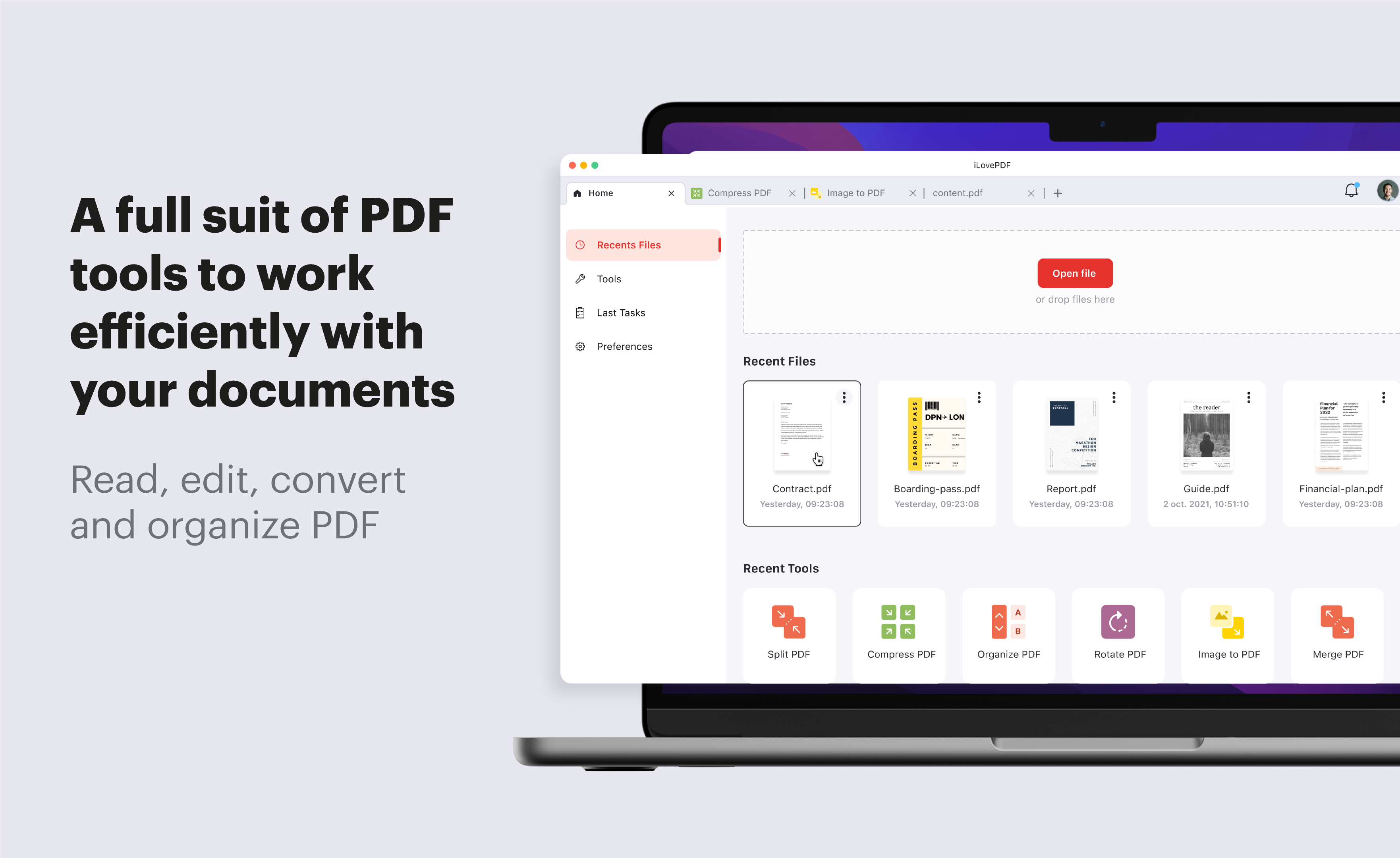 Why go Premium?
Have you thought about going Premium with iLovePDF? If you want to make the most of the iLovePDF tools, then going Premium unlocks a host of features that are perfect for anyone trying to maximize their document management.
Work on Web, Mobile, and Desktop
Unlock all of our platforms and their benefits. Work from anywhere with the mobile app and use the Desktop service to work offline.
Limitless PDF editing
Enjoy limitless editing of documents, pages, or file size with the Desktop App. Also, higher limits for Web, and unlimited tasks on the Mobile App.
eSign with Digital Signatures
Benefit from the added security of eSigning with digital signatures - a more advanced style of electronic signature with legally binding protection.
Access to OCR & PDF/A
Using optical character recognition (OCR) gives more accurate results when converting documents, and uploading files to the PDF/A converter is excellent for long-term archiving.
Suggest new features
Do you have some suggestions? We want to hear from you. Please contact us with any of your ideas that would make the app even better - we're always happy to hear from you and help out however we can.
Edit PDFs offline with the iLovePDF Desktop App
Download now
Seguro em nossas mãos
iLovePDF leva a segurança muito a sério. Se lembre que...
Seja qual for a ferramenta que você estiver utilizando, nós usamos encriptação ponto-a-ponto para garantir a máxima proteção contra roubo ou intercepção de seus documentos.
Qualquer documento carregado em nosso sistema é automaticamente eliminado após duas horas, para previnir algum acesso não autorizado de terceiros.
Todos nosso servidores estão seguros segundo as leis Europeias, das mais apertadas em todo o mundo.