How to organize PDF pages
Sort, add and delete pages from any PDF document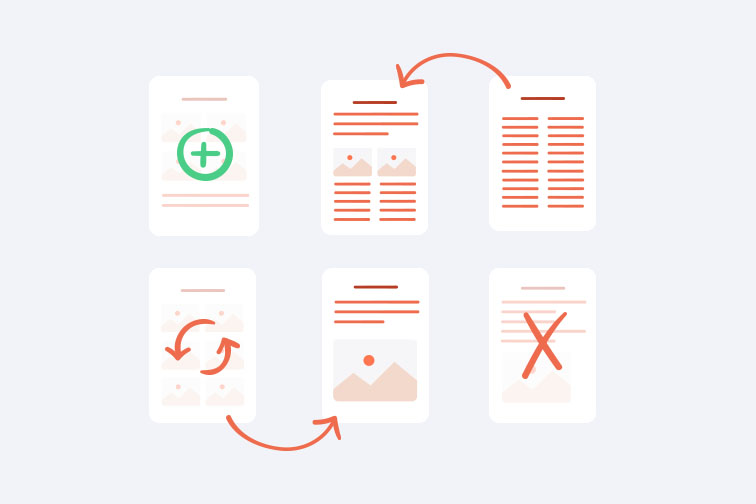 When was the last time you scanned loads of PDF documents and messed up the page order? Instead of having to scan them all again, an Organize PDF tool is an easy and paperless solution.
An Organize PDF tool lets you reorder pages in seconds, straight from your web browser. All you need to do is upload your PDF file, drag and drop your pages in the order you want, and bingo! Your file has been reorganized.
This post will show you how to rearrange pages in a PDF file using iLovePDF.
Swap, add, remove and rotate pages
With iLovePDF's Organize PDF tool, you can sort, add, delete and rotate PDF pages of any document at your convenience. That includes removing pages from password protected documents. You can even add more files and rearrange pages of the combined documents.
Plus with our user-friendly interface, sorting documents has never been easier! Available directly from the web, our PDF Organizer allows you to:
Sort PDF pages
Add more files and merge PDFs into one
Add blank pages
Delete pages
Rotate single pages
How to organize PDF pages
Navigate to iLovePDF's Organize PDF Tool.
Select the files you want to organize from your device, Google Drive or Dropbox account. To add more files later, select the red + plus icon.
Use your mouse to drag and drop pages into your desired order.
To insert a blank page, place your mouse between two PDF pages and select the + plus icon. Place your mouse over individual pages to select and delete unwanted ones.
Hit the Download button or click on the Google Drive or Dropbox icon to save your Organized PDF to the cloud.
Sort and mix PDF pages
There are a number of ways to arrange files using iLovePDF's Organize PDF tool. You can:
Sort files manually by dragging and dropping pages into any order you want.

Order pages by name by clicking on the A-Z button, or by page number by selecting the 1-9 icon.

Sort files together by selecting the Mix PDF Pages option. This handy feature mixes pages from multiple PDFs, automatically reordering them as a single file. It intercalates pages from all PDF files following a sequential pattern, joining page 1 of each file, then page 2 of each, and so on.

Avoid printing and scanning
If you need to swap a few pages around from a batch of scanned documents before sending to colleagues, or rearrange pages in your uni project, this tool provides a fast and paperless solution. You can organize your portfolio to prioritise certain elements, and even divide your content into clear sections using blank pages.
Put files in order for easy reading
Maybe you're absorbed in an interesting article online and want to download the webpage as pdf. You can use an Organize PDF tool to remove unnecessary pages for easy offline reading. Working with reports or contracts containing sensitive information? Simply delete unwanted pages before sending to clients.
Organize PDF straight from your mobile
Need to rearrange PDF pages when you're out and about? iLovePDF's mobile app lets you access and edit PDF files anywhere while working or studying on the go - or on the sofa! Just select files directly from your mobile device, Google Drive or Dropbox account and sort away.
Carry your favourite PDF tools in your pocket by installing the mobile app for free via the App Store or Google Play.
PDF tools for productive people
Organize PDF
Seguro em nossas mãos
iLovePDF leva a segurança muito a sério. Se lembre que...
Seja qual for a ferramenta que você estiver utilizando, nós usamos encriptação ponto-a-ponto para garantir a máxima proteção contra roubo ou intercepção de seus documentos.
Qualquer documento carregado em nosso sistema é automaticamente eliminado após duas horas, para previnir algum acesso não autorizado de terceiros.
Todos nosso servidores estão seguros segundo as leis Europeias, das mais apertadas em todo o mundo.