How to rotate PDF documents
Easily turn your PDFs around with iLovePDF's PDF Rotator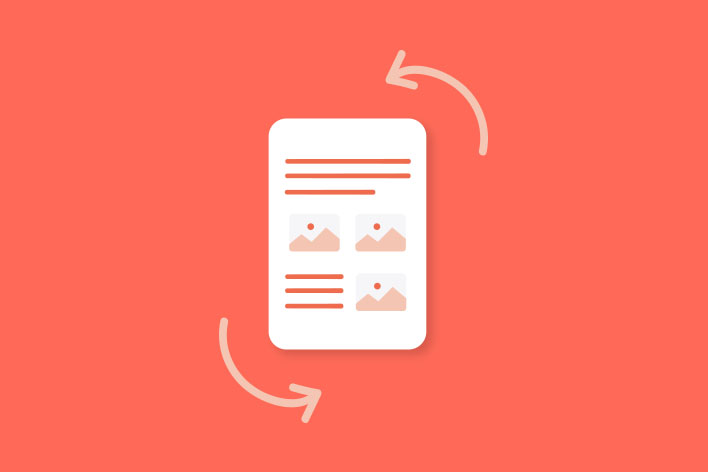 Portable Document Format, widely known as PDF, is one of the most used formats for saving and sharing final documents without losing formatting. However, when it comes to PDF editing, headaches can occur. Especially, if you don't have the right tools by your side.
iLovePDF will help you rotate single PDF pages within a file or whole PDF documents, at your convenience. You can even rotate up to 20 PDFs for free in the same task! The best thing? It's easy, fast and with a simple click of a mouse.
Rotate individual PDF pages
If you need to turn single pages of your PDF around, you can easily do it with our new 'Organize PDF' tool.
Go to iLovePDF's Organize PDF tool.
Upload your document. Click on the button to select your file or drag and drop it straight to the canvas.
You will see a thumbnail for each page of your file. When hovering over a thumbnail, you will see an arrow icon. Click on it to rotate your pages 90º clockwise.
Click 'Organize' red button on the sidebar side bar menu to process your file.
If you need to optimize your document, you can continue with the editing process and compress your PDF, thanks to our new Connected Tasks.
Rotate PDFs in Bulk
You can rotate a full set of PDF documents as a visitor. If you need more freedom to rotate PDFs, you can register for free.
Go to iLovePDF's Rotate PDF tool.
Upload your document. Click the button to select your file or drag and drop it straight to the canvas.
Adjust your rotation settings in the sidebar menu. The option to rotate all files is activated by default. You can choose to rotate only those files in Portrait or Landscape orientation, or all of them.
Select Clockwise or Counterclockwise rotation.
Hit the 'Rotate PDF' button at the bottom of the page.
PDF Rotation for iOS & Android
You can edit PDFs from your smartphone with iLovePDF Mobile App.
If you need to continue working on PDFs while on the go, iLovePDF App comes packed with plenty of PDF modification tools to help you catch up with work without place or time limitations.
iLovePDF Mobile App includes a tool to Rotate PDF, among others, to help you boost your productivity when away from the workplace. Rotate single PDF pages or whole documents with iLovePDF App - your PDF Editor and Reader. Available for iOS and Android and free for download.
PDF tools for productive people
Rotate PDF
Seguro em nossas mãos
iLovePDF leva a segurança muito a sério. Se lembre que...
Seja qual for a ferramenta que você estiver utilizando, nós usamos encriptação ponto-a-ponto para garantir a máxima proteção contra roubo ou intercepção de seus documentos.
Qualquer documento carregado em nosso sistema é automaticamente eliminado após duas horas, para previnir algum acesso não autorizado de terceiros.
Todos nosso servidores estão seguros segundo as leis Europeias, das mais apertadas em todo o mundo.