How to save Excel as PDF: A quick guide
A simple guide that teaches you how to save your Excel documents as a PDF, including batch conversion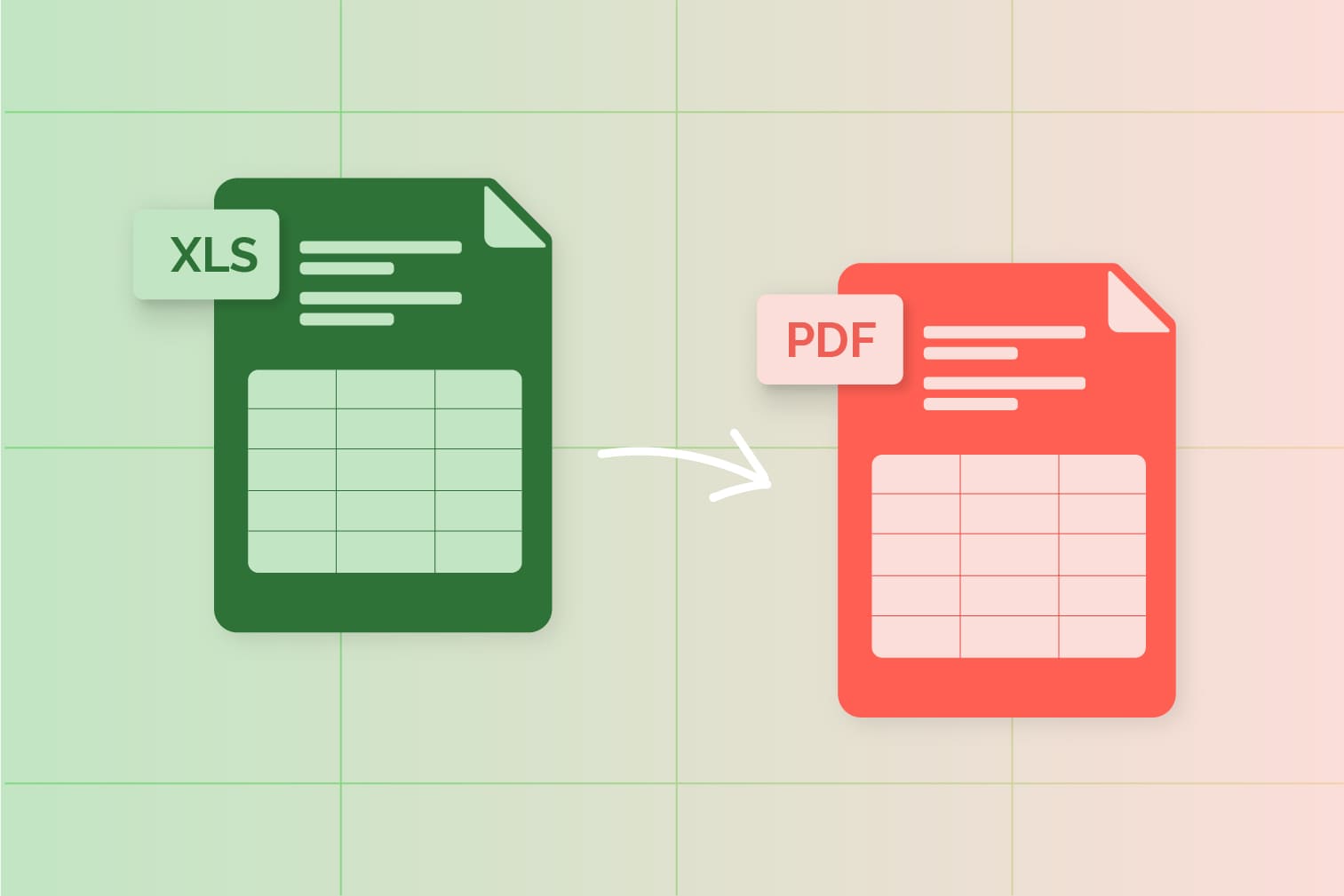 Are you trying to save an Excel doc as a PDF? Converting to PDF is a useful way to save your data in a format that is easy to store and send on any device.
PDFs can also be password-protected to keep your confidential information safe and secure from unauthorized access.
This guide will show you:
How to save Excel documents as PDF in your file settings.
How to use iLovePDF's free tools for batch conversion and document merging.
Whether you are a business professional, student, or just someone looking to share an Excel spreadsheet with others, learning how to save an Excel file as a PDF is a valuable skill.
So let's get started!
How to save Excel as PDF on Windows
Go to the File tab and select Save As.
Enter a name for your file in the File Name box.
Select PDF in the Save as type list.
Click Save.
How to save Excel as PDF on macOS
Go to the File tab and select Save As.
Enter a name for your file in the File Name box.
Select PDF from the File Format list.
Click Export.
How to convert multiple Excel files with iLovePDF
Available on Web, working offline with our Desktop, and on the move with our Mobile App - iLovePDF is a great way to meet all of your PDF needs wherever you prefer to work.
The tools are designed to be simple to use and do all the hard work for you. With iLovePDF, you can batch convert Office and Image files to save even more time by converting multiple files in one go.
Go to the Excel to PDF tool.
Upload the Excel file you want to convert to PDF from your storage, Google Drive, or Dropbox. Click the red plus + button to add more files.
Click Convert to PDF.
Click Download PDF to save files to your local storage or upload the PDF to the Cloud platforms. You can also download it with a QR code or by copying the link.
How to save Google Sheets as PDF
Google Docs Editors have become popular as cloud services offer automatic saving and don't require any premium subscription to work with your documents. Now, instead of using Microsoft Excel, many choose Google Sheets.
Convert Google Sheets to PDF
Open the Google Sheets document you want to save as a PDF.
Go to File > Download > PDF > Export.
How to merge multiple Excel sheets into one PDF
Are you trying to create a single PDF document from your data? Take multiple files and create a single document from multiple Excel spreadsheets by uploading them to the Merge PDF tool. This tool combines PDF files to help you manage your files in one place.
Need to do some rearranging? Take your merged document and upload it to the Organize PDF tool to sort, add, delete, and rearrange the order of your PDF pages.
Convert Excel to PDF & more with the iLovePDF tools
We hope this guide has has helped you with your Excel conversion!
Whether you need to share your data with colleagues, customers, or clients - converting to PDF ensures that your numbers are presented accurately and professionally.
Be sure to take a look at the rest of the iLovePDF tools. They are free, easy to use, and can save you time by boosting your productivity.
Convert your Excel to PDF with iLovePDF
Excel to PDF converter
Seguro em nossas mãos
iLovePDF leva a segurança muito a sério. Se lembre que...
Seja qual for a ferramenta que você estiver utilizando, nós usamos encriptação ponto-a-ponto para garantir a máxima proteção contra roubo ou intercepção de seus documentos.
Qualquer documento carregado em nosso sistema é automaticamente eliminado após duas horas, para previnir algum acesso não autorizado de terceiros.
Todos nosso servidores estão seguros segundo as leis Europeias, das mais apertadas em todo o mundo.