Why you should install iLovePDF's Mobile App in 2020
Edit and organize PDFs straight from your smartphone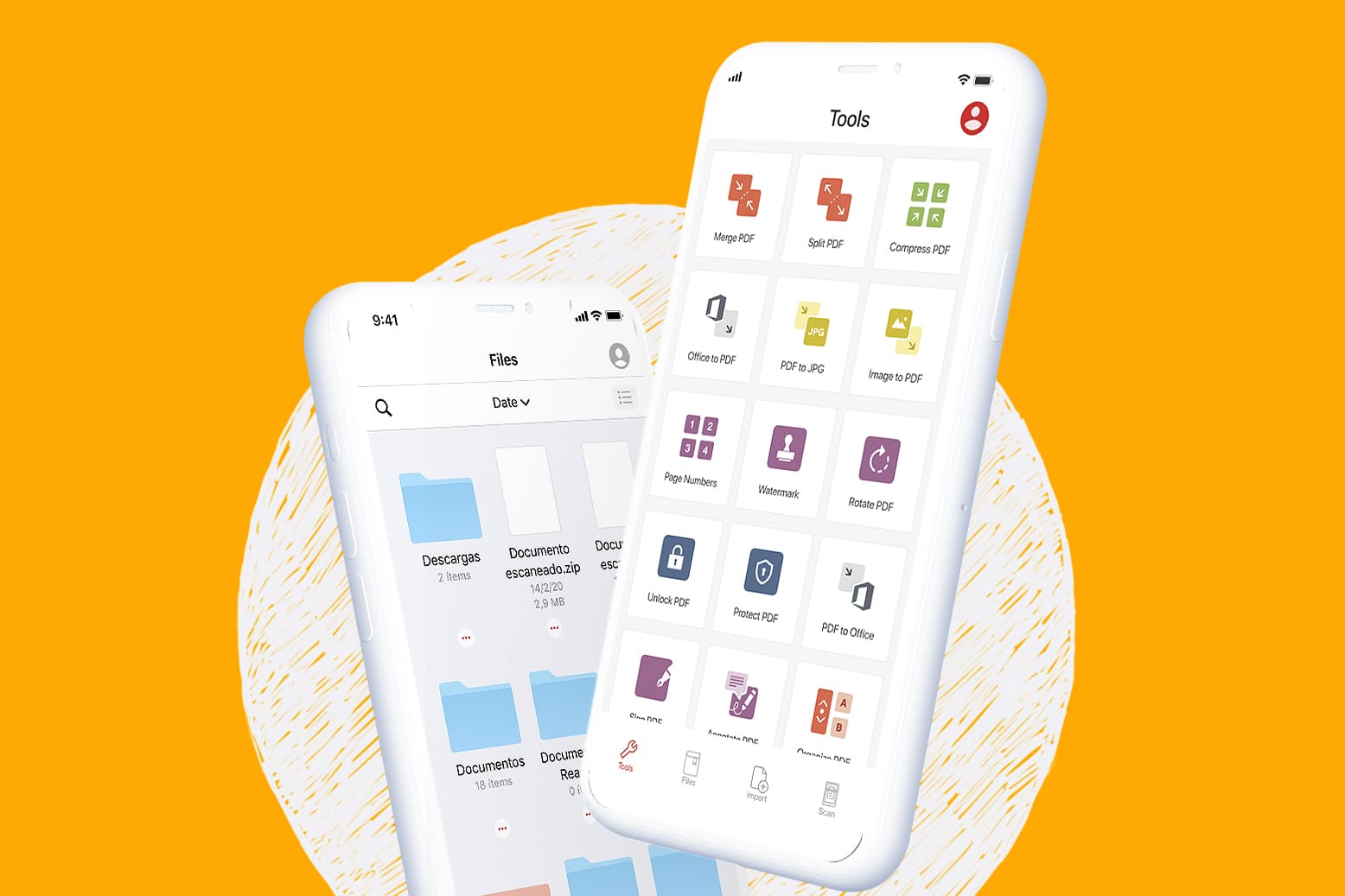 It's 2020, we spent the festive season eating our body weight and celebrating with family and friends. Then January arrived, the month for making unrealistic new year resolutions.
Let's be honest, who maintains a sugar-free diet anyway? It's time to ditch those over-ambitious personal goals and be true to ourselves. Another year has gone by (how the time flies!) So how can we make this year really count?
Well, iLovePDF has decided that this year is about making time for things that matter. That's right, if there is one thing that you could benefit from doing for real in 2020, it's boosting your productivity!
Boost your productivity with PDF tools
There are some incredibly useful productivity apps out there with multiple features to help you with all kinds of problems. However, if playing around with PDF files is what is giving you a headache, iLovePDF's Mobile App might just be your new best friend.
Be it for business, e-Learning or for your own creative enjoyment, our Mobile Application provides you with a full suite of useful PDF tools including an exclusive PDF Editor & Reader to help you be more productive.
Whether it's at work, uni or school, if you are a busy person on a tight schedule, finding better ways to get those tedious documenting tasks done and dusted is music to your ears.
No more getting stuck behind at work on a Friday evening trying to send multiple PDF files to your HR department. Say no to lunch breaks spent in front of your computer screen in your school office marking a student's essay while everyone else is enjoying the sunshine!
Get all the PDF tools you need on your mobile
With iLovePDF's Mobile App, you can take all of your PDF tools with you and enjoy unlimited access to your documents anytime, and in any place.
Our sole reason for existing is to help you with your PDF needs, giving you time for other things that are more important. Thanks to our Mobile App, you can make the most of those long commutes by organizing, editing, converting, merging, splitting PDFS - and so much more - on the go.
Work with files on the move
Our Mobile App lets you take your PDF tools with you anywhere and enjoy unlimited access to all your documents whenever you like.
The app offers all of the PDF tools that are available for free online so that you can continue working or studying on the go. That includes our Convert, Merge, Compress, Split, Rotate, Unlock and Protect PDF tools, as well as our handy Page Number and Watermark features.
Imagine you were walking to catch a train and needed to quickly convert some PDF files to Microsoft Word format in order to add text and then wanted to merge them together ready to share in your next meeting. Well now you can in just a few taps!
Read and edit PDF files with our free PDF Reader
Not only does the Mobile App offer all the standard PDF tools you need to work on the go, but also a free PDF Editor and PDF Reader with powerful features.
Available exclusively in the Mobile App, our free PDF Editor & Reader allows you to read and personalize your PDF documents with advanced annotation tools. Plus, with our optimized interface, you can view and navigate your PDFs with ease.
For example, let's say you needed to highlight and annotate some important text saved in PDF file format which you are using to present with at work. Our PDF Editor & Reader lets you add colorful comments and annotations to highlight that information which you need to mention.
The great thing is that you can do all of that in just a few steps, and straight from your mobile phone. Now you can access that student's essay wherever you are on campus and mark text with hand-written annotations from the comfort of your mobile device!
Fill and sign forms the paperless way
In addition to the PDF Reader & Editor, the Mobile App offers a simple Sign PDF tool and basic form filling feature. They allow you to fill in and sign contracts and forms by hand, straight from your smartphone, then send them off immediately without printing anything.
It's free, it's fast, and it's paperless. So sign away!
Organize your files anywhere you go
As well as being able to access all of your PDF files on your mobile device, you can also organize them. Built straight into the mobile app, our Library Manager helps you organize and manage your documents easily and efficiently. You can view and rearrange all of your documents stress-free straight from the app.
Make this year count
So, would you like to improve your productivity? If you want to make this year YOUR year, installing iLovePDF's Mobile App is a great place to start.
If you haven't already, you can install the Mobile App for free on Google Play or download it on the Apple Store.
iLovePDF's mobile app will help you get things done without missing out on the fun. Who knows, you might even find that those dreaded documenting tasks don't seem to bad after all.
Go on, try it for yourself, and Happy 2020!
Get your favorite PDF tools on your smartphone
Free download
Seguro em nossas mãos
iLovePDF leva a segurança muito a sério. Se lembre que...
Seja qual for a ferramenta que você estiver utilizando, nós usamos encriptação ponto-a-ponto para garantir a máxima proteção contra roubo ou intercepção de seus documentos.
Qualquer documento carregado em nosso sistema é automaticamente eliminado após duas horas, para previnir algum acesso não autorizado de terceiros.
Todos nosso servidores estão seguros segundo as leis Europeias, das mais apertadas em todo o mundo.