5 Document tricks for your iPad you didn't know
Put your iPad or Tablet to great use with these smart annotation tools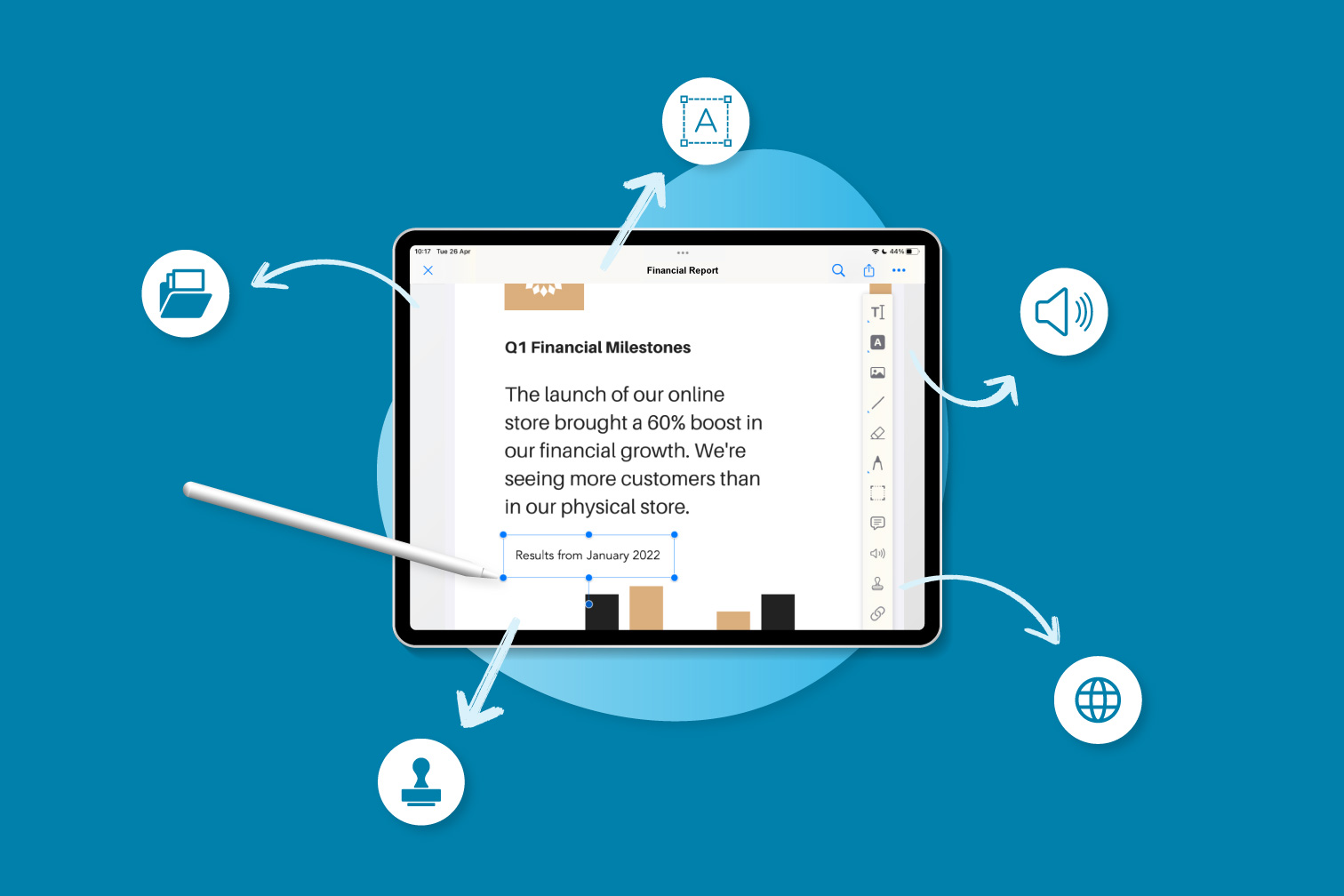 With the remote and hybrid work model being so popular, there's a greater need for technologies that help people work with PDF files and other document formats across multiple devices.
In addition to smartphones and laptop devices, many workers use an iPad or Tablet for greater comfort when reading an electronic book or other content in PDF or ePub format.
If you're unfamiliar with iPads and Android Tablets, start browsing because they might be your best purchase in 2022 once you discover how convenient they are for certain document tasks.
Why are iPads and Tablets useful for working with documents?
First, thanks to their size (larger than a smartphone but smaller than a laptop screen), they're a preferred choice for reading text-heavy content on the move. That includes novels, literary essays, digital textbooks, student file submissions, and medical reports.
Secondly, their screens act as the perfect canvas for making smart annotations on PDF documents. All you need to do is download a reliable PDF Editor and eBook reader such as iLovePDF to edit and annotate PDFs with ease.
The iLovePDF App offers a free version, is compatible with both iOS and Android devices, and has a responsive user interface for an optimized user experience regardless of whether you're using an iPad mini, iPad air, or a Samsung Galaxy Tab.
Are you thinking of buying or have recently purchased an iPad or Tablet? To help you get the most out of your device, read this list of 5 document tricks you can do on your iPad or Tablet using iLovePDF:
1. Document multitasking
Working with multiple electronic documents at the same time on your iOS or Android device can feel clumsy if you need to constantly minimize and maximize app screens. To avoid interrupting the workflow, you can use iLovePDF's multitask feature specifically designed for iPad users.
From your iLovePDF File Manager, you can switch to a Split View to open two apps at the same time, side by side. This allows you to tap on items like PDF files or select text to drag and drop straight into other apps.
For example, imagine you wanted to move a document to Gmail or Apple Mail as a File Attachment, save an image in your Photo Gallery, or use content you found in a paragraph for a Twitter post.
Instead of importing and exporting items or opening and closing apps, you can go from full screen to split screen, tap, long press, then drag and drop your items wherever you want them. Having the ability to work seamlessly with your documents across all platforms is efficient - and effortless!
2. Highlight text and add notes
If you downloaded an eBook from Project Gutenberg or received a report from a colleague that you want to annotate, you can use iLovePDF's PDF annotation tools directly from your iPad or Tablet. From the PDF Viewer, you can find:
Freeform highlight and text highlight tools to draw attention to words or phrases in different highlight colors

Underline, Strikethrough, and Squiggle options to indicate where text or spelling errors are in long paragraphs

Callout Boxes and Notes to add comments or provide feedback on PDF files

Text box to add text such as titles or the date to PDF using different fonts, colors and size

Having these markup tools at hand on your iPad or Tablet makes the annotation process a whole lot easier and faster.
3. Voice Recording and Speak function
Maybe you're wondering, "How can I provide feedback on PDF to someone who has difficulty reading?".
One of the popular assistive technologies available in the iLovePDF App is the Voice Recording on PDF feature. It allows you to provide feedback on PDF files by recording your voice. All you have to do is tap on the microphone icon and start speaking.
This feature can also come in handy when you need to explain a piece of text in more detail or expand on written feedback.
If you also prefer audio, this trick is for you: The next time you're reading an eBook on your iPad or Tablet, try out iLovePDF's Text to Speech capability. It turns your PDF file into an audiobook so that you can listen to a novel or class notes with ease. Simply select the text you want to hear and it will be automatically converted to lifelike speech.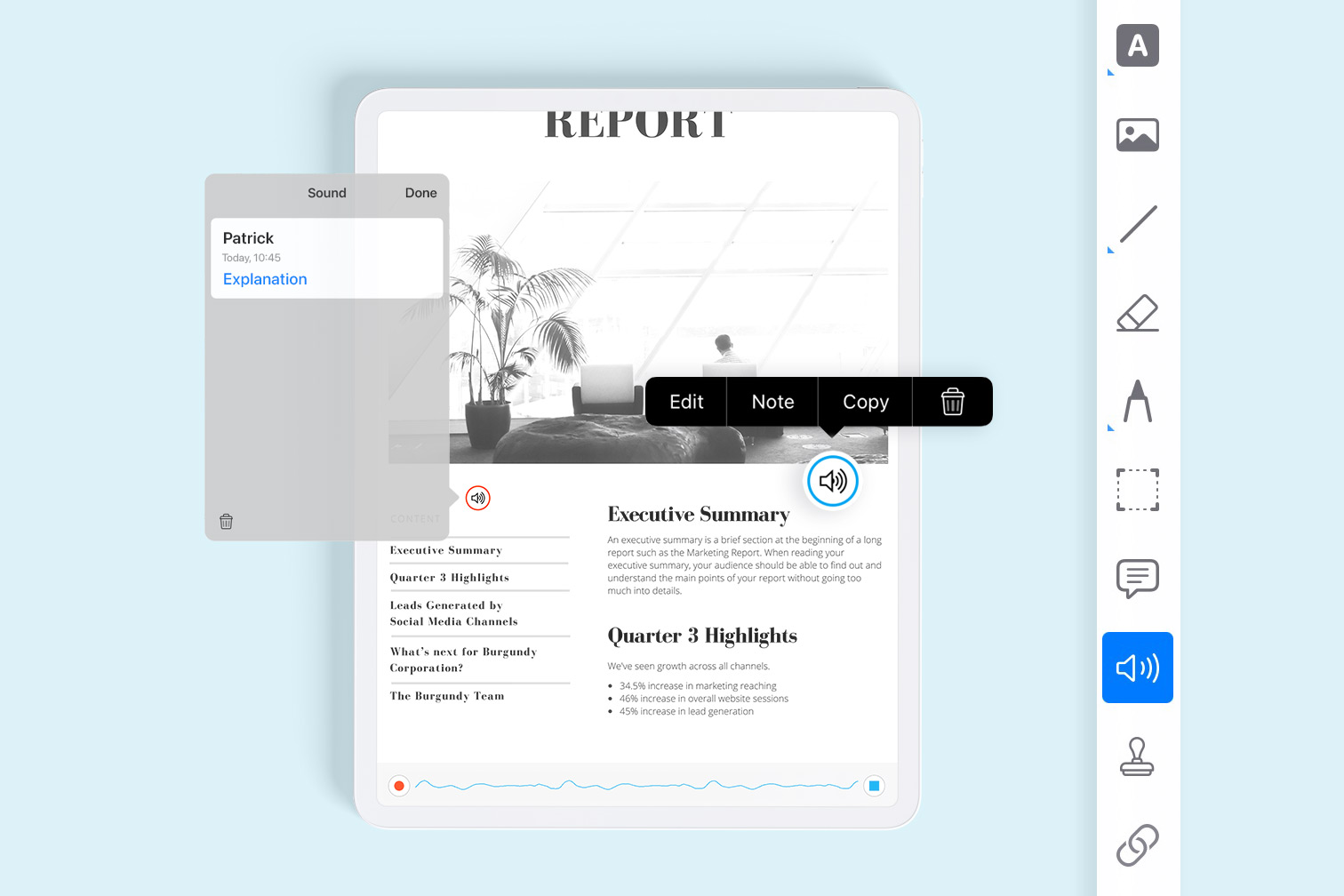 4. Add URL to text
Sometimes when you're reading a PDF file from the comfort of your iPad or Tablet screen, you might need to add a hyperlink to some text. Maybe you forgot to include a hyperlink to a web source in your essay, or you want to link your email address in your resume?
From the iLovePDF Viewer, you can add any URL directly to the PDF content. It eliminates the need to convert the PDF to an editable Microsoft Office format like a Word document, saving you time and hassle.
5. Read and sign contracts
iPads and Tablets are the ideal size for reading and signing contracts and forms. For this reason, they're a popular choice for Real Estate professionals who need to close deals on the spot or Sales Specialists that are onboarding clients on the go.
That's why iLovePDF also offers a straightforward e-sign tool available directly in the App, so that you can read, annotate, and sign PDF files all in one place.
Get all the document tools you need on your iPad or Tablet
From conducting video calls to marking student submissions, iPads and Tablets are becoming a must-have device for completing work projects more efficiently. Plus, you don't need to worry about their battery life because the latest versions last up to 10 hours!
In addition to multitasking, annotating, and e-signing, iLovePDF offers loads more tools to help you compress, combine, split PDF files, and more, directly from your iPad or Tablet. To discover other useful tricks you can do with your device, download iLovePDF from the App Store or Google Play.
Work with documents easily on your iPad or Tablet
Free download
A les nostres mans estàs segur
iLovePDF es pren la seguretat molt seriosament. Recorda que...
No importa quina eina utilitzis, fem servir xifratge d'extrem a extrem per garantir la protecció més gran contra robatoris o que interceptin els teus documents.
Qualsevol document carregat al nostre sistema s'esborra automàticament després de dues hores per evitar qualsevol accés per terceres parts no autoritzades.
Tots els nostres servidors estan protegits per la legislació europea, una de les més restrictives del món.