How to convert PDF to Word for free
A guide to converting PDF files to .DOCX online and offline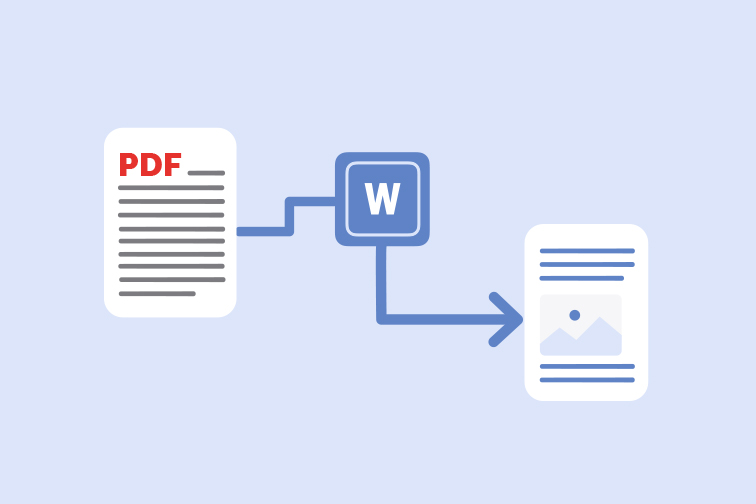 A PDF to Word converter is a popular tool used to transform PDF files back to editable Word documents to make last-minute text modifications easily. It's particularly handy when you need to edit or remove text from a PDF document but cannot retrieve the original source file.
This tutorial will show you 2 easy ways to convert your PDF file to an editable Word document for FREE. That includes extracting text from scanned PDF documents. Follow these simple steps to convert PDF to Word online and offline:
Option 1: Convert PDF to Word Online
One of the most common ways to convert your PDF back to .DOCX format is by using a trusted online software. Follow these easy steps to go from PDF to Word online using iLovePDF:
Go to iLovePDF's PDF to Word tool.
Select the file you want to convert from your device, Google Drive or Dropbox account.
Hit the Convert to Word button.
Download your converted file to your computer or save it back to the cloud.
Option 2: Convert PDF to Word Offline
Many internet users will be familiar with online PDF to Word Conversion software, but you can also transform your read-only files back to .DOCX without even needing to upload them to the web.
A reliable desktop software such as iLovePDF Desktop lets you recover those documents in seconds offline. Follow these steps:
Download and install iLovePDF Desktop for MacOS or Windows.
Select Open File or drag and drop your PDF into the Desktop reader.
Click on the PDF to Word tool from the tool menu on the right.
Hit the Convert to Word button.
Select Open folder to view your converted file.
Have a scanned PDF? Use OCR
Trying to extract text from a PDF that's an image? If you want to convert a scanned PDF document to Word, you can use OCR.
Optical Character Recognition (OCR) is a technology used to scan and detect text from an image, such as a scanned paper document. This is a feature available for Premium users in both the iLovePDF online web tool and Desktop software.
If you're converting a scanned PDF to Word online, just make sure to hit the OCR button before converting. In iLovePDF Desktop, the software will detect if your file is a scanned document and automatically activate OCR.
Which option should I choose?
All of iLovePDF's PDF to Office Converters guarantee the same top quality in their file conversion results. So choosing whether to carry out your PDF file conversions online or offline is really down to personal preference.
Many users like the online web tool because it's fast and easy to access when they're in the middle of a task. But if you prefer to work directly on your Mac or Windows PC without having to upload files to the internet, then iLovePDF Desktop is the way to go.
Finally, no matter which PDF to DOC Conversion option you choose, remember that all files that you process via iLovePDF are 100% secure. If you want to know more about iLovePDF's security standards, read our blog post on how we keep your files safe.
PDF tools for productive people
PDF to Word
A les nostres mans estàs segur
iLovePDF es pren la seguretat molt seriosament. Recorda que...
No importa quina eina utilitzis, fem servir xifratge d'extrem a extrem per garantir la protecció més gran contra robatoris o que interceptin els teus documents.
Qualsevol document carregat al nostre sistema s'esborra automàticament després de dues hores per evitar qualsevol accés per terceres parts no autoritzades.
Tots els nostres servidors estan protegits per la legislació europea, una de les més restrictives del món.