How to Edit PDF files online
Draw and add text, images, and shapes to your PDF documents with this easy guide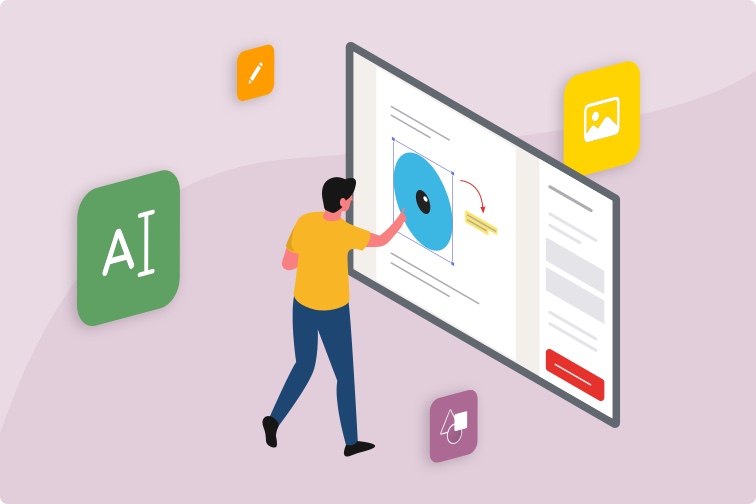 People from all across the globe use PDF format in their daily work for its viewing, sharing and storage capabilities. That's why there are loads of useful online tools out there to convert, merge, compress, and split your PDFs. However, one tool that has recently caught the attention of document users worldwide is the Edit PDF tool.
This trending tool allows you to annotate text saved in PDF format in seconds. That includes adding text, images, shapes, and even drawing over your read-only documents. That's right, you can actually modify PDFs! Who would have ever believed it?
When can I use a PDF Editor?
A PDF Editor is one of the most useful tools for anyone who handles PDF files on a daily basis. Whether it's at the office or for school, it's powerful editing features can take your document processes to the next level. For example, you can use it to:
Collaborate with your team: When sharing ideas from a PDF, you might need to draw attention to certain parts of the text for discussion in your next meeting. With an Edit PDF tool, you can handwrite comments or attach photos for reference straight away without the need to convert your file back to Office format first.
Review learning material: Need to do a quick markup of a student's essay? With this neat tool you can write grades by hand with a friendly "Nice work!", draw a smiley face or insert a diagram image in just a few clicks.
Edit PDF tool features
You named it, we made it! iLovePDF's brand new Edit PDF tool allows you to view and edit your PDF files fast, for free, and in the simplest way possible. Easily accessed directly from ilovepdf.com, the tool offers a straightforward online solution to editing PDF files. Built with a full set of powerful features, this editor allows you to:
Add text: Add comments on any page and customize its format. Move, resize and change font style and color.
Add images: Upload and insert images and photos, resize, rotate, and place them wherever you need them in your document.
Draw text and illustrations: Draw freely and hand-write text on your document using different pencil colors and thickness.
Add objects and shapes: Add lines, rectangles and ellipses and customize their fill color, border, size or transparency. Rotate and resize images as you wish.
Organize by layers: Add your elements and organize them by layers. Decide the order in which you want your elements to be visible and rearrange elements to avoid unwanted overlays.
Edit with a user-friendly interface. Work in style with iLovePDF's simple, modern and intuitive interface, designed for an optimized editing experience!
Navigate with ease: View, zoom, move and scroll through individuals pages in your document using straightforward navigation tools.
Jump ahead with keyboard shortcuts: Get tasks done faster using keyboard shortcuts to copy (Ctrl + C), paste (Ctrl + V) or delete (Delete) items.
Get pixel-perfect results: Unlike other PDF editors, iLovePDF's Edit PDF tool guarantees 100% pixel processing precision.
How to edit your PDF files
Working directly in your browser, the tool lets you upload your documents and edit straight from the web. Here's a step-by-step guide to editing your PDF files online:
Navigate to the Edit PDF tool in iLovePDF's homepage.
Upload the PDF file you want to edit.
Select the tools in the top toolbar to edit your PDF.
Click the "Edit PDF" button to process your file.
Download your edited PDF file to your computer or select to save it in your Dropbox or Google Drive account.
This is just the beginning
iLovePDF's Editor is easily-operated and accessible to everyone. Plus its great features and user-friendly interface provides you with a fun editing experience. However, more is yet to come! Some new and exciting features are being prepared for the future, so watch this space…
All of iLovePDF's tools have been made with your document needs in mind. So if you have any ideas for version number 2, please write to us.
Maybe you'd like us to include a feature which lets you highlight text to draw attention to important information? Or how about adding hyperlinks? Whatever it may be, we'd love to hear from you.
Because every PDF problem you might have now can be our next challenge
Safe in our hands
iLovePDF takes security very seriously. Remember that...
No matter which tool you are using, we use end-to-end encryption to ensure the highest protection against theft or interception of your documents.
Any document uploaded to our system is automatically deleted after 2 hours to prevent any unauthorized third-party access.
All our servers are secured under European legislation- one of the most restrictive in the world.