How to add a watermark to PDF
Follow these steps to stamp your logo on a document online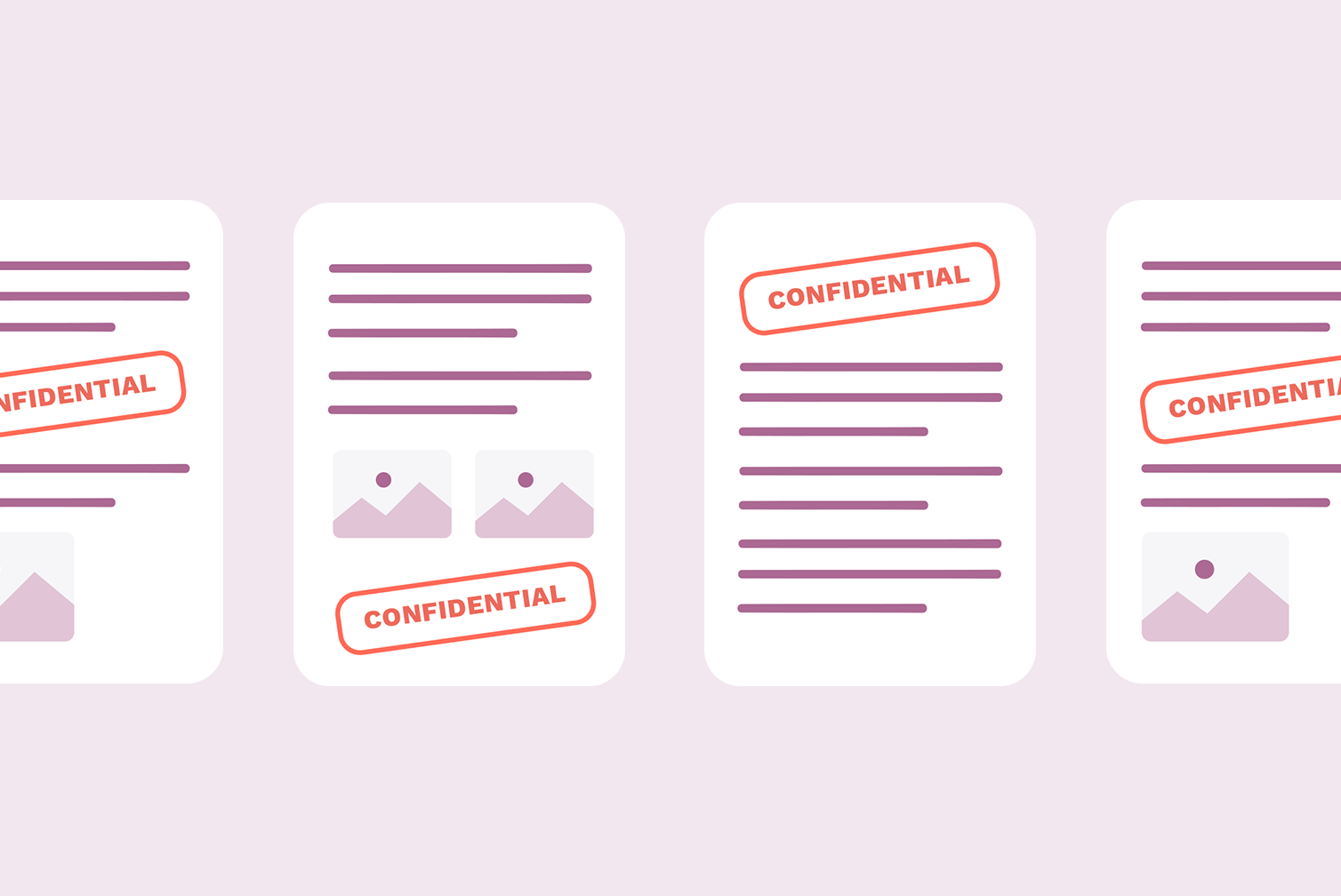 Workers frequently share PDF files containing sensitive information internally with colleagues as well as outside of their organization. One way to deter unauthorized people from reading or reusing your content is by adding a watermark to the document.
This post will show you how to add a watermark to a PDF file online for FREE using the iLovePDF Watermark tool. Scroll down for step-by-step instructions.
What is a watermark?
A watermark is an image, logo, or text which appears in front or behind the content in a document. Traditionally, watermarks have been used on printed documents such as stamps or documents of governmental organizations. Now they are also used on digital assets to protect the content.
Why do we use watermarks on documents?
Watermarks have several different uses. They could be used to identify the person who created the document content, add a stamp of approval, or remind people that the content is confidential and shouldn't be shared.
You may already be familiar with photographers adding a watermark to images online to take ownership of their photography. People also use watermarks to make content more secure in PDF files.
If you work in a company that handles sensitive business documents, it's recommended that you watermark PDF files before sending them by email.
How to add a watermark to a PDF file
iLovePDF provides a free tool to add a text or image watermark to PDF files. You can apply a watermark to one PDF file or multiple PDF pages at once. Simply select the individual page or the range of pages you would like to apply it to.
Follow these steps to apply a custom watermark to PDF documents:
Go to iLovePDF's Watermark PDF tool.
Select the PDF file you want to stamp from your computer or cloud storage. To add more files, click on the red "+" button.
From the Watermark options on the right, choose either Place text or Place image.
For a Text watermark, type the text that you want to appear, then choose the text format and font size. For an Image watermark, select Add image to upload your image file.
In the square grid, click where you want to position the watermark. Alternatively, click on Mosaic to place it at the Top, Middle, Bottom, Left, Center, and Right of the document.
If necessary, adjust the transparency and rotation of your watermark.
From the page range options, select the page numbers that you would like the watermark to appear on.
In the Layer options, select to apply your watermark over the PDF content or below the PDF content.
When you're done, click on the red Watermark PDF button.
What is the difference between a watermark, stamp, and logo?
You might hear these terms used interchangeably. Generally speaking, a watermark refers to an image or pattern that is placed on a document or photo to identify its maker. In most cases, watermarks are placed behind the content so that you can still read it.
A watermark is sometimes referred to as a stamp when it is - as the name suggests - visibly stamped on top of the document content, sometimes hiding the content. Online PDF Editors such as iLovePDF offer the ability to adjust the opacity of the watermark or stamp.
A logo is a graphic design, text, or symbol that identifies a company or its brand or products. Many companies and organizations use their logo as a watermark for copyright purposes.
Can I watermark PDF on my mobile device?
Yes! The iLovePDF Mobile App allows you to create custom stamps and apply them to PDF documents directly from your iOS or Android phone. You also get access to more than 20 tools to edit PDFs on the move. Click here to download the iLovePDF mobile app for free.
Ready to add your company stamp on PDF files?
Watermark PDF
A les nostres mans estàs segur
iLovePDF es pren la seguretat molt seriosament. Recorda que...
No importa quina eina utilitzis, fem servir xifratge d'extrem a extrem per garantir la protecció més gran contra robatoris o que interceptin els teus documents.
Qualsevol document carregat al nostre sistema s'esborra automàticament després de dues hores per evitar qualsevol accés per terceres parts no autoritzades.
Tots els nostres servidors estan protegits per la legislació europea, una de les més restrictives del món.