How to rotate PDF documents
Easily rotate PDF pages online with this tool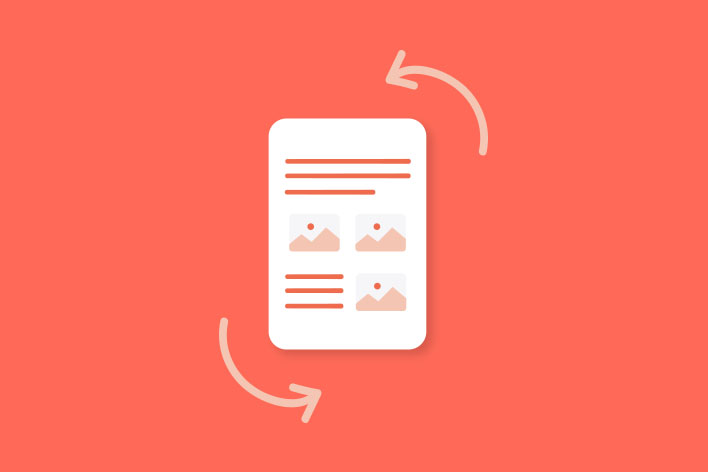 Are you trying to rotate a PDF? Portable Document Format, widely known as PDF, is one of the most used formats for saving and sharing final documents without losing formatting. However, PDF editing can be a hassle if you don't have the right tools by your side.
iLovePDF will help you rotate PDF pages in two ways. By Rotating single PDF pages within a file or rotating multiple pages and whole PDF documents. The tools are easy to use, free, and can streamline your workflow in a few simple clicks.
Rotate individual PDF pages
Easily rotate single PDF pages with the Organize PDF tool. This method is the best option for making quick changes to a small number of pages.
Go to iLovePDF's Organize PDF tool.
Upload your document.
You will see an arrow icon when hovering over a page thumbnail, Click on the arrow to rotate your pages 90º clockwise.
Click Organize to process your file.
Rotate PDFs in bulk
Rotate PDFs in bulk with the Rotate PDF tool. This option allows you to select multiple PDF pages and rotate them at the same time without needing to rotate individual pages.
Go to iLovePDF's Rotate PDF tool.
Upload your document.
Adjust your rotation settings in the sidebar menu between All, Portrait, or Landscape orientation.
Select Right or Left rotation.
Hit the Rotate PDF button to save and download.
PDF Rotation for iOS & Android
Are you trying to rotate PDF on your mobile? You can edit PDFs from your smartphone with iLovePDF Mobile App.
If you need to work on PDFs while on the go, the iLovePDF App comes packed with plenty of PDF modification tools to help you catch up with work no matter where you are. It includes all of your favorite iLovePDF tools for converting, optimizing, and eSigning your PDFs - and more.
Start rotating your PDFs with the user-friendly tools
Rotate PDF
A les nostres mans estàs segur
iLovePDF es pren la seguretat molt seriosament. Recorda que...
No importa quina eina utilitzis, fem servir xifratge d'extrem a extrem per garantir la protecció més gran contra robatoris o que interceptin els teus documents.
Qualsevol document carregat al nostre sistema s'esborra automàticament després de dues hores per evitar qualsevol accés per terceres parts no autoritzades.
Tots els nostres servidors estan protegits per la legislació europea, una de les més restrictives del món.