Grade assignments with this free annotation tool
Provide feedback on student work anywhere from any device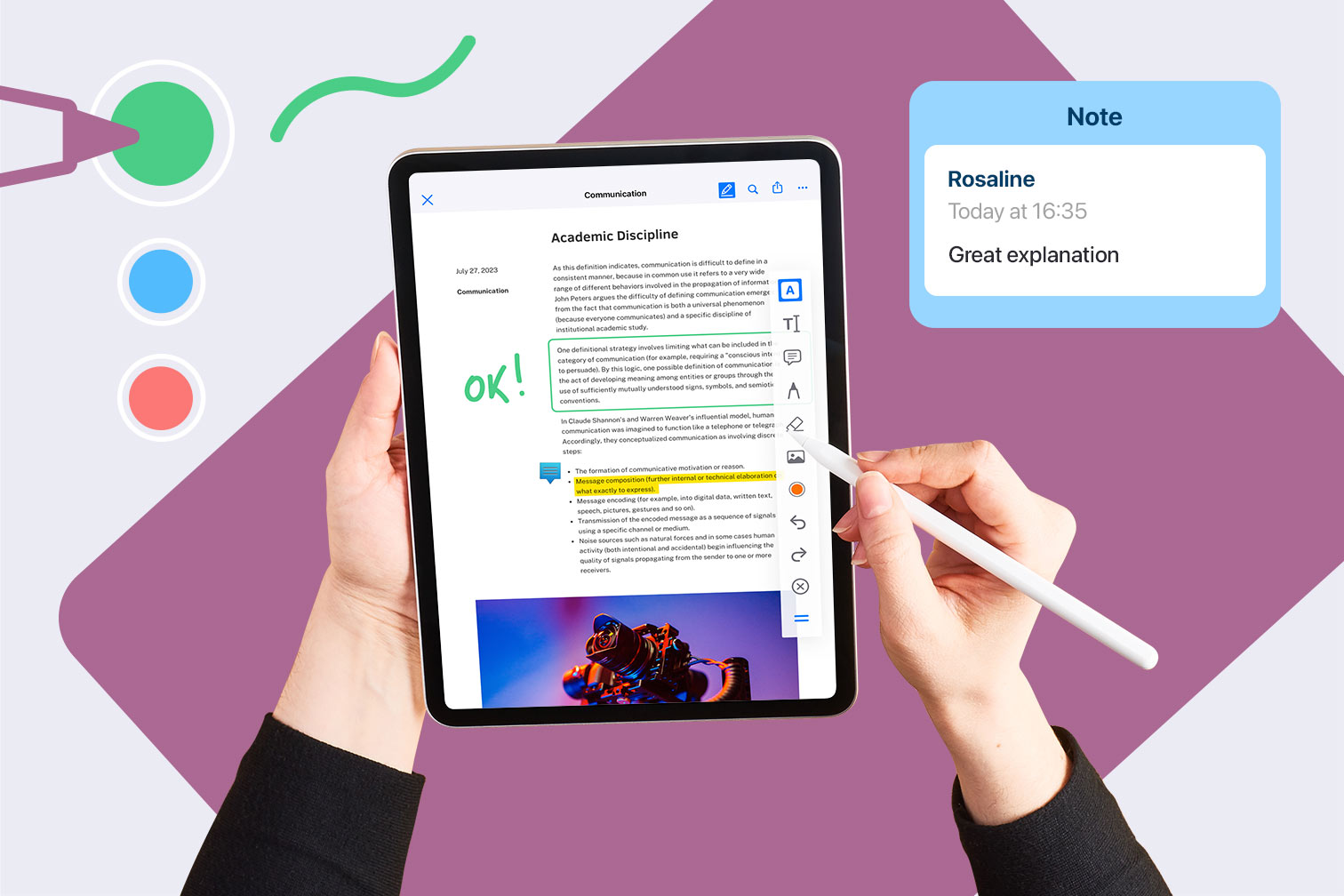 There are many tools to aid teachers with their professional development and help their students achieve academic success. One handy tool that educators can use to facilitate student understanding in the physical, hybrid, and virtual classroom is the PDF annotation tool.
How can annotation tools help in online learning?
An annotation tool allows educators to quickly give feedback on student submissions saved in PDF format and return their work in a few clicks. It eliminates the need to print out assignments and return the marked copies in person, making it a 'must-have' for remote or hybrid learning.
Free PDF Editor Software like iLovePDF provides instructors with easy annotation tools to markup and add short comments to PDF files inside an intuitive grading interface. Being available online and downloadable on iOS and Android, you can use the tool to markup file submissions with precise feedback on any device.
Option 1: Markup file submissions online
If you need to mark an essay, group project, or a short homework assignment, just upload the file to iLovePDF's online Edit PDF tool. Its PDF viewer displays the PDF file to be graded. Then, directly from the annotations toolbar, you can access a range of PDF marking tools including options to:
Add direct text to PDF file submissions to give short feedback. You can change the transparency, font size, and style.

Make handwritten notes on schoolwork using the draw feature with your mouse or touchpad. You can also adjust the pen width and color.

Create your own arrows or callout boxes using lines and shapes.

Grade schoolwork by inserting check marks, cross symbols, and emoticons.

To start grading assignments online, head directly to iLovePDF's Edit PDF tool and upload your first PDF file.
Read and navigate school work with ease
For a user-friendly experience, iLovePDF's Edit PDF tool includes built-in features to facilitate marking. To help you view and navigate through student submissions, you will find the following options in the toolbar:
Pan mode. Click on the hand icon to easily move through different sections of the individual submission pages.

Zoom feature. Select the magnifying glass icon to zoom in on specific paragraphs or elements in the document. When you have finished annotating a section, simply click on the zoom-out icon to continue grading the rest of the assignment.
Option 2: Highlight and add notes to school work on iOS/Android
Looking for more advanced annotation options? iLovePDF also has an extensive mobile application equipped with professional markup tools for educators. You can use the app wherever you go to:
Highlight text in different colors to draw attention to words that need correcting
Add feedback using post notes and labels to provide more detailed suggestions

Add stamps by choosing from a selection of pre-made designs or create new ones

Add or erase handwritten comments using the draw and eraser tools

The iLovePDF Mobile App is compatible with iOS and Android devices so that you can add comments on student work directly from your personal smartphone or tablet.
To start marking college assignments on the move, download the iLovePDF Mobile App in the App Store or Google Play.
Get file submissions marked in record time
Be it for online learning or a helping hand in the physical classroom, a reliable annotation tool can help teachers save heaps of time and be more efficient. For any assignment your student submitted in the Portable Document Format, iLovePDF makes it possible for you to annotate PDF files at your convenience.
Need more tools to facilitate teaching?
To enhance the learning experience, iLovePDF offers a range of different educational technology tools to empower teachers and students.
If you are looking for more ways to optimize teaching and communicate more effectively in the virtual classroom, you could start by reading our post, How to improve parent-teacher communication with e-signing. Or, click on the button below to begin marking schoolwork using iLovePDF's free PDF Editor.
Mark student assignments online for free with iLovePDF
Edit PDF
Προσφέρουμε ασφάλεια
Η iLovePDF λαμβάνει πολύ σοβαρά υπόψη την ασφάλεια. Να το θυμάσαι...
Ανεξάρτητα από το εργαλείο που χρησιμοποιείς, χρησιμοποιούμε κρυπτογράφηση από άκρο σε άκρο (end-to-end encryption) για να εξασφαλίσουμε την υψηλότερη δυνατή προστασία από κλοπή ή υποκλοπή των εγγράφων σου.
Κάθε έγγραφο που μεταφορτώνεται στο σύστημά μας διαγράφεται αυτόματα μετά από 2 ώρες για να αποτραπεί οποιαδήποτε μη εξουσιοδοτημένη πρόσβαση τρίτων.
Όλοι οι διακομιστές (servers) μας είναι ασφαλείς σύμφωνα με την ευρωπαϊκή νομοθεσία, μία από τις πλέον περιοριστικές στον κόσμο.