How to create a PDF on iPhone & Android: A step-by-step guide
Choose from a selection of high-quality templates or start from scratch to create an editable PDF document with our new mobile tool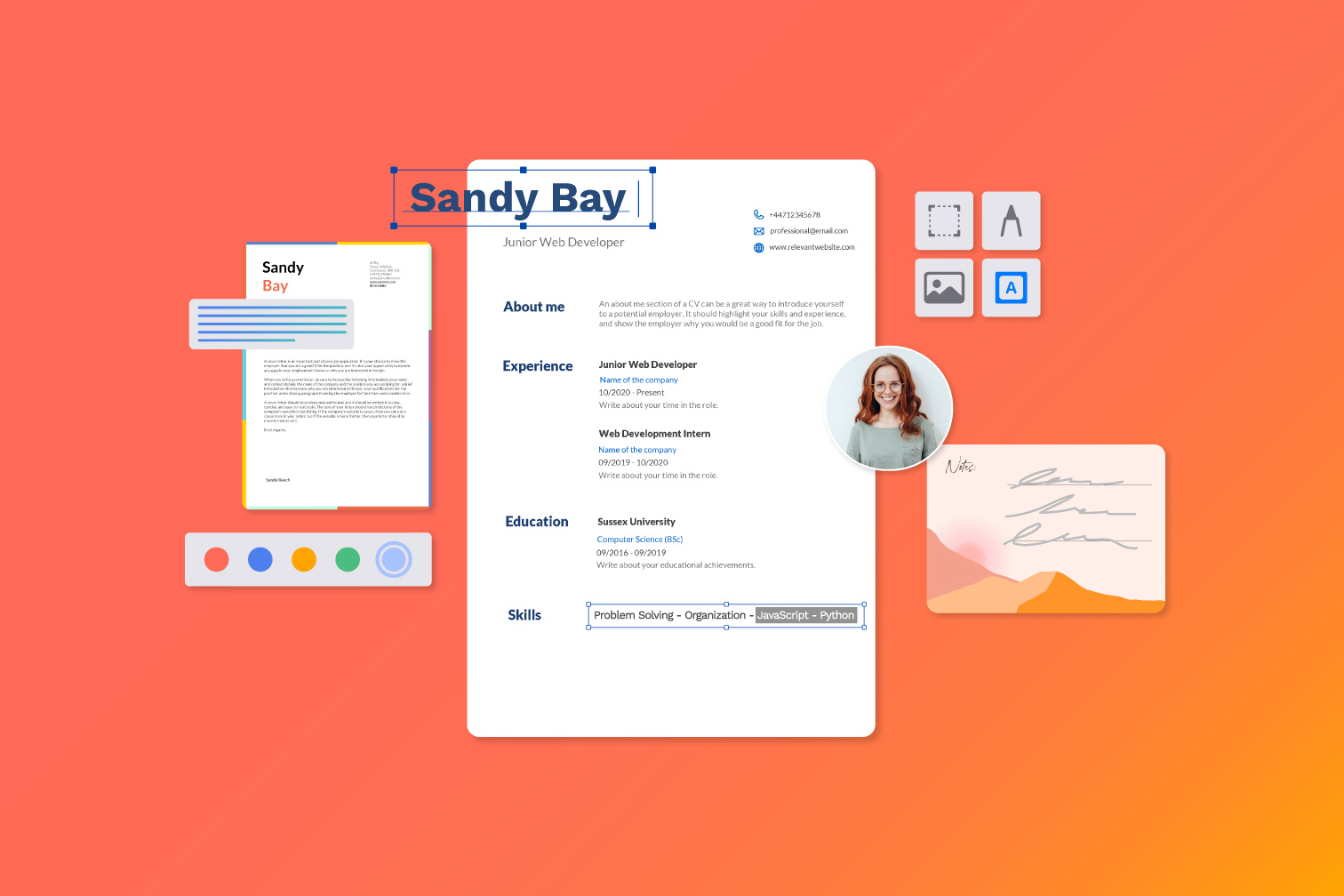 Are you trying to create a PDF document? You can now Create PDFs with free editable PDF templates including CVs, Cover Letters, Planners, Meeting Notes, and Invoices.
Don't want to use a template? Use this tool to make a PDF file from scratch, with features that let you design your own document - from colors to adding images and editable text boxes.
Whether you're a business professional, a student, or just work with many PDFs - making a PDF document is easy with this tool.
Follow these steps and learn how to use this new tool on the iLovePDF Mobile App.
How to create PDFs from templates
Go to the LovePDF Mobile App or download it if you haven't already.
Go to the Create PDF tool.
Select a template from: CVs - Letters / Cover letters - Daily, weekly, and monthly planners - Meeting notes - Invoices - Musical sheets.
Select the editable elements to add your own text and fill in the PDF.
Edit the elements by changing colors, fonts, and size; or move them around if you need to.
Your PDF document will be automatically saved when you exit the file.
How to make PDFs from scratch
Go to the iLovePDF Mobile App or download it if you haven't already.
Go to the Create PDF tool.
Select the blank template.
Choose the style of lined paper from no design, lines, dashes, or squares.
Choose more design features like orientation, number of pages, and format.
Select the red arrow button to continue designing your PDF.
Choose from the edit icons to design your document: add text, images, and shapes, or use the draw symbol.
Your PDF document will be automatically saved when you exit the file.
Ways to use the Create PDF tool
For students, for professionals, and for all the PDF people out there. Create your own PDF or download free PDF templates to make high-quality documents.
For students:
Digital notes: A valuable way for students to use this tool is to start with a blank PDF and go digital with your note-taking. Create notes and save the PDF ready for use with our other tools.
Turn your notes into a digital study guide: Start creating a study guide and compile all of your annotated notes by merging them into one PDF with the Merge PDF tool. You can even scan & add physical pages to your digital guide:
Use the Scan to PDF tool to convert pages to PDF.
Go to the Organize PDF tool to add the pages to your study guide.
Check out this post on "how to study smart: 6 tips for students" for more information on digital notes and study guides.
For professionals:
Business templates: Use the invoice template PDF for a fillable document that you can send to clients, or contact people with professional letter templates.
eSign documents online: Use the Sign PDF tool to add legal weight to your documents after creating your PDF. Sign yourself or send the document to others and request signatures via email.
For more information on the legality and benefits of digital signatures head to our "Are digital signatures legally binding?" post.
For all the PDF people:
Organize with PDFs: Use the planner templates to organize your day, week, and month. Organize even more by sorting, adding, and deleting PDF pages with the PDF organizer.
Efficient first impressions: The CV and cover letter templates set you up to make the right impression with prospective employers. After finishing, go to the PDF Merger and send all your application documents together as one sleek file.
Read the article "How to organize PDF pages" and learn how to master your organization with free PDF tools in more detail.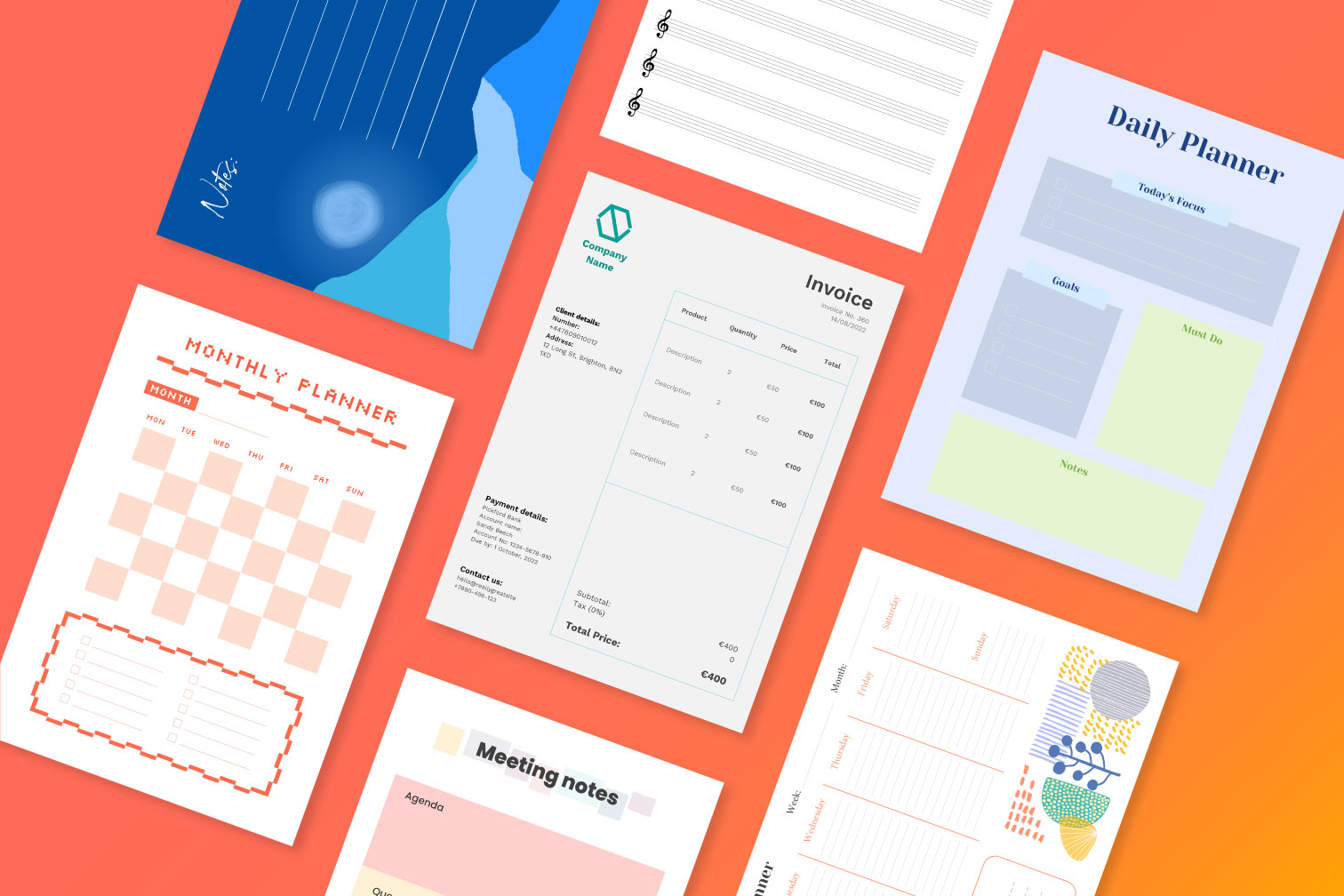 Features of the Create PDF tool
With this PDF creator you can use our existing top-quality templates or design your own document from the base up.
Download free PDF templates, including:
CV templates
Letter / Cover letter templates
Daily, weekly, and monthly planner templates
Meeting note templates
Invoice templates
Musical sheet templates
Use the Mobile App to design your PDF from scratch:
Design your own document by editing the size, color, orientation, and style of the pages
Add text, images, annotations, and shapes
Edit the colors and fonts of your text
Draw with a tool that lets you edit color and line thickness
Knowing how to create a PDF on Android and iOS devices can save you a lot of time by working on your documents on the go. All you need is the iLovePDF Mobile App.
How to create a PDF by converting from another format
Want to convert a file to PDF? There are many ways to make a PDF - and you don't need to create a new document if you already have content that is ready to go.
Take different file formats like Word, Excel, PowerPoint, and images and convert them with PDF converters.
Use the free online PDF converters from iLovePDF to create PDFs on our Web, on our Mobile App, and on our Desktop.
Here are the file converters you need to create PDF files:
Explore the rest of the iLovePDF tools
On top of the Create PDF and PDF converters, iLovePDF has a collection of over 25 tools that are designed to be easy to use online for free.
Explore the blog for more tool tips and follow us on Facebook, Twitter, TikTok, and Instagram to keep up to date on the latest iLovePDF updates.
We love hearing from our community - so please also let us know how you use the tools!
Get the iLovePDF Mobile App and start creating your PDFs
Download now
Seguro em nossas mãos
iLovePDF leva a segurança muito a sério. Se lembre que...
Seja qual for a ferramenta que você estiver utilizando, nós usamos encriptação ponto-a-ponto para garantir a máxima proteção contra roubo ou intercepção de seus documentos.
Qualquer documento carregado em nosso sistema é automaticamente eliminado após duas horas, para previnir algum acesso não autorizado de terceiros.
Todos nosso servidores estão seguros segundo as leis Europeias, das mais apertadas em todo o mundo.