A quick guide on converting PDF to Word offline
Use this tool suite to accurately convert PDF to Word offline with OCR technology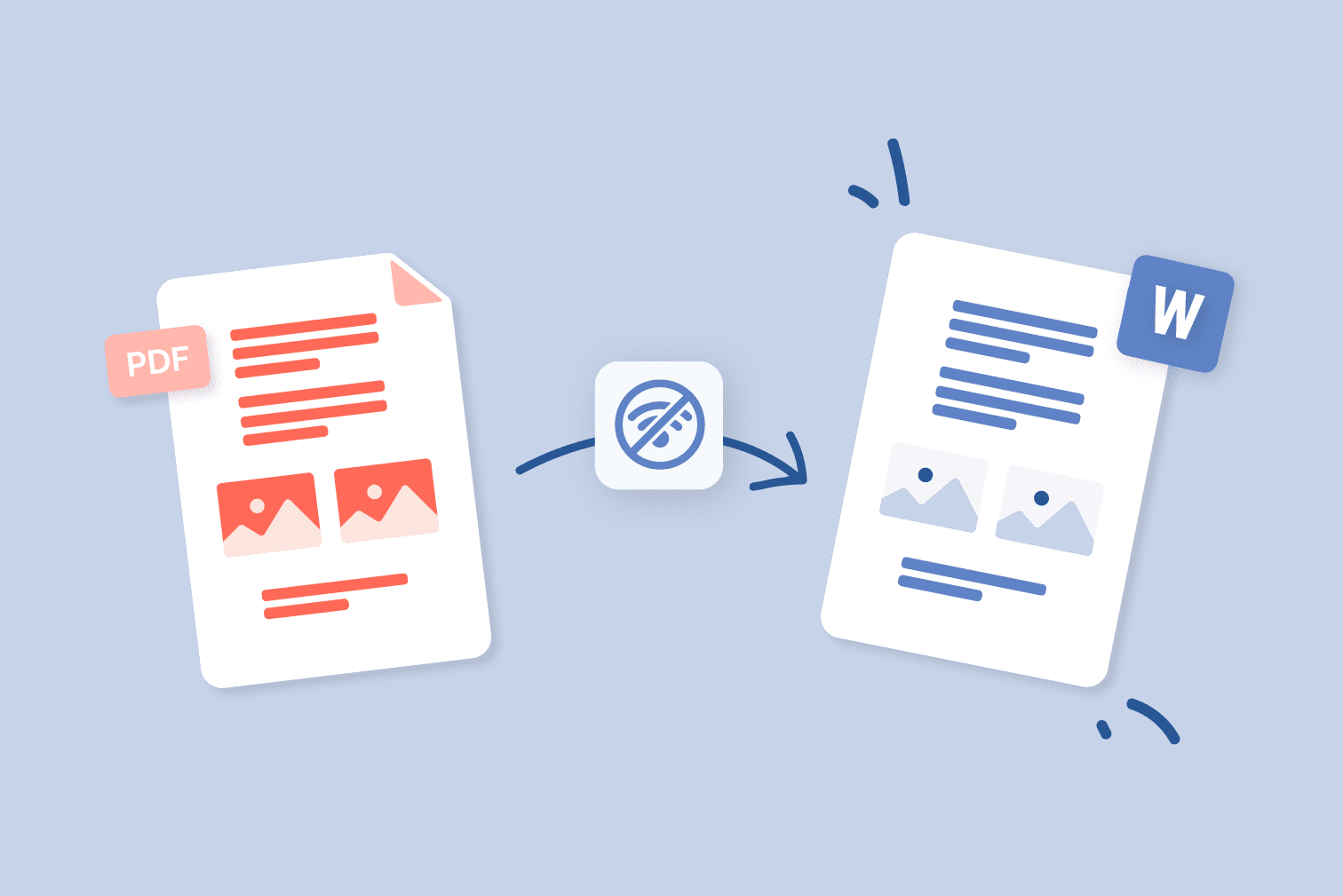 Are you trying to convert PDF to Word offline? The iLovePDF Desktop App is here to help you create an editable Word document from your original file without relying on an internet connection.
Do you need to conserve the original formatting? Convert using OCR (optical character recognition) technology for a final document that accurately keeps the original formatting.
This post will show you how to use the free PDF to Word converter offline and outline the advantages of converting using OCR.
How to convert PDF to Word offline
Open the iLovePDF Desktop App or download it for Windows and Mac if you haven't already.
Sign up or Log in to your iLovePDF account.
Go to the Tools menu and select PDF to Word.
Click on Open file and select the PDF you wish to convert.
Select between converting with or without using OCR technology. Selecting OCR will scan the PDF to recognize text inside of images and scanned documents.
Click Convert to Word.
Convert PDF to Word using OCR for even more accuracy
Why convert PDF to Word using OCR? Scanning PDF to Word using OCR technology offers many benefits that can improve accessibility and efficiency.
What does OCR do? OCR provides more conversion accuracy by scanning the text inside of images and scanned documents to create editable and selectable text.
The added accuracy of OCR conversion is also available on the Web version of the tool. To use it, all you have to do is head to the PDF to Word tool on the iLovePDF website, upload your file, and select the "OCR" option when converting.
Here are some of the best benefits of choosing OCR:
Editable text conversion
OCR allows you to easily edit, modify, and update the content without having to retype the entire document. For example, you can scan a printed contract and convert it into an editable Word file to easily make changes before printing or sending it again.
Preservation of formatting
OCR recognizes the layout, fonts, and formatting of the original document more accurately. This ensures that the converted Word document retains the same structure as the PDF, saving you the time and effort of manually recreating the layout.
For instance, you can scan a brochure and convert it into a Word document without losing the design elements.
Searchable text
By converting scanned PDFs to Word with OCR, you create a searchable text layer. This means you can use keywords to search for specific information within the document, making it easier to find relevant content quickly.
For example, you can scan research papers and convert them to Word to enable fast searching of key terms and concepts. For more on making PDFs searchable, head to this post on PDF text recognition.
Accessibility and assistive technologies
OCR-converted Word documents improve accessibility for individuals with visual impairments or reading difficulties. Screen readers and other assistive technologies can process the text, making it possible for users to hear the content read aloud.
For example, a visually impaired student can scan a textbook and convert it into a Word document to use with text-to-speech software.
Batch convert PDF to Word
Are you dealing with a large volume of documents? Batch convert PDF to Word to process many PDF files in one go instead of converting each file individually. This is particularly useful when you need to save time when converting a lot of files.
Converting PDF to Word with Desktop has the added advantage of unlimited batch conversion when compared to the Web version of the tool. Simply upgrade your plan to Premium to enjoy unlimited batch conversion across all of the tools.
Batch converting PDF to Word offers numerous advantages, no matter the industry. Legal professionals can efficiently manage cases by converting for easier annotating, highlighting, and modifying documents.
Academic researchers can easily extract information from multiple PDF papers to compile comprehensive reports.
In the corporate world, batch conversion streamlines administrative tasks, updating and reusing forms and reports for smoother workflows.
Embrace even more offline PDF tools
On top of the offline conversion tools that include PDF to Office and PDF to JPG, the iLovePDF Desktop App has a number of time-saving document management tools.
Get more efficient with your files by taking advantage of tools that let you Merge, Split, Compress, and more. Explore the Desktop App today to discover the power of offline processing.
Start converting PDF to Word offline with iLovePDF
Download iLovePDF Desktop
Seguro em nossas mãos
iLovePDF leva a segurança muito a sério. Se lembre que...
Seja qual for a ferramenta que você estiver utilizando, nós usamos encriptação ponto-a-ponto para garantir a máxima proteção contra roubo ou intercepção de seus documentos.
Qualquer documento carregado em nosso sistema é automaticamente eliminado após duas horas, para previnir algum acesso não autorizado de terceiros.
Todos nosso servidores estão seguros segundo as leis Europeias, das mais apertadas em todo o mundo.