How to merge PDF files on Mac in 4 easy steps
Combine PDFs online with this simple guide that helps you turn multiple files into a single, professional PDF.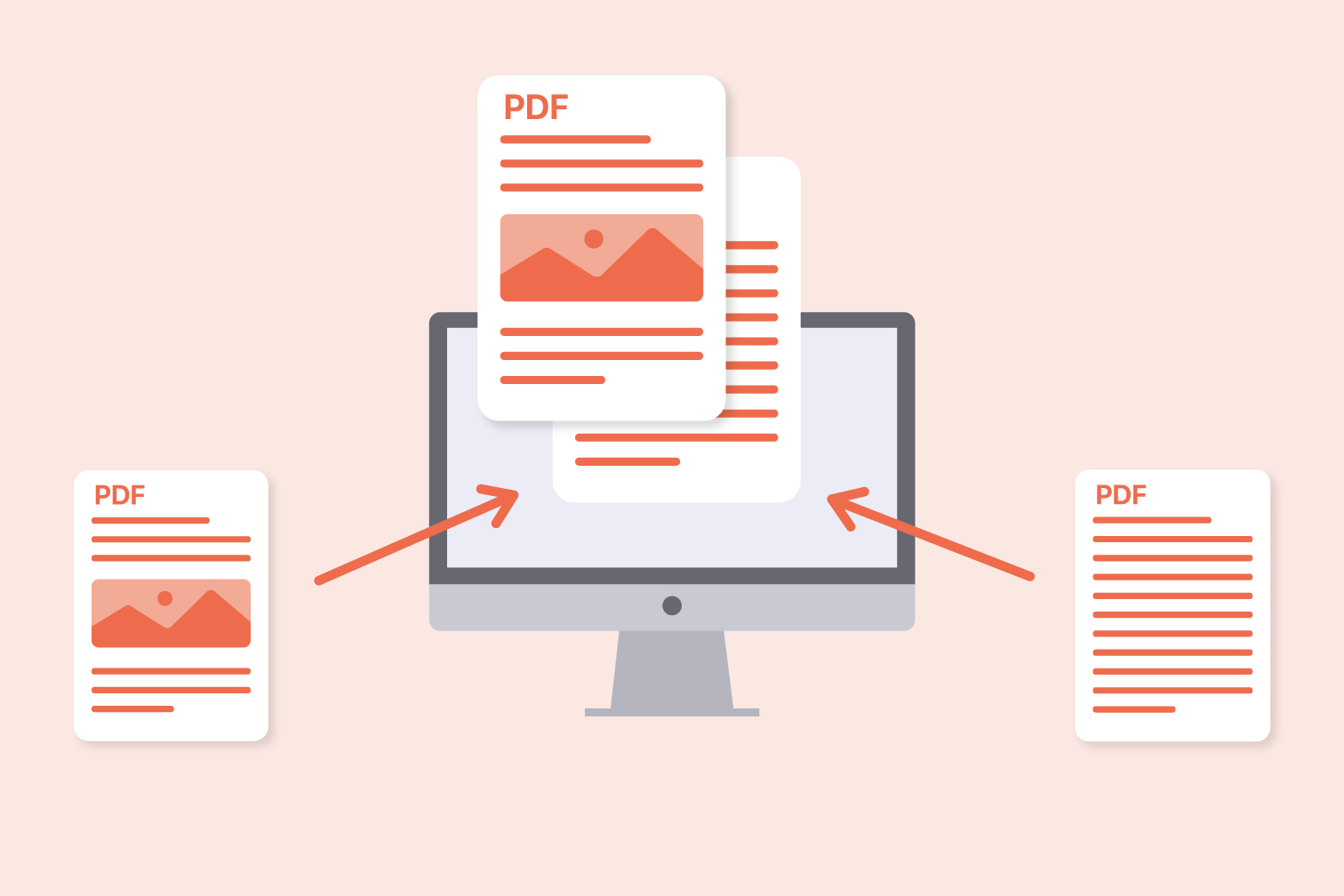 Are you trying to quickly merge documents online? As companies are making the switch to digital, the amount of online forms we now have to work with is on the rise. Whether you're handling personal documents or working with professional ones, efficient organization is key for keeping track of your files.
Save time, stress, and money by reducing paper resources and making your documents easier to find and attach online. Using digital documents is useful, but when you're dealing with lots of information it's easy for the email attachments to add up. Instead of sending an email with multiple files, use a Merge PDF tool to create a single, straightforward document that makes downloading effortless.
With this guide for merging PDF files on Mac, we go through the 4 simple steps in taking multiple PDF documents or PDF pages and merging them into one file.
The benefits of working with PDF
PDF files have many benefits over other file formats. For one, they are universally compatible with all devices and software. This means that a PDF will look the same on a computer screen, smartphone, or tablet, no matter what type of device it is. Plus, they are more secure than other formats, meaning you can rest assured that your confidential information is safe.
How to merge two or more PDF files on Mac
Go to the Merge PDF tool.
Upload the first document or page you want to merge from your storage, Google Drive, or Dropbox.
Select the red + to add more files and pages.
Select Merge PDF to download the merged document.
How to merge PDF files on Mac offline
Here's how to merge files into one PDF on Mac offline:
Go to the iLovePDF Desktop app and download the macOS version (also available on Windows).
Select Open File and upload your document.
Select the Merge PDF tool.
Use the red + button to add more files.
Select Merge to download the document.
Why merge a PDF file?
Combine PDFs to keep track of all your important documents in one place. When you merge PDFs, the files are combined into one document, making it easy to navigate and search through them. This can be especially helpful when you have a lot of paperwork to keep track of or if you need to send multiple documents as one file.
Here are some practical examples of scenarios where the Merge PDF tool can help:
Working in a large company
Consider you work in a large corporation and you have to share hundreds of PDF documents with another department. You don't want to confuse your colleagues by sending a mountain of files as this will result in lost documents and lost time. Instead, it's far easier to combine all of the PDFs into a single PDF for simple sharing.
Group presentations
Let's say you're at university and working on the latest group project. The proud final day of the project has arrived and you need to piece everyone's work together, but how do you do it? Use the Merge tool to easily bring together all of your group's hard work for the final presentation.
Working solo
Carrying out any kind of work requires lots of different sources, in lots of different formats. As you're carrying out research for a job application or your latest essay, you might be saving screenshots, JPEG, Word documents, or PowerPoint; there are many sources of information that can be hard to organize. Use the Convert to PDF tools to turn various files into PDF and organize them together with the Merge tool.
PDF software not only enables you to work quickly online for free, but downloading the Desktop app gives you access to all of the best PDF management tools offline.
Offline PDF software allows you to work on your files locally in a secure environment, managing more documents with no file limits and faster processing.
How to merge PDF on your mobile
All of the productivity tools found on the iLovePDF website are available on your portable devices. From merging to signing online, utilize these tools on the go with the Mobile application; available on both Android and iOS.
Trying to be efficient with your commute? Perfect for long journeys to work or for remote workers; edit, split, organize, and convert PDFs on your smartphone. Here's the iLovePDF app for Google Play and the App Store.
Download the Google Chrome extension
Don't stop at just downloading the Mobile app. Attach the Chrome extension and get the iLovePDF tools even faster. Go to the Chrome web store and search for iLovePDF, or head straight to this link.
Why not go Premium?
With Premium, it doesn't matter if you want to merge two PDF files, or 20. Combine PDF files with higher limits on iLovePDF Web, work with unlimited tasks on the Mobile app, and enjoy editing limitless documents, pages, and file sizes with Premium on Desktop.
Access to OCR & PDF/A. Using optical character recognition (OCR) gives more accurate results when converting documents. PDF/A is a file format specifically designed for long-term archiving that's less likely to become corrupted over time, perfect for protecting your business documents and data in the long run.
Are you merging professional documents that need to be signed? Trust in the safety of signing online by utilizing digital signatures with a Premium subscription. Digital signatures are a more advanced version of an electronic signature with stronger legal protection, document tracking, and checks that protect the validity of documents to ensure they haven't been edited after completion.
Start merging your PDF files on Mac
Go to Merge PDF
Seguro em nossas mãos
iLovePDF leva a segurança muito a sério. Se lembre que...
Seja qual for a ferramenta que você estiver utilizando, nós usamos encriptação ponto-a-ponto para garantir a máxima proteção contra roubo ou intercepção de seus documentos.
Qualquer documento carregado em nosso sistema é automaticamente eliminado após duas horas, para previnir algum acesso não autorizado de terceiros.
Todos nosso servidores estão seguros segundo as leis Europeias, das mais apertadas em todo o mundo.