Welcome to the free PDF reader from iLovePDF
The iLovePDF Desktop App works as your PDF reader for Windows PC and Mac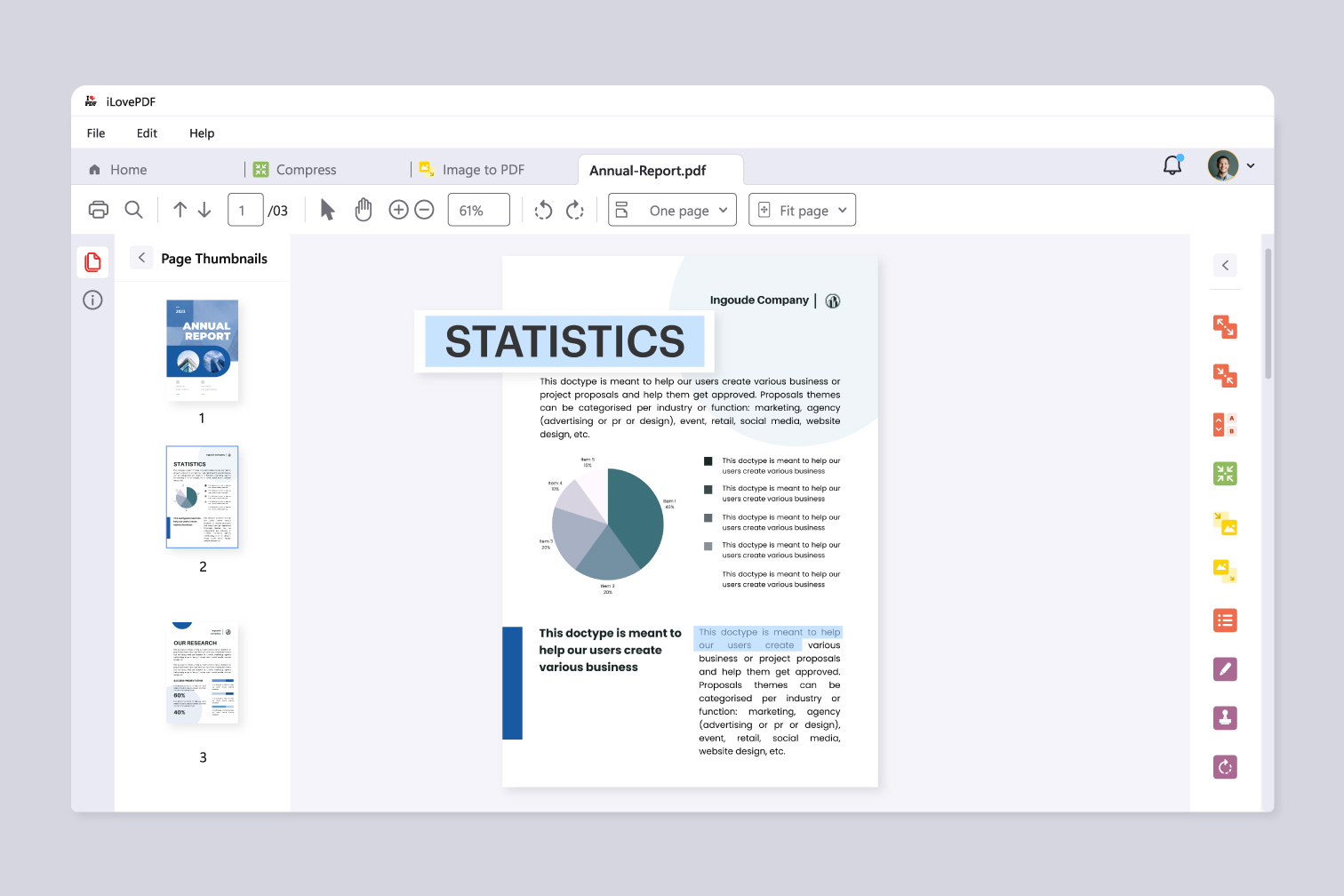 Unlock the full potential of your digital documents with the free PDF reader from iLovePDF. Join us as we unveil its user-friendly design, useful features, and time-saving tools.
The PDF file format has emerged as the gold standard for document sharing and preservation. Its universal compatibility ensures that your documents appear the same across various devices and platforms.
Whether you're sharing a business proposal or distributing an eBook, the consistent formatting of PDFs ensures that your content retains its intended appearance, fonts, and layout.
Why use a desktop PDF reader?
When it comes to accessing and editing PDFs, many rely on online solutions. However, they run the risk of having issues with connectivity, and their use might be limited by company regulations that restrict the use of online tools.
This is where the Desktop App starts to shine. By installing, you unlock the benefits of offline access to your files, including offline PDF and image tools that convert, merge, compress, and more.
How to download the free PDF Reader for Desktop and Mobile
Ready to streamline your document management? You can simplify it by downloading the PDF Reader for Desktop, which is compatible with both Windows (PC) and Mac.
Alternatively, if you need mobile solutions, you can manage your files on-the-go with our Mobile PDF Reader, available for Android and iOS devices.
Discover the PDF Reader's powerful features
At iLovePDF, we've designed our PDF Reader to ensure your experience is as seamless as possible. Here are some of the standout features that make it your ultimate solution for hassle-free document management:
The search bar effortlessly locates content within PDFs using keywords. Is your PDF a scan, or does it contain restricted text? The OCR PDF tool can create selectable text by scanning your file.
Immerse yourself in document details with the page zoom feature. Whether it's analyzing intricate graphics or closely examining text, you'll never miss a detail.
Tailor your viewing preference with adjustable page views. From single to double pages, customize your document's display for optimal comfort.
Maintain document standards with ease by revising the PDF/A compliance. Swiftly ensure your files meet archival requirements without any complications.
Experience seamless access to a suite of PDF tools. Perform actions like merging, splitting, converting, editing, and securing documents – all in one place.
Take advantage of the time-saving tools
This PDF reader is free to download, and also offers a suite of time-saving tools, each designed to simplify your document management tasks and save you invaluable time.
Tip: Take advantage of all of the iLovePDF apps. These tools and more are available across our Web, the iLovePDF Mobile App, and the iLovePDF Desktop App. Find out about the exclusive tools and features of each of them here.
Streamline the way you organize your files
Merge PDF: Combine multiple PDF files into a single cohesive document. No more juggling separate files; enjoy the convenience of unified information.
Split PDF: Divide large PDFs into smaller, manageable sections. Extract only what you need without altering the original document's integrity.
Remove PDF Pages: Effortlessly eliminate unnecessary pages from your PDF files. Declutter and maintain a concise, focused document.
Organize PDF Pages: Reorder and rearrange PDF pages with ease. Customize your document's flow to match your specific requirements.
Enhance the efficiency of your documents
Compress PDF: Minimize file size without compromising quality. Share documents faster and save precious storage space.
Repair PDF: Fix corrupted PDF files and ensure their content remains intact. No more frustrations due to damaged documents.
Seamlessly convert between file formats
Convert to PDF from Office and image files: Transform various formats like Word documents or images into PDFs. Preserve formatting and ensure consistent viewing across devices.
Convert to Office and image files from PDF: Convert PDFs back to editable formats, allowing further modifications or reuse of content.
Make useful edits in a flash
Rotate PDF: Correct orientation issues by easily rotating pages. Maintain the document's legibility without any hiccups.
Add Watermark to PDF: Embed watermarks for branding or security purposes. Protect your content while maintaining a professional appearance.
Add Page Numbers to PDF: Organize your document with sequential page numbering. Keep track of pages effortlessly.
Add an extra layer of security to your files
Add Password to PDF: Safeguard sensitive information by adding passwords to your PDFs. Control who can access your content.
Start exploring the free PDF reader from iLovePDF
Download now
Seguro em nossas mãos
iLovePDF leva a segurança muito a sério. Se lembre que...
Seja qual for a ferramenta que você estiver utilizando, nós usamos encriptação ponto-a-ponto para garantir a máxima proteção contra roubo ou intercepção de seus documentos.
Qualquer documento carregado em nosso sistema é automaticamente eliminado após duas horas, para previnir algum acesso não autorizado de terceiros.
Todos nosso servidores estão seguros segundo as leis Europeias, das mais apertadas em todo o mundo.