How to convert PNG to PDF online
Use this file converter to turn PNG images into PDF files easily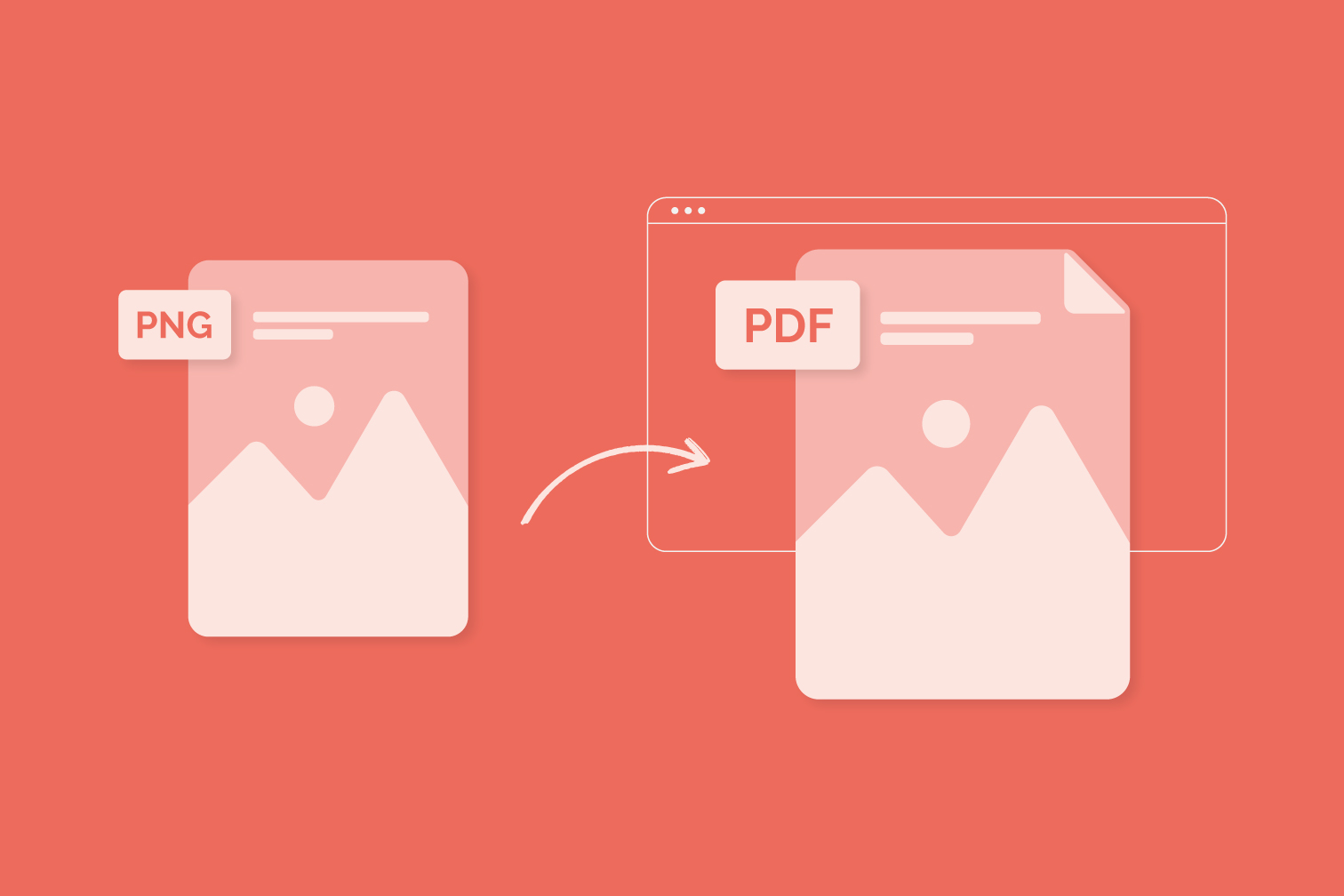 Scroll down for a step-by-step guide to convert a PNG image to a PDF file using iLovePDF.
Graphic designers and web designers are likely to work with images in the PNG file format. The Portable Network Graphic (PNG) format is a raster image file type that is popular in web design for a bunch of reasons.
First, PNG offers lossless compression and a more extensive color palette compared to other file types such as JPG images or ones saved in the graphics interchange format (GIF). For this reason, it's widely used in websites to display digital images with high resolution.
The PNG image format can also support transparency. Being able to handle transparent backgrounds makes it a useful file type for web design. In addition, as it isn't patented, you can work on images that have the .png file extension in any image editing software without any licensing problems.
Why turn a PNG image into a PDF file?
Although PNG is the top choice for displaying quality images on the web, you may find yourself in the situation where you need to convert it to a PDF file. Maybe you're asking, "If the PNG format is so popular, why would I need to convert it to PDF?".
Better compatibility
PDF files are smaller so they are more manageable when you're downloading or sharing them. It's also the standard file type for downloading and sharing documents because it's compatible with all devices and most programs.
That means if you send somebody a PDF file via email, they will be able to open and read its contents easily without any problems. This isn't always possible when opening image files.
The next time you're wondering, "How can I open a PNG Image?", the best solution is converting it to PDF. No matter if you're using a computer, tablet or mobile device, you won't have any trouble opening a PDF document, and it will look the same.
Stronger security
PDF is a safer file type because it's easy to add secure encryption to, such as a strong password, or preserve it for long-term archiving in the PDF/A format. If you work with sensitive documents, you can lock them with a password. Find out how to lock a PDF file online.
How to convert PNG to PDF: Step-by-step instructions
Ready to turn your PNG image into a PDF file? Simply follow these steps!
Open your browser and go to the iLovePDF Image to PDF tool.
Click on the red button to upload your image. Alternatively, drag and drop it in the window.
In the Image to PDF options on the right, you can set the page orientation to landscape or portrait.
Select your preferred page size. You can choose between A4, US Letter, or Fit to make the page the same size as the original image.
If necessary, you can also add a big or small margin to your page. Otherwise click, No margin.
Select the red button, Convert to PDF.
How many PNG images can I upload at once?
The good thing about iLovePDF's Image to PDF converter is that you can upload and transform multiple images at the same time. As a free user, you can turn up to 20 images in one session with a file size limit of 40MB.
Need to convert a larger batch of images? For just a small amount a month, you can upgrade to iLovePDF Premium to select up to 80 images with a total file size allowance of 4GB in one go. For more information, head over to iLovePDF's Pricing page.
Which other image formats are accepted?
iLovePDF's Image to PDF converter also converts images in the following file formats: .png, .jpeg, .tif, .svg, .bmp, .img, .raw, .heic, and .webp. No matter what type of image you need to convert, you can find the solution with this free online service.
Looking for more file conversion options? Head to iLovePDF for more tools to convert PDF to Microsoft Word, JPG to PDF, PDF to PPT, and more.
Turn your images into PDF files online with iLovePDF
Convert PNG to PDF
بأمان في أيدينا
يأخذ iLovePDF الأمن على محمل الجِدّ. تذكر ذلك...
بغض النظر عن الأداة التي تستخدمها، فإننا نستخدم التشفير التام من طرف إلى طرف لضمان أعلى حماية ضد سرقة أو اعتراض مستنداتك.
يتم حذف أي مستند يتم تحميله على نظامنا تلقائيًا بعد ساعتين من وقت المعالجة لمنع أي وصول غير مصرح به لجهة خارجية.
جميع خوادمنا محمية بموجب التشريعات الأوروبية، وهي واحدة من أكثر التشريعات تقييدًا في العالم.