How to add initials to a PDF form or contract
A guide to electronically adding your initials, signature, date, and name onto a PDF document using the Signature tool.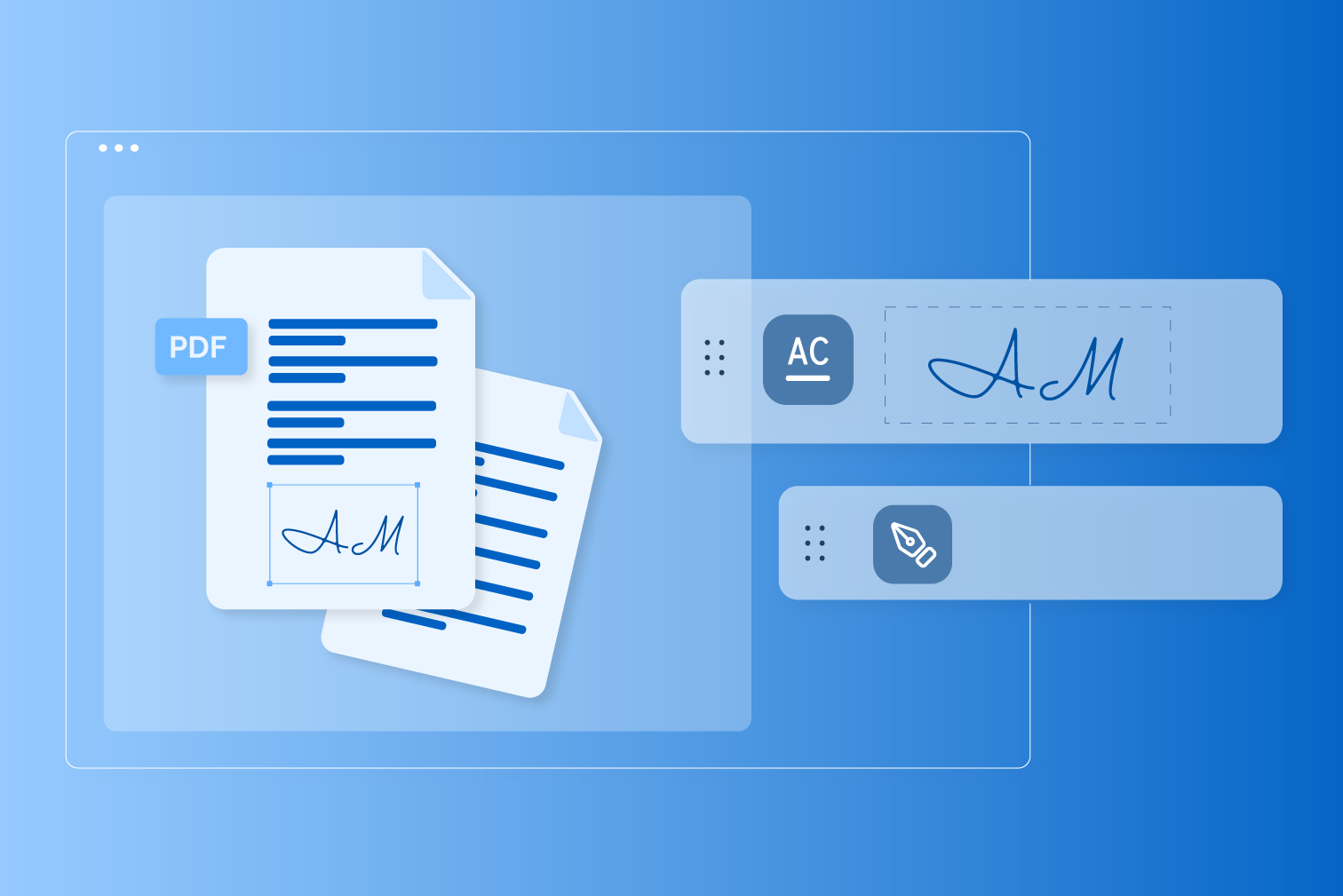 Are you trying to add initials to a PDF contract or form? Finding the right online tool for the job will be the difference between a document that looks legitimate or clumsy and incomplete.
Add the details and put trust in your digital contract. Create a legally binding document fit for any professional by including initials, a hand-drawn digital signature, name, and date with this guide.
How to add your initials to a PDF form:
Go to the Sign PDF tool.
Upload the PDF from your computer, Google Drive, or Dropbox.
Select Only Me.
Enter initials in the Initials text box.
Click Apply.
Select and place your initials from the Initials box on the right of your screen.
How to sign a PDF with an electronic signature
Utilize the best of the Sign PDF tool by exploring all of its features. Adding initials to a PDF is one step in creating a professional document, but you can also add different styles of signature, name, date, and an editable text box.
Signing a digital document with an electronic signature means you must first create it. With the Sign PDF tool, choose between adding your signature as typed text, a handwritten signature, or an uploaded file.
For the most authentic electronic signature, we recommend drawing your own. After uploading your PDF, click on draw, then directly write your signature with your mouse or use the QR code to draw it using a mobile device.
Don't forget to add your name and date to ensure you've included all the features that make your document feel professional, and if you need more create your own criteria with an editable text box.
Here's how to add your signature and sign online:
Go to the Sign PDF tool.
Upload the PDF from your computer, Google Drive, or Dropbox.
Select Only Me.
Fill in the Text boxes.
Design your signature and click Apply.
Choose your Signing Options.
Select your signature along with initials, name, and date from the Fields section.
Are electronic signatures legal?
Yes, electronic signatures are legal. Electronic signatures are legally binding because they observe the strictest data protection laws found worldwide. These include ESIGN, UETA, and eIDAS regulations.
Depending on your electronic signature type, your signature will have different levels of legal protection. Digital Signatures are different to electronic signatures because they are protected with a Digital Certificate that's embedded into the document, which makes it more protected. To find out more about the difference between electronic and digital signatures visit this post explaining it in more detail.
Digital signatures also stop your document from being tampered with because the encrypted keys that certify the document are changed when the file is edited.
Sign with iLovePDF
Adding your initials is a good start to creating professional documents, but don't forget to make the most of all the Sign tools features. Also, head to the iLovePDF website and explore the 20-plus PDF tools designed for document solutions.
Add your initials and Digital Signature to documents online
Sign now
Safe in our hands
iLovePDF takes security very seriously. Remember that...
No matter which tool you are using, we use end-to-end encryption to ensure the highest protection against theft or interception of your documents.
Any document uploaded to our system is automatically deleted after 2 hours to prevent any unauthorized third-party access.
All our servers are secured under European legislation, one of the most restrictive in the world.