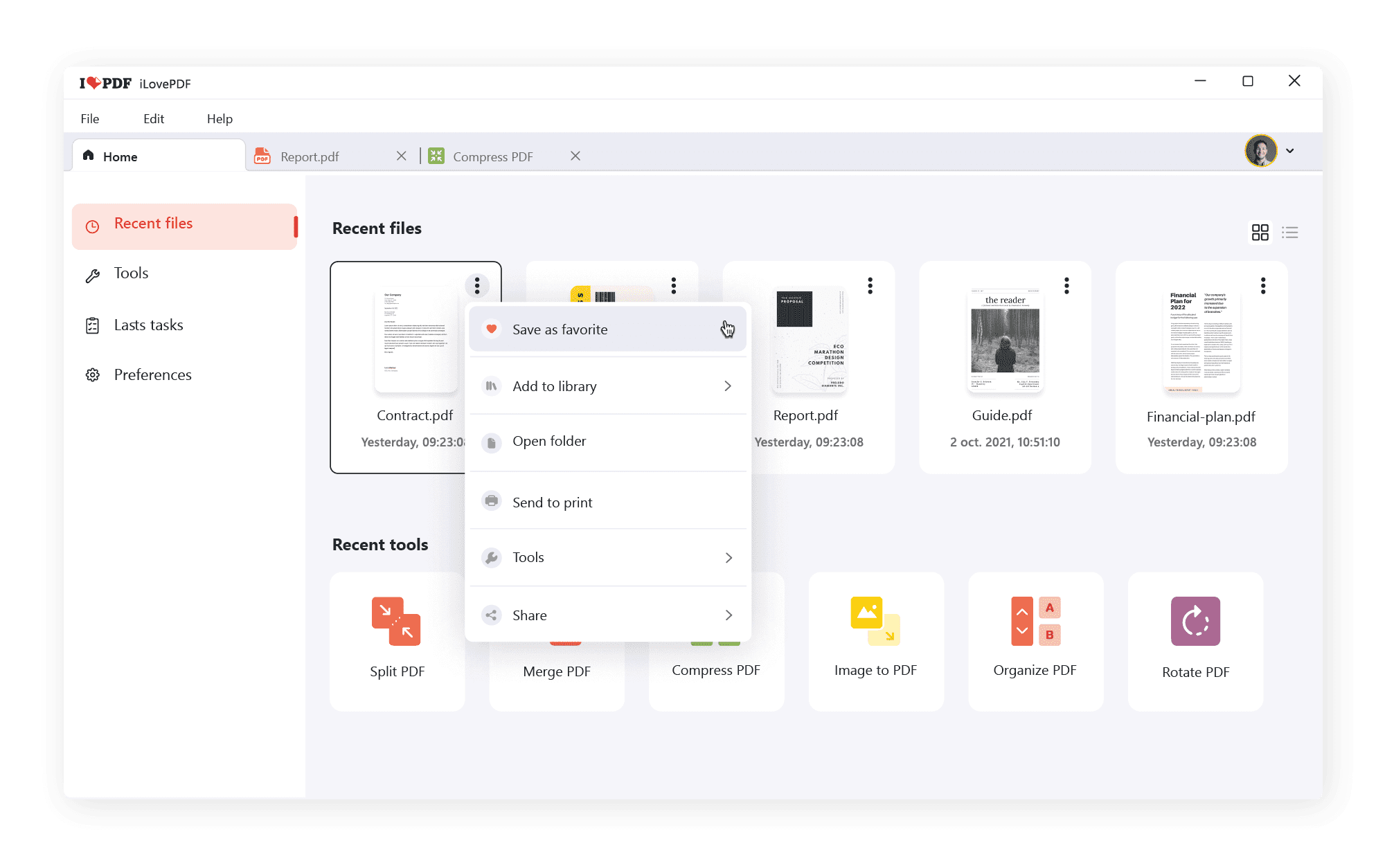 Tools for all your PDF needs
Download the iLovePDF Desktop App to work with your favorite PDF tools from your Windows PC or Mac. Get a lightweight PDF App that helps you process heavy PDF tasks offline in seconds.
Your fast, secure, and affordable PDF solution
Save time
Skip printing and scanning and drive remote team efficiency with all the digital tools you need for working fast with documents.
Reduce business costs
With straightforward licensing and affordable pricing, it's finally possible to enjoy PDF productivity tools and eSigning for more efficient digital workflows.
Ensure maximum privacy
Enjoy the same features as the online service, while processing your files on your computer for maximum privacy and compliance with business processes.
Streamline your document workflows
File format conversions

Convert files to and from PDF with a simple click. You can process Microsoft Office files like Word, Excel and PowerPoint as well as JPG or PNG images.

Process documents in bulk

Quickly edit multiple documents at the same time. iLovePDF Desktop allows you to work with PDF files in a better and efficient way.

Validate PDF/A for long term archiving

Convert business documents to PDF/A, the ISO-standardized version of PDF specialized for preserving digital documents.
Free PDF Reader

Need to read PDF documents without the need of an Internet connection? Get a robust PDF viewer that can help you read large PDF documents without crashing.

Right-click conversions

The fastest way to convert and compress files. Right click on your PDF, choose your preferred tool and process your file without opening the application.

Document protection

Keep your business documents safe. Encrypt and protect PDF files with a password to safeguard sensitive information.
Desktop Reader
Enjoy our smooth and reliable PDF Reader
Free
Stay free
Desktop Tools and Reader
Cancel anytime. 15-day money back guarantee
Looking for another solution?