4 career development tips for students
Follow this student guide to improve your career readiness and prepare for life after graduation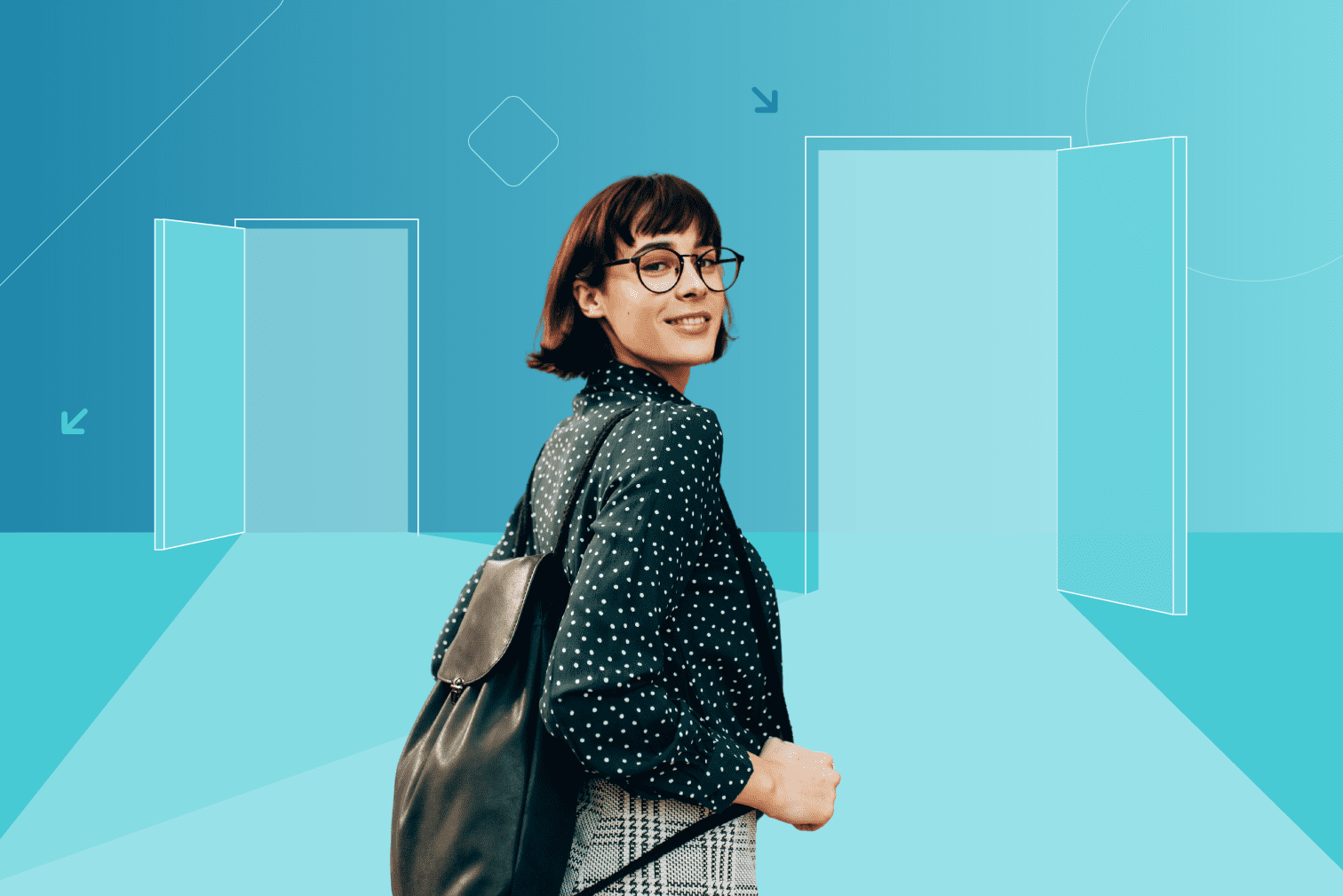 Finishing your studies and choosing the next step isn't easy. How do you choose the right career? Is there a right path? An OECD study found that successful careers for young people were greater in counties with the most available guidance in schools.
Considering that in 2019 the risk of unemployment for people under 25 was 2.5x higher than for their older colleagues, it's never too early to think about career planning, and the best time to start is now.
We never know if we make the best choice, but career development and guidance help prepare you for the world of work. Use this guide to improve your job search and career exploration.
What is career development?
Career development refers to the process of choosing a career pathway by improving your expertise and working on long-term learning. Ultimately, successful career development requires you to explore your own ideas, expand your professional development skills, and make career decisions about the way you want to shape your future.
This process has a motorway of steps that work together to keep you moving in the right direction. Here are 4 tips for the career development of students in college, high school, or higher education:
1. Create conversations
For a confident career path, you need to have career conversations that engage with professionals through talks and job fairs, interview development training, and job shadowing.
This helps you explore the future in a practical way by speaking with people who have the experience to guide you. Does your school or college have a work fair? Don't take the available resources around you for granted, and seek them out in your local area if they aren't directly available.
Look for career development events online and you won't even need to go in person. There are global careers fairs with new events coming up all the time, and these could even lead to recruitment or job shadowing opportunities. There is also National Career Development Month held in November every year, so watch out for 2022.
2. Work & volunteer
Students who have the opportunity to do work experience or volunteer have better professional prospects later in life. One of the reasons students struggle in the workplace is because of a lack of work experience, so do what you can to build your CV and engage early.
Your school or university should provide you with workplace opportunities, but there are also trainee programs and internships that offer this kind of experience. Failing this, you can head down to your local charity and ask if they need any help with volunteering.
3. Find your motivation
Think about your career guidance objectives, what motivates you? Work on your ambitions. Clearer goals relate positively to employment outcomes. Does your motivation match your career goal? Without motivation, you will be less likely to find the long-term enjoyment needed to carry on in your chosen field.
Speak to career counselors and think about your strengths and weaknesses. This encourages you to guide your student development towards a more focused career field.
4. Work on networking
To increase your career options, networking is key. From work experience to your local library, meeting new people is a great way to advance professionally. Go to the events hosted by your college, create your own, or just interact with the people around you. You never know what opportunities might come from a conversation in the local coffee shop.
Good questions to ask your mentor about career development:
Career development questions are a useful way to squeeze as much information as possible from professionals. Ask your career development coach the right ones and make sure you're listening.
How do I become better at… ? Ask precise questions instead of vague ones.
How would you like me to follow up? Having another conversation planned means you're more likely to follow through with the things you discussed.
Where do you think my strengths lie? It can be difficult to appreciate your own strengths, so ask your mentor.
Do you have tips for networking online? Online networking tips can save time and money with no need to travel.
Do you know where I can get work experience? Your career development coach will know about local work experience opportunities.
Career development tools for students
Harvard has a selection of career development tools waiting to be explored. They cover the themes mentioned in this guide, offering students an excellent place to find internships, reflect on strengths and weaknesses, and more.
Use digital PDF tools to expand your professional skills and improve your career development with more organization and productivity. PDFs play a vital part in any office or online environment, and they have become one of the most widespread document formats. As they have grown, more tools have emerged that make working with online documents effortless.
Management of your documents helps with all parts of your career development. Compress PDFs to make communication easier; smaller files mean you can send your important documents without worrying about size.
Have you visited a job fair and found useful leaflets? Instead of forgetting about them at the bottom of a drawer, use a Scan to PDF tool to instantly transfer any of your career guidance documents online for easy organization and editing.
There are over 20 free online tools at iLovePDF to make you more efficient, so start using them now and get into good working practices.
Get free PDF tools to develop your career skills
Register now
Safe in our hands
iLovePDF takes security very seriously. Remember that...
No matter which tool you are using, we use end-to-end encryption to ensure the highest protection against theft or interception of your documents.
Any document uploaded to our system is automatically deleted after 2 hours to prevent any unauthorized third-party access.
All our servers are secured under European legislation, one of the most restrictive in the world.