How to remove pages from a PDF file
Delete pages that you don't need with this free online tool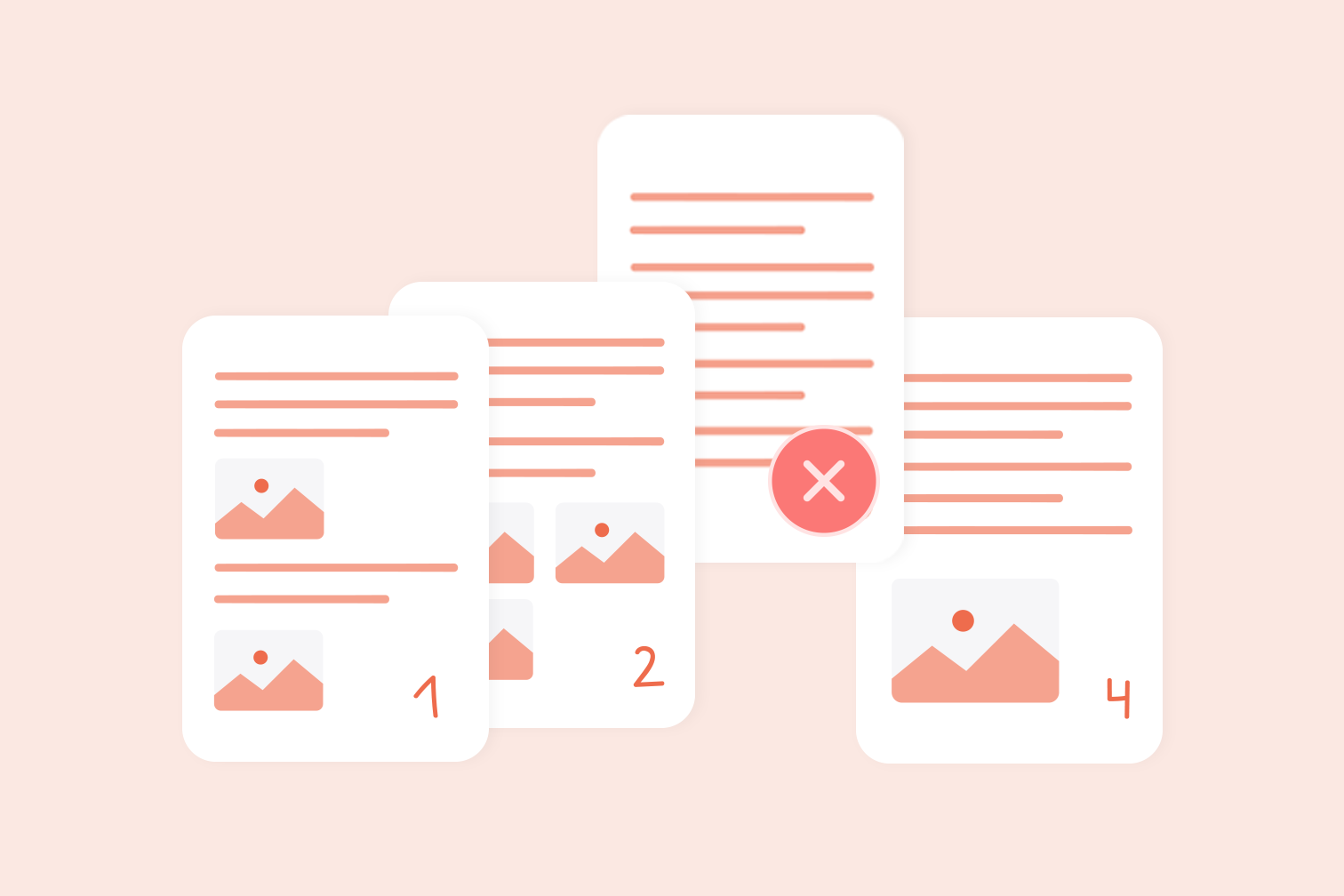 This post will show you the easiest way to delete PDF pages for FREE on the internet with no registration or installation required.
If you discover that you have duplicate pages in a PDF file or pages that you simply don't need, you can remove these pages quickly using the iLovePDF PDF Page Remover. It is completely free, secure, and easy to use.
The online tool allows you to discard any pages you no longer need in your original PDF file. Select the individual pages or page ranges you don't want and then download the new PDF document. It's that simple!
The great thing is that you don't need to download or install any software to do it, and creating an online account is optional. Follow these steps directly on the web:
How to delete pages from PDF files
Go to the iLovePDF Remove PDF pages tool.
Upload your file from your computer, Google Drive, Dropbox, or using the Drag and Drop option.
Select the page thumbnails you want to delete or type the range of page numbers in the toolbar to the right.
Once you have your selected pages, click the red Remove pages button.
Click the Download PDF button to download your modified PDF file.
Can I remove PDF pages on my other devices?
Made for ALL your devices, the iLovePDF PDF Page Remover is also available on your smartphone with the iLovePDF Mobile App and as an offline Desktop tool:
Delete pages on iOS and Android
Doubling up as a portable PDF Editor and PDF Reader, the iLovePDF Mobile App offers more than 20 different PDF tools to get your documents organized. That includes a handy Delete Pages option.
From the mobile app homepage, go to the Split PDF tool, then tap on Delete Pages. Select the option to remove individual pages or ranges of pages from your PDF - in just a few taps.
While you're there, you can also separate pages in your PDF in ranges or extract pages to save them as different files. Whatever PDF editing feature you need, the app has you covered. Try it for yourself by downloading the iLovePDF Mobile App for free in App Store or Google Play.
Delete PDF pages offline
PDF file very long? If you want to remove pages from a large PDF file you might find the iLovePDF Desktop app more manageable because it doesn't require an internet connection.
Use the Desktop PDF reader to read PDF files easily and remove any unnecessary pages directly from your Mac or Windows personal computer.
What else can I do with my PDF file?
If you work with PDF documents on a regular basis, you might be searching for other solutions such as how to sign a PDF document or a free PDF Converter for transforming Office documents.
Look no further because iLovePDF offers all the tools you need to edit PDF while you're working remotely, on the move, or at the office. To discover more, just head over to our homepage.
Delete pages you don't need from your PDF file
Remove PDF pages
Safe in our hands
iLovePDF takes security very seriously. Remember that...
No matter which tool you are using, we use end-to-end encryption to ensure the highest protection against theft or interception of your documents.
Any document uploaded to our system is automatically deleted after 2 hours to prevent any unauthorized third-party access.
All our servers are secured under European legislation, one of the most restrictive in the world.